Rip & Go: Pyramid Peak Loop, Great Basin National Park, NV
Climb out of the desert heat to breezy alpine solitude.
Heading out the door? Read this article on the new Outside+ app available now on iOS devices for members! Download the app.
No mirage: Great Basin's peaks rise more than a mile above the sagebrush plains, offering a summer escape to lakes and meadows with staggering desert views. This 12.7-mile overnight loop hits the best of the park.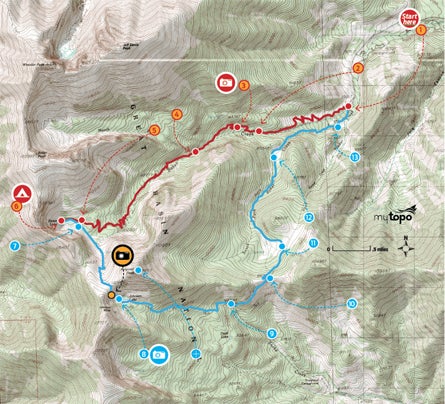 1. Begin a moderate ascent on mostly aspen-forested trail alongside Baker Creek.
2. (Mile 1.5) Continue west.
3. (1.9) Views of towering Pyramid, Baker, and Wheeler Peaks.

4. (2.7) Turn right.

5. (5.3) Turn right to Baker Lake, nestled near treeline in an amphitheater of sheer, glacier-carved stone beneath 12,298-foot Baker Peak.
6. (5.5) Camp on the northwest side of Baker Lake, with views southeast toward Pyramid Peak.
7. (5.7) The next day, head south on a use trail, following large cairns through wide meadows and up a drainage lined with monkeyflower in late July.
8. (7.0) The 100-mile panorama includes basin-and-range country sprawling to the east.
Option: Scramble up 600 feet in .4 mile to bag 11,926-foot Pyramid Peak (start early to avoid afternoon storms). 
9. (8.8) Veer uphill on the faint Snake-Baker Pass Trail. Climb steadily through groves of aspen into meadows of purple lupine and penstemon.
10. (9.4) Bask in 9,871-foot Snake Pass's ridgetop flower meadows.

11. (9.9) Emerge into a rolling meadow with views of Pyramid Peak's barren east slope.
12. (11.4) Follow South Fork Baker Creek.

13. (12.6) Turn left.

Trip Planner

Get there From Ely, take US 50 E for 56 miles, then turn right on NV 487. In 4.9 miles, turn right on NV 488 for five miles. Turn left on Baker Creek Rd. and park at road's end in 3.4 miles.
Gear up Sportsworld, 1500 Aultman St., Ely, NV; (775) 289-8886; sportsworld-ely.com

Season Summer and early fall

Permits Not needed, but sign in at the Lehman Caves Visitor Center

Contact (775) 234-7331; nps.gov/grba