Rip & Go: Paradise Valley – Kings Canyon National Park
Hike in the spray of waterfalls deep in the heart of black bear country.
Heading out the door? Read this article on the new Outside+ app available now on iOS devices for members! Download the app.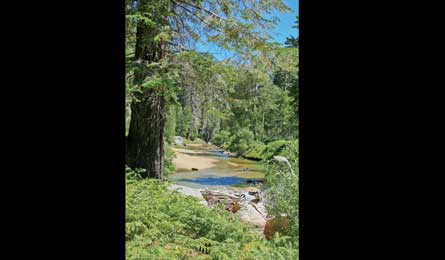 Beach campsite along The South Fork Kings River (Hank Christensen)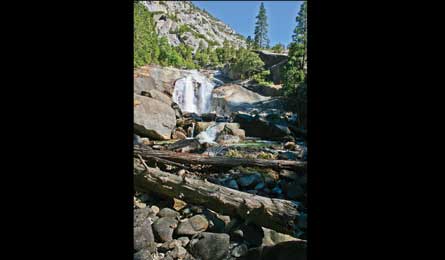 Mist Falls (Hank Christensen)
Do It There's no shortage of wilderness areas named paradise, but with its waterfall-a-mile pace and neck-craning granite walls, this 18.2-mile out-and-back actually lives up to that heavenly moniker. You'll see wildlife galore (think bears—canisters required—pine martens, bobcats, and ringtails), and ascend to 7,000 feet on this Sierra overnighter. Pick up your permit at Road's End Ranger Station(1) and head east on the level Bubbs Creek Trail, where you'll meander through incense cedar, white pine, and oak. The sandy trail passes through a glacier-deposited boulder garden (2) at mile .7 before dipping into a marshy lowland along the banks of the South Fork of the Kings River. Continue to the junction with the Woods Creek Trail (3) at mile 1.9, and head left (north).
Trace the river and its tributary creeks, passing beneath granite cliffs that tower more than 3,000 feet above; their chiseled, chunky slopes could've been painted by a Cubist-period Picasso. You'll begin your nearly 2,000-foot ascent at mile 3.2 on a short-and-steep stone staircase (4) alongside the raging Kings River. Glance back for a perfectly framed vista (5) of The Sphinx, a 9,146-foot outcrop that resembles its mythical namesake. The trail passes tumbling cascades at mile 3.6 (6), but press on for the real prize—Mist Falls (7), a thundering, 60-foot wall of water .4 mile later (see next page). From here, you'll gain almost a thousand feet in 1.6 miles en route to riverside campsites at Lower Paradise Valley (8). Continue past Middle Paradise Valley camp (9), scanning for black bears in the meadows to your right. The trail rolls over several gentle hills, offering glimpses of yet another waterfall pouring from the northward cliffs. Reach your final destination—Upper Paradise Valley camp (10)—at mile 9.1. Pitch your tent beneath behemoth Jeffrey pines at site six, and let the river's roar lull you to sleep. Next day, retrace your steps back to Road's End.

Trip Planner

Get There

From Fresno, take CA 180 east for 40 miles. Enter the park at Big Stump and drive to Road's End Ranger Station, six miles past Cedar Grove.

Permit Required (May to September, $15). Reserve them beginning March 1. nps.gov/seki

Gear up The General Store at Hume Lake Christian Camp, 64144 Hume Lake Road, Hume. (559) 305-1275; humelake.org

Map Rae Lakes Loop Trail ($9, sequoiahistory.org)


Key Skill

Keeping Food Safe from Bears

Hundreds of black bears patrol Kings Canyon, and Paradise Valley is one of their favorite haunts. Typically, the bruins aren't aggressive; but they are gifted when it comes to raiding your food. Don't let them. "When a bear gets human food, it's like a person shooting heroin for the first time," says wildlife biologist Daniel Gammons. Here's how to handle three common bear encounters.
Frontcountry If overnighting in a car campsite prior to your hike, don't let the proximity to infrastructure lull you into a false sense of security. In fact, "frontcountry bears get very gutsy," says wilderness assistant Irene Corrao. Prevent encounters by stowing all smellables in your site's bear locker. If a bear does come into your campsite, yell, bang pots, or honk your horn until it retreats.
Trail Backcountry bears tend to shy away from hikers. Sing or talk loudly, especially in the meadows near Lower Paradise Valley. Spot one? Make noise to announce yourself—a startled bear is a dangerous bear—and back away slowly. Never run. If a black bear attacks, fight back.
Backcountry Store all smelly items in campsite lockers or a bear canister at least 50 yards from your tent. Avoid stash spots near the river, (lest it end up in the drink), and don't pin it between rocks or branches, where a bear could leverage off the lid. Clean dishes and avoid particularly fragrant foods like bacon. If you wake to a bear rummaging around your site, get out of your tent and drive it away by shouting and throwing small rocks. Continue hazing the bruin. If it won't be persuaded, pack up and move camp.
See This

Mist Falls

The inviting series of cascades dotting the South Fork of the Kings, along the lower Woods Creek Trail, are just preamble for the main show: Mist Falls. The raging waters shroud the area in a constant curtain of mist, supporting a community of spray-loving mosses, false buttercup, and woodland stars. Hike the trail in late May to witness peak flow. Swimming is too dangerous, but the inescapable spray provides refreshing relief after the exposed, 600-foot climb over the previous two miles.
Locals Know

Got more than a weekend? You're in luck: Paradise Valley forms the western leg of the classic, 46-mile Rae Lakes Loop that links sparkling lakes, 11,000-foot passes, flower-choked meadows, and granite canyons. Take a week to cover this challenging terrain. Start heading north through Paradise Valley and hike clockwise to the South Fork Trail, pitching your tent at Upper Paradise Valley, Woods Creek junction, 60 Lakes Basin, Rae Lakes, Charlotte Lake, and Junction Meadow. Note: This loop is popular in summer, but by October, you can usually score walk-up permits.
On The Menu

Breakfast 1

On the road

Lunches 1 & 2

Avocado and cheese bagel; apples

Dinner

Paradise Pasta

Breakfast 2

Bear Bait Pancakes

Snacks

Granola bars, trail mix, cookies

Paradise Pasta

Superhearty carbs dished up with veggies and cheese
1 packet Lipton Pasta Sides (any cheese flavor)

1 cup fresh broccoli

1 cup assorted mushrooms

3 ounces salami

3 ounces cheddar cheese
Cook pasta according to package directions. Chop broccoli and mushrooms and add to pasta as it cooks. Dice salami and cheese and add to pot when pasta is cooked; remove from heat and stir until the cheese melts.
Bear Bait Pancakes

A berry-laden and energypacked breakfast
1 cup blueberry pancake mix

3/4 cup water

1/4 cup raisins

1/4 cup dried apricots

Vegetable oil

Maple syrup
Prepack oil and syrup in spillproof containers. Mix water, raisins, and chopped apricots. Heat oil over medium flame. Spoon three tablespoons of batter onto skillet; cook two to three minutes per side.
(Aisle #) – In nearest store below granola bars (1)

cookies (1)

Lipton Pasta Sides (1)

raisins (1)

trail mix (1)

apricots (1)

bagels (1)

pancake mix (2)

avocado (3)

apples (3)

broccoli (3)

mushrooms (3)

cheddar cheese (refrigerator)

salami (refrigerator)

Pack Vegetable oil, maple syrup
NEAREST GROCERY STORE

Clingan's Junction Grocery

35468 E. Kings Canyon Rd.,

Squaw Valley, CA; (559) 338-2404
PIT STOP

Get a custom slice (or three) at the Pizza Parlor in Grant Grove Village, where you can build your own pie with helpings of sausage, mushrooms, peppers, and more. Three miles east of Big Stump park entrance on CA 180; (866) 522-6966 ext. 334, sequoiakingscanyon.com/cabins.html