Rip & Go: McCargoe Cove to Rock Harbor
Hike among moose and wolves on this two-day escape to Isle Royale National Park.
Heading out the door? Read this article on the new Outside+ app available now on iOS devices for members! Download the app.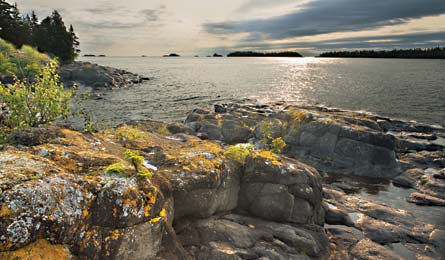 Rock Harbor (Willard Clay)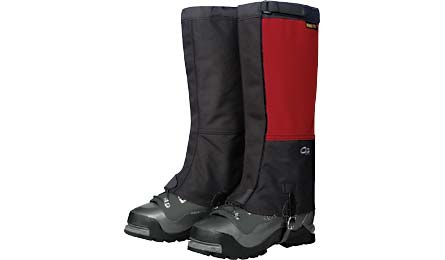 Outdoor Research Crocodiles (courtesy)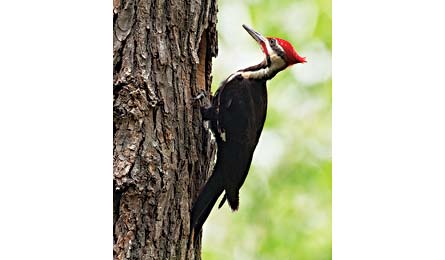 Pileated Woodpecker (www.theearlybird.com)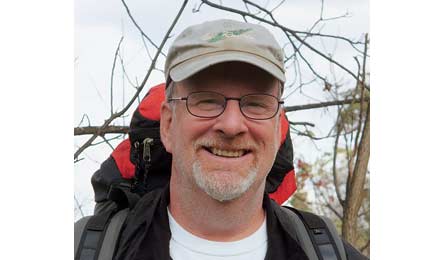 John Heneghan (courtesy)

DO IT

The Ojibwa called this island Minong, or "a good place." "The Ojibwa are known for their understatement," jokes John Heneghan (next page). "This is easily the best place in the region, and this 14.8-mile route is perfect for a long weekend." From McCargoe Cove (1), set off on the McCargoe Cove Trail southeast toward Chickenbone Lake. A left turn at the Y (2) leads through a dense riparian area and past the Chickenbone Lake Campground, a quiet, pine-circled site worthy of a layover if you have time. Turn left at a second Y (3), just after at mile two, and climb to the Greenstone Ridge, the 40-mile backbone that runs the entire east-west length of the island. Look to the trees for the black-throated blue warbler, a handsome bird with a fondness for the island's maple-birch forests. Continue northeast along the lightly forested ridge through stands of jack and red pine with views of long and slender Angleworm Lake below your right shoulder. The path descends to a bog crossing and climbs again to another Y-junction at mile 6.8 (4). Turn right and descend .5 mile to a lush, inland bog (5). Heneghan once spotted two wolves feeding on a moose carcass near here. Then, skirt 873-foot Ransom Hill and cross twisty Benson Creek twice prior to a left turn onto the Rock Harbor Trail (6) leading to Daisy Farm Campground (7), a one-time mining town. Next morning, follow the trail along Lake Superior's shore. In 2.5 miles, pass the remains of the mid-1800s Siskowit Copper Mine (8), and look across to Mott Island, where herring gulls nest. Turn right at the Y to pass Three Mile Campground at mile 12.1 (9), taking in horizon-to-horizon views of Lake Superior for one mile, passing a spur trail to Suzy's Cave (a 4,000-year-old, wave-washed cliff and inland sea arch tucked in a birch-maple forest) (10) along the way. Scramble over short, rocky bluffs for 1.7 miles to reach Rock Harbor (11).
Trip Planner

Get there From Duluth, take MN 61 142 miles north to Grand Portage. Ferry departs daily at 7:30 a.m. ($75 one way, 218-475-0024; isleroyaleboats.com)

Maps Trails Illustrated Isle Royale National Park ($12, natgeomaps.com)
Permit $4/day (buy aboard ferry). Campsites are first come, first served. (906) 482-0984; nps.gov/isro
Gear up Lake Superior Trading Post for maps, charts, camping and hiking supplies, and rental. (218) 387-2020; lstp.com

KEY GEAR: Gaiters

Lake Superior is a weather-maker, and it hits Isle Royale with healthy doses of early-morning fog and unpredictable (and frequent) showers. Hiking through sopping-wet, knee-high foliage will soak your feet as water seeps into your boots from above. Gaiters are your best defense—and don't wait until your pants are soggy to put them on. We like the Outdoor Research Expedition Crocs for over-the-calf protection, with a Gore-Tex leg section and strap-and-buckle closure ($90, orgear.com). Heneghan says, "They keep my boots dry on the muddy trails, and offer some warmth when it is cool in the morning. I can leave them loose to get better ventilation, and the instep strap is very durable and stands up well to rocks.

SEE THIS

Pileated Woodpecker
You'll hear a laugh-like wuck-a-wuck-a-wuck before seeing the largest woodpecker in North America. This 16- to 19-inch bird looks like it's wearing a black dinner jacket and a spiked red cap. Isle Royale's mature woods are perfect habitat, and you can often hear its reverberating pecks as it hammers characteristically rectangular holes, hunting carpenter ants. Look to the branches or the decaying trunks of deadfall for the best chance at a sighting.

LOCALS KNOW

Greenstones, the scattered, pea-size pebbles found on some of the island's beaches, are rare stones born of the mineral chlorastrolite, in basaltic lava flows. The Isle Royale gem is only found on the island and on the Keweenaw Peninsula in Michigan, 50 miles away. The greenish hue of the tiny stones is also washed into the basalt outcroppings of the Greenstone Ridge, named for the 800-foot-thick volcanic flow that formed the island and extends under the lake to Keweenaw. "Beachcomb at Greenstone Beach, Little Greenstone Beach, and Blueberry Cove for the best chance to uncover these gems," says Heneghan. Practice Leave No Trace, though: Park rules, and the integrity of the ecosystem, stipulate catch and release for these rare beauties.
THE EXPERT Illinois native and Appalachian Trail thru-hiker John Heneghan, 43, has been to Isle Royale 31 times. "Go in August to take advantage of trailside thimbleberries," he says. "It's a tart cousin of the raspberry."

ON THE MENU

Breakfast 1 On the ferry

Lunch 1 Peanut butter and honey bagels

Dinner Alfredo and broccoli pasta

Dessert Banana Boats

Breakfast 2 Daisy Farm Omelet

Snacks Sausage, gorp

Lunch 2 Superior Burger at Rock Harbor Lodge

RECIPES

Banana Boats

A dessert so good you'll make it at home
2 bananas

¼ cup chocolate chips

¼ cup mini marshmallows

¼ cup graham crackers

Slice bananas lengthwise and leave in the peels. Pile on marshmallows, chocolate chips, and crushed grahams and wrap in aluminum foil. Heat over the fire for five minutes or until chocolate is melted. Serves 2.

Daisy Farm Omelete

A diner classic for the trail
Four eggs

½ cup green pepper, diced

¼ cup onion, diced

1 potato, cubed

2 tablespoons milk (from powder)

Crack eggs into a Nalgene. Insulate, and they'll keep overnight. Boil potatoes until tender, then fry with onion and pepper. Beat eggs and milk; pour over veggies. Fold and flip. Serves 2.

The Grocery List

[ ] bagels (bakery)

[ ] summer sausage (deli)

[ ] bananas (produce)

[ ] green pepper (produce)

[ ] onion (produce)

[ ] potatoes (produce)

[ ] eggs (1)

[ ] chocolate chips (3)

[ ] graham crackers (3)

[ ] gorp (3)

[ ] marshmallows (3)

[ ] peanut butter (3)

[ ] powdered milk (3)

[ ] Lipton alfredo broccoli pasta (4)
Pack aluminum foil, honey

NEAREST GROCERY STORE

Johnson's Foods

MN 61 and Broadway Ave.

Grand Marais; (218) 387-2480
PIT STOP Locally owned Sven and Ole's Pizza, and its Pickled Herring Pub, have been a hometown favorite since 1981. Refuel with an Uffda! pizza pie (piled high with meats). On Wisconsin St. in Grand Marais. (218) 387-1713, svenandoles.com