Rip & Go: Lyell Canyon, Yosemite
Escape front-country crowds on a trek to the park's idyllic interior.
Heading out the door? Read this article on the new Outside+ app available now on iOS devices for members! Download the app.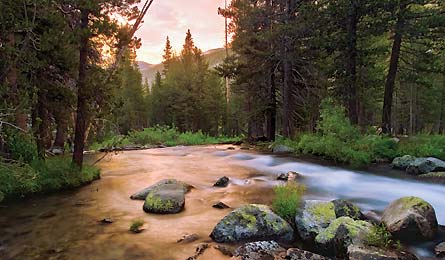 Yosemite's splendor at sunset. (Russell)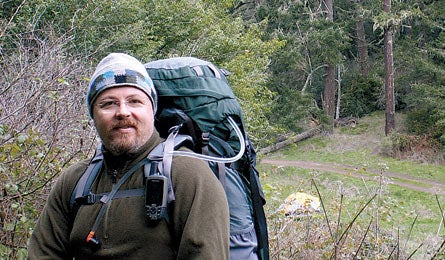 Reader expert Dave Miller. (Courtesy)

DO IT

The Valley is Yosemite's big draw, but readers like Dave Miller know that 33.6 miles of golden meadows, granite walls, and thundering waterfalls in Lyell Canyon offer bigger rewards. The trail starts and ends at busy hotspots, but you'll drop crowds fast in the middle: "You're in Yosemite, but you're not really seeing a lot of people," says Miller (next page), of Newark, California.

Grab permits (see Trip Planner for details) at the wilderness center and get an early start into Tuolumne Meadows (1). A three-way intersection (2) appears at mile .8; head right toward twin-peaked Vogelsang. After six more mild miles, the hardest, steepest part of the trip jumps from 9,000 feet to 10,600 feet in 3.1 miles (3). Beyond this highpoint, the trail mellows for 1.8 miles to Evelyn Lake (4); camp near the northern bank's sandy shores. Day two leads to Fletcher Lake (5), tucked under its towering namesake peak. Look for a picturesque cascade on Fletcher Creek (6), 1.5 miles later. Next, the trail deepens to narrow ruts through long meadows (7). Here, the trout-laden Merced River and red elderberry shrubs attract wildlife from deer to bears. Crossing Fletcher Creek (8) usually requires an easy, calf-deep ford (but check conditions in early summer). Exit the meadows (9) toward Merced Lake; glimpses of Half Dome pop up on the horizon. The trail descends 2.9 miles to Merced Lake High Sierra Camp. Spend the second night at Merced Lake (10) watching osprey fish. Next morning, head into Echo Valley, an area once devastated by fire where now young ponderosas poke through naked granite. After 2.6 miles, the trail drops back to the Merced River. Watch for Bunnel Cascade (11); the thundering waterfall becomes a 53-foot natural waterslide in late summer. Ease into a final descent on the Mist Trail's (12) stone steps, with views of Nevada and Vernal Falls. End at the Mist trailhead (13) and get a park shuttle back to Tuolumne.

Trip Planner

Get there Take Yosemite's Tioga Pass Road 39 miles to the Tuolumne Meadows Wilderness Center. The trail starts behind the building at the John Muir Trail sign.

Maps Buy the BACKPACKER PRO MAP

Permit Required (free, day before trip). Reserve trips 24 weeks in advance starting in January ($5, plus $5 per person). nps.gov/yose

Gear up Tuolumne Meadows General Store, across from the Wilderness Center

KEY SKILL: Be bear aware

Plentiful berries and water make lush Lyell Canyon a paradise for Yosemite's 300 to 500 bruins. That's great for wildlife photo ops, but it also requires careful hiking. Here's how to make sure your bearproofing is bomber.
Keep your distance

We all want to see a bear, but your primary goal should be to avoid startling or attracting them. Talk, sing, clap, and make noise as you hike. If you spot a bear, stay at least 50 feet away. That may mean waiting for it to leave the area.
Store your food

Yosemite's famously crafty Yogis make hanging bear bags verboten here. Get a hard-sided bear canister with a locking top (some bears know how to pop open screw-top canisters). Garcia and Counter Assault canisters cost $70. Or rent one for $5 per week ($95 deposit required) at the wilderness center. Put all food, toiletries, and anything else with a scent inside, lock it, and keep it at least 100 yards away from your campsite (but away from cliffs, rivers, or lakes—lest a bear move it where you don't want it). Never let food out of your sight, even on rest breaks: YouTube is rife with clips of Yosemite bears running off with unguarded meals.
Stand your ground

You did everything right, but you're facing down an angry black bear anyway. Don't run: Even Olympic sprinters can't outrun a bear. Yell, throw rocks or sticks, and make yourself look like a big, tough target. Got bear spray? Fire it at the bear's face once it reaches close range (less than 40 feet; 25 feet if it's windy). If neither deters the bear and it attacks, fight back. Hard.
LOCALS KNOW

"Save a day's worth of food—you can probably catch it," says Miller of Lyell Canyon's trout-filled lakes and rivers. Veteran Yosemite fly-fishing guide Tim Hutchins says the browns, rainbows, and brookies in the upper Merced River "aren't really picky about flies, but small is always better." Get sport fishing permits from the Tuolumne Meadows General Store. Grill your catch in firepits at Vogelsang or Merced High Sierra campgrounds (check fire restrictions), or poach on a camp stove (see below).
THE EXPERT Bay Area software engineer Dave Miller, 47, cut his backpacking teeth with the Royal Rangers youth-outing club. Now he leads the next generation on year-round trips all over California. The seven-year BACKPACKER map contributor and photographer loves shooting Vogelsang and Fletcher Peak reflections in Fletcher Lake: "The colors are very rich and dramatic. I've got a print on my wall."
ON THE MENU

Breakfast 1

On the road

Lunches

Peanut butter and jelly tortillas

Dinner 1

Evelyn Lake Poached Trout

Breakfasts

Oatmeal with sliced almonds, raisins, and brown sugar

Dinner 2

Trout Tacos a la Tuolumne

Snacks Trail mix, apples and granola bars
RECIPES

Evelyn Lake Poached Trout

Your catch of the day with refreshing herbs
1 trout (or 6-ounce pouch tuna)

1 teaspoon of your favorite herb seasoning (dill, basil, cilantro)
Make an inverted teepee frame with peeled twigs and place in cooking pot with ¾ cup of water. Cut cleaned trout in half and sprinkle with seasoning. Place two halves skin-side-down into the teepee. Bring water to a boil and simmer until trout is cooked through (about eight minutes). Serve with rice. Serves 2.
Trout Tacos a la Tuolumne

A zesty twist on Yosemite's fave fish
1 trout (or 6-ounce pouch salmon)

½ cup dehydrated salsa

Salt

2 tortillas
Cut trout in half, sprinkle salt, spear with forked stick, and cook over open fire. In a bowl, rehydrate salsa with ½ cup of water. Crumble cooked trout into a tortilla, sprinkle salt, add salsa, and enjoy. Serves 2.


The Grocery List

[ ] tortillas (bakery)

[ ] pepperoni (deli)

[ ] apples (produce)

[ ] 1 pouch tuna

or salmon (2)

[ ] herb seasoning (4)

[ ] instant rice (4)

[ ] 1 jar peanut

butter (4)

[ ] 1 jar jelly (6)

[ ] oatmeal (6)

[ ] trail mix(6)

[ ] almonds (6)

[ ] raisins (6)

[ ] granola bars

(cereal section)
Pack Brown sugar, salt, dehydrated salsa

NEAREST GROCERY STORE

Lee Vining Market

51303 Highway 395, Lee Vining, CA;

(760) 647-1010

PIT STOP Miller can't resist stopping for grub at PJ's Café and Pizzeria. "It's a nice place to unwind after a multiday trip," he says. But skip the pizzas: "The sandwiches and burgers are better." 18986 CA 120, Groveland, CA; (209) 962-7501