Rip & Go: Loon Creek to Horseshoe Lake – Frank Church-River of No Return Wilderness, ID
Explore a supersized wilderness that's home to Idaho's densest population of gray wolves.
Heading out the door? Read this article on the new Outside+ app available now on iOS devices for members! Download the app.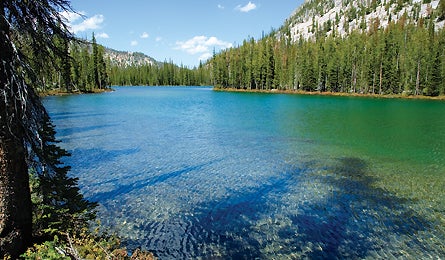 Horseshoe Lake (Braden Gunem)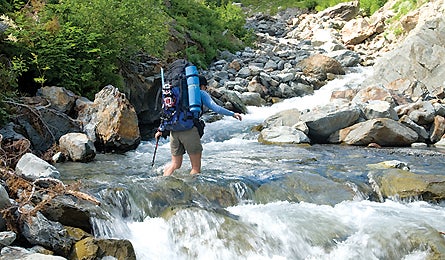 (Photo by Dave Schiefelbein)
Do it

This 19.2-mile out-and-back climbs to the headwaters of Loon Creek, a cascading tributary of the Middle Fork of the Salmon.You'll pass trout-choked waters and a lonely creekside hotspring as you cut through the the largest wilderness in the Lower 48 (2.4 million acres!). The start is tricky: Walk west past the Loon Creek Guard Station (1) (about 50 miles northwest of Sun Valley Ski Resort) to a horse pasture out back. At the fence line, angle southwest to a gate at the far end of the field. Leave the gate as you find it (open or closed), and hike .6 mile through meadows and mixed pines and firs to the Trail Creek Trail (2). Bear left to go 1.8 miles through streamside willow thickets and the remains of a decades-old burn before arriving at another junction (3) at mile 2.4. Bear right and drop steeply to a ford of brush- and boulder-lined Pioneer Creek (4), a rager through late June that you can wade or cross on downed logs come late summer.
From here, hike a half-mile to a knee-deep ford of Loon Creek before stopping for a break at a rock-lined hotspring (5) (big enough for three or four) on the opposite shore at mile 3.7. Continue upstream, and in .8 mile you'll arrive at the spot (6) where the author came face-to-face with a gray wolf, whose haunting howls bounced off the granite canyon walls. Press on through lodgepole pine- and aspen-filled avalanche chutes to another ford (7) at mile 5.3 and a final ford (8) in another 1.9 miles. In .8 mile begin the final push (9), gaining 840 feet in 1.6 miles. The trail levels out at ponderosa-lined Horseshoe Lake (10); several campsites come into view at mile 9.6. The best is midway along the west shore, directly across from a forested peninsula that creates the lake's namesake horseshoe shape. Return the way you came.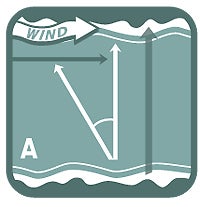 Trip Planner

Driving From Stanley, head east on ID 75 for 13.2 miles to Yankee Fork Rd. Go north on pavement and good gravel 8.8 miles to Jordan Creek Rd. Turn left (northwest) and drive nine miles past the Sunbeam Mine to Loon Creek Summit. From here it's 11 rocky miles to the Loon Creek Guard Station. Park in the pullout.
Contact

Call Challis-Yankee Fork Ranger District for the latest conditions: (208) 879-4100.
Gear Up

Riverwear Sports; ID 21, Stanley, Idaho; (208) 774-3592; riverwear.com
Key Gear: Trekking Poles

Unless you surprise a grizzly, you'll only face one significant hazard on your ascent to Horseshoe Lake. Well, make that three: the trio of stream crossings along upper Loon Creek. Its banks often have large logs or logjams spanning the stream to make crossings easier. But if traversing logs or rockhopping isn't an option (whether the water's too deep or you don't trust your balance), scout for the widest sections of the creek and cross facing upstream, using your trekking poles for balance. We like Black Diamond's Spire Elliptic ($135, 18 oz., blackdiamondequipment.com). Testers say its oval-shaped shaft is stronger than traditional round-shafted poles–we've never bent or snapped one. No poles? Scavenge the banks for shoulder-height, arm-width sticks. With poles or sticks, brace yourself against the current and angle across heading slightly upstream.
See This

Gray wolves Fourteen years ago, federal biologists introduced 36 gray wolves to central Idaho. Today, the estimated population is 846 members in 88 packs, and wolves occupy every major drainage within the Frank Church, including the Loon Creek basin. The Landmark and Yankee Fork packs use Loon Creek as a "natural travel path" to get from dens to hunting grounds (they prey on elk and deer); wolves are most active at dawn and dusk.
Locals Know

Despite its great distance from the Pacific Ocean, the Frank Church contains some of the best spawning habitat in the Lower 48 for the endangered Chinook salmon. These fish swim upstream more than 800 miles from the Pacific to spawn in the chilly waters of the Middle Fork of the Salmon River–and in tributaries like Loon Creek. Chinook create redds, or spawning nests, by sweeping their tails to scour holes in the gravel riverbottom, where females deposit thousands of eggs. To spot oval-shaped redds in upper Loon Creek, look for the characteristic pillow shape of disturbed rocks at the downstream end of the nest. Another "really obvious" clue: rocks that appear brighter than others (Chinooks brush them free of algae), says Idaho Department of Fish and Game's anadromous fish manager Pete Hassemer. Look for redds at the downstream end of slow pools. Each year, between 600 and 1,000 wild Chinook return to Loon Creek's pristine spawning grounds from late July to August, says Hassemer.
On the Menu

Breakfast 1

On the road

Lunch 1

Bagel with Italian dry salami and Swiss cheese

Dinner 1

Backcountry Fish Tacos

Breakfast 2

Peanut Butter-Chocolate Chip Oatmeal

Lunch 2

Bagel with peanut butter

Snacks Jerky, roasted almonds
Peanut Butter- Chocolate Chip Oatmeal

Like a cookie in a bowl
2 packages (plain or cinnamon) instant oatmeal

1 handful chocolate chips

2 tablespoons peanut butter
Heat water and add to instant oatmeal. Add chocolate chips and peanut butter. Stir.
Backcountry Fish Tacos

A refreshingly easy twist on a summer favorite
1 small green cabbage, shredded

1 avocado

4 tablespoons salsa

1 teaspoon garlic powder

2 4-ounce pouches albacore

6-8 small tortillas
Peel and mash the avocado, adding salsa to make guacamole. Shred the precooked albacore and warm in pan with olive oil. Place fish in a folded tortilla, top with diced cabbage and guacamole.
The Grocery List (Aisle #) in nearest store below Jerky (2)

5-oz. jar salsa (2)

1 package small flour tortillas (3)

2 4-oz. packages alba- core tuna steak (4)

1 small pack chocolate chips (4)

8 oz. roasted almonds (4)

2 plain bagels (4)

Instant oatmeal (4)

1 jar peanut butter (5)

Italian dry salami (6)

1 pack sliced Swiss cheese (6)

1 small green cabbage (produce)

1 avocado (produce)

Pack olive oil, garlic powder, salt, and pepper
Nearest Grocery Store

Mountain Village Mercantile

ID 21 (at the intersection with ID 75) Stanley, Idaho; (208) 774-3500
Pit Stop

Gorge on a calzone or hand-tossed pizza and wash it down with a cold Sun Valley Ale at Papa Brunee's (on Ace of Diamonds St. in Stanley). Get there early–this is a popular dinner spot for locals coming off the trail. (208) 774-2536