Rip & Go: Long Path Loop – Harriman State Park, NY
Enjoy soaring views from open ridges on this easy-access overnight.
Heading out the door? Read this article on the new Outside+ app available now on iOS devices for members! Download the app.
Baring it all: This fire-cleansed ridge yields catskill views at mile 1.6. (Photo by Catherine Brooks)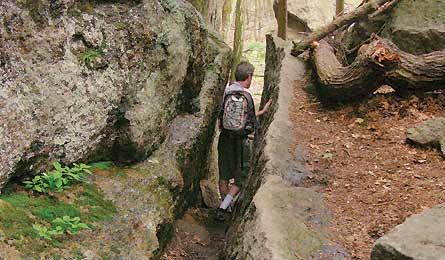 Lemon Squeezer: The park's 100-foot-long faux slot canyon (Photo by Catherine Brooks)
Do it

Secluded trails winding through mixed forest. Fifty-mile views from rock domes. With charms like these—and the proximity to New York City—you'd expect to share every step, but this 18-mile overnighter sticks to the park's quietest corner. From the parking lot (1) off Orange County Road 106, follow the red-blazed Ramapo-Dunderberg Trail on the ridge of Black Rock Mountain. Stay straight (2) and take in views of lakes shining like drops of mercury on a leafy background. At mile 1.8, turn left (north) onto blue-blazed Lichen Trail (3) and descend to the Long Path (4). At a four-way junction (5), head straight on the red-blazed Arden-Surebridge Trail for a short detour to the Lemon Squeezer ("See This," next page).
Return to the junction and head north on the Long Path. Contour around Surebridge Mountain and past the shelter (6). Stay on the Long Path for a mile-long, low-country stretch in the shadow of 1,378-foot Fingerboard Mountain, then cross Arden Valley Road (7). Bear left (8) and climb steeply up 1,319-foot Stockbridge Mountain—its three-mile-long ridge reveals vistas of Bear Mountain (east), the Catskills (northwest), and West Point (north). After Hippo Rock, turn right onto yellow-blazed Menomine Trail and descend to Lake Nawahunta. Cross Seven Lakes Drive (9), skirt Silver Mine Lake, then ascend along Bockey Swamp Brook to the William Brien Memorial Shelter (10) in a hollow.
Next day, take the Red Cross Trail through a broad swath of lowland forest—one of the park's least-visited areas. Stay right at the Y-intersection (11), and left to cross Tiorati Brook. Go straight in .6 mile, leaving the Red Cross Trail (12), toward Lake Askoti. Cross Seven Lakes Drive (13), and bend around Lake Skannatati on the Long Path. Turn left at the T-intersection, then left onto the Dunning Trail (yellow blazes). In .4 mile, continue straight to the Bald Rocks Shelter, then return via the Ramapo-Dunderberg Trail.

Trip Planner

Get there

From Manhattan, take I-95 west to exit 74 onto the Palisades Pkwy. In 27 miles, take exit 14 and turn left onto CR 98. Take the second exit at the traffic circle onto Orange CR 106 west. Park in a mile.
Gear up

Eastern Mountain Sports, 66 Rockland Plaza, NY 59, Nanuet, NY. (845) 623-5282; ems.com
Map

New York-New Jersey Trail Conference Harriman-Bear Mountain Trails Maps ($10, nynjtc.org)
Key Skill: Avoiding Ticks

Springtime brings blooming flowers galore to Harriman, but it's also the start of tick season, which reaches its peak in June. Here's how to avoid Lyme disease-carrying deer ticks.
Spot Deer ticks are the size of a pepper flake, and are typically found under leaf litter and grasses (read: trailside).
Plan A Prevent Wear long sleeves and pants, and pre-treat all clothing (including socks) with permethrin (we like Sawyer, sawyer.com). Once the spray dries (give it two hours), your clothes will kill ticks on contact for up to six washings. One U.S. Army study notes that such a treatment was 100 percent effective against deer ticks. And the chemical is nontoxic to humans, since it doesn't absorb through the skin.
Plan B Repel Forgot to prep? No worries. Apply deet (a 30- to 50-percent solution is best) to exposed skin and boots (but not to synthetics; deet melts them).
Check Carefully search the areas around your sock line, knees, shorts elastic, groin, and armpits; deer ticks tend to congregate at roadblocks like these.
Remove It takes 24 hours for a deer tick to transfer Lyme disease. If you spot one, clamp behind its head with tweezers and pluck it straight out. See a doctor if you develop deep fatigue or a bull's-eye rash.
See This: Lemon Squeezer

The park's 100-foot-long faux slot canyon started as a narrow crack in the granite some 250 million years ago. During the last ice age, 12,000 years ago, a massive, 3,000-foot-thick glacier ground across the area and slowly wedged the crack apart. Glacially deposited boulders (like the two bridging the southern entrance) pinned the gap open. For an easier fit, ditch your pack at the northern mouth and explore the crack between two sheer walls that pinch to just one foot wide.
Locals Know

You might stalk these woods with hiking poles and a hydration bladder seeking solitude, but 232 years ago, General Washington's Continental Army patrolled the same area with muskets and powder kegs looking for redcoats. One of the last Revolutionary War battles in the Northeast colonies took place the night of July 15, 1779, when Brigadier General Anthony Wayne led a midnight attack against the British to take back control of Stony Point, 10 miles east of Harriman's Lake Tiorati.
To surprise the British and prevent friendly fire casualties on this after-dark operation, Wayne instructed his 1,200-member Light Infantry Brigade (an elite force comparable to today's Army Rangers) to keep their muskets unloaded and attack using only their bayonets. The Americans drove off the 700 Brits to recapture the fortified position, which the British had been using to isolate the colonies from the mainland. Take the 1779 Trail from Fort Montgomery for 8.6 miles to follow the same path.
On The Menu
Breakfasts 1 & 2

Instant oatmeal with brown sugar and apples

Lunch 1

Chicken Tiorati

Dinner

Rockland Pasta

Lunch 2

Salami and cheddar cheese pitas

Snacks

Granola bars, baby carrots
Chicken Tiorati

A pita full of chicken salad
1 7-ounce pouch chicken

½ cup raisins

¼ cup walnuts

2 mayo packets

2 whole wheat pitas
Mix together chicken, raisins, walnuts, and mayonnaise in a zip-top bag. Spoon salad inside pita. Serves 2.
Rockland Pasta

Easy rotini with olives
10 ounces rotini pasta

¾ cup seasoned bread crumbs

1 4-ounce jar of green olive tapenade

½ cup Parmesan
Cook and drain pasta. Reserve ¼ cup pasta water. Toss green olive tapenade with reserved pasta water and pasta. Sprinkle with seasoned bread crumbs and Parmesan. Serves 2.
The Grocery List (Aisle # in Nearest Store Below)

[ ] apples (produce)

[ ] baby carrots (produce)

[ ] 7-ounce pouch chicken (meat)

[ ] salami (deli)

[ ] mayo packets (deli)

[ ] granola bars (B)

[ ] instant oatmeal (3)

[ ] raisins (3)

[ ] seasoned bread crumbs (6)

[ ] rotini pasta (6)

[ ] 1 small jar green olive tapenade (6)

[ ] Parmesan cheese (6)

[ ] walnuts (7)

[ ] whole wheat pitas (19)

[ ] cheddar cheese slices (19)
Pack: Brown sugar
PIT STOP Refuel at Richie's Little Place, located between Bear Mountain State Park and West Point Military Academy. Visitors travel miles for wing night Wednesday and prime rib specials Thursday and Friday. 817 NY 9W, Fort Montgomery, NY; (845) 446-7918; richieslittleplace.com
NEAREST GROCERY STORE

Shoprite

56 West Ramapo Rd., Garnerville, NY

(845) 786-3006