Rip & Go: Lake of the Clouds to Summit Peak – Porcupine Mountains Wilderness State Park, MI
Hike a high escarpment above a northern forest and Lake Superior.
Heading out the door? Read this article on the new Outside+ app available now on iOS devices for members! Download the app.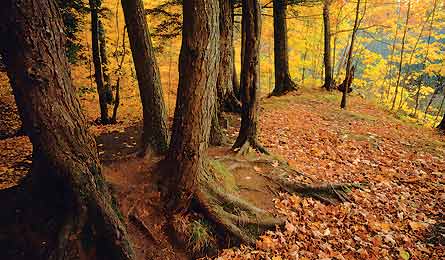 Old-growth hemlocks (Photo by Eric Wunrow)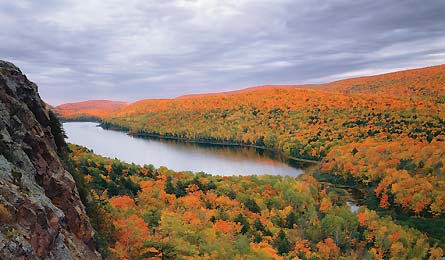 Lake of the Clouds (Photo by Eric Wunrow)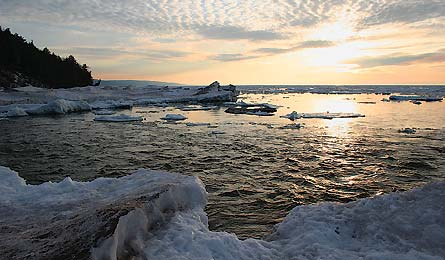 Winter views of Lake Superior (Photo by Sandy Richardson)
Do it
See fall colors so bright they seem to glow in the dark as you alternate between highline ridges and canyon glens on this 13.7-mile point-to-point in the Upper Peninsula. Start at the Lake of the Clouds overlook (1), 600 feet above the water's surface, and hike northeast on the Escarpment Trail. In 2.3 miles, a short descent to a cleft in the ridge brings you to a junction with an unnamed connector trail (2) that leads to the remains of Carp Lake Mine. Next, climb to the crown of a wind-buffed chunk of 2-billion-year-old basalt (3). This linear pleat of bedrock is part of the massive Niagara Escarpment, which curves from Chicago to New York. Along the trail, weather-toughened bearberry and juniper grow near 1,575-foot Cuyahoga Peak (4), then give way to a grove of gnarled red oaks. The path descends 500 feet in .9 mile to the overgrown remnants of the Cuyahoga Mine (5), then meets the Government Peak Trail .1 mile later. Continue south past the two Overlook Trail junctions, and enter an aspen grove that turns gold in October. Making good time? Recline in the shady glen near 20-foot Trap Falls (6) at mile 5.8, before following the trail on a 90-degree turn west. In 2.2 miles, reach an unnamed, shrub-lined pond, and camp among a nearby stand of mature oaks (7). Next day, the trail ascends 200 feet in .3 mile to Government Peak's 1,850-foot summit (8). (Pack water if you want to camp here.) Descend the peak's southern side and reach a 100-yard boardwalk section over a bog, then turn southwest onto the Mirror Lake Trail (9) at mile 10.1. Take this to the Little Carp River Trail (10). Go left onto the White Pine Extension Trail (11), hike southeast for .2 mile to the base of Summit Peak, and switchback to the 1,958-foot summit (12). On clear days, the view from the 40-foot-tall fire tower includes Isle Royale 80 miles north-northeast and the Apostle Islands, 30 miles to the northwest. From the top, coast downhill .5 mile to the trailhead (13).
Trip Planner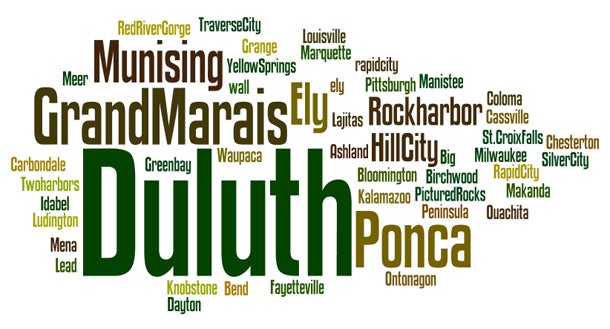 Shuttle From Wakefield, take CR 519 north 13 miles to South Boundary Rd. Go east 14 miles to Summit Peak Rd., which dead-ends at the trailhead.
To trailhead From South Boundary Rd., go east 10.5 miles, then turn left on M 107 to Lake of the Clouds.
Permit Required; $14/night; self-register at trailhead
Gear up Porcupine Mountains Outpost; 36594 M 107, White Pine. (906) 885-5612
Key Gear 

Gravity Filter
Ironically, this lakes region hike is light on water sources. In fact, on this route, there are only three reliable spots to fill up: the Upper Carp River (mile 4.7), the unnamed pond at mile eight, and Mirror Pond (mile 10.9). Aim to leave each with at least three liters of water per person for drinking—and an additional four liters at the unnamed pond if you want to dry camp on Government Peak, which offers a view of Lake Superior.

Your best bet for treating large volumes of water? The Sawyer Complete Water Filter System – 2 Liter ($90, 14 oz., sawyer.com). This gravity-fed device cleanses two liters per minute while you are free to do other stuff.
For the strongest siphon and best flow: 1) Let the output tube from the "dirty" water bag fill completely before attaching the filter, and 2) Make sure the hose is fully elongated to harness the maximum pull of gravity.
Bonus: The "dirty" water bag is puncture resistant, and can be toted full for an additional two liters of carrying capacity. Plus, the filter is easy to backwash when it needs cleaning. 
Locals Know

While the Porkies reach the height of their beauty in the fall, the winter offers unmatched solitude and a chance to play in some of the largest snow accumulations east of the Rockies (about 200 inches annually). The park's 87 miles of designated ski trails come with wide-angle vistas of Lake Superior and offer quiet glides through snow-cloaked pine forest. For an intermediate six-miler, follow the interpretive trail south from the visitor center and the Nonesuch Trail past the downhill ski area to the Superior Loop, with stop-in-your-tracks views of the big lake. Take the Deer Yard Trail to circle back to the visitor center. Make it a weekend: Reserve a space and go rustic at one of the park's ski-in cabins (michigan.gov/porkies, book a year in advance).
See This

Old-Growth Hemlock

The Porkies are home to 35,000 acres of never-been-logged giants, the most extensive tract of old trees east of the Mississippi. In Michigan, Eastern hemlock were originally harvested for the tannins in their purple-brown bark, which were used by the leather industry. But the tree's brittle fibers made it less-prized as timber. With the saws buzzing elsewhere—and thanks to a moist, shady microclimate—hemlock elders, some standing 100 feet tall and topping 600 years old, still reign in the U.P.

On the Menu
Breakfast 1
On the road

Lunch 1
PB and banana wraps
Dinner 1
Salmon Pesto Rotini
Dessert 1
Copper Country Cake
Breakfast 2
Wraps with cream cheese and dried blueberries and cranberries

Lunch 2
PB&J wraps

Snacks
Salami, cheese, gorp, jerky
Salmon Pesto Rotini
Savory backcountry gourmet
8 ounces rotini
6-ounce salmon packet
1 ½-ounce pack dry pesto mix
¼ cup diced toasted pecans
1 tablespoon olive oil
2 tablespoons Parmesan cheese
Bring four cups of water to a boil, add in pasta, cook until al dente, and drain. Add oil, ¾ cup water, and pesto mix, stir. Mix in salmon, pecans, and cheese. Serves two.
Copper Country Cake
Everything but the icing
Combine everything except the cream cheese in a sealable bag and shake. Add cream cheese, seal bag, and squish until blended. Serve in a dish or eat from the bag. Serves two.
Grocery List (Aisle # In nearest store below)
[ ] bananas (produce)
[ ] trail mix (bulk)
[ ] jerky (1)
[ ] flour tortillas (1)
[ ] Parmesan cheese (1)
[ ] cream cheese (1)
[ ] salami (1)
[ ] cheddar cheese (1)
[ ] chocolate wafer cookies (2)
[ ] peanut butter and jelly (3)
[ ] rotini (3)
[ ] salmon packet (3)
[ ] dry pesto mix (3)
[ ] dried blueberries (4)
[ ] dried cranberries (4)
[ ] toasted pecans (7)
[ ] packet olive oil (7)
[ ] powdered orange (7)
[ ] chocolate chips (7)
[ ] sugar packet (7)
NEAREST GROCERY STORE Super One Foods 1009 Holiday Ln., Hurley, WI (715) 561-3000
PIT STOP Swing by the Northwoods General Store and Coffeehouse in Wakefield for a ham-and-cheese panini, homemade pie, and a double-scoop cone of Mackinac