Rip & Go: Iron Mountains – Little Dry Run Wilderness, VA
Score quiet views of the southern Virginia highlands on this lush loop.
Heading out the door? Read this article on the new Outside+ app available now on iOS devices for members! Download the app.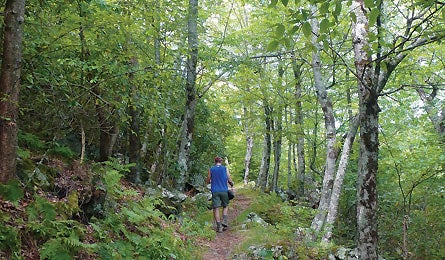 Hike through forests of maples and hemlock. (Peter Rives)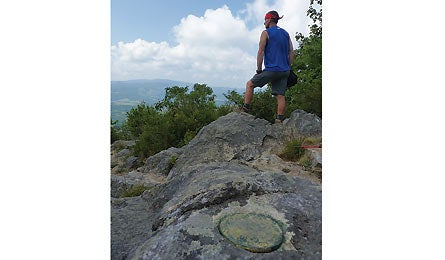 Comers Rock (Peter Rives)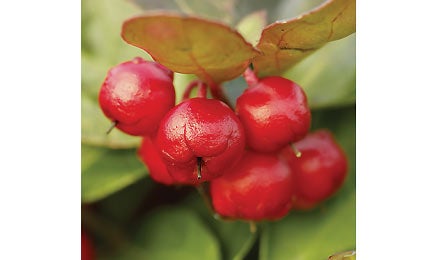 Wintergreen (Garden World Images / age fotostock)
Do it 

When the Appalachian Trail was rerouted through nearby Grayson Highlands State Park in the 1950s, solitude returned to the Iron Mountains. Result: a special stash of unmarred hiking for in-the-know locals who patched together this 16.4-miler. From Little Dry Run trailhead (1), head into the wilderness area along Little Dry Run. Climb 800 feet in three miles, in the shade of oaks, hemlocks, and rhododendrons. At mile .7 (2), the route zigzags over the rocky streambed, which is usually dry except for early spring (hence the name). At mile 2.8, the trail intersects the orange-blazed Virginia Highlands Horse Trail (3). The unnamed gap here makes a good first night's camp, if you've started on Friday evening.
From here, continue straight on Little Dry Run Trail for an optional 2.7-mile ascent of Comers Rock. The next morning, continue east, descending through maple and hemlock, interrupted occasionally by small meadows of shin-high grasses and Queen Anne's lace. Cross US 21 (4) and the ankle-deep East Fork of Dry Run, turning right at mile 5.6 onto the gravel CC Camp road (good camping nearby), then twisting an immediate left onto Dry Run Gap Trail (5). You'll meander along the base of a dry ravine before turning left onto the yellow-blazed Iron Mountain Trail (6). Climb switchbacks .5 mile to reach a ridge with blown-open views north and south in winter.
After two brief-but-steep climbs, turn left onto the Divide Trail (7), plunging 700 feet in .7 mile. On your descent, keep your eyes peeled for black bears drawn to the blue and blackberries of this deep, wooded valley (in June). Cross the CC Camp road again at mile 10.3 (8) to rejoin the Virginia Highlands Horse Trail, leading to 3,873-foot Horse Heaven and its idyllic grassy campsite (9) (pack in water). Close the loop: Descend nearly 1,300 feet in four miles, linking to Henley Hollow Trail (10) at mile 14.8. Follow the faint tinkle of cascading water back to the trailhead.

Trip Planner
Get there From Roanoke, take I-81 69.5 miles south to US 11. Head 3.2 miles south to US 21, which leads 13 miles to Little Dry Run trailhead on the left.
Gear up SunDog Outfitter, 331 Douglas Dr., Damascus, VA; (866) 515-3441; sundogoutfitter.com
Permit None required
Map USGS quad Speedwell ($8, store.usgs.gov)
Season May for blooms, June for berries, Nov. for fall colors
Key Skills
Hiking with horses

The dearth of campsites and fire rings on this loop speaks to the scarcity of backpackers, but the 68-mile Virginia Highlands Horse Trail is popular among riders, and you'll overlap it twice for nearly seven miles total. Horses are big, unpredictable and sometimes skittish of new sights, sounds, colors, and smells; hikers should yield the right-of-way. There's more to it than you might think. Here's how to do it right:
Yield the trail. Step as far as you can off the trail—and downhill, if possible (about 15 feet is ideal). Horses tend to charge uphill when spooked, so you'll be out of the way in case anything does go wrong. As the rider approaches, ask quietly and calmly if you're OK where you are, and then stand still until the horse is 15 feet past you.
Wear gaiters. Horses on trails produce (at least) three things: dust, mud, and loose rocks. To keep debris out of your shoes and protect your ankles, opt for mid-cut boots and strap on low gaiters for an additional barrier (we like Outdoor Research's Flex-Tex Gaiters: $35, outdoorresearch.com).
See This: Wintergreen

Also known as Eastern teaberry, wintergreen is a small, low-growing, shrubby plant with waxy, oval leaves and white, bell-shaped flowers that turn into red fruits. Its leaves produce a strong, menthol-like scent when they're crushed or bruised. The red fruits are edible and have a minty flavor, too. To make wintergreen tea, collect leaves early in the day in order to allow ample time to let them steep for maximum taste. Cut leaves into pieces (to release oils) and seal them in a water bottle with treated water. Let steep for five hours, then bring water to a boil and serve. Bonus: The tea is purported to relieve mild aches (and reduce flatulence, a real plus if you're having dehydrated beans for dinner).
Locals Know

Best view on the trip? Easy. Comers Rock, but you have to go off-route to get there (see right). From the intersection of the Little Dry Run and Virginia Highlands Horse Trails (mile 2.8), stay straight on Little Dry Run Trail to the .4-mile Comers Rock Trail, leading to the 4,080-foot peak. From the remaining platform of the circa-1931 fire tower, take in sweeping views of the Iron Mountain range and beyond. Fifty miles to the west—beyond Hale Lake, Bald Rock Ridge, and Canadays Ridge—lies 5,729-foot Mt. Rogers, the highest point in Virginia. To the south, the terrain drops away 1,500 feet into the patchwork fields of Elk Creek Valley, before climbing to the peaks of North Carolina's Amphibolite Mountains. To the east, see Perkins Knob and Horse Heaven (both are on this route) and the dark ridges of the Iron Mountains fading out of view at the New River.
The Menu
On The Menu
Lunch 1

On the road

Dinner 1

Horse Heaven Hash

Breakfasts 1 & 2 Cheese grits

Lunch 2

Comers Rock Chicken Salad

Dinner 2

Mac n' cheese

Snacks

Dried cranberries, granola, dark chocolate



Horse Heaven Hash

Gourmet breakfast for dinner
1 8-oz. bag frozen hash browns

2 6-oz. pouches of pink salmon

1 small onion, diced

1 small green pepper, diced

1 garlic clove

Olive oil

Salt, pepper, cayenne to taste
Fry potatoes in olive oil for three minutes over medium heat. Add onion, pepper, and spices and cook two more minutes. Add salmon and garlic, and cook for one more minute. Serves two.
Comers Rock Chicken Salad

Full horizon, full stomach
9-ounce chicken pouch

2 pitas

2.5 ounces slivered almonds

½ cup dried cranberries

2 mayo packets

1 relish packet

1 mustard packet

cumin, cayenne, salt to taste

Drain chicken and combine all ingredients. Cut pita in half and fill. Serves two.
The Grocery List (Aisle # in Nearest Store Below)

[ ] garlic (produce)

[ ] green pepper (produce)

[ ] onion (produce)

[ ] dark chocolate bar (1)

[ ] pita bread (2)

[ ] granola (2)

[ ] slivered almonds (2)

[ ] 6-ounce pouch of salmon (3)

[ ] dried cranberries (3)

[ ] chicken (3)

[ ] instant mac n' cheese (3)

[ ] hash browns (8)

[ ] instant cheese grits (5)
Pack Olive oil, spices, condiment packets
PIT STOP Wake up your taste buds with a blackened blackeyed pea burger and a side of fried pickles

at the WhistlePig Bistro and wash it down with a limeade. Dessert? Blueberry and lemon trifle.

425 Douglas Dr., Damascus, VA; (276) 475-3194; whistlepigbistro.com
NEAREST GROCERY STORE

Food City

568 East Main St., Independence, VA

(276) 773-2751