Rip & Go: Horse Mountain to Traveler Mountain – Baxter State Park, ME
Reach great granite heights on Katahdin's next-door neighbor.
Heading out the door? Read this article on the new Outside+ app available now on iOS devices for members! Download the app.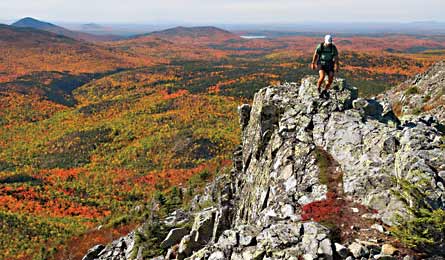 Little Knife Edge (Tim Seaver)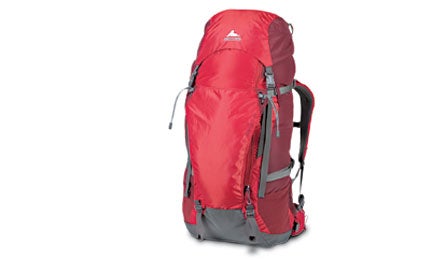 Gregory Serrac 45 (Courtesy Photo)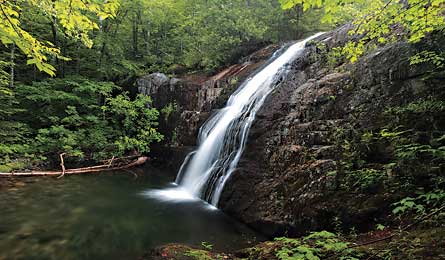 Waterfall at mile two (Tim Seaver)
Traveler Mountain (Tim Seaver)
Do It/Trip Planning | Key Skill/Local Beta | Menu Planning
Do It

Leave Katahdin to the masses; there's more than one must-see massif in northern Maine. This three-day, 34-mile lollipop from the Horse Mountain trailhead (1) hits one of the best: 3,541-foot Traveler Mountain. In the first 1.1 miles, climb moderately up 1,589-foot Horse Mountain, where a .4-mile spur leads to views of Grand Lake Matagamon. Descend to the sheltered Billfish Pond and past a junction with the Five Ponds Trail (2) at mile 2.7. Pass Round, Long, and High Ponds, merging onto the Middle Fowler Trail (3) at 4.4 miles, and reaching the Middle Fowler South Campsite (4) at 5.7 miles.
Climb for 1.8 miles, and then drop to South Branch Pond Campground (5), but keep going. A better campsite lies 4.1 miles ahead. Sign in at the Ranger Station, and walk 20 yards to Lower South Branch Pond, a narrow tarn tucked in a fjordlike valley between North Traveler and South Branch Mountains. Ford the outlet and begin climbing through dense conifers on South Branch Mountain. Views of The Traveler broaden on Black Cat Mountain (6) (also called South Summit) at mile 13. Be careful on the steep, rocky descent, and hit Upper South Branch Lean-to (7), nestled in a pine grove near Upper South Branch Pond and its resident moose and loons. Next day, tank up on water (Traveler's ridgeline is bone-dry) and climb 2,254 feet in two talus-choked miles to 3,225-foot Peak-of-the-Ridges (8).
Rock-hop across Little Knife Edge, a spine of granite pillars, for .3 mile, and take in a panorama from The Traveler (9) that includes every peak in the park, including Katahdin, eight miles southwest. It's another 2.7 miles along bare rock to reach the view from North Traveler's summit (10). Descend 2.6 miles through alpine fields to South Branch Campground (11). Overnight here, then exit via Middle Fowler Pond, Five Ponds, and Horse Mountain Trails.
Trip Planner

Get There From East Millinocket, take I-95 north 19 miles to ME 11 north, and go west on ME 159 in nine miles. Go 25 miles to Matagamon Gate, park at the canoe launch, and road walk .6 mile to the trailhead.

Gear Up Nicatou Outfitters, Medway. (207) 746-7211; mainecampingtrips.com
Permit Reserve lean-to four months ahead. baxterstateparkauthority.com
Map AMC Maine Mountain Guide ($20, outdoors.org)
Key Gear

Stable Pack

Whether tromping up 2,200 feet over two miles on Peak-of-the-Ridge's loose talus, or tiptoeing across Little Knife Edge, you need a weekend pack that holds everything without swinging around like an empty horse trailer on a light truck. Gregory's climbing-inspired Serrac 45 holds enough gear for a couple of nights, has an ergonomic hipbelt for all-day comfort, and its light-but-stiff suspension keeps the weight evenly distributed. A top-to-bottom zipper offers easy access to all your gear, and compression straps secure large and small loads alike to enhance stability even more. $160; 3 lbs. 6 oz.; gregorypacks.com
See This

Virgin Red Spruce

Apart from Katahdin, the park's only stand of virgin red spruce is on Traveler. See it at the end of a three-mile (one-way) trek on the Pogy Notch and Howe Brook Trails. The route follows a stream so clear it seems invisible, and leads to a 20-foot cascade (pictured) at mile two. At the head of these waters grows a stand of red spruce dating back more than 275 years. These are the sole survivors of logging and fires that deforested this region in the 19th and 20th centuries.
Locals Know

At 3,541 feet, Traveler Mountain doesn't even rank in the top 20 highest peaks in Maine. But it leads another category, albeit obscure: It's the highest volcanic peak in New England. About 400 million years ago, Traveler blew its cone in an eruption comparable to Mt. St. Helens in 1980. The remnant hulk, clearly visible due east of South Branch Mountain at mile 12.4, is still enormous—enough so that trappers on the East Branch Penobscot River thought the distant mountain was moving with them, hence the name Traveler Mountain. The peak's rocky ridge wasn't revealed until 1902, when the Great Wassataquoik Fire consumed much of what would become Baxter State Park—even the topsoil.
Do It/Trip Planning | Key Skill/Local Beta | Menu Planning
On The Menu

Breakfast 1On the road

Lunches 1 & 2 Peanut butter, marshmallow fluff, raisins on English muffin

Dinner 1 Five Ponds Fajita (below)

Breakfasts 2 & 3 Oatmeal with dried pineapple

Dinner 2 Mushroom Bombs

Snacks Honey-roasted peanuts, Snickers
Five Ponds Fajita

Tortillas piled with the works
2 large tortillas

3 ounces teriyaki beef jerky, cubed

2 ounces cheddar, shredded

2 tablespoons salsa (repackage in a small container)

1/4 cup each diced yellow onion, red pepper, green pepper

2 teaspoons olive oil

2 ounces shredded lettuce
Sauté onions, peppers, and jerky in olive oil, spread in tortilla with salsa. Sprinkle on cheddar and lettuce; wrap and serve.
Mushroom Bombs

Easy backcountry gourmet
24 Ritz crackers, crushed

12 pepperoni slices

4 tablespoons butter

4 slices provolone

4 large portabella mushrooms
Dice portabella stems and pepperoni, and sauté in half the butter along with caps. Remove caps, heat rest of butter, then add crushed crackers and mix. Mound stuffing into caps. Cover each cap with one provolone slice, cover and fry until cheese is lightly browned and bubbly.

The Grocery List (Aisle # – In nearest store below)
[ ] 4 large Portabellas w/ stems (produce)

[ ] 1 each: green, red, and yellow peppers (produce)

[ ] pepperoni (deli)

[ ] 1 bag shredded cheddar (deli)

[ ] provolone (deli)

[ ] 1 box Ritz (2)

[ ] olive oil (2)

[ ] oatmeal (2)

[ ] dried pineapple (3)

[ ] salsa (4)

[ ] flour tortillas (4)

[ ] honey-roasted

peanuts (5)

[ ] trail mix (6)

[ ] peanut butter (10)

[ ] fluff (10)

[ ] English muffins (10)

[ ] 1 package jerky (10)

[ ] butter (11)

[ ] Snickers (check out)
NEAREST GROCERY STORE

Hannaford Food & Drug

843 Central Ave., Millinocket, ME (207) 723-8047
PIT STOP Find good eats in hiker-size portions at the The Appalachian Trail Café. Try the cheesy-crunchy South of the Border Nachos and peruse a wall of thru-hikers' hero poses atop Katahdin. 33 Penobscot Ave., Millinocket, ME; (207) 723-4321