Rip & Go: Hoh River to Third Beach Olympic National Park, WA
Cross a rugged coastline on the edge of Washington's Hoh Rainforest.
Heading out the door? Read this article on the new Outside+ app available now on iOS devices for members! Download the app.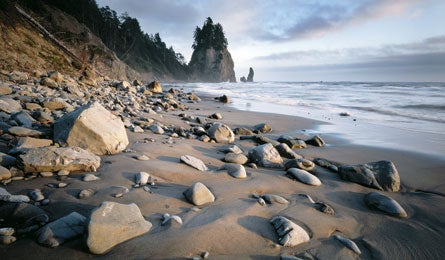 Mosquito Creek, mile 5.6. (Kirkendall-Spring)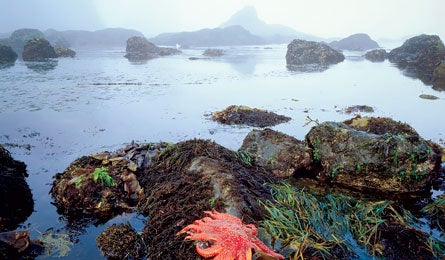 Tidal pools on the coast. (Ed Callaert)

DO IT

Is it a hike or an Army obstacle course? Both, actually, which you'll find out as you negotiate ladders and ropes through upland rainforest and rocky beach on this 16.1-mile trek. At the Oil City trailhead (1), take the South Coast Trail along the river. Two rights lead to the coast (2); cruise past a bleached driftwood graveyard to Jefferson Cove. (Note: Cross the area at tides lower than two feet; get charts at the ranger station.) Head inland near a small waterfall (3) and scale a 60-foot cliff on two fixed ropes. The 3.5-mile upland trail winds through a high-canopy forest, and begins a roller-coaster section up log steps and down into the mossy forest. Take the boardwalk over the marshy area (4) to Mosquito Creek and camp on a bluff overlooking the Pacific (5). Next morning, don your sandals and ford Mosquito Creek at its mouth. Walk the beach north for two miles past sea stacks (6). At low tide, hike on the beach to the left side of the rocky sea stack. At high tide, clamber over driftwood on the right. Turn inland at bull's eye marker (7), head up a hillside, and hike through a leafy trellis of salal, salmonberry (edible but bland), thimbleberry (rich and juicy), and devil's club. Stay straight to ford 20-foot-wide Goodman Creek (8), and re-enter the woods; pass massive red cedars to Falls Creek's low cascade. Descend a 30-foot trail ladder (9) and head north to Toleak Point, watching for bald eagles. Traverse a rocky stretch, and head past Giants' Graveyard, a cluster of sea stacks and pinnacles. Ford Scott Creek (10) and traverse a forested hillside (use trail ropes, if needed) to the beach. At the bull's eye trail marker, climb 90 steps into the forest. After 14.2 miles, descend to Third Beach on stairs and ladders (11) and pick up the dirt path to Third Beach parking area (12) and your shuttle.

TRIP PLANNER

The Way From Port Angeles, go southwest on US 101 for 70 miles. Turn right onto Oil City Rd., and go 10.3 miles to trailhead parking.

Permit Wilderness camping is $5 plus $2/person per night. Bear canisters ($3 rental at ranger stations) are required on the coast.
Shuttle Willie Nelson's All Points Charters and Tours: (360) 460 7131; goallpoints. com. Coastal shuttle service costs $150 for six.
Gear up Brown's Outdoor, 112 W. Front St., Port Angeles, WA; (360) 457- 4150; brownsoutdoor.com
KEY SKILL: CROSS A RIVER

At miles 5.6 and 8.7, it's literally time to test the waters. Depths at Mosquito and Goldman Creeks vary from ankle-deep to thighhigh due to heavy rain and tidal shift. Ford them safely:
Pack right Wear sandals or athletic shoes rather than going barefoot; use trekking poles for balance.
Assess Cross streams at wide points where the current moves slower. Washboard ripples indicate shallow water. Use a hiking pole to test depth, or chuck a rock into the stream's middle—a hollow "ker-plop" indicates deep water. Never cross whitewater or at depths deeper than mid-thigh.
Prepare Unbuckle your pack's hipbelt and sternum strap, and loosen the shoulder straps to enable a quick exit. You want to jettison your pack if you get swept away.
Execute Face upstream with your trekking poles out front and sidestep across, yielding slightly to the current. Maintain two points of contact and a wide base; never cross legs.
SEE THIS: TIDE POOLS

At Toleak and Strawberry Points, receding tides leave islands of sea water, rich with life-sustaining nutrients from Pacific up-welling, a process that carries deep-sea particulates to the surface. Tide pools support an amazing diversity of sea creatures—including the sunflower starfish (right) the world's largest sea star, anemones, mollusks, multicolored sea slugs (nudibrachs), and plantlife—that you'd normally need scuba gear to view. Tip: The lower the tide, the more sea life exposed in tide pools. Consult a tide chart to find the lowest tides, and prepare to spend hours inspecting these natural aquariums. Don't forget to look up: Rogue waves can strike at any tide and drag unsuspecting hikers out to sea.
PIT STOP

Three Rivers Resort Restaurant is known for its "World Famous River Burgers." Lick your chops for the "Werewolf Burger," made with a half-pound patty and double ham, bacon, and cheese. 7765 La Push Rd., Forks, WA; (360) 374-5300
LOCALS KNOW

Local Quileute Native Americans describe a mysterious figure known as "Q'waeti," or the transformer, who wandered the Olympic Peninsula instructing tribes how to live—and morphing animals into humans. According to legend, the Quileute were transformed from wolves to people by the powerful medicine man, giving rise to the werewolf myth and legion creature flicks— most recently the Twilight series, which is set in coastal Washington.
ON THE MENU

Breakfast 1 On the road

Lunch 1 Peanut butter and raisin tortilla rollups

Dinner 1 Smoked Salmon Sliders
Breakfast 2 Oatmeal with cherries and walnuts

Lunch 2 Hoh Coastal Penne
Snacks Dried fruit and nut trail mix
RECIPES

Smoked Salmon Sliders

Little bundles of seafood joy 6 ounces smoked salmon 1 tablespoon green onions 1 tablespoon red onions 1 tablespoon capers 2 tablespoons dill, minced 1 tablespoon fresh lemon juice Mustard 1 tablespoon olive oil 10 mini bagels Shred salmon in bowl and mix in ingredients. Split and toast bagels; make sandwiches with salmon mixture. Optional: Add cream cheese or cucumber.

Hoh Coastal Penne

Lemon adds some zing to this hearty one-pot meal. 16 ounces penne pasta ½ green onion, chopped ½ red onion, chopped ½ lemon, chopped ½ cup Parmesan cheese 2 teaspoons olive oil Salt and pepper (to taste) Cook penne, drain and set aside. In same pot, sauté onions and lemon in oil until onions are soft. Remove from heat, add pasta, and stir in Parmesan cheese. Serve immediately.
THE GROCERY LIST

[ ] 1 box instant oatmeal

[ ] 1 pack walnuts

[ ] 1 pack dried cherries

[ ] 6 oz. smoked salmon

[ ] 16 oz. penne pasta

[ ] Parmesan cheese

[ ] 2 oz. peanut butter

[ ] 1 box raisins

[ ] 1 red onion

[ ] 1 green onion

[ ] 1 package mini bagels

[ ] 1 tin dill

[ ] 1 small jar capers

[ ] 1 lemon

[ ] 1 pack tortillas

[ ] 1 pack mixed nuts

[ ] 1 pack dried fruit

[ ] salt and pepper

[ ] olive oil

[ ] mustard
NEAREST GROCERY STORE COUNTRY

AIRE NATURAL 117 E. 1st St., Port Angeles, WA; (360) 452-7175 30 BACKPACKER 06.2010