Rip & Go: Hilgard Basin – Lee Metcalf Wilderness, MT
Climb to a wonderland of tundra, rugged peaks, and dreamy lakes.
Heading out the door? Read this article on the new Outside+ app available now on iOS devices for members! Download the app.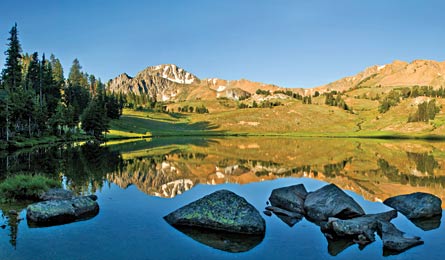 Expedition Lake (Photo by Doug Roane)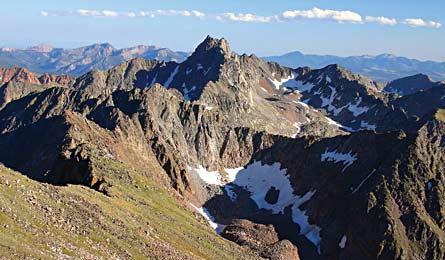 Hilgard Peak from Echo Mountain (Photo by Martin Scott Wilson)
Do it 

Take Montana's steep corrugated mountains, add Yellowstone's grizzlies and meadows, and you get this 260,000-acre wilderness in the Madison Range. You'll trek straight to the best camping on this 17.4-mile out-and-back. From the Potamogeton Park trailhead (1), hike southwest to a bridged crossing of Beaver Creek at the wilderness boundary (2) in .2 mile. Tackle a steady climb through thick forests of aspen, lodgepole pine, and spruce ("See This," next page) before breaking into the first of several narrow meadows (3) at mile 2.5. Just past this point, the trail bends west along the tumbling Sentinel Creek. Don't take your first long break too soon; wait until the first blown-open views (4) of the Madison Range's hanging snowfields and ragged peaks at mile 4.4. Emerge into a large meadow (5) in another .3 mile, and scan the open slopes to the north for elk or mule deer.
Reentering the forest, continue climbing to the runout of a large avalanche chute (6) at mile 5.9. This is where the author spotted fresh grizzly tracks in a layer of early snow last year. In fall, the bears congregate in rich foraging areas like this, fattening up for hibernation on yampa roots, whitebark pine nuts, and other high-calorie foods (see "Key Skill," next page to keep your grub safe). Less than a mile later, leave the forest behind (7) and enter rolling tundra filled with clear streams and narrow bands of conifers. At mile 7.3, cross the headwaters of Sentinel Creek (8), now just a trickle. Begin a final uphill push, cresting an exposed pass (9) with views into wide-open Hilgard Basin. Switchback down a half-mile to the first of the basin's many prime campsites along the shores of Expedition Lake (10). Follow the trail southwest, watching for the left turn (11) to Crag Lake in just over .2 mile. Continue to Crag's east shore, reaching a secluded camp (12) shielded by whitebark pine.
Want to extend the dream? Basecamp here and spend the next day tackling a two-mile, 1,700-foot climb to nearby Echo Peak ("Locals Know," next page). It's too nice not to stay awhile.
Trip Planner

Get there From Bozeman, take US 191 80 miles to US 287. Go west 10 miles, then turn right on Beaver Creek Rd. (gravel). Park at the trailhead in 4.5 miles.

Maps USGS quads Pika Point and Hilgard Peak ($8 each, store.usgs.gov)

Gearup Northern Lights Trading Co., 1716 W. Babcock, Bozeman, MT; (406) 586-2225; northernlightstrading.com 
Contact (406) 823-6961; fs.fed.us/r1/gallatin
Key Skill: Counter-balance a bear bag

This is prime bear country, so plan ahead to keep your food out of reach and at least 100 feet from where you camp or cook. Hard-shelled containers are a sure bet, but to lighten your load, try this elegant hanging technique.
1. Choose your branch. Ten feet from trunk, 20 feet high
2. Hang your line. Tie a rock to your rope and loop the branch.
3. Split your load equally into two stuffsacks. 
4. Tie the first bag to one end of the rope.
5. Hoist it to the branch.
6. Tie the second bag to the other end of the rope at around chest height.
7. Stuff the rope in the bag; leave an 8-inch loop hanging.
8. Push the second bag up with a stick (or hiking pole) until both bags hang at least 12 feet off the ground.
9. Retrieve your food by poking a stick through the hanging rope.

See This: American marten

The forests of the Madison Range are home to a stealthy little predator adept at scampering from limb to limb. The housecat-size member of the weasel family hunts among downed timber, seeking out mice, voles, red squirrels, and snowshoe hares. Known for its pointed face, erect ears, and bushy tail, the marten sports a light brown body, darker legs and tail, and a yellow patch running down its throat and breast. The animals prefer dense, lower-elevation fir and spruce forests like those on the first half of this route. Watch for martens darting through the tree branches in the morning or evening. 

Locals Know

Snow-covered year-round, steep and striated 11,211-foot Echo Peak dominates the views from Hilgard Basin. It may look like the domain of technical climbers, but you can access a no-ropes-required scramble along the north ridge. From your campsite at Crag or Expedition Lakes, head southwest cross-country past Thunderbolt Lake, aiming for the obvious saddle just north of the ridge. It's a stout 1.3 miles with 1,700 feet of elevation gain. From the saddle, scramble south .7 mile to the summit. Take in the north-to-south views of the rugged Madison Range and catch a glimpse of Yellowstone to the east. Due south is toothy 11,316-foot Hilgard Peak (pictured), the highest in the range.
On The Menu
Breakfast 1 

On the road

Lunches 1 & 2 

Bagels and cream cheese with salami

Dinner

Alpine Couscous

Breakfast 2

Echo Peak Oatmeal

Snacks 

Trail mix, beef jerky


Alpine Couscous

Middle East meets high peaks. 
10 ounces couscous

1 Snappy Soya Tasty Bite

8 ounces prewashed spinach

4 ounces crumbled feta cheese

Green onion, chopped

Salt and pepper
Boil couscous as directed. Heat Tasty Bite. Add spinach and cook until wilted. Mix with couscous. Top with green onions and feta. Serves two. 
Echo Peak Oatmeal 

A sweet, nutty twist to that go-to high peaks fuel 
3 packages instant oatmeal

Huckleberry jam

1 handful cashews (or your preferred nut) 

Pinch of allspice
Heat water and add to instant oatmeal. Stir in huckleberry preserves, top with nuts and allspice, enjoy. Serves two.

The Grocery List (Aisles are unnumbered)

[ ] allspice

[ ]  bagels

[ ]  beef jerky

[ ]  cashews

[ ]  couscous

[ ]  cucumber

[ ]  cream cheese

[ ]  dried fruit

[ ]  feta

[ ]  green onions 

[ ]  huckleberry jam

[ ]  instant oatmeal 

[ ]  trail mix 

[ ]  salami

[ ]  Snappy Soya Tasty Bite

[ ]  spinach
PIT STOP

Locals love Burger Bob's in downtown Bozeman for a juicy posthike burger (made with local ingredients), a pile of fries, and a cold Montana microbrew. Order up the Original Bob's Combo. 39 W. Main St., Bozeman, MT; (406) 585-0080
NEAREST GROCERY STORE

Bozeman Community Food Co-op

908 W. Main St.

Bozeman, MT

(406) 587-4039