Rip & Go: Heather & Maple Pass Loop, Okanogan-Wenatchee National Forest, WA
Orbit an alpine lake on the edge of North Cascades National Park.
Heading out the door? Read this article on the new Outside+ app available now on iOS devices for members! Download the app.
Do it

Get national park-caliber views without the permit hassles on this 9.3-mile loop. The short distance leaves time to savor 100-mile vistas of North Cascades peaks—which you'll get all to yourself after the dayhikers go home.

From the Heather Pass trailhead (1), switchback up 525 feet in .9 mile through pine and fir forest. Traverse a wide hillside meadow with good wildlife spotting opportunities (black bears often gorge themselves in the huckleberry patches in late summer). At mile 1.2 (2), take the spur trail .6 mile to Lake Ann (3), where gentian paint the surrounding bogs blue in September. This is the route's only water, so top off with enough for a dry camp and another day of hiking before backtracking to the main trail.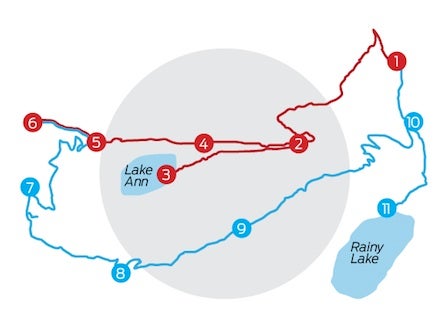 Head uphill through more forest, then emerge to your first glorious views (4) of Lake Ann's rocky basin below. At 6,200-foot Heather Pass (5), turn right on a well-worn boot path through huckleberry and alpine larch. Bed down at one of several secluded ridgetop campsites near mile 3.6 (6), each with a 180-degree panorama of the North Cascades and the Pasayten Wilderness. (Want more? Scramble 2.5 miles one-way over talus, past silty Lewis Lake, to campsites on the north side of Wing Lake, often surrounded by snow late into summer. It's another mile up class 3 terrain to tag Black Peak's 8,970-foot summit.)
Next day, return .2 mile to the main trail and turn right to continue the loop. Enter the national park at mile 4.7 (7), traversing wide meadows carpeted with paintbrush, heather, and arnica through summer (get going before dawn to catch the sunrise illuminating the icy crown of Glacier Peak, visible from the ridge starting at mile five). In .8 mile, hit 6,600-foot Maple Pass (8) on the flanks of Frisco Peak, then contour around a glacial cirque where snow usually lingers into late summer. Cross more sloping meadows, then a narrow ridge (9) with in-your-face views of Frisco Peak and the Lyall Glacier clinging to its side. Below to the south, 850-foot Rainy Falls cascades into blue-green Rainy Lake. From here, drop 1,500 feet in 1.6 miles to the paved Rainy Lake Trail (10). Turn right for a .5-mile detour to the lake viewpoint (11), then backtrack, staying on the paved path .9 mile to close the loop.
Trip Planner

Get there From Seattle, take I-5 N 60 miles to Burlington; exit onto WA 20 E (toward Winthrop). Drive 97 miles, through North Cascades NP, to trailhead parking at Rainy Pass.

Gear up Winthrop Mountain Sports, 257 Riverside Ave., Winthrop, WA; (509) 996-2886; winthropmountainsports.com

Permits Stop into the Wilderness Information Center in Marblemount to purchase a Northwest Forest Pass ($5/day), required for trailhead parking.

Food storage Bear canisters recommended.

Contact (509) 996-4003; fs.usda.gov/okawen