Rip & Go: Goldmyer Hot Springs – Snoqualmie NF, WA
Track beneath waterfalls and icicle-hung trees to a soothing soak.
Heading out the door? Read this article on the new Outside+ app available now on iOS devices for members! Download the app.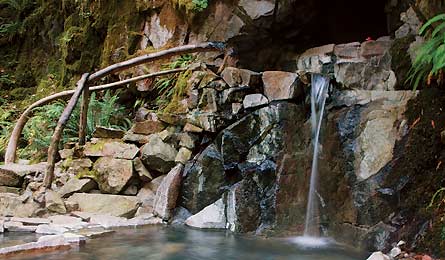 Goldmyer Hot Spring (hikingwithmybrother.com)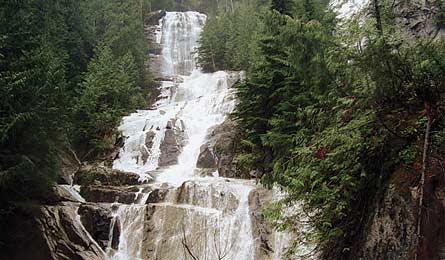 Tin Cup Joe Falls (hikingwithmybrother.com)

DO IT

Need a restorative winter warmer? Hike 11 miles along the icy banks of the Middle Fork Snoqualmie River to a natural hot spring just 35 miles from Seattle. During winter, the lone access road becomes impassable; it's foot travel only, but you'll still need reservations (see Trip Planner) to secure one of just 20 daily permits. From the parking lot (1) off Middle Fork Road, take the Middle Fork Snoqualmie Trail #1003 across the Gateway Bridge (2) and follow the main track left. At .8 mile, reach a side trail (3) leading to the granite backbone of Stegosaurus Butte. Follow the river, then climb through a recent landslide (4) that toppled the Douglas firs and exposed a view of 5,519-foot Mt. Garfield.
At 4.5 miles, reach Cripple Creek (5) and a roaring 20-foot cascade set against a granite backdrop. Turn uphill here for a one-mile side trip to Tin Cup Joe Falls. Hike another mile to the Dingford Creek junction (6). During spring snowmelt (April to May), the Thunder Creek ford, three miles ahead, can be impassable. Scout Dingford Creek to help anticipate Thunder Creek's flow (see next page). If Dingford's raging, take the left spur to Dingford Road and follow the forest road four miles to Goldmyer. Otherwise, continue toward Wildcat Creek (7) and Rock Creek (8), both spanned by wooden bridges.
At 8.1 miles, veer right at the Y-junction (9). You'll soon pass the intersection with the Rock Creek Trail #1013.3 (10), which leads to Snow Lake and Snoqualmie Pass. Stay on #1003 to Thunder Creek (11), where two 10-foot falls emit a low roar. Cross the stream if the torrent is passable, then continue to Burntboot Creek (12) and the fallen logs that provide access to Goldmyer Hot Springs. The springs are staffed by caretakers for Northwest Wilderness Programs, Inc., a nonprofit dedicated to wilderness preservation; check in (13), and camp along the river. Then hit the pools (14), which seat one to four, and range from 100°F to 120°F.
Trip Planner
Get there From Seattle, take exit 34 off I-90 east, then a left on 468th Ave. Drive 1.5 miles to SE Middle Fork Rd. Follow it 11 miles to the Middle Fork trailhead.

Gear up REI, 735 Northwest Gilman Blvd., Issaquah, WA. (425) 313-1660; rei.com
Permit Northwest Forest Pass required ($30/year). (800) 270-7504; fs.fed.us/ r6/passespermits
Reservations Access is $15/ day per person. Call 90 days ahead. (206) 789-5631; goldmyer.org

KEY GEAR

In late winter, trail conditions can range from a thin layer of rock-studded ice to six feet of slushy, layered snow hollowed out by melt-down channels. Locals dub the latter "Cascades cement." Call Goldmyer Hot Springs (206-789-5631) for conditions, and if it's icy, pack Kahtoola Microspikes ($59, 12.5 oz., kahtoola.com). These crampons-writ-small hold firm on icy trails and hardpack snow, and ½-inch, stainless-steel points resist bending or breaking, so you won't have to remove them to hike over rocky sections. The easy-on, burly rubber bindings grip toe and heel firmly, but are pliable enough to fit a wide range of boot sizes. Conditions more like wet concrete? Find a pair of snowshoes with the perfect blend of float and traction at backpacker.com/snowshoes.

SEE THIS

NORTHERN SPOTTED OWL

Equal parts poster boy (to conservationists) and whipping boy (to loggers), the spotted owl claims the ancient boreal forests north of Snoqualmie Pass among its few remaining habitats. Its brown plumage is dotted with white slashes, and just after dusk, it waits on high tree branches for its favorite meal (flying squirrel). A breeding pair requires between 2,000 and 5,000 acres of uninterrupted forest, where it nests at the tops of broken trees, in abandoned northern goshawk nests, or other natural crevices. During the day, look in deep shade high on mature trees to spot one of the estimated 10,000 individuals.
LOCALS KNOW Cascading more than 200 feet over three tiers, Tin Cup Joe Falls is exactly the kind of waterfall that shutterbugs and dayhikers would seek out—if the trail to it didn't act as a natural deterrent. Route-find and scramble your way to a solo viewing a mile from the Cripple Creek Bridge, which is five miles northwest of Goldmyer Springs. Where two small streams join Cripple Creek, .9 mile up the trail, stay to the right and scramble 50 feet up bare rock cliffs (beware of ice) to find the top two tiers that are hidden from below.


ON THE MENU

Breakfast 1

On the road
Lunches 1 & 2

Onion bagels with ham and cream cheese
Dinner 1

Presto Pesto Tortellini
Breakfast 2

Snoqualmie Taters
Snacks

Tilla-moos, teriyaki turkey jerky, Jelly Belly beans
Presto Pesto Tortellini

Italian gourmet in a snap

12 ounces fresh tortellini

2 ounces sun-dried tomatoes

1 ounce pine nuts

2 ounces Parmesan cheese

2 tablespoons pesto
Fresh tortellini cooks faster and tastes better than dried, and easily keeps overnight. In a quart of water, boil sun-dried tomatoes for two minutes. Add tortellini and boil for three to five minutes until al dente. Drain water. Mix in pesto and pine nuts. Top with Parmesan to taste. Serves 2.
Snoqualmie Taters

A hearty hobo scramble

½ onion, diced

4 slices precooked bacon

2 eggs

10 ounces hash browns

2 teaspoons vegetable oil

Johnny's Seasoning Salt
Crack eggs into a Nalgene before setting out. Sauté hash browns until golden (10 minutes). Add onions and cook three minutes. Add eggs, bacon, and seasoning. Simmer over medium, stirring, until eggs are done. Serves 2.
The Grocery List

[ ] pine nuts (produce)

[ ] sun-dried tomatoes (produce)

[ ] onion (produce)

[ ] ham (deli)

[ ] bagels (2)

[ ] hash browns (5)

[ ] pesto (5)

[ ] eggs (5)

[ ] bacon (5)

[ ] fresh tortellini (5)

[ ] cream cheese (5)

[ ] Parmesan cheese (5)

[ ] Tilla-moos (5)

[ ] Jelly Belly beans (11)

[ ] turkey jerky (12)

[ ] Johnny's Seasoning (15)
Pack Vegetable oil

NEAREST GROCERY STORE

SAFEWAY

460 Southwest Mount Si Blvd.

North Bend, WA

(425) 831-2122


PIT STOP

Hit the North Bend Bar and Grill for a hunger-eradicating Salazar Steak Sandwich and an order of Buffalo Strips. 145 E. North Bend Way, North Bend, WA; (425) 888-1243; northbendbarandgrill.com