Rip & Go: Godwin Trail to Inspiration Point – Shawnee National Forest, IL
Cross deep, vine-laced forests to bluff-top views over rivers and prairie.
Heading out the door? Read this article on the new Outside+ app available now on iOS devices for members! Download the app.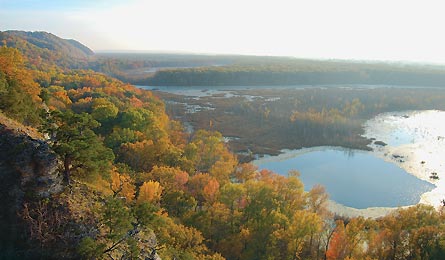 Inspiration Point (Photo by Tyler Neu)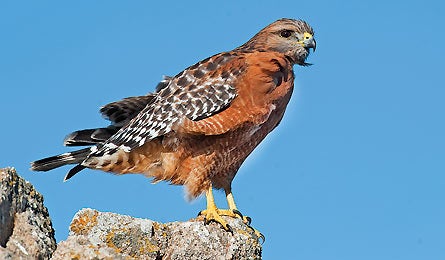 Hawk (Photo by Rob Curtis)
Do it
This 15.9-mile, two section out-and-back hike in Shawnee National Forest crosses rolling, ravine-scored landscape that's more Ozark than Prairie State. From the east Godwin trailhead (part of the 160-mile River-to-River Trail), descend west into hollows thick with maple, elm, and oak trees. Turn north at .1 mile to enter the Bald Knob Wilderness (1), then stay southwest at the junction with the Bridgeman Trail (2) .2 mile later. Wrist-thick wild grapevines (fruiting from May to June) dangle overhead as the trail drops 300 feet to the bottomlands paralleling a small, unnamed creek. Continue west, and you'll crisscross the usually dry creekbed five times before reaching wide and shallow Hutchins Creek at mile 2.6 (3). Cross the creek (knee-high in spring; dry by September) into the Clear Springs Wilderness and head upstream to rejoin the Godwin Trail (look for the white "i" blaze just north). Continue another .1 mile to the junction with Hutchins Creek Trail (4). Turn right and follow the creek through thick patches of leatherwood fern and wild ginger. Stop for a dip at the seasonal swimming hole (5) at mile 2.9 (deepest in early summer). At mile 3.3, cross spring-fed Hutchins Creek and reach an early 20th century homestead (6). Continue to your next Hutchins crossing at mile 3.6; scout a campsite (7) on the wide gravel bars just above the deepest rivulets of water. (Tip: Conduct a thorough tick check.) Next morning, head back to the Godwin Trail and stash your pack. The trail west climbs steeply, adding 200 feet in .3 mile, to gain the top of a ridgeline (8). Thread between two sharp-angled ravines (beware abundant poison ivy on this stretch in summer and fall) for 3.3 miles, watching for deer, wild turkey, and bobcat. Turn right onto Pine Hills Road (9) and hike .4 mile along the dirt path to the Inspiration Point trailhead (10). Follow the .2-mile trail to the sandstone bluff (11), where a vantage point offers views across the wetlands and prairies below ("See This," next page). Retrace your steps back to your car.

Trip Planner
Get there Drive 14 miles south on IL 127 from Murphysborough to Alto Pass. Take Bald Knob Rd. west 2.5 miles to the trailhead parking.
Gear up Shawnee Trails Wilderness Outfitters, 222 West Freeman St., Carbondale. (618) 529-2313 Maps USGS quads Wolf Lake and Cobden ($8, store.usgs.gov)
Permit Not required
MORE SHAWNEE Fill another weekend on the River-to-River Trail from Lusk Creek to Garden of the Gods. 

Key Skill
Deep woods navigation
Without any topographical handrails (such as peaks or cliffbands) to sight on, plus blowdowns and spotty trail signage, navigating this forested route can be a challenge. Here's how to avoid common problems and stay on track:
Route around blowdowns
Leaving the trail to avoid fallen trees can put you off route in no time. Do it right: Take your directional bearing, turn 90 degrees and count your steps to the end of the blowdown. Resume your original bearing until you're past the obstacle, turn 90 degrees back and walk the same number of footsteps to the trail.

Beware unmarked junctions Unofficial spurs branch off of the main track in several spots along Hutchins Creek. Use your compass to check your bearing periodically. If you're heading east but the map indicates you should be going north, backtrack to the last known junction.
Last resort If you're lost, follow the nearest passable drainage down valley into Hutchins creekbed. If you're still unable to find the junction you're looking for, walking either north or south will deliver you to a road in just a few miles.
See This
Inspiration Point

From the top of this sheer, 350-foot sandstone perch, hikers earn views over the LaRue-Pine Hills Natural Area, a 4.5-square-mile tract that houses 14 different ecosystems. This perch along the Mississippi flyway is a year-round draw for birdwatchers, who scope the skies for 175 resident and migratory species in the area—including vireos and warblers in spring, Mississippi kites and tanagers in summer, bald eagles in fall, and red-shouldered hawks, woodpeckers, and snow geese in winter. Locals Know Twice each year, thousands of reptiles and amphibians—about 57 different species—slither, hop, and crawl their way between LaRue wetlands and the sandstone bluffs of Pine Hills, where they hibernate through the winter. From September 1 to October 30, the 2.5-mile stretch of Pine Hills Road (aka Snake Road) is hiker-only to accommodate the snake parade. The third week of October sees the most activity—you could spot up to 30 individuals on a good day, including cottonmouths, copperheads, timber rattlesnakes, and red milk snakes. The wrigglers are most active from 1 to 5 p.m. Scan the road shoulders and watch from a safe distance. Not into snakes? Leaf peeping typically peaks the third week of October, too.

Breakfast 1
On the road
Lunches 1 & 2
Big Muddy River Wraps
Dinner 1
Snakes Alfredo
Breakfast 2
Oatmeal with dried cranberries
Snacks
Crackers and cheese, trail mix
Big Muddy River Wraps
A deli classic for the trail
4 whole wheat tortillas
2 avocados
6 ounces Swiss cheese
2 6-ounce packets of tuna
2 packets ranch dressing
Slice avocado. Place tuna, cheese, avocado, and ranch inside tortillas and wrap, burritostyle. Serves two.
Snakes Alfredo
A cheesy, creamy pasta dish

8 ounces fettucine
1 cup broccoli, chopped
1 packet Alfredo sauce mix
½ cup powdered milk
7-ounce packet chicken
¼ cup Parmesan cheese
Cook noodles and add broccoli four minutes before pasta is al dente. Drain, reserving 1½ cups water. Stir in Alfredo and powdered milk; simmer three minutes until sauce thickens. Add chicken and sprinkle with cheese. Serves two.
Grocery List (Aisle # In nearest store below)
[ ] dried cranberries (produce)
[ ] avocados (produce)
[ ] broccoli (produce)
[ ] ranch dressing (1)
[ ] tuna pouches (3)
[ ] fettucine (3)
[ ] Alfredo sauce mix (3)
[ ] chicken pouch (3)
[ ] powdered milk (4)
[ ] oatmeal (6)
[ ] crackers (11)
NEAREST GROCERY STORE Kroger 550 E. Industrial Park Rd. Murphysboro, IL; (618) 687-3481
PIT STOP Sample what Bon Appétit recently named the best ribs in the country at 17th Street Bar & Grill, where the baby back grand champions come slow-cooked and sprinkled with "magic dust." 32 North 17th St., Murphysboro, IL; (618) 684-4722