Rip & Go: Four Pass Loop
Like peaks, lakes, and wildflowers? You'll love this Rockies classic in White River National Forest.
Heading out the door? Read this article on the new Outside+ app available now on iOS devices for members! Download the app.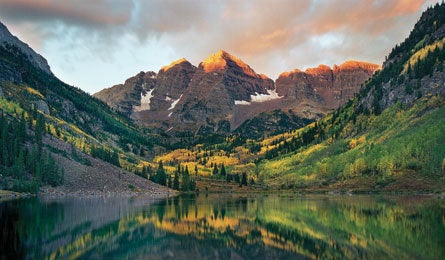 The iconic view from Maroon Lake's northeast shore. (Glenn Randall)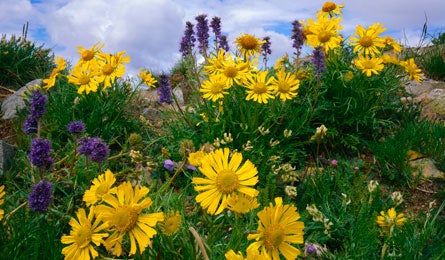 Wildflowers on the West Maroon Trail. (Carr Clifton)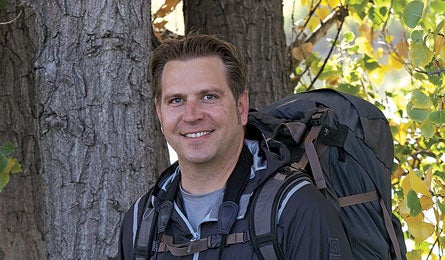 Reader expert Randy Van Winkle.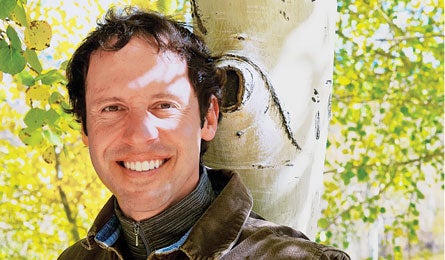 Reader expert Steven Van Goff.



DO IT

BACKPACKER editors just named the Four Pass Loop one of our favorite trips ever—and Rockies readers agree, voting this their #1 hike. Here's their advice for getting the 26-mile, four-day route's sparkling creeks, peak-ringed lakes, and, yes, a quartet of 12,000-foot passes all to yourself. Go counterclockwise, starting at Maroon Lake (1), where the purple-streaked Maroon Bells dominate the sky. Follow the north shore on the West Maroon Trail, then turn right at the signed junction (2). Switchback .2 mile to Crater Lake (3) and a showstopping photo op of the Bells (see next page). Continue on West Maroon Trail 3.7 miles, then choose one of the established campsites edging the meadow (4). (Resist the urge to press on—the next campsite isn't for five miles.) On day two, continue uphill, gaining 800 feet in .9 mile as you inch toward 12,480-foot West Maroon Pass (5), perched between the Mars-like rock of Belleview Mountain and Mt. Bellview. The trail then descends into Hasley Basin, where you'll hike past meadows of Indian paintbrush and columbine (peak flowers: late July) before turning right at a junction (6). Turn right again at a three-way junction (7) and gain 400 feet to the crest of 12,415-foot Frigid Air Pass (8). From here, drop into lush Fravert Basin before reentering a conifer forest (9). Continue west for 1.3 miles to your second campsite, one of several spots scattered among ponderosas 150 feet from the North Fork of the Crystal River (10). Next morning, you'll ford the 20-foot-wide creek (11). At mile 13.7, turn right and switchback steeply through aspen groves en route to pass #3: 12,400-foot Trail Rider Pass (12), just below Snowmass Peak. Drop to Snowmass Lake (13), your next camp. On your final day, turn right at the junction (14) and hike beneath sheer, red-rock cliffs and across Snowmass Creek before powering up to 12,462-foot Buckskin Pass (15). Look for mountain goats at mile 21.5; you can often spot nannies with kids in summer. Rejoin the West Maroon Trail (16) to finish the loop.

Trip Planner

Get there From Aspen, go west on CO 82 for .5 mile. Take second exit at traffic circle to Maroon Creek Rd. Drive 9.5 miles to trailhead. Or take the Aspen Highlands Village shuttle ($6 each way, rfta.com).


KEY SKILL: Photograph iconic peaks

The Maroon Bells are unofficially known as "the most-photographed mountains in Colorado"—with good reason. How can anyone resist a shot of the Bells reflected in an alpine lake? But make your pics stand out from the Flickr pack with these tips from two local reader-photographers: Randy Van Winkle and Steven Goff.
Hike farther Most daytrippers drive to Maroon Lake and immediately start snapping; for a different perspective, keep your camera stowed until you reach Crater Lake, 1.8 miles up the trail. Bonus: You won't have to dodge crowds to get your shot. Van Winkle found the ideal composition from a vantage point on the lake's northeast side.
Check the weather For the most dramatic shot, says Goff, wait for a day when the peaks rise above low-hanging clouds. You'll also want calm weather so wind doesn't disturb the lake's glassy surface. Hedge your bets by shooting from a sheltered spot along the shore: "A small inlet or cove will give you a better chance at a perfect reflection," says Van Winkle.
Rise earlier The east-facing Fourteeners pop most vividly within 20 minutes of sunrise. "The morning light on the walls of the Bells is crazy," says Goff. Dawn also offers a good chance of calm weather—when the water is most likely to be smooth.

SEE THIS

Wildflowers

For the most flowers-per-square-inch, Goff favors the 11-mile (one-way) West Maroon Trail from Aspen to Crested Butte. From Hasley Basin, continue south along West Maroon instead of turning to complete the Four Pass Loop. In late July, you'll pass fields of elbow-tickling blooms, including larkspur, columbine, aster, sky pilot, and lupine, as you trace the East Fork of the Crystal River. End at Schofield Park, 14 miles from town.


LOCALS KNOW

Nearby Conundrum Hot Springs and its muscle-soothing 100°F waters are no secret, but time it right and it can feel like you're the first human to lay eyes on the swimming-pool-size spas underneath 14,279 foot Castle Peak. Hike in nine miles on Conundrum Creek Trail midweek during fall or winter snows for the best shot at enjoying solo soul-warming bliss at 11,200-feet. The strenuous ski route is only for the "very fit and very determined," warns Aspen's Tess Weaver. "But if you put in the work to get there, you'll have these amazing hot springs to yourself."
THE EXPERTS Randy Van Winkle, 36, of Ft. Collins, Colorado, and Steven Goff, 38, of Snowmass Village, make multiple pilgrimages to the Elks each year. Goff says to go in September's last two weeks for peak aspen color.
Permit None, but register at the trailhead Contact Maroon Bells Wilderness