Rip & Go: Enchantment Lakes Basin – Alpine Lakes Wilderness, WA
Discover a hidden basin filled with wildlife, lakes, and granite peaks.
Heading out the door? Read this article on the new Outside+ app available now on iOS devices for members! Download the app.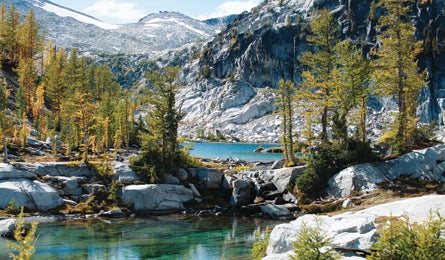 A small waterfall replenishes Sprite Lake (David Tate)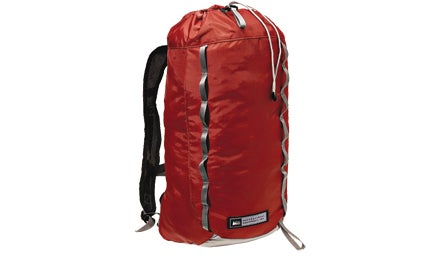 REI Flash 18 (Courtesy Photo)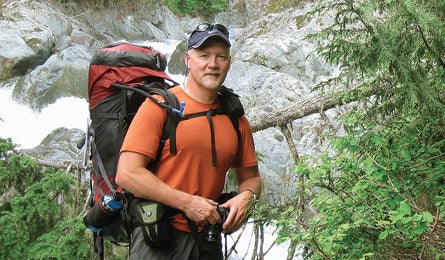 Reader Expert David Tate (Courtesy Photo)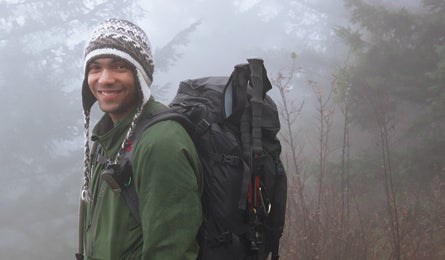 Reader Expert Terence Lewis (Courtesy Photo)

Do it

The crown jewel of the Cascades' Alpine Lakes Wilderness brims with toothy granite peaks and sparkling emerald tarns. For jaw-dropping scenery per mile, it's off the charts, which is why our Northwest readers voted it tops—picking it over other heavy hitters in the area like Rainier and the Olympics. "The glittering lakes that fill this backcountry basin are magical," says map contributor David Tate. See it all in three days on this challenging, 22.2-mile point-to-point (add an extra day for a sweet layover). From the Stuart Lake trailhead (1), the route climbs gently through a moss-draped forest to a log-bridge crossing of frothing Mountaineer Creek (2). At mile 2.2, bear left at the Y-junction (3) and scale a series of steep switchbacks that top out on the banks of Colchuck Lake (4). Leave the trail, and head north roughly 150 feet for a primo campsite that overlooks the lake.
The next day starts with an easy warm-up—you'll need it!—on the mostly flat, mile-long stretch to the base of 7,841-foot Aasgard Pass (Colchuck Pass on USGS maps) (5). Then prepare for a real grind: The trail climbs a staggering 2,200 feet in less than a mile. Your reward: stay-awhile views of Dragontail Peak (6), one of many mythically named landmarks you'll pass (Gnome Tarn, Sprite Lake, and Leprechaun Lake appear at miles 7.3, 12.4, and 12.8, respectively). From the pass, drop into the Enchantment Lakes Basin proper, passing a string of 10 lakes, to the northern tip of aptly named Perfection Lake (7). Must-do detour: Throw on a daypack for a five-mile side trip over Prusik Pass (8) that visits Shield, Earle, and Mesa Lakes (9). (Alternatively, head .8 mile up the main trail to a campsite near Leprechaun Lake (10), then backtrack for the detour.) Day three: Wrap around Lake Viviane for a .9-mile descent to Snow Lakes (11), then continue two miles to Nada Lake (12). The remaining 5.2 miles descend two sets of switchbacks (13, 14) before crossing Icicle Creek to the Snow Creek trailhead (15).

Trip Planner
Shuttle

From Leavenworth, drive southwest on US 2 for .2 mile. Turn left on Icicle Rd. Go 4.2 miles to the Snow Creek trailhead.
Trailhead

Continue 4.2 miles on Icicle Rd. Turn left on FR 7601. Go 3.6 miles to Stuart Creek trailhead.
Map

USGS: Cashmere Mountain, Enchantment Lakes, Blewett, Leavenworth ($8 each, store.usgs.gov)


Permits

$5/person/day. Apply for the lottery Feb. 1 to Oct. 15. Five walk-in permits drawn daily.


Gear Up

Leavenworth Mountain Sports, Leavenworth; (509) 548-7864; leavenworthmtnsports.com
Contact

(509) 664-9200; fs.fed.us/r6/wenatchee
Trip ID 378867


Key Gear: Ultralight Daypack

To keep your load light—but still carry essential gear for a detour on the five-mile out-and-back to Shield, Earle, and Mesa Lakes (at mile 7.1)—local expert Terence Lewis recommends carrying a minimalist daypack, such as the REI Flash 18 (10 oz.), which features an easy-access drawstring top, hydration sleeve, sternum and waist straps, and built-in emergency whistle. "This little pack always comes in handy for side trips and summit sprints," says Lewis. Even better, it multitasks as a stuffsack when turned inside out. $30; rei.com
See This: White-tailed Ptarmigan

You won't find this small species of grouse hiding beneath the low brush or stunted trees that dot the Enchantment Lakes Basin. Instead, the chameleonlike bird disappears by simply changing colors seasonally. Look for a mottled brown and white coat in summer and a pure white one in winter. "In August, we watched a group of them in nearby boulders, and their colors blended perfectly with the rock," says Tate.
Locals Know

The Alpine Lakes Wilderness attracts nearly 150,000 annual visitors to its 700 sparkling pools, making it one of Washington's most popular hiking destinations. To prevent overcrowding, the Forest Service uses an annual lottery system—for trips from June 15 through October 15—to dole out overnight permits in the coveted Enchantment Area (divided into five overnight zones). Since most hikers vie for a spot in the Core Enchantment Zone (20 people per day), Tate recommends applying for a backup option in the neighboring Colchuck Zone, which has better campsites and views than the alternative zones. "There's a big granite slab at the northwestern tip of Colchuck Lake," says Tate. "It's great for both sun and stars. And you can still hike into the upper Enchantment Basin in just a couple of hours."


On The Menu
Breakfast 1

On the road

Lunches 1, 2, & 3

Summer sausage, cheese, and bagels

Dinner 1

Prusik Pasta

Breakfasts 2 & 3

Oatmeal with raisins and brown sugar

Dinner 2

Aasgard's Greek Salad

Snacks

Trail mix, dried fruit, chocolate chip cookies



Prusik Pasta

A savory blend of creamy Parmesan and summer sausage
1 4-ounce package instant noodles, Parmesan flavor

1 6-ounce summer sausage

1/6 cup milk (from powder)

1/2 tablespoon butter

1 4-ounce can mushrooms

2 tablespoons garlic salt

Dash of sweet basil (dried)

8 tablespoons olive oil
Lightly sauté mushrooms and sliced summer sausage with seasoning; set aside. Prepare pasta; add sausage and mushrooms. Stir; let sit for about a minute. Serves 2.
Aasgard's Greek Salad

A tasty Mediterranean meal
1 boil-in-bag rice

1/2 cup Greek salad dressing

1 7-ounce pouch chicken

1/3 cup crumbled feta cheese

2 cups cherry tomatoes

1 cucumber, sliced

1 red onion, diced

1 4-ounce can black olives

Dash of sweet basil (dried)
Cook rice. Combine halved tomatoes, red onion, and cucumber with olives in a pot. Stir in dressing and basil. Add rice and chicken; mix. Top with cheese. Serves 2.


The Grocery List (Aisle # in Nearest Store Below)
[ ] red onion (produce)

[ ] cherry tomatoes (produce)

[ ] cucumber (produce)

[ ] raisins (produce)

[ ] trail mix (produce)

[ ] crumbled feta cheese (deli)

[ ] summer sausage (deli)

[ ] bagels (bakery)

[ ] can mushrooms (1)

[ ] boil-in-bag rice (1)

[ ] chicken pouch (2)

[ ] Greek or Caesar dressing (2)

[ ] sliced black olives (2)

[ ] powdered milk (3)

[ ] oatmeal (4)

[ ] chocolate chip cookies (6)

[ ] sharp cheddar cheese (12)

[ ] Parmesan pasta (12)
Pack Butter, spices, brown sugar, olive oil
Pit Stop

Make a beeline to Heidelburger Drive-In for a posthike cheeseburger. "They're huge—and juicy," says Tate. "You'll need at least five napkins." Top off with a creamy blackberry shake. 12708 West US 2, Leavenworth, WA; (509) 548-5471
Nearest Grocery Store

Safeway Food & Drug

116 River Bend Dr.

Leavenworth, WA

(509) 548-5435