Rip & Go: Eagle Rock Loop – Ouachita National Forest, AR
Climb riverside bluffs in the South's oldest national forest.
Heading out the door? Read this article on the new Outside+ app available now on iOS devices for members! Download the app.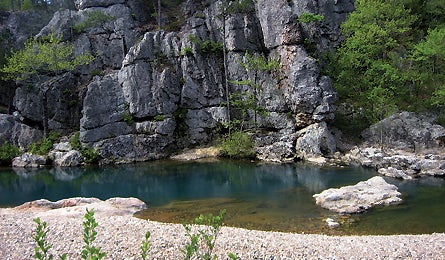 See this at mile 22.4 (Charlie Williams)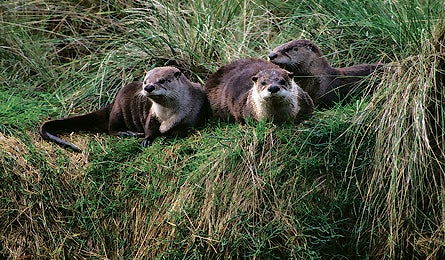 River otters (Ken Archer)
Do it

Eagle Rock Loop is a scrambler's paradise in this 1.8-million-acre national forest, 117 miles southwest of Little Rock. The trail tracks along blue rivers and through shady gorges with spur trails to craggy overlooks. Begin this 26.4-miler on the Little Missouri Trail from Camping Area B in the Albert Pike Recreation Area (1). You'll gain 72 feet on a pleasant stroll along the Little Missouri River, with stream crossings at mile 2.5 (2) and 4.5 (3). Reach Little Missouri Falls (4) 1.6 miles later, where clear water spouts between rocks and drops 20 feet, tumbling over a series of natural dams into idyllic swimming holes.
Then, grunt up a quick 128-foot climb as the gorge narrows beneath lush Round Mountain. Cross a small footbridge (5), then veer westward and follow the river for another 3.9 miles through Little Missouri Falls Picnic Area. Scan for secluded campsites with room for one or two tents. The next morning bear left at a T-junction to join the briar-lined Athens Big Fork Trail at mile 10.1 (6). This southbound stretch crosses six ridges with shimmering creeks between them. The black-and-white wall along Briar Creek at mile 12.3 is composed of Arkansas Novaculite (7), sedimentary rock once part of an ancient seafloor. Cross Baylock Creek at mile 15 and set up camp on the far bank (8). Day three holds 11.4 miles to close the loop. At 2.5 miles, take Eagle Rock Vista Spur Trail (9) for a .4-mile round-trip to the circuit's highest views. Link up with the Viles Branch Trail and pad 3.4 miles to cross the Little Missouri and reach the Little Missouri Trail (10). Cross the Little Missouri once more at mile 22.7 (11), then turn right onto Winding Stair Trail 1.6 miles (12) later. Cross FR 106 and descend to the parking lot (13).

Trip Planner

Driving From Little Rock, take I-70 west 60 miles to Glenwood. Exit onto AR 84. Cruise 25 miles to Langley, and turn north on AR 369. Then drive six miles to Albert Pike Recreation Area. Make a left on FR 106 to cross a bridge into the parking lot by the Little Missouri Trail.
Gear up John Plyler Home Center, 101 West Broadway, Glenwood, AR; (870) 356-3312

Map Rangers here use maps from BACKPACKER contributor Charlie Williams ($5; ouachitamaps.com, on sale at Glenwood District Office on Monkey Barrel Lane).
Key Skill | Remove a Tick

The little buggers are everywhere in these hills.

Prevent Wear long pants and tuck them into your socks to prevent ticks from crawling up your legs (or wear gaiters), apply DEET to skin, and wear light-colored clothes so you can spot them easily. It helps to avoid marshy areas, high grass, and woody shrubs–but that's not always practical in the Ouachitas. Do one tick-check a day, minimum. Remove If you find one embedded, don't freak out. Use angled tweezers to grab the tick close to your skin, and perpendicular to its body. Pull up with a slow, steady motion. Be patient, and don't worry if mouthparts are left behind–they can't transmit disease. If you crush the tick, wash skin with soapy water or an alcohol swab.

Locals Know

Arkansas is famous for more than being the birthplace of the 42nd president. It's also known–by rock geeks–as the home of some of the world's finest quartz (Brazil is the other hotspot). In fact, there are 40 active mines in the Ouachita Mountains, a range that has produced as much as 87,000 pounds of natural quartz crystal, a higher quality crystal (prized by collectors and jewelers) than the industrial grade used in electronics. "We have tons and tons of high-quality quartz," says John Nichols, Ouachita National Forest's forest geologist, "Look for crystals at creek crossings. They often wash down from the numerous veins of white and clear quartz in this area, and taking home some surface quartz is just fine."
See This

River Otters

Both the Little Missouri River and the Viles Branch Creek are home to northern river otters, which enjoy easy access to clear waterways and tasty crayfish. These cute two- to four-foot-long mammals live in bark-and-leaf dens along the riverbanks and hunt at night, but they're also active during the day. Locate a den–you'll spot otter hair amid bits of bark–then scan the waterway for motion (and a thick tail). Or listen for the splashes and whistles of otters playing or sliding down muddy banks. Stay still if you see one. They'll trot away at 30 mph on land, or hide out underwater for up to eight minutes.
On The Menu

Breakfast 1 Oatmeal

Lunch 1 Salami and mustard sandwiches, carrots

Dinner 1 Summer Mountain Pesto

Breakfast 2 Oatmeal w/dried apples

Lunch 2 Peanut-butter sandwiches and an apple

Dinner 2 Ouachita Risotto

Breakfast 3 Oatmeal

Snacks Energy bars
Summer Mountain Pesto

A light, energy-packed dinner
1/4 teaspoon garlic powder

1/4 cup pine nuts

2 tablespoons dried basil leaves

1/4 cup Parmesan cheese, grated

4 ounces angel hair pasta

2 tablespoons olive oil
Cook pasta al dente (about 7 minutes). Drain, coat with olive oil, and sprinkle in remaining ingredients. Mix and serve.
Ouachita Risotto

An effortless, gourmet dish
1 cup instant rice

1 chicken bouillon cube

1 bell pepper

1 tablespoon lemon juice

1 tablespoon Parmesan

1 tablespoon bacon bits
Cook instant rice according to package directions, adding bouillon cube to boiling water. Dice pepper and stir into rice along with lemon juice, Parmesan, and bacon bits.
The Grocery List (Aisle # in nearest store below)
[ ] 1 apple (produce)

[ ] 1 lemon (produce)

[ ] 8-oz. jar of peanut butter (7)

[ ] 1 roll of salami (deli)

[ ] 2 mustard packs (1)

[ ] 2 carrots (produce)

[ ] 6 packs oatmeal (8)

[ ] /14 C. dried apples (5)

[ ] 6 energy bars (2)

[ ] 1 C. instant rice(6)

[ ] 1/4 C. pine nuts (1)

[ ] 2 Tbs. dried basil (7)

[ ] 1/2 C. Parmesan (dairy)

[ ] 4 oz. angel hair pasta (6)

[ ] 1 chicken bouillon cube (6)

[ ] 1 bell pepper (7)

[ ] bacon bits (1)

Pack olive oil, garlic powder
NEAREST GROCERY STORE

Wright's Food Center 102 W. Broadway, Glenwood, AR, 71943; (870) 356-2231