Rip & Go: Dewey Point – Yosemite National Park, CA
Discover the rewards of winter camping on this easy snowshoe trek.
Heading out the door? Read this article on the new Outside+ app available now on iOS devices for members! Download the app.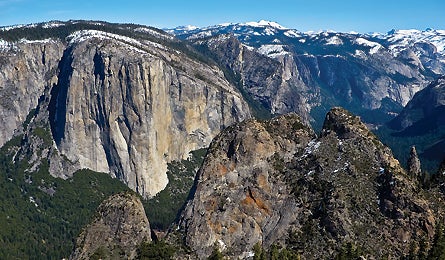 El Capitan and the Three Brothers (Dave Miller)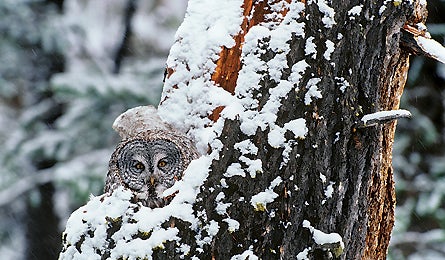 Great Gray Owl (Tom & Pat Leeson)
Do It Strap on snowshoes, and you'll enjoy some of Yosemite's most remarkable pinnacle-top views in total solitude. And this beginner-friendly 7.2-mile (round-trip) snowshoe trek is a perfect place to start. The route crosses gentle, rolling terrain dotted with lodgepole pines, ending at 7,385-foot Dewey Point, with views of Half Dome and Clouds Rest. From Badger Pass Ranger Station (1), snowshoe northeast along Glacier Point Road (don't walk in the machine-groomed cross-country ski trail) for .7 mile to a junction (2) with the Ridge Trail—an alternate, more strenuous route to Dewey Point.
Stay straight and ascend moderately for another quarter-mile to the Meadow Trail (3) (directly across from Summit Meadow). Turn northeast (left), and if there isn't a path already broken, follow the triangular reflectors through the trees. In .9 mile, you'll reach Dewey Meadow (4). Surrounded by red fir and lodgepole pines, this long, flat meadow is the perfect place to break and scan for animal tracks (flip the page for a field guide). From here, continue north to cross the meadow, then head .5 mile through dense, lichen-covered pines and drop into a small valley. Reach the junction of the Ridge and Meadow Trails (5) in .3 mile.
Soon after, you'll get your first glimpse of Half Dome and Clouds Rest. Continue north as the route roller-coasters to the top of Dewey Point (6), 3.6 miles from the trailhead. El Capitan, towering 3,500 feet above Yosemite Valley, soars directly across from you; Mt. Hoffman and Mt. Conness rise to the northeast. Camping on Dewey Point proper isn't allowed, so cruise 200 feet back into the woods; find a level site off-trail and away from snow-loaded trees. Return the way you came.
Trip Planner

Driving From Yosemite Village, take CA 140 west 6.1 miles to CA 41/Wawona Rd.; turn right and go 9.3 miles. Turn left on Glacier Point Rd. and drive 5.1 miles to parking at Badger Pass Ranger Station.
Permits Required. Self-register at Badger Pass Ranger Station (209-372-0740; nps.gov/yose).
Gear Up Yosemite Mountain Shop (209-372-8396) in Curry Village has most supplies. Rent snowshoes at Badger Pass cross-country ski center ($19.50/day, 209-372-8444, yosemitepark.com/BadgerPass.aspx).
Map & More Send a topo, photos, and route info to your cell by texting "imap 51745" to 32075. Or download it at backpacker.com/hikes/51745
See This

Great Gray Owl

If you wake to a series of deep, rhythmic "whoos," it's probably this 2.5-pound owl, Yosemite's largest. It perches in the broken tops of tall trees near open meadows. The endangered owl is distinguished by a white mustache (fuzzy feathers beneath the beak) and black bow tie (dark chin feathers). It averages 27 inches tall with a massive 60-inch wingspan. Concentric circles ring its yellow eyes. Facial discs (called ruffs) focus sound to its ears—it can hear prey burrowing beneath two feet of snow. And to get that concealed rodent? The owl can crash through a snowpack that would support a 180-pound hiker.
Locals Know

Yosemite's notoriously cunning black bears don't stop thieving in the winter. Even if snow covers the Badger Pass parking lot, you still need to bearproof your car. Though they're not as active during the winter months, many black bears skip hibernation if they can continue to feast on Snickers and fast-food fries from your floorboard. "Your car is just a can, and their claws are the can opener," says Yosemite Park Ranger Keri Cobb. "I've seen them punch out windows just to get a tube of toothpaste. It happens every month of the year." Store all food in a locker at the trailhead and use a canister on the trail. Food is anything with a scent, including canned goods, trash, and toiletries. Be extra-vigilant if you own a minivan. These cars represented 29 percent of the 908 vehicles ravaged by bears between 2001 and 2007, though they made up just seven percent of all the cars in the park.
Camp Chat

Traffic congestion in Yosemite Valley has become such a concern–hour-long entrance lines are common–that officials are considering banning private cars. Visitors registered at a hotel or campground would be allowed to enter, while others would use a free shuttle bus (or bicycles). According to a recent survey, 84 percent of visitors listed sightseeing or taking a scenic drive as their only activity. Discuss: Is this regulation good for the park, even if it causes a drop in overall visitation?
On the Menu

Breakfast 1

On the road

Lunch 1

Bacon and lettuce wraps

Dinner 1

Dewey's Mac 'n' Cheese

Breakfast 2

Valley View Pancakes

Snacks

Granola bars
Dewey's Mac 'n' Cheese

So good, you'd eat it at home
2 cups shell pasta

1/2 cup powdered milk

1 tablespoon parsley

1/2 teaspoon salt

1/2 teaspoon pepper

2 tablespoons mustard

1/3 cup sun-dried tomatoes

5 ounces Swiss cheese, diced
Boil 3 1/2 cups water. Add pasta and tomato. Cook until al dente. Drain. Stir in dry ingredients, then the cheese. Turn off heat and stir until cheese melts evenly.
The Grocery List

[ ] Granola bars (2)

[ ] 1/3 C. sun-dried

tomatoes (4)

[ ] 1/2 C. frozen

blueberries (4)

[ ] 1 package flour

tortillas (5)

[ ] 5 oz. Swiss cheese (5)

[ ] 1 package precooked

bacon (5)

[ ] 1 C. pancake mix (6)

[ ] 1/2 C. powdered

milk (6)

[ ] 8 oz. (2 cups)

shell pasta (8)

[ ] 1/2 head lettuce

(back wall)
Pack Salt, pepper, mustard powder, dried parsley, syrup
NEAREST GROCERY STORE

Village Store in Yosemite Village

9011 Village Drive,

Yosemite NP, CA;

(209) 372-1253
PIT STOP

Drop by the Mountain Room for the Flatiron Steak and a slice of raspberry cobbler. 9006 Yosemite Lodge Dr., Yosemite, CA; (209) 372-1274; yosemitepark.com/Dining_MountainRoom.aspx