Rip & Go: Devil's Path
Conquer the rocks, ridges, and ravines on the East's toughest trail.
Heading out the door? Read this article on the new Outside+ app available now on iOS devices for members! Download the app.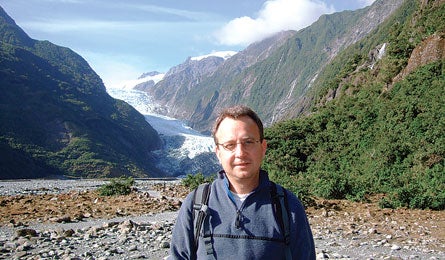 Reader expert Rich Orzol of New York City (Courtesy)
Key Skill: Harvesting rain water (Supercorn)

DO IT

The devil, they say, is in the details, so here they are: 22 miles, 18,000 feet of elevation change, six Catskill peaks. But the rewards are commensurate with the effort. Rich Orzol (next page), 40, says, "With its deep wilderness feel, you kind of get lost in it." From Prediger Road trailhead (1), follow red blazes to a three-way intersection (2) at 1.6 miles and veer right; turn right again .2 mile (3) later to begin a 1,345-foot climb of Indian Head over coffee-table-size boulders. "The whole trail is rocky," Orzol says, "but this is definitely the rockiest part." Pause at Sherman Lookout (4) for views over the Hudson River Valley, and scramble up a chute to another lookout with southward views of the Shawangunks. Snap your pictures here, because Indian Head's actual summit is hemmed in by spruce trees. At mile 4.1, stay straight at Jimmy Dolan Notch (5) to the first (false) Twin Mountain summit with a 180-degree vista of Indian Head. From Twin's true 3,640-foot top (6), descend to Pecoy Notch (7). Go straight for a 1,000-foot ascent up Sugarloaf's 3,800-foot, tree-topped summit (8), then stay straight at the next two trail junctions during a nearly mile-long, 1,200-foot descent past lichen-covered slabs. Stay straight at the intersection (9) with Mink Hollow Road; camp in .1 mile to the south at the lean-to, and fill water from a spring to the left of the trail. Next day, tackle the 1,240-foot, root-tangled climb to Plateau Mountain's 3,800-foot, big-vista summit (10), with views of Hunter and West Kill Mountains, then start a joint-pounding descent to NY 214. Cross a footbridge and climb .6 mile to Diamond Notch Falls (11). Refuel before climbing 2.3 miles to Buck Ridge Lookout (12). End the roller coaster with a final 2,030-foot descent to your car at Spruceton Road (13). Short on time but full of energy? Veteran Northeast hikers consider a dayhike of Devil's Path a must-have notch on their trekking poles.

Trip Planner

Shuttle From Kingston, take NY 28 west for 29 miles and turn right at NY 42. In seven miles, bear right on Spruceton Rd., and park at the trailhead in seven miles.

Trailhead Take NY 42 north four miles to NY 23A. Head east and turn right on Bloomer Rd. 11 miles later. Take rights onto Platte Cove Rd., and Prediger Rd. 

Gear up Gander Mountain, 705 Frank Sottile Blvd., Kingston; (845) 382-2500; Gander Mountain, 705 Frank Sottile Blvd., Kingston; (845) 382-2500; gandermountain.com
KEY SKILL: Tanking up with rain

Readers know this area of the Catskills averages more than 70 inches of annual precipitation. "Every time I've been on the trail, it's been pouring," says Katie Levy (P. 86). Beyond rain, however, there's curious little drinking water to be had. Be sure to fill up at miles 8.3, 14.4, and 14.7, and if it's raining in camp, rig a tarp to catch the drizzle.
1. Attach guylines to the corners of a 6'x8' tarp.
2. Fasten two corners to trees, so the rear edge is taut, level, and three feet high (to avoid flapping in the wind).
3. Tie the front corners to trees (or stake them) loosely, so the front edge sags to a few inches off the ground.
4. Pin the tarp inside your cook pot with a rock to direct in the rain.
5. Filter into water bottles and repeat.
LOCALS KNOW

Though the North American porcupine is best known for its 30,000 barbed quills, its most destructive tools are its front teeth. These wood-eating, nocturnal rodents have been known to gnaw just about anything, including trailside lean-tos, the fire-tower cabin atop Hunter Mountain, and the tires of cars parked at trailheads. "They are really not very discriminating about what they eat," says Herb Terns (p. 86), who grew up near the Devil's Path. The most notorious tale among backpackers: chewed-up boots. Hikers leave their boots outside to dry overnight, then awake to find them in tatters. "They're kind of a popular target," Terns says. Porcupines crave the salt left behind from sweat, so keep footwear inside the tent at night, not just in the vestibule.
THE EXPERT New York City reader Rich Orzol, 40, (pictured here at New Zealand's Franz Josef Glacier) counts the Adirondacks' Mt. Marcy via Avalanche Lake and the Whites' Franconia Ridge among his favorite routes in the region. For last-minute adventure, he escapes the Big Apple to hike Breakneck Ridge in Hudson Highlands State Park, just an hour from the city.


ON THE MENU

Breakfast 1 On the road

Lunches 1 & 2 Pepperoni, cheddar, and apple sandwiches

Dinner 1 Catskills Chicken Riggies

Breakfast 2 Empire Apple Pancakes

Snacks Walnuts, dried fruit

RECIPES

Catskills Chicken Riggies

The area's signature pasta dish 
8 ounces rigatoni
1 small jar roasted red peppers
½ teaspoon garlic powder
½ teaspoon dehydrated onion
½ cup sun-dried tomatoes
1 pouch chicken
½ cup Parmesan cheese
½ cup water

Sauté peppers, tomatoes, and spices in olive oil and water until thick. Add chicken and half the Parmesan. Serve over cooked and drained pasta and top with remaining cheese. Serves 2.

Empire Apple Pancakes

Start the day with NY's best-known produce.
1 cup pancake mix
¾ cup water
½ cup apple, diced
½ cup walnuts, diced
½ teaspoon cinnamon
Olive oil
Syrup


Mix batter with apples, cinnamon, and walnuts. Heat skillet, add oil, and spoon in ¼ cup batter. Flip when bubbles form, then cook one to two more minutes. Serves 2.


The Grocery List

[ ] apples (produce)
[ ] dried fruit (produce)
[ ] sun-dried tomatoes (produce)
[ ] pepperoni (deli)
[ ] 1 7-oz. pouch chicken (2)
[ ] Parmesan cheese (4)
[ ] rigatoni (4)
[ ] 1 small jar roasted red peppers (4)
[ ] pancake mix (6)
[ ] cinnamon (6)
[ ] garlic powder (6)
[ ] dehydrated onion (6)
[ ] walnuts (6)
[ ] bread (11)
[ ] cheddar cheese (12)
Pack Olive oil, syrup, salt
NEAREST

GROCERY STORE
Grand Union Family Market
6350 Main St., Tannersville, NY; 
(518) 589-0048
PIT STOP Fill up on chicken mole, chips, salsa, and margaritas at Pancho Villa's. "The salsa is homemade and phenomenal," says Levy. 6037 Main Street, Tannersville, NY. (518) 589-5134; panchovillasmexicanrestaurant.com