Rip & Go: Broken Top Loop – Deschutes National Forest/Three Sisters Wilderness, OR
Cross ancient lava fields on a lake-filled weekend.
Heading out the door? Read this article on the new Outside+ app available now on iOS devices for members! Download the app.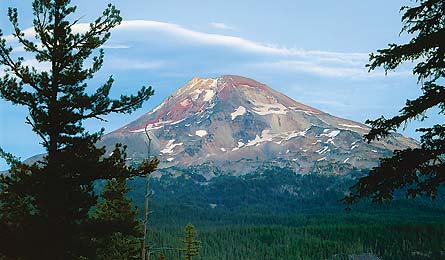 South Sister (Photo by Ed Callaert)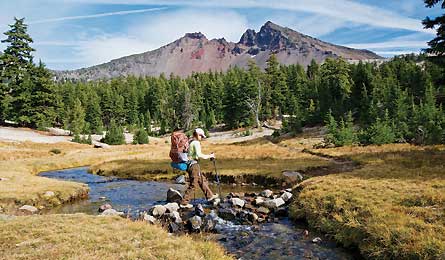 Broken Top (Photo by Eli Boschetto)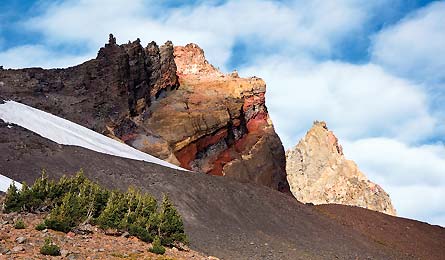 Broken Top (Photo by Eli Boschetto)
Do it 
See the yawning crater that formed when two elemental forces (volcanic and glacial) clashed on this three-day, 22.6-mile trek around Broken Top, an extinct Cascades stratovolcano. Start at Little Three Creek Lake trailhead (1) at 6,600 feet and hike northwest 2.8 miles to the Snow Creek Ditch crossing, an often-dry irrigation channel. At a four-way junction (2), turn west and hike three miles to a bridged crossing of East Fork Park Creek in Park Meadow (3), which is cast blue by gentians in August. Turn south at an unsigned trail fork (4), and look for a cairn marking the .5-mile side trail to Golden Lake (5), your first night's camp.
Rise early the next day to see dawn on 10,358-foot South Sister. Back at the junction, turn south toward the 7,000-foot pass (6) between South Sister and Broken Top. Cross a cindery lava plain and descend a moraine into the Green Lakes Basin (7). At Soda Creek junction (8), turn southeast to begin a gentle climb linking pumice plains to forest. Round the south side of Cayuse Crater (9) continuing east. In another mile, cross Crater Creek to reach a four-way junction with the Ditch Trail (10). Look for campsites at treeline or along Crater Creek just north of the trail.
On your final morning, head east .3 mile to cross a seasonal creek (usually dry by mid-summer). Turn north along an intermittent social trail and hike .8 mile to the gap (11) between Broken Top and 8,091-foot Ball Butte. Notice the vibrant red, yellow, and orange layers of volcanic rock in Broken Top's ice-pitted interior. Head northeast to a use trail and hike .7 mile north to the outlet (12) of Bend Glacier Lake. Drop packs and scramble .2 mile up the outlet to the shore of the lake for an amphitheater of rock, water, and ice.
From there, follow the outlet east cross-country, over a year-round snow bridge to where the drainage turns south. Head northeast for 1.4 miles just below 8,376-foot Broken Hand. Connect to the Tam McArthur Rim Trail (13), and circle around Three Creek Lake to your car (14).

Trip Planner

Get there From Bend, take US 20 N 22 miles to Sisters. Turn left on Elm St./3 Creek Rd. for 16 miles. Turn right onto Driftwood Campground Rd. and park.

Gear up Pick up last-minute duct tape, maps, and fuel at Mountain Supply of Oregon, 834 NW Colorado, Bend. (541) 388-0688

Map Geo-Graphics Three Sisters Wilderness Map ($6, geo-graphicsmaps.com)

Key Skill: Crossing a snow bridge

Say "snow bridge" and many hikers will conjure up images of delicate snow-and-ice archways that hang over the bottomless crevasses created by grinding glaciers—and the technical know-how and specialized gear it takes to cross them.
Fortunately, the snow bridge over Crater Creek's 15-foot (deep and wide) gorge requires only balance and caution, but assess its stability before you commit.
Test In recent cooler years, the bridge has remained passable throughout the summer, but don't assume it will be. Jab a trekking pole into the area just before the bridge; if it's slushy or soft—or if you posthole at all leading up to the span—descend to the creek and boulder-hop across.
Cross All good? Travel one person at a time, use trekking poles for stability, and stick to the center of the bridge (where snow is thickest). Even in summer, snow consolidates in cooler nighttime temperatures, so target a mid-morning crossing to find the firmest footing.
See This: Where ice met lava

The glaciation that ate into Broken Top's core exposed layer upon layer of colorful volcanic history. Following a series of eruptions up to 100,000 years ago, Little Ice Age glaciers began carving out the middle of the extinct stratovolcano, gouging great cirques on three sides of the mountain. Subsidence (undercutting) and glacial erosion caused the remaining summit to collapse, creating the jagged ridge visible today and giving the mountain its name. The colorful bands of strata visible within the crater are formed of various rock types: andesites, dacites, rhyodacites, and oxidized agglomerates. Two small glaciers (Crook and Bend) remain within the cirques on Broken Top.

Locals Know

The loop offers tons of views of mountains, but if you want to see the view from a mountain, try bagging 10,358-foot South Sister, Oregon's third-highest peak. At mile 11.8, instead of turning southeast at the Soda Creek junction, continue south-southwest on the Green Lakes Trail for 2.5 miles to the Moraine Lake Trail and turn west. Pass the Miller Lava Flow and drop into Moraine Lake's U-shaped valley (with designated campsites) after four total miles. Next day, follow the South Sister Summit Trail 2.5 miles to the terminal moraine of the Lewis Glacier. The last mile follows the ridgeline to the summit crater (complete with Teardrop Pool, Oregon's third-highest lake). Tip: Pack an ice axe and crampons in the early season.
On The Menu
Breakfast 1

On the road

Lunch 1

Deli sandwich

Dinner 1

Tam McArthur Taters

Breakfasts 2 & 3

Oatmeal with sliced almonds and dried cherries

Lunches 2 & 3

Bean wraps with corn chips, cheese, and green onion

Dinner 2

South Sister Salmon

Snacks

Pretzels, fruit bars

Tam McArthur Taters

Named for the man who named the mountains
4 green onions, chopped

4 ounces mushrooms, sliced

2 tablespoons olive oil

1 cup instant potatoes

4 ounces Cheddar

1 ounce shelf-stable bacon
Sauté green onions and mushrooms in olive oil and set aside. Prepare mashed potatoes according to package. When potatoes are ready, add sautéed veggies, crumbled bacon, and stir. Top with Cheddar. Serves two.

South Sister Salmon

Easy energy
2 cups couscous

6-ounce pouch salmon

¼ cup dried cherries

¼ sun-dried tomatoes, sliced

¼ cup pine nuts

1 packet Italian dressing
Toss pine nuts in a dry pan over medium heat until fragrant. Prepare couscous according to package, adding salmon near the end. Mix in dried cherries, sun-dried tomatoes, pine nuts, and salad dressing. Serves two.

The Grocery List (Aisle # in Nearest Store Below)

[ ] green onion (produce)

[ ] mushrooms (produce)

[ ] Cheddar (dairy)

[ ] bacon (deli)

[ ] sandwich (deli)

[ ] sliced almonds (bulk)

[ ] dried cherries (bulk)

[ ] sun-dried tomatoes (bulk)

[ ] pine nuts (bulk)

[ ] pretzels (bulk)

[ ] couscous (bulk)

[ ] bean dip (2)

[ ] corn chips (2)

[ ] fruit bars (7)

[ ] salmon pouch (8)

[ ] Italian dressing (8)

[ ] instant potatoes (8)

[ ] instant oatmeal (10)

[ ] flour tortillas (12)
Pack Olive oil


PIT STOP

Take care of that post-trail hunger with one of Bronco Billy's award-winning Ranch Grill Burgers, like the Bull Rider, slathered in house-made BBQ sauce and topped with an onion ring. 190 E. Cascade Ave., Sisters, OR; (541) 549-7427; broncobillysranchgrill.com
NEAREST GROCERY STORE

Ray's Food Place

635 N. Arrowleaf Trail

Sisters, OR

(541) 549-2222