Rip & Go: Big Moose Mountain – Maine Public Reserved Lands Little Moose Unit, ME
Hike to an historic fire tower and camp beside secluded ponds.
Heading out the door? Read this article on the new Outside+ app available now on iOS devices for members! Download the app.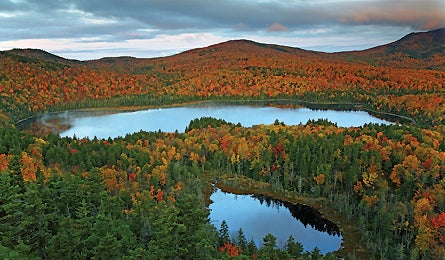 Big Moose Lake (Tim Seaver)
ExOfficio's Buzz Off Baja shirt (Courtesy Photo)
Do It

See what makes the Moosehead Lake region the gem of Maine's North Woods on this three-day, 21-mile lollipop. Start at the Greenwood trailhead (1), five minutes west of Greenville, and after a few perpetually muddy spots, rise through fir and spruce to an overlook (2) of Moosehead Lake's west cove. At just over one mile (3), you'll see Big Moose Mountain's stony, 3,196-foot summit (where you'll stand the next day). Crest Little Moose's ridge at 1.6 miles and weave your way through stunted spruce to the top (4). From here, descend .8 mile to Papoose Pond (5) and then .4 mile to the Loop Trail (6).
Turn left onto the loamy path, and take it .9 mile to the Notch Ponds Trail (7); track along a hardwood ridge 2.2 miles to a sharp drop over loose rocks. Continue .1 mile to a campsite at Big Notch Pond (8), a remote bog teeming with underwater vegetation like coon's grass—perfect for moose-spotting. On day two, return to the Loop Trail and go downhill to reach the Mountain Road Trail. Cross over an old dam (9) and ascend slate stairs to the Mountain Road trailhead (10). Turn right and follow a dirt road 1.2 miles to reach the Firewarden's Trail to Big Moose Mountain (11). The blue-blazed path meanders gently through maple and beech, but after passing the dilapidated warden's cabin in 1.2 miles, it spikes—gaining 900 feet in .6 mile to an overlook (12) of Moosehead's many islands.
From here, it's .5 mile to Big Moose and a sprawling North Woods vista stretching from Moosehead (Maine's largest lake at 37 miles long and 18 miles wide), to 5,267-foot Katahdin, the state's tallest peak. Head 3.6 miles back to Little Moose's trailhead and, 1.1 miles later (staying left at a junction), Little Moose Pond's campsite (13); listen for loons in this serene enclave. On the final day, head 3.5 miles back to the Greenwood trailhead.
Trip Planner

Driving From Bangor, take ME 15 north 70 miles to the (only) light in Greenville. Turn left, and drive another 2.9 miles to Moose Mountain Inn. The trailhead is in the left corner of the parking lot.
Gear Up

Northwoods Outfitters in Greenville: (866) 223-1380, maineoutfitter.com
Map USGS quad Big Squaw Pond ($8, store.usgs.gov)

Permit/Contact No permits are required, but camp only in designated sites. Maine Bureau of Parks and Lands: (207) 287-382, maine.gov/doc/parks
Map Send a topo, photos, and route info to your cell by texting "imap 555483" to 32075 or download the trip at backpacker.com/hikes/555483

Key Gear

Bug Protection

Come July, the tourists pick up. But you can have the trails (and campsites) all to yourself—if you head out in early June. The only caveat is that this is also when the area's notorious black flies make their debut. Solution? Pack some DEET and dress like a Mainer. Dark clothing attracts the winged bloodsuckers, so wear lighter, khaki-hued shirt and pants.Try ExOfficio's long-sleeve Buzz Off Baja shirt ($80, exofficio.com). It's impregnated with permethrin, a man-made version of a natural insect repellent found in certain chrysanthemum plants. ExOfficio says it will last through 70 washes, and when used in tandem with insect repellent, the author, a life-long Mainer, has been pleasantly surprised with the results.
See This

Big Moose Fire tower

The only way to spot a forest fire in 1905? Go look for one in the forest, on foot. Not very efficient, or safe. Two Greenville locals, concerned with protecting the area's most important asset—trees—suggested putting a watchman on a mountaintop—specifically, Big Moose. Big Moose's fire tower, essentially just planks nailed to a tree, was the first in the country. With map and alidade, the watchmen would pinpoint the smoke, then run down through the trees to give the alert.
Camp Chat

In 2000, the Maine Indian Tribal-State Commission and the Maine State Legislature confabbed to pass a law eliminating the word "squaw" from the names of state landmarks, reasoning that its use is offensive to native peoples. Most sites were renamed "moose"–like Big and Little Moose Mountains. There's even a peak in Baxter State Park now named Moose Bosom. Discuss: Do you agree with the name changes? And is there a better name than Moose Bosom in any wilderness?
Locals Know

Sure, the solitude, wildlife, and surrounding pine-blanketed mountains make Moosehead Lake special—but they aren't the only attraction. Before or after your hike, go for a ride on the 250-ton S.S. Katahdin, a steamship that's been plying the lake's waters for nearly a century. The 115-foot long, 26-foot-wide boat is the last of a fleet of eight; each one towed 6,000 cords of wood per trip across Moosehead. Three years after "Ol' Kate's" final log drive in 1975, she became a National Historic Landmark and has since been serving as a passenger ship. She runs daily at 12:30 p.m. Tuesday through Saturday from the end of June through early October. Fall foliage season is primo. $32, katahdincruises.com
On the Menu

Breakfast 1

On the road

Lunches 1 & 2

Peanut butter & Fluff on bagel

Dinner 1

Big Moose Shepherd's Pie

Breakfasts 2 & 3

Instant oatmeal w/diced dried apples & maple syrup

Dinner 2 Fire Tower Tuna

Snacks

Reeses Pieces, peanuts, yogurt raisins, Mini Oreos

Big Moose Shepherd's Pie

An easy-as-pie pub dinner
2 ounces instant potatoes

3 ounces jerky, diced

8-ounce can creamed corn

Pinch of salt & pepper
Boil one cup water. Stir in potatoes; remove from heat for one minute. Add diced jerky, creamed corn, salt, and pepper. Stir and serve.
Fire Tower Tuna

A filling sandwich with a spicy kick
1 pouch tuna

1 bagel

2 slices pepper jack

2 ounces pepperoni, sliced
Split bagel, add pepperoni to both halves, then throw on the tuna and pepper jack. Serve.
The Grocery List

[ ] 1 pouch tuna (1)

[ ] Mini Oreos (1)

[ ] Reeses Pieces (1)

[ ] 1 can creamed

corn (2)

[ ] Instant potatoes (2)

[ ] Marshmallow

Fluff (2)

[ ] Dried apple (3)

[ ] Instant oatmeal (3)

[ ] Maple syrup (3)

[ ] Yogurt raisins (3)

[ ] Honey roasted

peanuts (4)

[ ] Peanut butter (7)

[ ] Pepperoni

(back wall)

[ ] Pepper jack (deli)

[ ] 3 Bagels (deli)

[ ] Jerky (deli)
Pack Salt, pepper
NEAREST GROCERY STORE

Indian Hill Trading Post

148 Moosehead Lake Rd., Greenville, ME; (207) 695-2104
PIT STOP

Hit the Stress Free Moose Pub & Café on Moosehead Lake Road in Greenville for a Cranberry Salad Wrap and a shot of Moose Piss, a concoction of Stoli Raspberry, tequila, and "secret ingredients." (207) 695-3100