Rip & Go: Big Creek Loop
Hike from a wildlife-choked river valley to soaring mountain views.
Heading out the door? Read this article on the new Outside+ app available now on iOS devices for members! Download the app.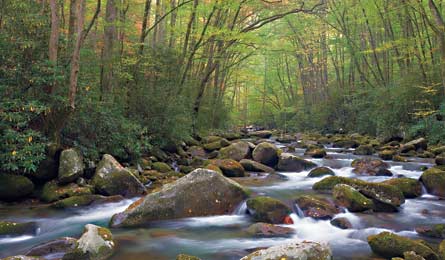 Big Creek in Great Smoky Mountains National Park (Tad Bowman)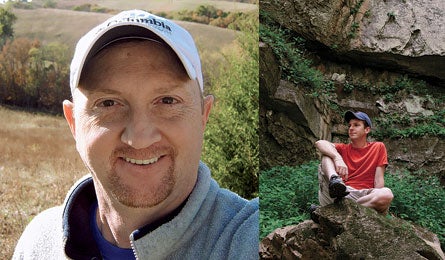 Reader experts Art Fightmaster and Stuart Peck (Courtesy)

DO IT
"Blackberries, black bears—and photo ops so good, it's like they popped out of your dreams," says Art Fightmaster (next page) about the Big Creek Loop, which readers endorsed two-to-one over any other weekender in the region. From Big Creek Campground (1), start this 16.4-mile hike on the gentle Big Creek Trail. Pass Midnight Hole (2), a deep, cliff-lined swimming hole after 1.4 mile and continue upstream to 45-foot, hourglass-shaped Mouse Creek Falls (3) at mile two. Cross rushing Big Creek on a wooden carriage bridge (4), where "trout glide by in the crystal-clear waters," Fightmaster says. Catch trout fishermen sneaking off to angle for brown and rainbow trout. At mile 2.3, arrive at Brakeshoe Spring (5), so named when a train engineer jammed a railcar brakeshoe into a narrow fissure in the rocks, turning a seep into a gusher. At the Swallow Fork Junction (6) at mile 5.1, continue straight .1 mile to Lower Walnut Bottoms campsite. One of the park's best and most varied wildflower displays occurs here from March to early April (next page). Continue up the Swallow Fork Trail, grazing from trailside apple trees, which black bears also pillage. Hit an intersection with Pretty Hollow Gap Trail (7) at mile 8.9, and go straight for a 1.6-mile, 700-foot ascent on the Mt. Sterling Ridge Trail. Tank up at a spring 1.1 miles into the climb, then forge upward past stands of second-growth red spruce. Ascend the Mt. Sterling fire tower (8), 60 feet above the 5,842-foot grassy bald at mile 10.5. Set up your tent at Campsite #38 for sunset views over the mist-hung hills. (Note: Bear activity occasionally closes the campsite; check with rangers.) Next morning, head left onto the Baxter Creek Trail (9) and fill your belly with blackberries (in mid-July). Thus fueled, tackle the trail's toughest miles: a 4,100-foot descent in less than six miles. Cross Big Creek (10) at mile 16.3 and close the loop at the campground (11).

Trip Planner

Get there From Newport, take I-40 east 15 miles to exit 451. Go south on Waterville Rd. for two miles and go left onto Big Creek Park Rd.

Gear up Mountain Outfitters, 152 Bridge St., Hot Springs. (828) 622-7162; bluffmountain.com
Permit Required; free at any park visitor center. Secure campsite reservations a month ahead. (615) 436-1231; nps.gov/grsm.
Map Trails Illustrated Great Smoky Mountains ($12; natgeomaps.com)

KEY SKILL: Massage away knee pain
It's all downhill from Mt. Sterling—4,100 feet of joint-jarring descent over 6.2 miles. The plunge will test even the strongest knees. Massage away your pain by targeting the muscles that support the knee. Do this sequence when you arrive in camp, after the descent. 
1. Use your nondominant hand to support the knee.

2. Press down on the knee cap with your other palm and slowly knead upward on the quad.

3. Gently squeeze the quad between thumb and fingers, working up the thigh.
4. Massage the outer-knee muscles in a circular motion using your thumb.
5. Slowly work your way toward the shin to circle the knee and work the muscles on the knee's interior. Repeat for other knee.
6. Take two ibuprofen, fill a hydration reservoir with creek water, and "ice" your knees for 15 minutes each.
SEE THIS: Yellow Trillium

With 1,660 different species of flowering plants, and staggered blooming seasons, the Smokies are like an enormous open-air flower shop. In early March, follow your nose around the Lower Walnut Bottoms' calcium-rich soils for the lemon-scented yellow trillium, a spring ephemeral that opens above a platform of large, green-and-white speckled leaves. Then step back to absorb the entire multicolored tableau.
LOCALS KNOW

Unknown waterfalls in a park with 9 million annual visitors? Definitely—for those willing to earn it. At mile five on the Big Creek Trail, turn left on the Camel Fork Trail, then hike a mile to begin the Gunter Fork Trail. You'll push through dense underbrush, test your routefinding skills traversing blowdowns, and ford Gunter Fork three times before you access the gem: a seldom-seen, 150-foot waterfall spilling over 6,234-foot Luftee Knob. "You come around a forested bend, and the high falls dominate your view," says Stuart Peck (below). If you lose the trail, follow the river. "If you're ascending or can't hear the stream," Peck says, "you're going the wrong way." 
THE EXPERTS

Art Fightmaster, 46, of Gardnersville, Kentucky, loves the Smokies' fall colors in October. Find Stuart Peck, 26, of Owensburg, Kentucky, climbing Jurassic Raccoon (5.7) in Kings Bluff, near Clarksville, Tennessee.

ON THE MENU

Breakfast 1 On the road

Lunch 1 PB&J pita

Dinner 1 Smokies Sausage Biscuits

Breakfast 2 Bacon and Ramp Quiche

Lunch 2 Tuna melt in a pita

Snacks Dried pineapple, granola bars

RECIPES

Smokies Sausage Biscuits

Southern vittles for the trail 
1 pound pork sausage, frozen
¼ cup green onions, diced
1 tablespoon honey
1 cup Bisquick
Pinch of ground red pepper
¼ teaspoon dry mustard
½ cup milk (from powder)
½ cup finely grated cheddar
Sauté sausage with onions, and drain. Mix other ingredients, and spoon batter onto skillet in a four-inch cake. Cook until bubbles form, and flip. Dress with sausage and onions. Serves 2.

Bacon and Ramp Quiche

A fortifying breakfast

1 piecrust from tube
3 slices precooked bacon
4 ounces mushrooms
¼ cup sun-dried tomatoes
1 cup green onions, diced
3 eggs (frozen in Nalgene)
1 cup milk (from powder)
3 ounces shredded cheddar
Fry bacon, onions, mushrooms, and tomatoes. Put piecrust in pan, fill with mixture, top with cheese. Beat eggs and milk; pour on. Cook covered 30 minutes. Serves 2.
The Grocery List
[ ] green onions (produce)
[ ] mushrooms (produce)
[ ] sun-dried tomatoes (produce)
[ ] dried pineapple (produce)
[ ] sausage (meat)
[ ] bacon (meat)
[ ] cheddar (dairy)
[ ] eggs (dairy)
[ ] pita (1)
[ ] Bisquick (3)
[ ] peanut butter & jelly (3)
[ ] granola bars (3)
[ ] tuna pouch (5)
[ ] piecrust (7)
[ ] dried milk (7)
Pack Salt and pepper, aluminum foil, ground red pepper, nutmeg, 
dry mustard
NEAREST

GROCERY STORE
White's IGA
208 W. Broadway, Newport, TN; 
(423) 623-3356
PIT STOP Local hikers gorge on ribs at Sagebrush Steakhouse, then unclog their pipes with the Highway To Hell—a signature drink that tastes like Kool-Aid but packs a rummy punch. 201 Heritage Blvd., Newport, TN; (423) 613-4900; sagebrushsteakhouse.com