Rip & Go: Batona Trail, Wharton State Forest, NJ
Follow a river through the surprisingly wild Pine Barrens.
Heading out the door? Read this article on the new Outside+ app available now on iOS devices for members! Download the app.
Lose yourself in woods deep enough to terrify mobsters (at least the TV version, in the "Pine Barrens" episode of The Sopranos). But wild in New Jersey doesn't mean hard: The pancake-flat, 17.6-mile shuttle hike along the 50-mile Batona Trail is mellow enough for newbies, and it's just an hour's drive from Philadelphia. You'll journey alongside the country's largest cranberry bogs and snag long-distance views from the region's highest fire tower.
1. Start at Batsto Village, a preserved industrial town of 18th-century stone and wood buildings connected by dirt roads. Head north on the pink-blazed Batona Trail through thick pine forests interspersed with sassafras, sweetgum, and oak trees.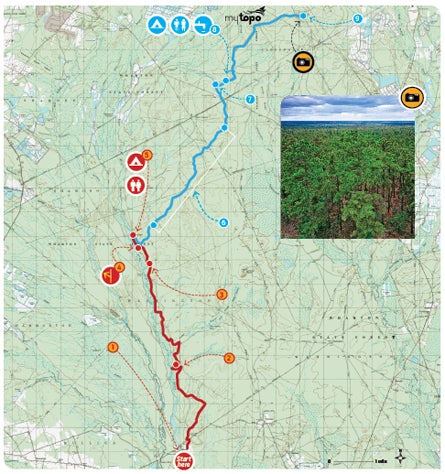 2. (Mile 4.6) Parallel the shallow, tea-colored Batsto River. Along the riverbank (or in the marshy areas around it), watch for great blue herons, swans, and the endangered purple-and-green Pine Barrens treefrog—which you'll know by its distinctive nasal "quonk-quonk-quonk" call and the flash of bright orange on its hind legs, visible when it jumps.
3. (6.6) Pass the low, metal Quaker Bridge.
4. (7.5) Slight left to camp.
5. (7.9) Lower Forge Camp. Set up in the spacious, pine-ringed clearing, the trail's most remote site. The gentle flow of a narrow, shallow section of the Batsto River burbles from beyond a wall of shrubs and low trees.
6. (8.9-12.7) The Barrens' sandy, acidic soil is poor for crops (hence the name), but great for blueberries and huckleberries. Snack from the low bushes scraping your shins (ripe in late June or early July). Good idea: knee-high gaiters.
7. (13.6) Detour east on the wide, sandy fire road .2 mile to the Carranza Memorial, a large stone obelisk erected in memory of Emilio Carranza (known as "the Mexican Lindbergh"), who died when his plane crashed nearby in 1928.
8. (13.9) Pass the roadside Batona Camp.
9. (17.6) Apple Pie Hill (205 feet): Climb the narrow metal steps to the top of the 60-foot, red-and-white fire tower for views of an ocean of pine trees that seems to stretch forever in every direction. If it's clear, glimpse the skylines of Atlantic City (40 miles southeast) and Philadelphia (35 miles west). Retrieve the car you've stashed here.

Trip Planner

Get there Shuttle: From Marlton, take NJ 70 E 11.2 miles to New Rd. In 6.6 miles, right on Ringler Ave.; park in 1.7 miles. Trailhead: Return to CR 532 E. Take CR 563 S 15.2 miles, left on CR 542 4.6 miles to Batsto Village.

Gear up REI, 501 NJ 73 S, Marlton. (856) 810-1938; rei.com

Contact (609) 561-0024, bit.ly/njwharton

Permit Reserve ahead for pickup at trailhead; $5/person/night ($3 NJ residents).