Rip & Go: Backpack Trail, Yellow River State Forest, IA
Climb to bluff-top views of hardwood forest and rolling farmland.
Heading out the door? Read this article on the new Outside+ app available now on iOS devices for members! Download the app.
Do it

Myth: Iowa has no wilderness. Fact: Upend your preconceptions on this 14.3-mile loop through 8,503 acres of crinkled-carpet topography, plunging ravines, and sandstone bluffs, with wildlife including raptors and beaver.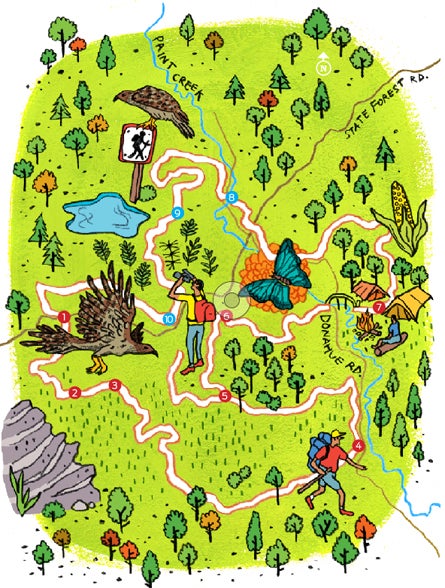 The counterclockwise route links several trails for a weekend's worth of exploring the state's most rugged terrain. From Forester trailhead (1), start with a gentle climb on the Forester Trail through patches of maidenhair fern. In .7 mile, pass Camp Glen Wendel (2), a grassy clearing at the forest's edge (a good late-arrival campsite), then turn right to descend into a ravine shaded by shagbark hickory, cherry, and pine. Bulbous, bus-size limestone and sandstone formations line the slopes to your left.
Go right on the Ash Trail at mile 1.3 (3), and just over a mile later, turn right and follow gravel Firetower Road to its junction with the Brown's Hollow Trail. Hang a left and traverse rich bottomlands filled with elm, cottonwood, and ash. At mile four (4), turn left and follow Donahue Road for .3 mile to the Firetower Trail. Turn left and huff up a short, steep hill, then ascend more gradually west through Scotch pine forest and knee-high grasses. Return to deep woods on the Walnut Trail and begin a winding, gentle descent. (Raptor fan? Take the 1.5-mile round-trip spur (5) to Cedar Point Overlook, an excellent place to spot hawks during the fall migration.)
Emerge from the woods and turn right on the Saddle Trail (6) to skirt the marsh along Paint Creek. In 1.2 miles, go left on Donahue Road and take the bridge over Paint Creek (fill up on water), then turn right onto the Hickory Trail. At mile 7.8, reach Heffern's Hill Camp (7), a broad, grassy clearing tucked amid the oaks. Kick off day two with a moderate climb gaining 300 feet up Heffern's Hill, passing a cornfield (hey, this is Iowa). At mile 9.2, turn right for .9 mile on the gravel road.
Head northwest on the Elm Trail (8) through a narrow valley (or detour north along the creek to reach prime trout fishing). Turn left on Kelly Road; in .3 mile, reenter the woods on the hiker-only trail. At mile 11.9, go left on the Maple Trail (9). A mile later, turn right on the Paint Creek Trail (10) and scan for horsetail, a brushy plant with a striped stalk. In a mile, turn left on White Pine Road and cross Big Paint Creek en route to your car.


Trip Planner

Get there From Dubuque, take US 52 N for 57 miles to US 18 E. Go 8 miles and turn right on IA 76 N/Great River Rd. Go 11.6 miles and turn right on State Forest Rd. Reach the Forester trailhead in about 3 miles.
Gearup Murray's Outdoor Store, 1402 S. Highway 52, Guttenberg, IA; (563) 252-1838
Season Spring through fall; our scout loves Oct. for peak colors
Contact (563) 586-2254; www.iowadnr.gov/
BUY THE PRO MAP



Illustration by Vikki Chu