Reno: Arc Dome Loop
This 22-mile Toiyabe Range loop offers a front-row vantage of vibrant aspen glades, crowdless peaks, and the frozen-wave geography of central Nevada.
Heading out the door? Read this article on the new Outside+ app available now on iOS devices for members! Download the app.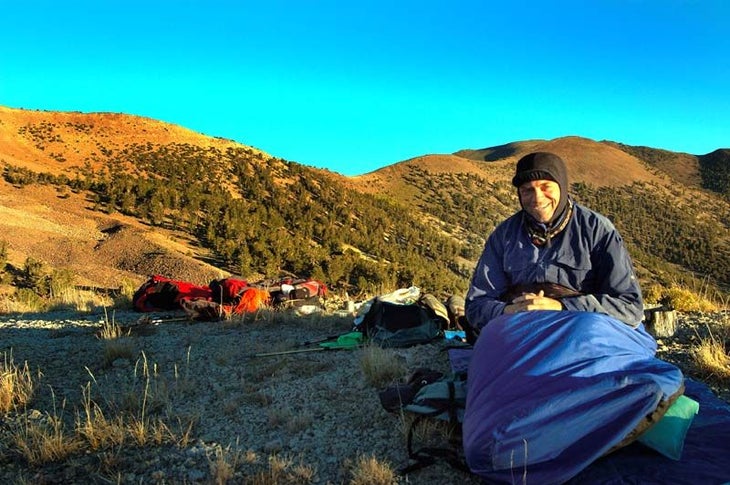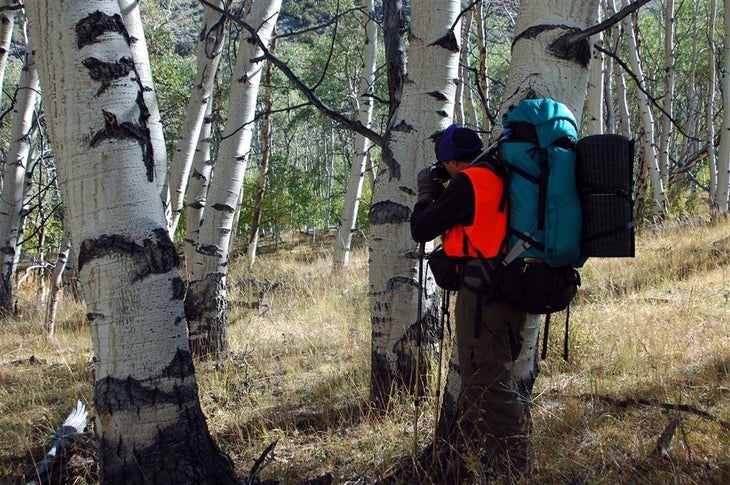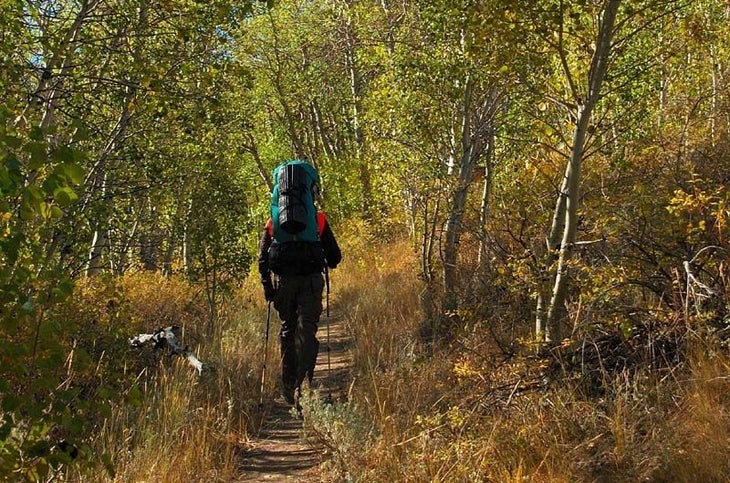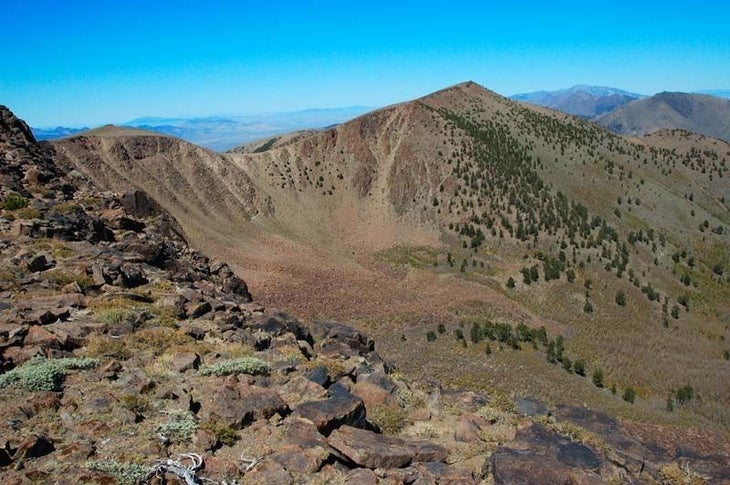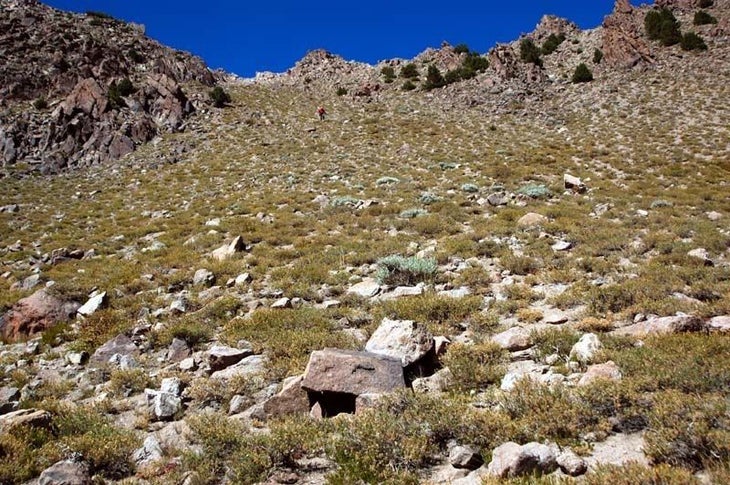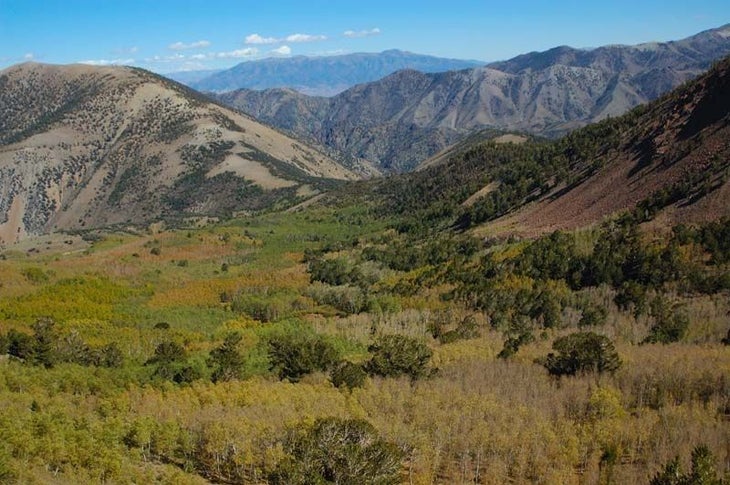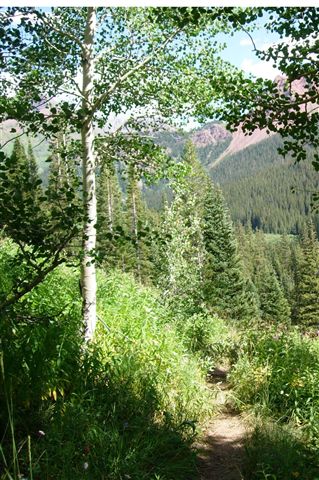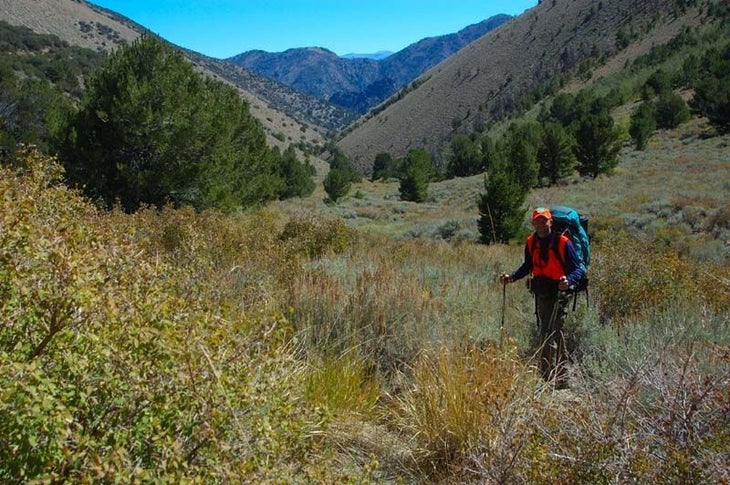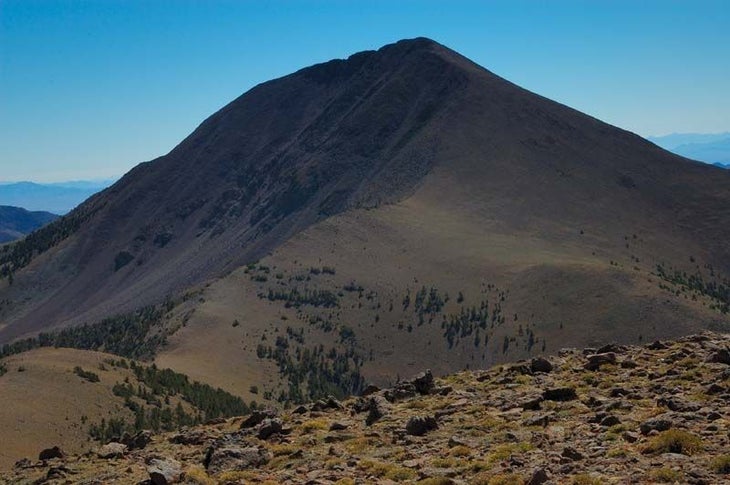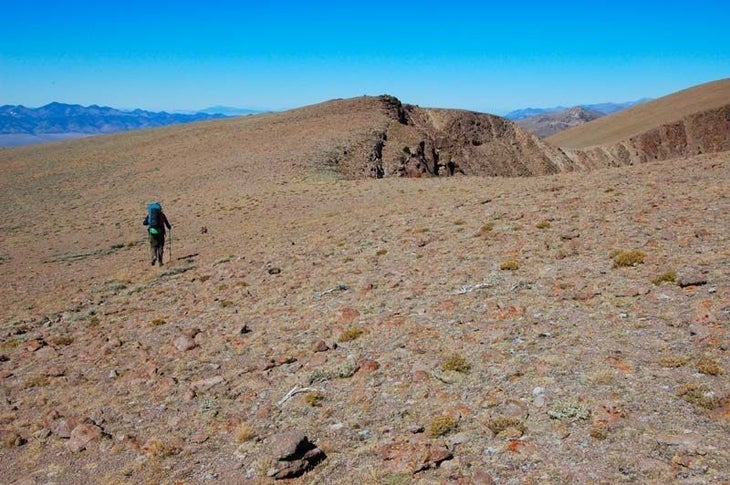 Trail Facts
Waypoints
ADL001
Location: 38.9002075195312, -117.376419067383
Note: 5.5 mi. of this route are off-trail; navigation skills are a must. Hike S along Stewart Creek; look closely to spot scars of Basque shepherd carvings on older aspen trunks
ADL002
Location: 38.8850631713867, -117.35277557373
R onto Toiyabe Crest Trail
ADL003
Location: 38.868782043457, -117.351959228516
Leave established trail for cross-country bushwhack down the steep drainage of North Twin River. The footing is a bit tricky on this sandy slope, but improves greatly as you make your way down the slope. The route finding is challenging. through the trees
ADL004
Location: 38.8650703430176, -117.343376159668
Find water @ Westby Spring; more tree-trunk art nearby
ADL005
Location: 38.8665580749512, -117.339797973633
Campsite off North Twin River; striking photo ops @ sunrise and sunset. Check trees above your camp for widow makers or branches that go bump in the night. Continue off-trail, heading E.
ADL006
Location: 38.8639450073242, -117.322799682617
At col, turn R onto established pack trail over small saddle and down tributary gully that spills into South Twin River.
ADL007
Location: 38.8504638671875, -117.293418884277
R onto South Twin River Trail up drainage past South Twin pasture, an open meadow
ADL008
Location: 38.8246040344238, -117.314155578613
Head R @ fork in river. Trail will fade away; keep winding upcanyon
ADL009
Location: 38.8237953186035, -117.327835083008
Faint trail reappears and passes small campsite. Switchback to ridgeline
ADL010
Location: 38.83251953125, -117.339820861816
Good camping spot on open, photogenic bench. Continue NW
ADL011
Location: 38.8414573669434, -117.349281311035
Rejoin trail. Drop packs and turn L for 1,000-foot climb up Arc Dome Trail
ADL012
Location: 38.8327598571777, -117.35302734375
Arc Dome (11,773 ft.); head-spinning views to the Sierras and Monitor Range; backtrack to WPT 11, then continue down trail
ADL013
Location: 38.8656044006348, -117.356658935547
L @ Y; descend and begin the steep climb back to the top of the table. Incredible views from the treeless trail of the Basin Range landscape of Nevada as you ramble though the pigmy sage following double track downhill to SW
ADL014
Location: 38.8678359985352, -117.372825622559
R @ T for final 2.8 mi. stretch back to the trailhead along a sloping ridgeline and through the aspen-lined gully of Stewart Creek.
Afternoon Light
Location: 38.8665580749512, -117.339248657227
©Kurt Kuznicki
Early Morning
Location: 38.8412628173828, -117.349342346191
©Kurt Kuznicki
Tree carvings
Location: 38.8996849060059, -117.376441955566
©Kurt Kuznicki
Solitary paths
Location: 38.8993873596191, -117.375694274902
©Kurt Kuznicki
High among the sage
Location: 38.8655052185059, -117.357925415039
©Kurt Kuznicki
Off-trail
Location: 38.8694190979004, -117.352653503418
©Kurt Kuznicki
Tree-filled basin
Location: 38.868968963623, -117.352500915527
©Kurt Kuznicki
Aspens
Location: 38.8652038574219, -117.33910369873
©Kurt Kuznicki
Bushwhacking
Location: 38.8251495361328, -117.313957214355
©Kurt Kuznicki
Arc Dome
Location: 38.8658065795898, -117.357322692871
Shadows cast over the exposed face of Arc Dome (AKA Toiyabe Dome). ©Kurt Kuznicki
Treeless tableland
Location: 38.8661079406738, -117.357467651367
©Kurt Kuznicki