Redding: Lost Coast Trail to Cooskie Creek
Unspoiled black-sand beaches, rogue breakers, and craggy mountains form a remote backdrop to this 13.4-mile weekend adventure along the Lost Coast.
Heading out the door? Read this article on the new Outside+ app available now on iOS devices for members! Download the app.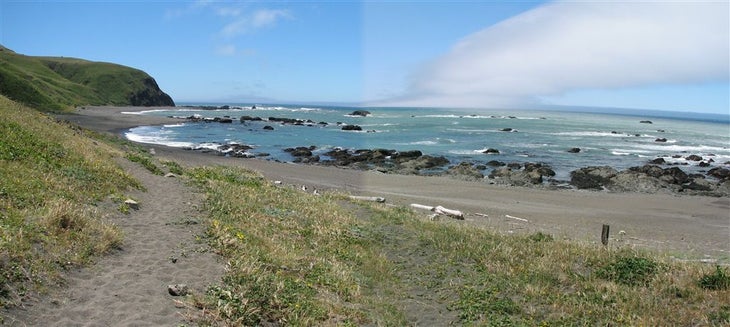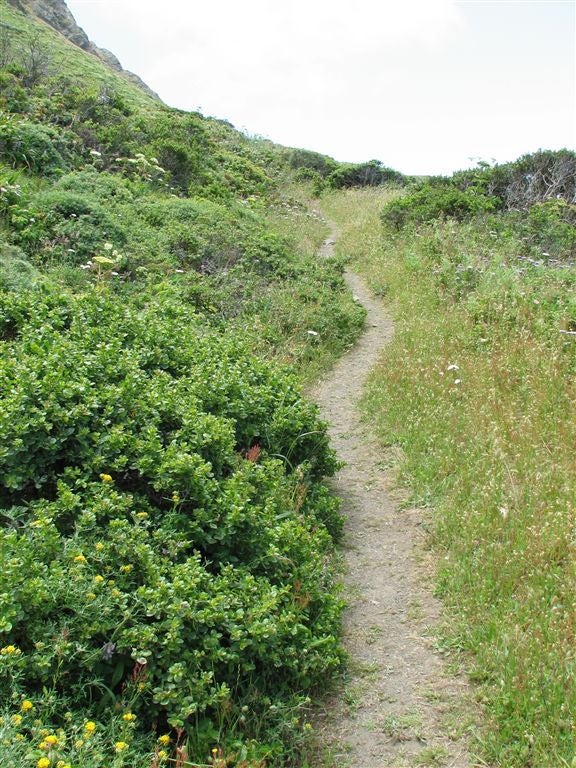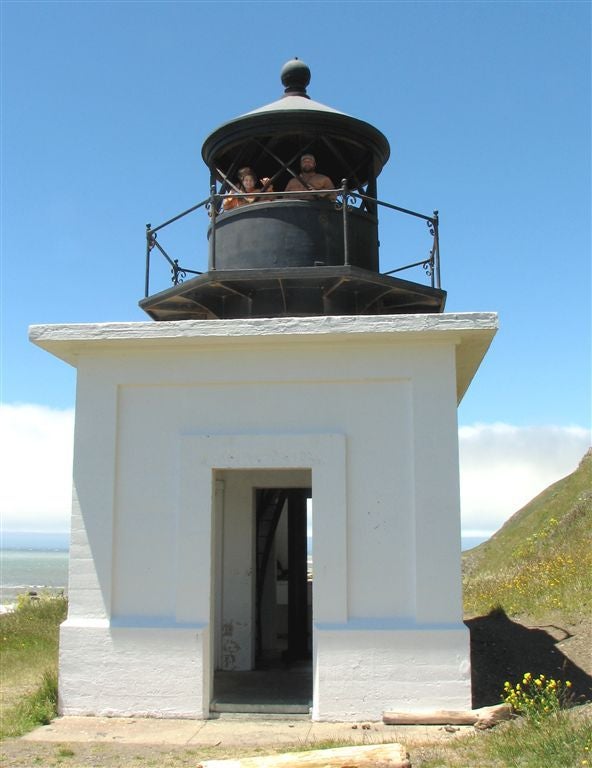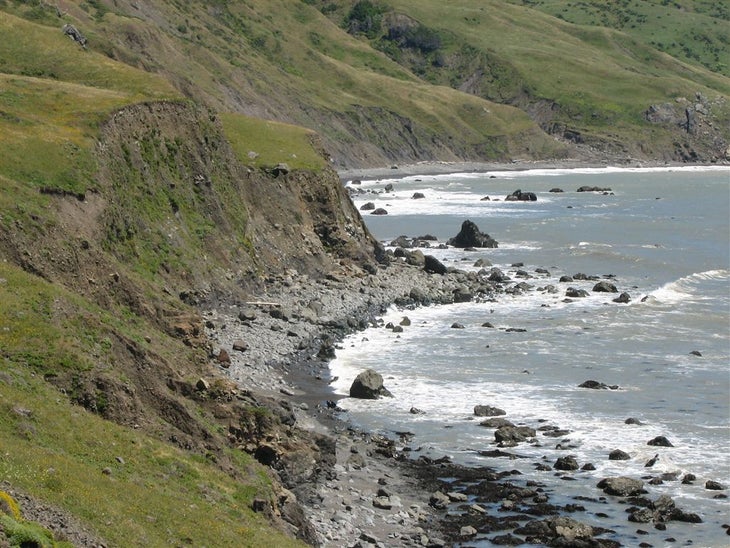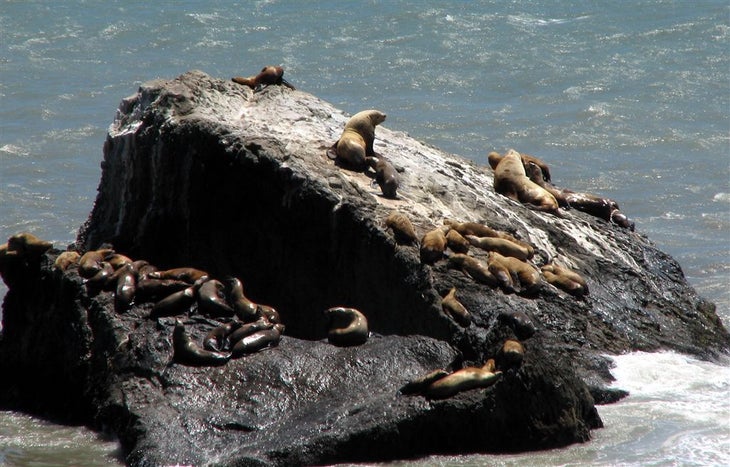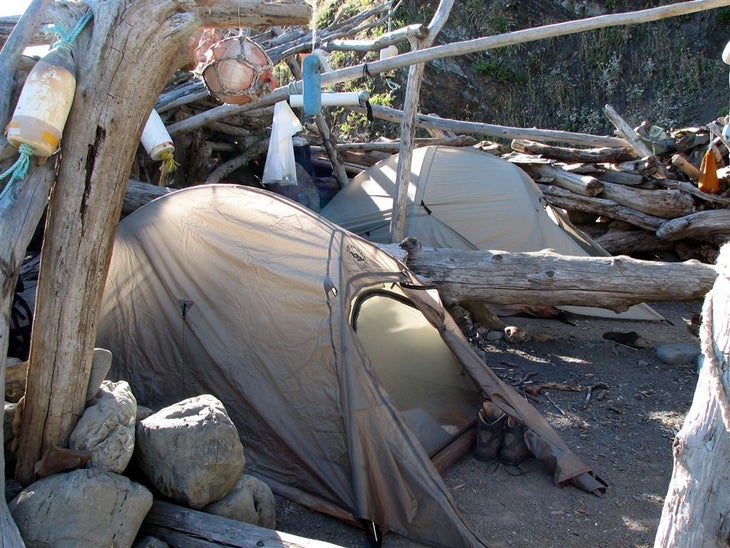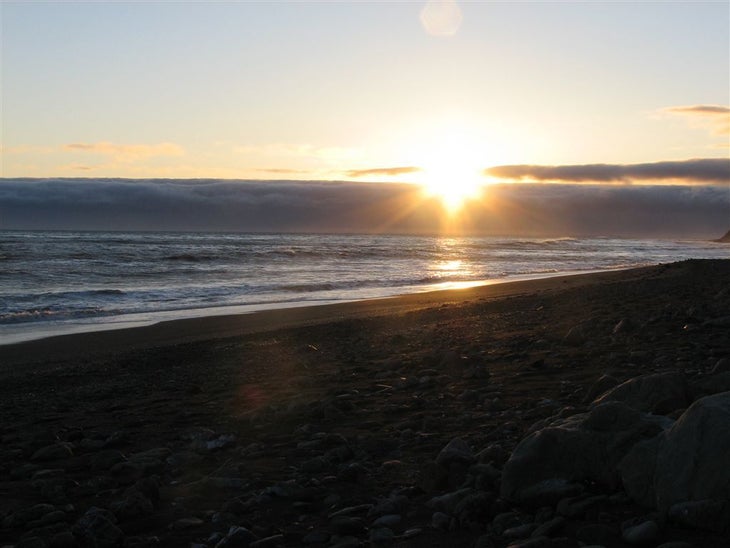 Trail Facts
Waypoints
LCT001
Location: 40.2889709472656, -124.356101989746
Head S onto black-sand beach littered with driftwood. Don't forget: Pack a tide table to time crossings
Ocean Panorama
Location: 40.2891235351562, -124.357246398926
Blue-sky views over the Pacific. ©Dave Miller
Hardpack Trail
Location: 40.2871437072754, -124.35733795166
Trail leads to the bluffs above the ocean. ©Dave Miller
LCT002
Location: 40.2872009277344, -124.358596801758
Leave beach for trail along fence
Hills Meet Ocean
Location: 40.2744255065918, -124.362609863281
Wildflowers lace the verdant hills throughout the Lost Coast. ©Dave Miller
LCT003
Location: 40.2696990966797, -124.362602233887
More soft-sand hiking on beach
LCT004
Location: 40.2622184753418, -124.363098144531
Trail pinched by surf and cliffs @ high tide; path picks up in 300 yds. Conical Rock hovers in the breakers
Driftwood Shelter #1
Location: 40.2602920532227, -124.361763000488
For years, surfers and hikers have built driftwood shelters along the coast. First come basis. ©Dave Miller
LCT005
Location: 40.255859375, -124.357498168945
Carefully ford gravel bars of Fourmile Creek upstream from where it pours into the ocean
LCT006
Location: 40.2541084289551, -124.355003356934
Continue R @ Cooskie Creek marker; Spanish Ridge rises to N
LCT007
Location: 40.2498893737793, -124.350799560547
Punta Gorda Lighthouse: The razor-sharp reefs ripped the hulls of many ships until this short white tower was built in 1911
Lighthouse
Location: 40.2492713928223, -124.350082397461
The Punta Gorda Lighthouse is no longer in use. ©Dave Miller
LCT008
Location: 40.2439193725586, -124.341697692871
Leave beach for more navigable terrain along bluffs and undulating ridgelines dotted with wildflowers
Rocky Beach
Location: 40.243335723877, -124.339813232422
Cliffs crumble into the sea. ©Dave Miller
LCT009
Location: 40.2408294677734, -124.333801269531
Sea lions sunbathe on surf-worn rocks
Sea Lions
Location: 40.2415428161621, -124.332794189453
Locals catch major rays just offshore. ©Dave Miller
LCT010
Location: 40.2397384643555, -124.331497192383
At mouth of Sea Lion Gulch, hardpack trail dumps onto rocky beach
Profile Rock
Location: 40.2397537231445, -124.330390930176
A hulking anthropomorphic figure among the breakers. ©Dave Miller
LCT011
Location: 40.235050201416, -124.325500488281
Driftwood shelter: Intricate log pile is a windless, safe, high-tide campsite. Continue S
Driftwood Shelter #2
Location: 40.2358932495117, -124.324645996094
Flotsam and driftwood make for a wind-free shelter. ©Dave Miller
LCT012
Location: 40.2339096069336, -124.325202941895
Tricky spot: Pass rocky beach @ low tide. In a few strides, follow cairns on S side of unnamed creek up bluff, then take user trail to Cooskie Creek Spur marker. Turn R and return to beach
LCT013
Location: 40.2196006774902, -124.310600280762
Cooskie Creek: Crimson sunsets burn extra splen­dor into already fantastic oceanside campsites (permit and bear canister required). Retrace route. See: http://backpacker.trimbleoutdoors.com/ViewTrip.aspx?TripID=27498
for details on a 4-day Lost Coast trip
Squeeze Factor
Location: 40.219970703125, -124.309761047363
There's room for two tents in this ocean-side lean-to. ©Dave Miller
Cooskie Creek
Location: 40.2196884155273, -124.310234069824
A driftwood camp near the mouth of the Cooskie Creek. ©Dave Miller
Camp Sunset
Location: 40.2198753356934, -124.309661865234
The sun drops below thick clouds. ©Dave Miller