Redding: Alphabet Lakes
Basecamp in a rarely visited basin and take daytrips to several alpine lakes with stunning views on this 17.2-mile, long-weekend backpacking trip.
Heading out the door? Read this article on the new Outside+ app available now on iOS devices for members! Download the app.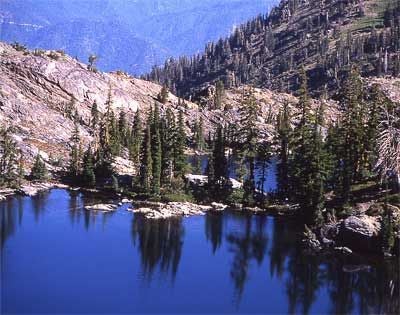 ©Leon Nelson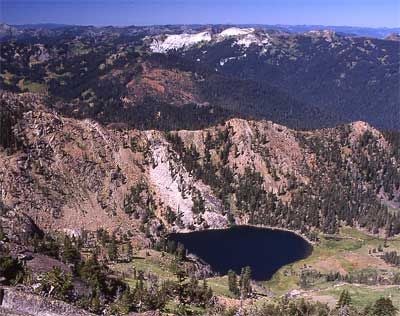 ©Leon Nelson
Trail Facts
Waypoints
-223CalfLkScenic+MtShas4X5
Location: 41.562068939209, -123.098197937012
The endless views to solitary cone of Mount Shasta from the ridge at Calf Lake. ©Leon Nelson
Dogwood Lake
Location: 41.5597496032715, -123.11222076416
Reflective crystal waters of Dogwood Lake envelope a rocky penisula. Take a dip in this alpine refresher after dayhiking the Alphabet Lakes. ©Leon Nelson
Deep Lake
Location: 41.5729637145996, -123.11353302002
Deep Lake's basin with Marble Mountain's snow-capped crown in the background. ©Leon Nelson
ABL001
Location: 41.5625076293945, -123.049133300781
Go W on signed dirt rd., tracing creek from Campbell, Cliff, Summit Lakes into the glacier-sculpted Marbles
ALB002
Location: 41.5606842041016, -123.057960510254
Defined trail leads under madrones, tanbark oaks; cross creeklets
ALB003
Location: 41.5460929870606, -123.098068237305
Sharp R @ Y to Calf Lake
ALB004
Location: 41.5563583374023, -123.08708190918
L @ unmarked Y; a taxing 1,000-foot ascent ahead
ALB005
Location: 41.5609016418457, -123.096649169922
Calf Lake: Lunch by shore, then leave marked trail & head slowly up boulder field to SW for big views (bring poles)
ALB006
Location: 41.5591125488281, -123.111503601074
Spend 1-3 nights @ perfect basecamp (permit required) on E shore peninsula of Dogwood Lake (7,250 ft.)
ALB007
Location: 41.5602226257324, -123.110313415527
Dayhike #1: Explore Chinquapin, Buckhorn, and Aspen Lakes. From camp, head N off-trail on easiest terrain
ALB008
Location: 41.5617980957031, -123.110229492188
Chinquapin Lake (7,150 ft.): Cast for brookies on E shore, then go N
ALB009
Location: 41.5634918212891, -123.111381530762
Swing to the L side of pristine Buckhorn Lake, (7,125 ft.); keep N
ALB010
Location: 41.5656929016113, -123.10880279541
Rocky shores of Aspen Lake; swim, rest, return to Dogwood Camp
ALB011
Location: 41.5631446838379, -123.116394042969
Dayhike #2: Knock off 2 more lakes on this 2.6-miler. From camp, hike to WPT 9 then bear W to Wolverine Lake (7,000 ft.) with long views to Marble Mtn.
ALB012
Location: 41.5682640075684, -123.113006591797
Deep Lake (6,350 ft.) is the deepest (68 ft.) and biggest (16 acres) in the region. Return to camp, backtrack to car