Red Rock Canyon, NV: White Rock Loop
This moderate, 6.2-mile hiking (or running) trail in Red Rock Canyon winds around sandstone and limestone hills with postcard views.
Heading out the door? Read this article on the new Outside+ app available now on iOS devices for members! Download the app.
Start this 6.2-mile loop early in the day to avoid the heat, and follow the old dirt road clockwise from the parking area at the end of Willow Springs (you'll get the uphill out of the way in the first part of the hike). The old road narrows to singletrack as you approach a surprisingly dense hidden forest of ponderosa pine and junipers. You may spot bighorn sheep, lizards, and an array of birds.
The trail steadily gains elevation as it winds past geological features, sweeping views of La Madre Wilderness, and the crags and peaks of the White Rocks. The rocky, but always well-signed trail tops out around 5,400 feet before descending through sandstone hills to the White Rock parking area. Take in more amazing views of the red-striped Spring Mountains ahead of you before crossing the parking lot.
Continue southwest on the loop through fields of cholla cactus toward Lost Creek. The trail eventually parallels the road into Willow Springs. Stop to check out the ancient Paiute agave roasting pit and petroglyphs. The picnic tables next to the springs are perfect for a post-hike lunch.
-Mapped by Chelise Simmons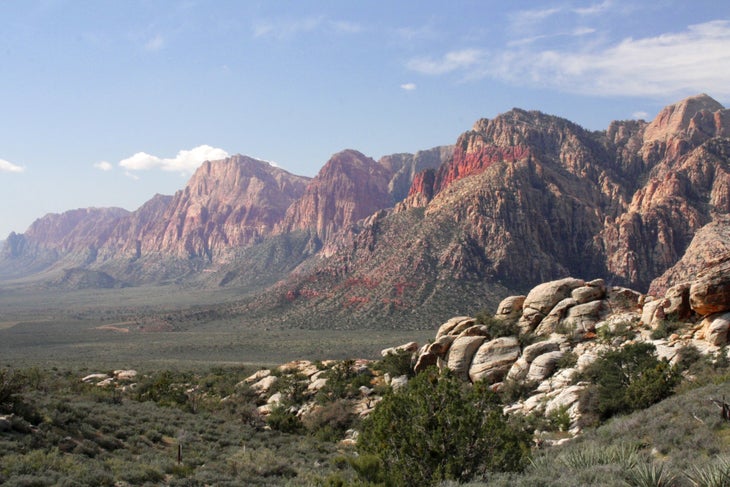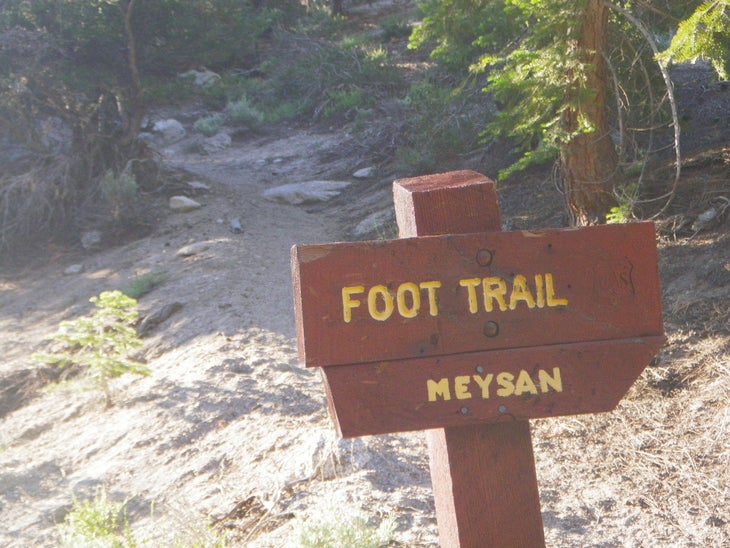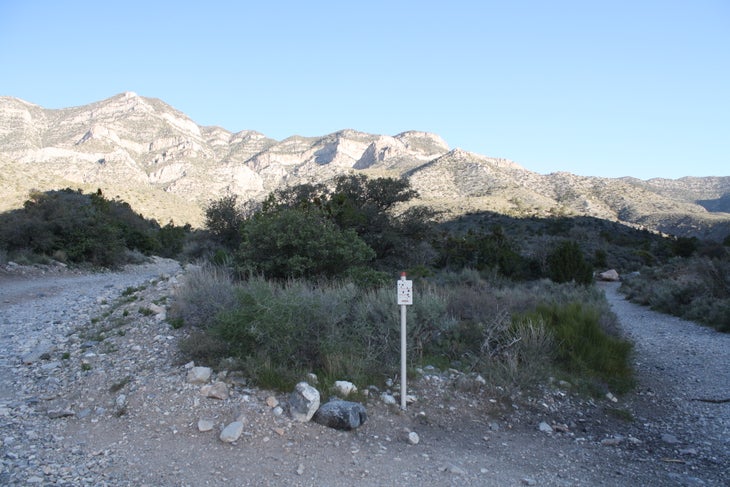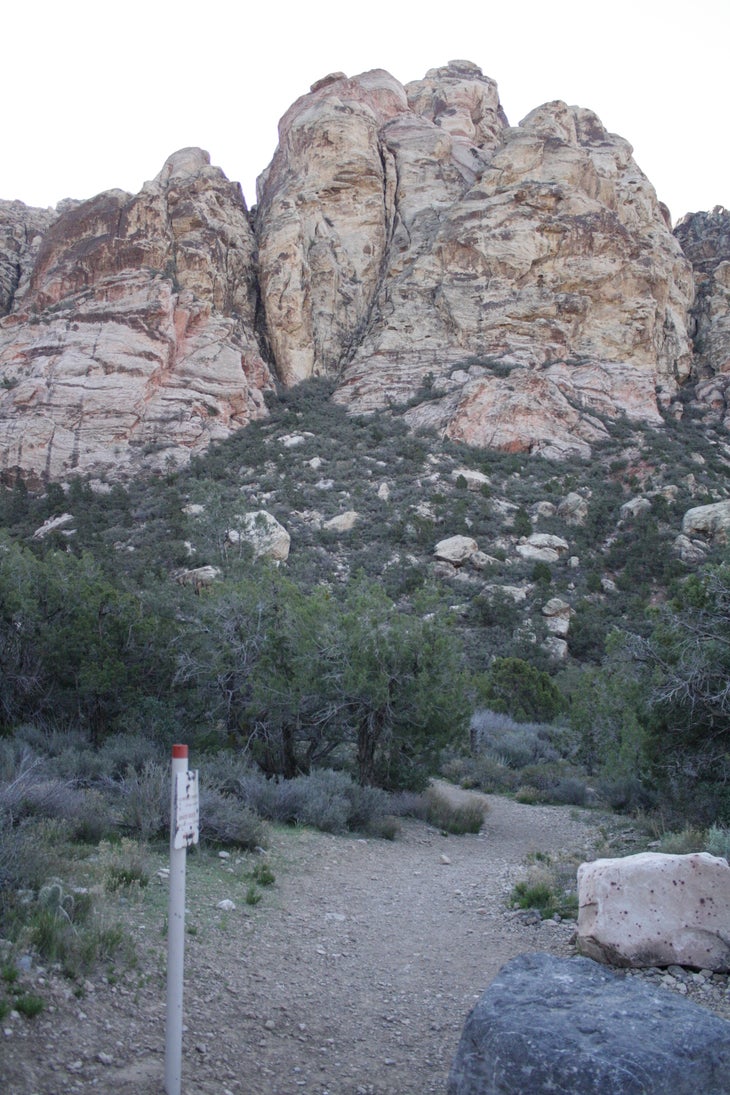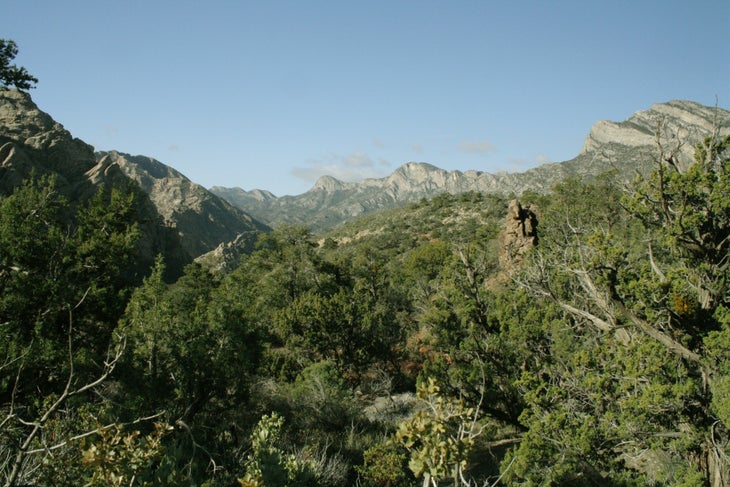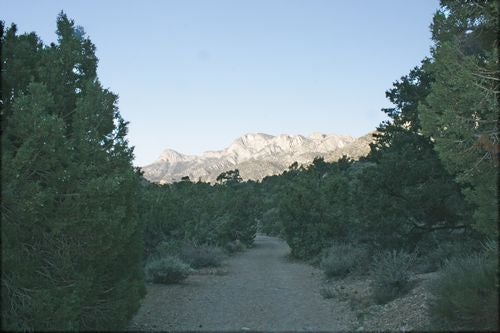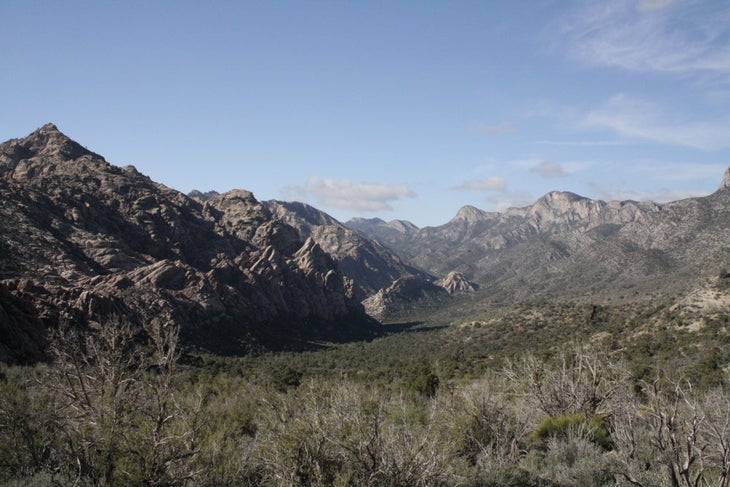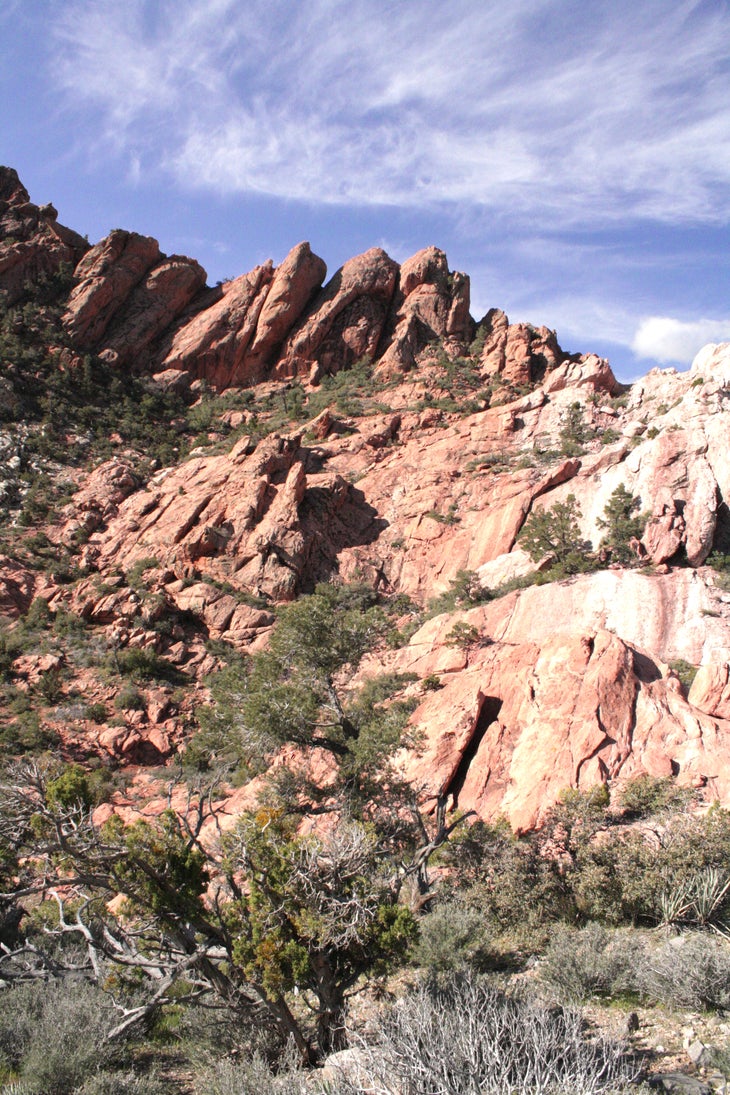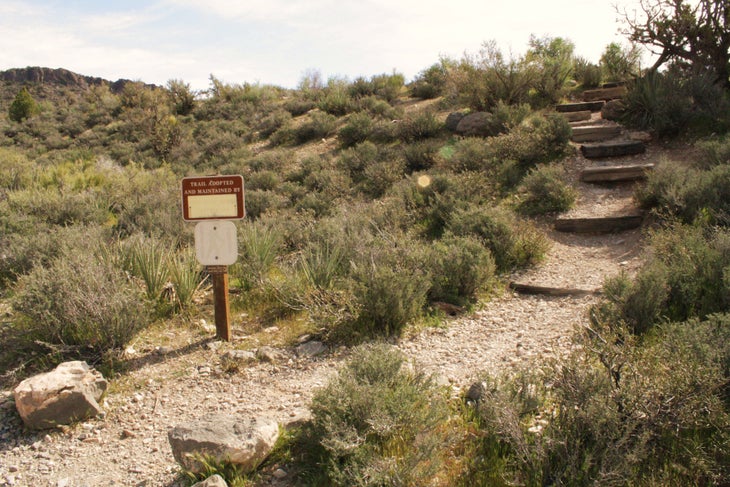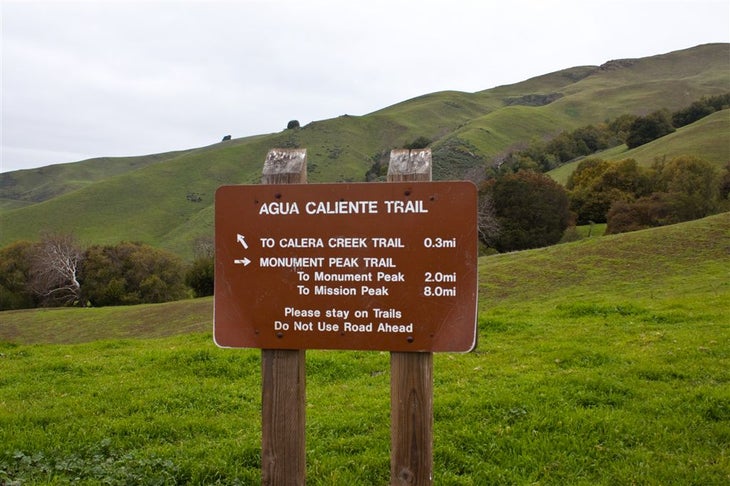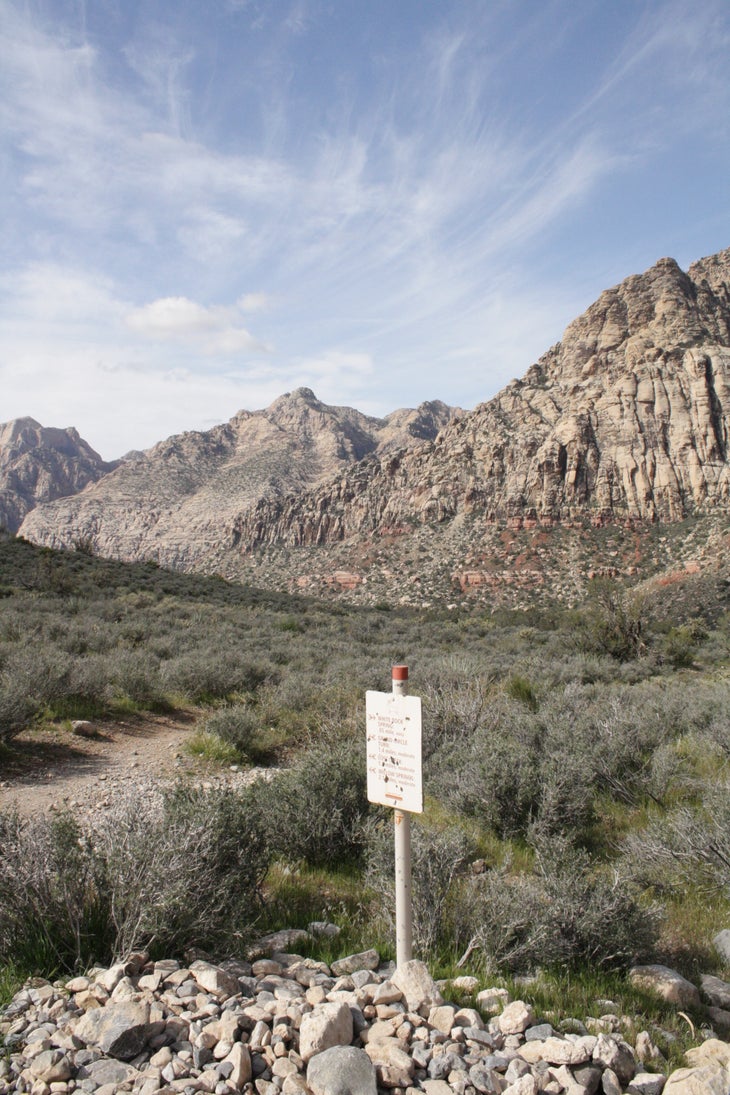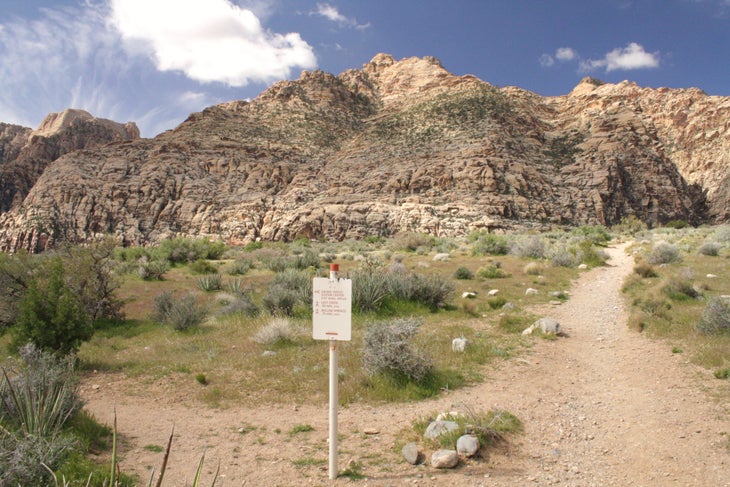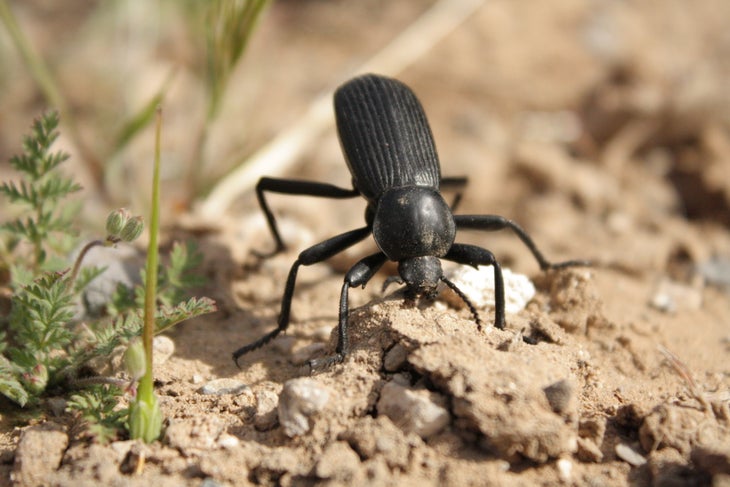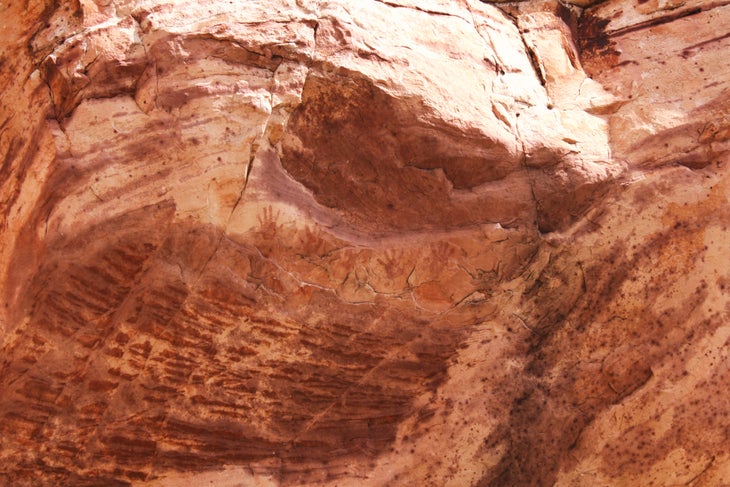 Trail Facts
Waypoints
WRL001
Location: 36.161088, -115.498889
From trailhead walk northwest up worn dirt road.
WRL002
Location: 36.163333, -115.502524
Agave Roasting Pit
WRL003
Location: 36.165601, -115.507706
At Y-junction, bear right, heading north. Continue on dirt trail.
WRL004
Location: 36.171672, -115.505995
Turn right at 3-way junction. The path narrows and travels toward the base of the hills.
WRL005
Location: 36.183853, -115.491405
Crest the highest point on trail (5,434 feet).
WRL006
Location: 36.17531, -115.47803
Continue south on the White Rock Loop Trail, past an agave roasting pit, toward the White Rock parking lot.
WRL007
Location: 36.173331, -115.477746
From the White Rock parking area, follow signs and head west to continue on White Rock Loop on singletrack.
WRL008
Location: 36.173532, -115.478942
At junction with White Rock Springs, continue southwest on White Rock Loop.
WRL009
Location: 36.158184, -115.48834
At junction with Grand Circle Loop, continue southwest on White Rock Loop Trail.
WRL010
Location: 36.158168, -115.493601
Continue northwest at Lost Creek junction.
WRL011
Location: 36.160166, -115.497379
Pass another ancient agave roasting pit.
Wilson, Rainbow and Bridge Mountains
Location: 36.174418, -115.477912
Trailhead
Location: 36.161101, -115.498753
Rocky Gap Road Junction
Location: 36.165614, -115.507486
La Madre Springs Junction
Location: 36.171694, -115.505748
Views to the southwest
Location: 36.175591, -115.501413
Ponderosa Pine and Juniper Trees
Location: 36.180735, -115.498388
Vista
Location: 36.181636, -115.496478
Sandstone Rocks
Location: 36.183333, -115.490685
Keystone Thrust Trail Junction
Location: 36.175314, -115.477949
Trail Sign
Location: 36.173335, -115.477695
White Rock Springs Junction
Location: 36.173534, -115.478904
Grand Circle Junction
Location: 36.158199, -115.48826
Darkling Beetle
Location: 36.158182, -115.493528
Petroglyphs
Location: 36.160434, -115.498195