Reclaiming Glen Canyon
As the water level in this reservoir dropped by as much as 150 feet over a period of 5 years, the legendary canyons of Glen Canyon began to emerge for the first time in nearly 40 years.
Heading out the door? Read this article on the new Outside+ app available now on iOS devices for members! Download the app.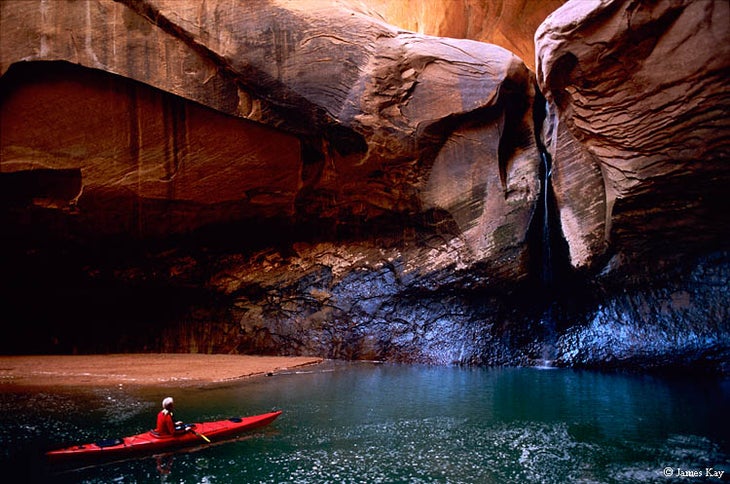 Before the flooding of Glen Canyon, "Cathedral in the Desert" was considered by many to be the most beautiful canyon in all of Glen Canyon. In April 2005, it was possible to stand on a sand dune on the floor of this chamber for the first time since 1969.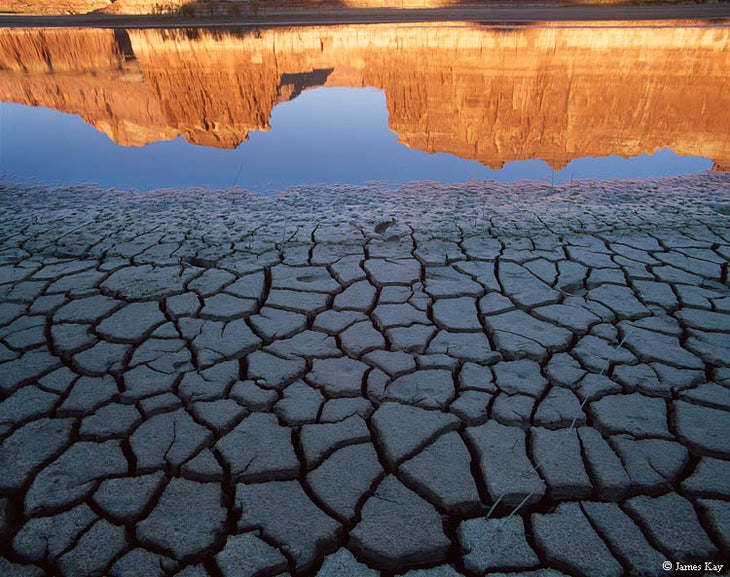 Morning sun illuminates the cliffs above drying mud at the foot of Lake Powell's abandoned Hite Marina boat ramp.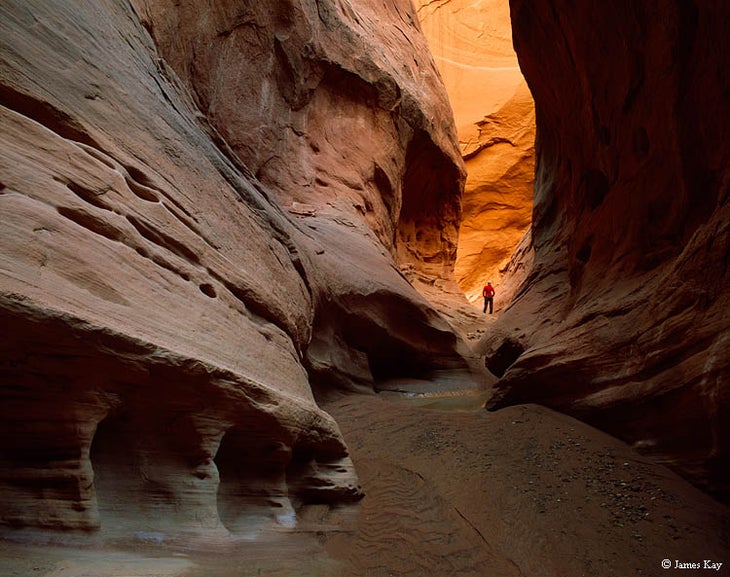 A hiker stands in Cascade Canyon, at a location that was once 30 feet below the surface of Lake Powell and buried under reservoir sediment. As the water level drops, narrow canyons like this are quickly scoured out by flash floods pouring down from above.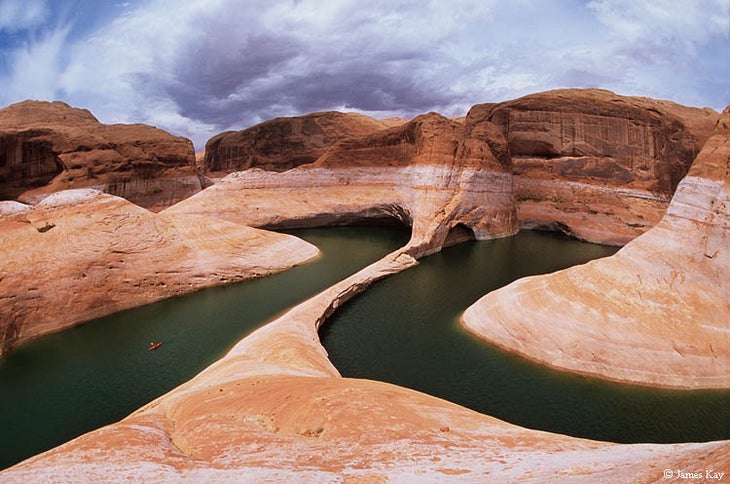 Kayaking (lower left) in Reflection Canyon beneath the towering 140-foot tall "bathtub ring" of Lake Powell. At this level, the reservoir has lost nearly 70% of its total water volume.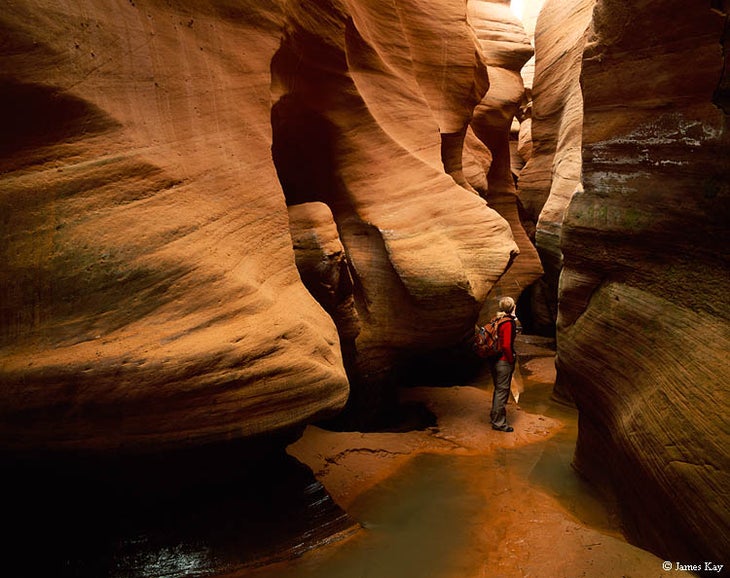 The best way to access the revealed slot canyons is by boat. Paddle or motor up the canyon from the main reservoir until you hit dry land; park the boat & start hiking. To access Face Canyon, shown here, the shortest water approach is from Wahweap Marina.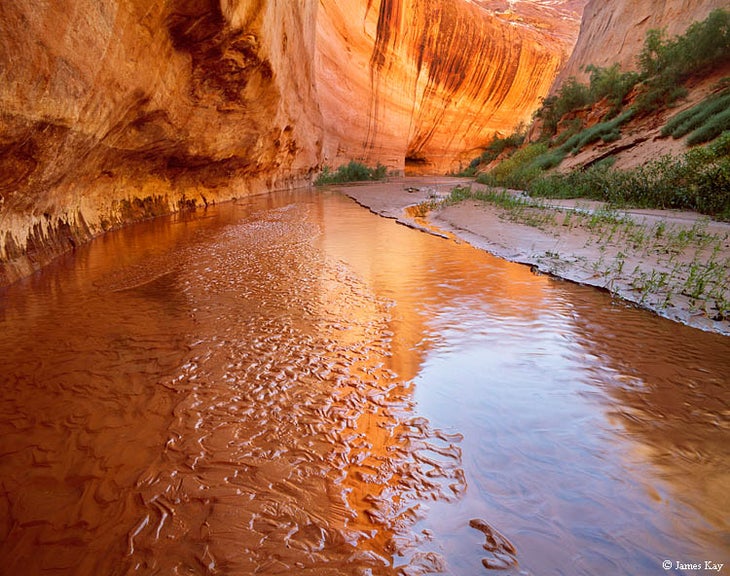 The reservoir first topped off in 1983, with the water surface 90 feet above the streambed of Davis Gulch seen here. The reservoir's white "bathtub ring" can be seen climbing halfway up the wall revealing how far underwater this spot was in 1999.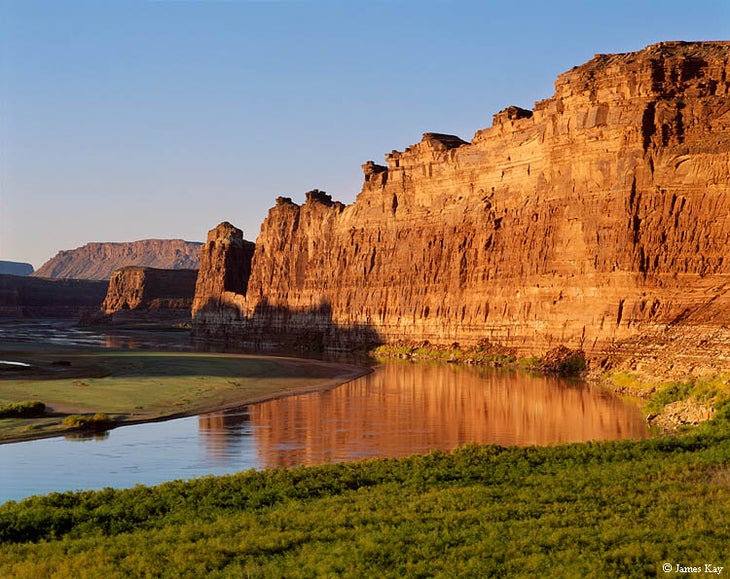 Downstream view at sunrise of the free-flowing Colorado River viewed from just below its confluence with the Dirty Devil River. When Lake Powell was last full, it extended 35 miles upriver from this location.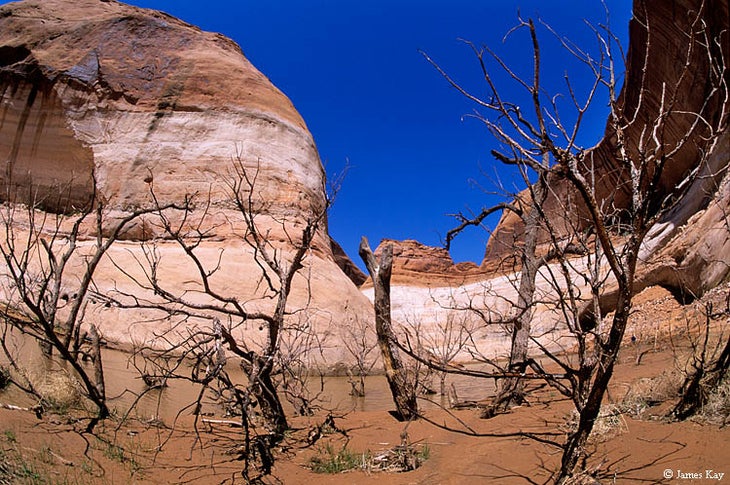 The skeletons of cottonwood trees along Davis Gulch, which were drowned by the rising waters of Lake Powell when it was filling over 40 years ago, re-emerge from the turbid waters of the reservoir.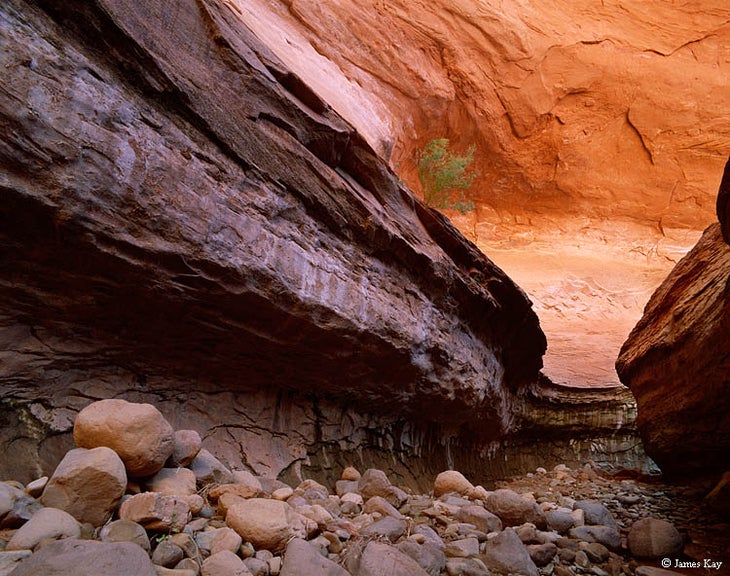 Since the waters of Lake Powell first invaded Fiftymile Gulch in the late 1960s, Fifty Mile Creek deposited nearly fifty feet of sediment here. Since the reservoir level dropped, flash floods have flushed away the accumulated mud to restore the canyon.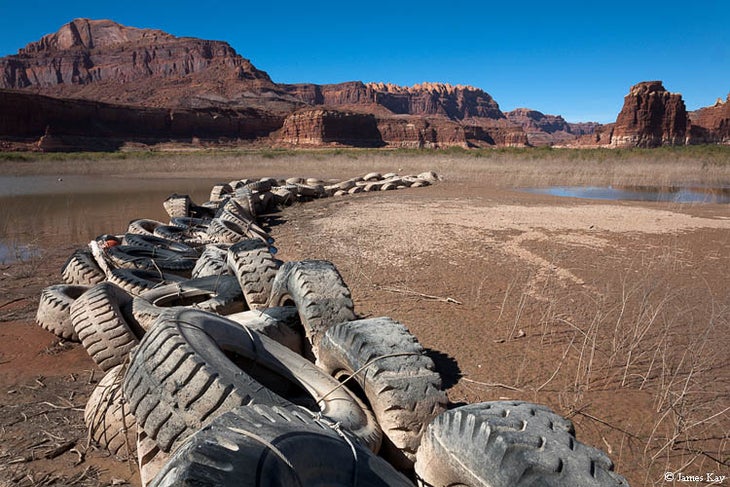 Old chained-up tires once used as breakwater barriers around Hite Marina now rest on mud flats at a location that was 98 feet below the surface of the reservoir.
In 2003, James Kay began documenting the effects of the ongoing, record-breaking Western drought and its impacts on the canyons surrounding Lake Powell. He currently leads photography workshops throughout this region. Please visit jameskay.com for more information