Readers' Choice 2012: Reader Leader: Glacier Magic
More than 150 of you entered our contest to become a BACKPACKER field scout. Meet the winners here, starting with Colleen Contrisciane-Lewis, of Phoenixville, Pennsylvania. She earned the all-expenses-paid grand prize: an assignment to hike—and report on—her dream trip. Read about her 85-mile, weeklong transect of Glacier National Park on the Pacific Northwest National Scenic Trail.
Heading out the door? Read this article on the new Outside+ app available now on iOS devices for members! Download the app.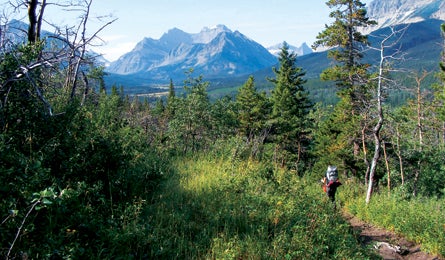 Colleen hikes the Pacific Northwest Trail (Rowan Lewis)
Views along the Pacific Northwest Trail (Rowan Lewis)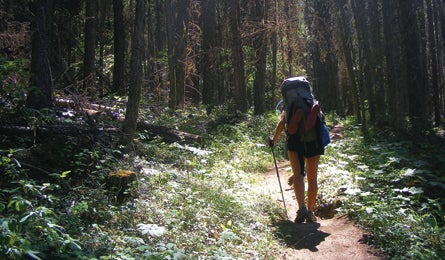 Colleen hikes the Pacific Northwest Trail (Rowan Lewis)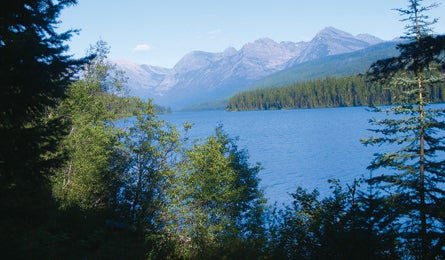 Glacier National Park (Colleen Contrisciane-Lewis)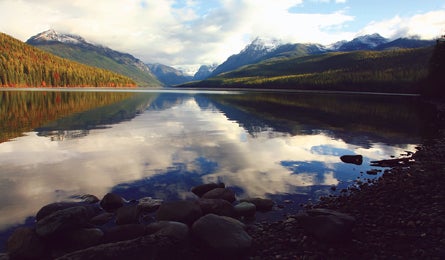 Bowman Lake in Glacier National Park (Jeremie Hollman)
Day 1

Naturally, Rowan and I want quality time alone–we eloped just weeks before our hike, and this Continental Divide-crossing route will not only be my Reader Leader dream trip, but also our honeymoon. And judging from the deserted parking lot at the Chief Mountain entry near the Canadian border, we are off to a good start. The rewards come quickly on the Pacific Northwest Trail. Just two miles in, we pop through the trees for our first blown-open view of Glacier's jagged peaks: Sentinel and Bear Mountains, both well over 8,000 feet, with a golden meadow sprawling below, framed with an explosion of purple lupine, beargrass, and fireweed. We are mesmerized.

At mile seven, we take a 300-yard side trail to Gros Ventre Falls, a 30-foot cascade spilling into a turquoise pool before coursing down another drop. Rowan can't resist a swim in the frigid water. That night, we camp at idyllic Glenns Lake Camp at mile 10.5, next to sky blue waters beneath Cosley Ridge 3,000 feet above. We meet a couple camped nearby who are keenly interested in Rowan's accent–he's from Zimbabwe. They recognize it as the same unique accent spoken by their farrier, back home in Indiana. Like many African countries, Zimbabwe has experienced devastating famine and civil unrest in recent decades, which led to a massive diaspora.
So while it's preposterous to think Rowan would know the couple's farrier, just because they both speak with a Zimbabwean accent, they can't help asking. More shocking than seeing a grizzly: The man was one of Rowan's best friends in high school, but they lost touch in the chaos. This reconnection in the Glacier wilderness seems all but impossible, but serendipitous experiences like this have trained me to embrace interactions with people in the wild, rather than feel overly protective of my solitude. (Rowan has since made contact with his lost friend.)
Day 2

We cruise along Glenns Lake in awe of the scale of Cosley Ridge and Pyramid Peak. As we begin climbing Stoney Indian, it seems that every 100 feet of elevation gain grants us another mile of sky to see, another lake, waterfall, or row of peaks to appreciate. It's immediately obvious why Stoney Indian campsite is so sought after: It's prime real estate, offering a lake and a waterfall, an amazing westerly view, and an open-air privy.
Day 3

When I backpack solo, I can do breakfast and pack in 30 minutes. With Rowan, it takes two hours, and my frustration is building to a boil. He has some serious backcountry skill–he worked as a safari guide the past 20 years. But he's had porters take care of food, organizing, packing, and hauling gear—a backpacker's essential crafts. This is his first real DIY trek.

We leave camp at 10 a.m. on trail thick with white, confettilike cow parsnip—neck high at times and heavy from last night's rain. At Waterton Trail, we hear wolves howling, then turn and head north toward Goat Haunt. My spirits warm with the day and shoot sky-high when we arrive at our next campsite at Lake Francis, a teal pool beneath thousand-foot cliffs. From the beach, we see runoff from Dixon Glacier plunging hundreds of feet into the lake and peaks turning peach in the setting sun.
Day 4

The next morning, I don't fuss about an early start. The magic of Lake Francis—and Rowan's stop-and-smell-the-wildflowers approach—is seeping in, and I find myself losing track of time while photographing reflections in the water.

We climb up Brown's Pass, a 6,255-foot saddle, enjoying Thunderbird Falls as a navigational handrail along the way. When we crest the top, we negotiate a graveyard of pines snapped like matchsticks. Most of the trees broke at their bases during a late-season avalanche, and snow still obscures the trail.

Once we find the path, we lengthen our trekking poles and begin a steep and loose descent to Bowman Lake at mile 43, where we camp beneath 9,000-foot Mts. Peabody and Carter.
Day 5

This morning, we take it slow purposefully. It's our honeymoon, and the seven-mile stretch of trail along Bowman Lake is flat, fast, and breathtaking. The park's topography changes quite a bit on the west side of the Continental Divide, and when we leave the Pacific Northwest Trail and turn down Lower Quartz Trail at mile 51 we begin to notice the differences. The trees grow thicker and taller, and the mountains are rounder and gentler than the sharp peaks east of the divide. Another difference: We don't see a soul, and our campsite at calm and piney Lower Quartz Lake is deserted.

We arrive at camp early, and talk about packing fishing rods the next time, so we can cook a trout dinner. Or maybe even horsepacking one day. Less than an hour later, a couple on horses appears. The husband jumps off his horse and says, "Do you like fish? I've heard this lake is full of cutthroats." After dropping a heap of fish at our feet, the couple rides away to leave us to a private feast. Does the trail magic ever stop?
Day 6

As we hike from Lower Quartz Lake to the Inside North Fork

Road crossing at mile 60.7, the sense of being utterly alone becomes palpable. We never see so much as a fresh footprint. We linger by crystal-clear Lower Quartz Creek and have a languid swim in its shallow (and warm) waters.

After crossing the road, we continue south to Logging Lake Trail. "Would you mind silencing your bear bell?" Rowan asks. "The incessant jingle is grating. And I'd love to see a bear."

Who am I to argue with a man who's lived with lions? So, against my better judgment, I silence my bell, and zip my lips. We hike 30 minutes before seeing a grizzly 20 yards off the trail. It behaves like every other bear I've ever encountered and takes off. My reaction? Mark a waypoint! After all, I've become a trail reporter and think the editors of Backpacker would like their readers to have such a juicy detail.
But the bear only runs a short distance before stopping to stand on its hind legs and get a better view of Rowan. I make some noise, and the bear takes off again. Rowan naturally complains that I cut his first bear encounter short. I roll my eyes and un-silence my bell for the remaining 4.5 miles to our camp at Logging Lake.
Day 7

Logging Lake is a skinny, seven-mile-long pool tucked into a tight valley that hardly anybody goes to. The reason? The trail along its banks dead-ends, so it's not useful for big circuits. We'd planned on camping at trail's end, just 4.5 miles away, for our final night. But when we awake the next morning, we want to be still—we put in more than 70 miles, are sore, and already have a prime campsite on the beach of this inviting lake. Nothing sounds better than spending a day lounging by the water—enjoying this remote and sublime landscape to the fullest—before hiking back out to the road. It is our honeymoon, after all.
Do it

Get there From Browning, take Duck Lake Rd. 33.2 miles to US 89. Turn right and head 5.6 miles to a left on MT 17. Go 14 miles to the trailhead.

Shuttle Glacier Transportation, (406) 892-3390; glaciertransportation.com

Contact (406) 888-7800; nps.gov/glac