Rapid City Blog: Jewels Above and Below Ground
Heading out the door? Read this article on the new Outside+ app available now on iOS devices for members! Download the app.

I don't even like being in European elevators; they make me claustrophobic. So, part of me was having a mini panic attack at the thought of it: Taking an elevator down into the ground 240 feet, exiting into Jewel Cave and descending another 100 feet on foot on a series of bridges and through tunnels during what's called a "Scenic Tour." We'd be underground for about 80 minutes.
But, this was a discovery kind of trip, educational for the kids and horizon-expanding for me and Mark, so the four of us handed the nice ranger our tickets and got into the elevator. (Breathe, Lisa, breathe.) The first part of the cave we entered was expansive and didn't feel constricting, and I tried not to focus on the fact that we were "trapped" so far underground. It was beautiful, really, with calcite crystals lining the cave walls and lights illuminating interestingly shaped caverns in all directions.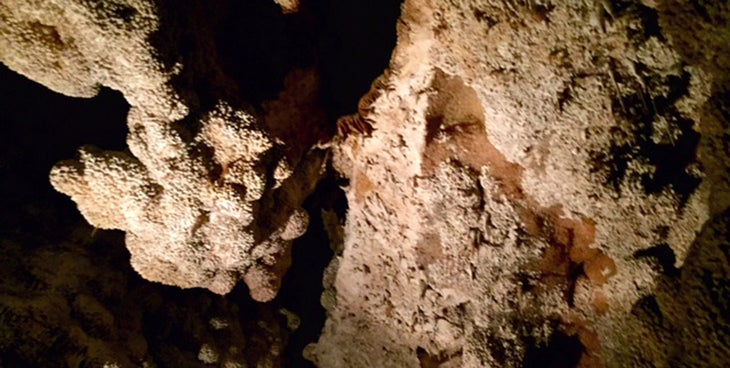 We learned about how 181 miles of Jewel Cave have been discovered to date, and how to separate groups of four were currently on four-day exploratory missions, sure to find another mile or two. At one point, the ranger turned off all the lights, and I've never experience such a deep darkness. Both my boys had said they were scared, and were clinging to me the rest of the tour. I suddenly lost my own fear, and went into be-strong-for-the-kids mode. I'll admit, though, I was relieved when we stepped back out of the elevator and onto the surface of the earth.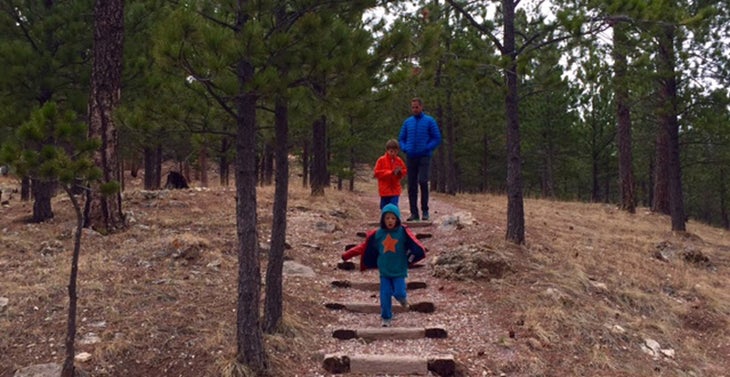 In the gift shop, Sam wanted to buy a book on identifying rocks, which made me happy. We took a family hike outside the property to get some fresh, above-ground air, telling the kids that beneath our feet was the labyrinth we'd just explored. Two trail loops start from the Visitor Center, and a third is a mile away. Walking with the kids, we found some quartzite—identified by Sam—along the trail lined with Ponderosa pines and looking out to the area's limestone cliffs before hopping back in the car.