Rapid City Blog: Crazy Horse Memorial
Heading out the door? Read this article on the new Outside+ app available now on iOS devices for members! Download the app.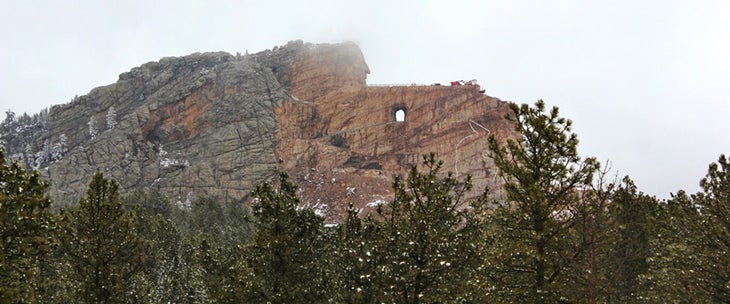 We got a little lost on our drive to Crazy Horse Memorial (but what's a road trip without an unplanned detour?), so when we got there, Mark and I chuckled about the low-lying clouds covering the massive sculpture seeming fittingly humorous. But we were optimistic, and figured the clouds would move out, so we took the kids into the Visitor Center that doubles as the Indian Museum of North America. We marveled at all the American Indian artifacts, the beautiful wood interior, and teepee replica. The kids enjoyed exploring what Indians used for toys and tools.
The four of us then sat down in a nice auditorium for a short movie about the history of the memorial—how one man, an Irish/Polish sculptor named Korczak Ziolkowski, took on the project at the asking of Lakota Chief Standing Bear. "My fellow chiefs and I would like to white man to know the red man has great heroes, also," wrote the chief, referencing nearby Mount Rushmore. Starting in 1947, at age 40, Korczak worked on Crazy Horse for the rest of his life.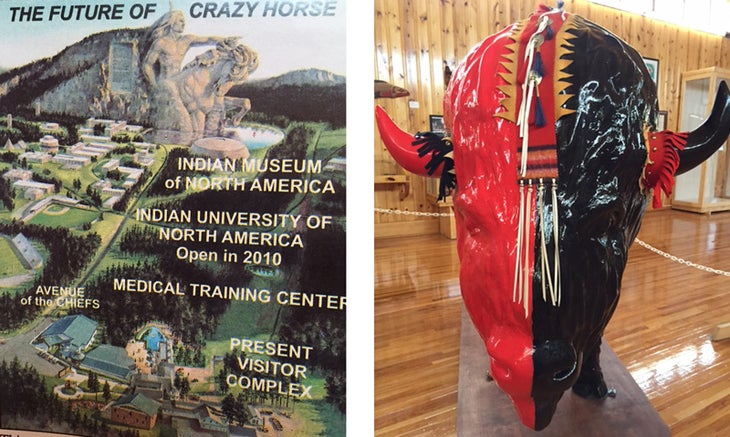 It might have been the footage of blasting dynamite, but my boys stayed glued to the screen for the whole 20 minutes. We learned that, to this day, the memorial works off of private funding and donations only—no government grants—so the process is slow-going. We learned that Korczak and his wife Ruth had 10 children, and most of them dedicated their lives to the Memorial. I felt moved by the meaning of all of it, and grateful that my kids were exposed to the history of the American Indian people and the hard work and dedication necessary to keep the work on the memorial going.
When the film ended, we exited the auditorium into a room with large picture windows. And, what do you know? The fog had lifted, and there was Crazy Horse in his glory.