Portland: Willamette Mission Loop
This 6.5-mile, figure-8 hike crosses old nut orchards, then follows a lazy river en route to the largest black cottonwood in the United States.
Heading out the door? Read this article on the new Outside+ app available now on iOS devices for members! Download the app.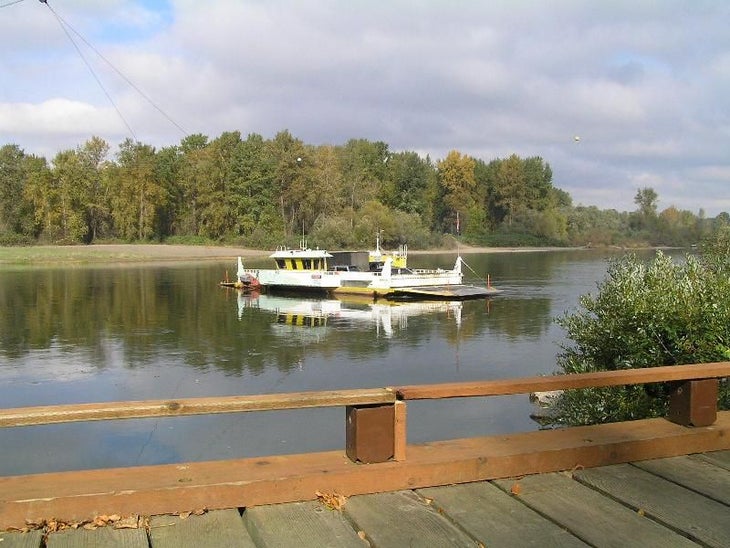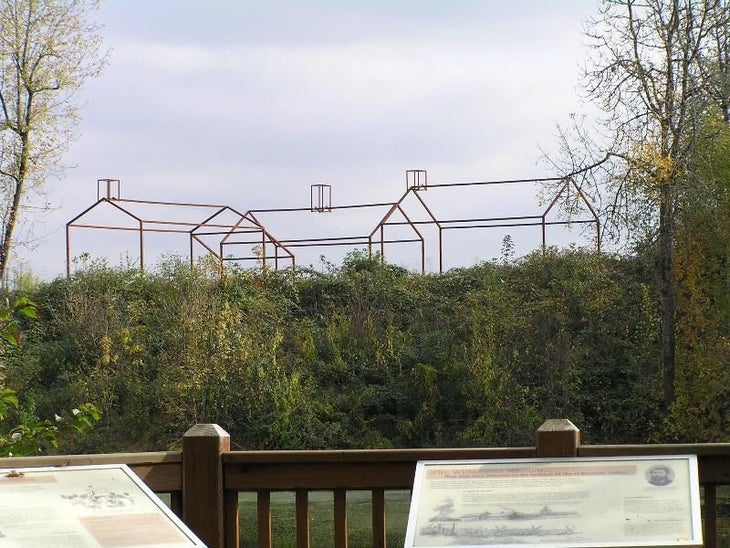 Trail Facts
Waypoints
Cottonwood
Location: 45.0769577026367, -123.051147460938
Contributor Jim Scott stands next to the world's largest cottonwood tree
© Jim Scott
River Ferry
Location: 45.0893402099609, -123.044364929199
A good spot to soak in the sun and watch ferries pass along the Willamette River
© Jim Scott
Ghost Structures
Location: 45.0838966369629, -123.043891906738
A shot of the Jason Lee Mission's historical ghost structures on the shore of Mission Lake
© Jim Scott
WMP001
Location: 45.0762405395508, -123.041702270508
Hike S on Willamette Vision Educational Trail past wildlife blinds on edge of boggy marsh with geese and ducks
WMP002
Location: 45.0743103027344, -123.04109954834
Continue straight @ interpretive sign for 20 yds., then turn L and cross road; path follows wood's edge
WMP003
Location: 45.0716094970703, -123.045600891113
Keep straight @ faint trail to Goose Lake; continue W along field edge, then N past replanted Oregon white oak, Oregon ash, and other native flora
WMP004
Location: 45.0763511657715, -123.053298950195
L onto park road
WMP005
Location: 45.0786209106445, -123.053100585938
L onto a shaded bike path with mostly cottonwood
WMP006
Location: 45.0766296386719, -123.05940246582
Keep straight
WMP007
Location: 45.0779685974121, -123.06379699707
R @ Y, bearing N
WMP008
Location: 45.0823707580566, -123.059501647949
Bear L @ Y; in 350 ft., keep straight by a filbert orchard
WMP009
Location: 45.0849494934082, -123.052200317383
Straight; Willamette River flows gently on L
WMP010
Location: 45.0881195068359, -123.046203613281
Straight on spur trail above the sand/gravel riverbank to view
WMP011
Location: 45.0894889831543, -123.044502258301
Stop @ bridge for view of river & ferry, then go back to WPT 10; turn L
WMP012
Location: 45.0840797424316, -123.04419708252
On L is old river channel; pass docks and more orchards
WMP013
Location: 45.0785102844238, -123.051498413086
Path ends; turn L onto road then L again @ WPT 4, heading along S side of Mission Lake
WMP014
Location: 45.0771141052246, -123.051231384277
Photo op: Largest black cottonwood in U.S.; 25-ft. girth. Trail loops back to WPT 2; turn L, return to car