Portland, OR: Sandy River Loop
Enjoy cool, lush forest along and above the banks of the Sandy River on this 5.6-mile double loop trail in Gresham's Oxbow Regional Park.
Heading out the door? Read this article on the new Outside+ app available now on iOS devices for members! Download the app.
Park at the trailhead at group picnic area A. Instead of heading uphill on wide, gravel trail, cross the road to the picnic shelter and find the trail heading downriver (west) above the crumbling banks. Immediately enter mossy, sun-dappled forest, with the Sandy River below on your right. A couple of steep side trails descend to a wide, sandy beach along the river. Follow the river approximately one mile, keeping right at all forks, until you come to trail post C at a restroom turnaround. Follow the road right (north) for 50 yards to trail post B on the opposite side, where you'll make a U-turn and and head south.
The trail now undulates through ancient forest, sprinkled with bleeding heart and other wildflowers, and makes several creek crossings on rustic wood and earthen bridges. Keep right through two forks, then left at trail post E. Next, at trail post F, the path intersects a gravel road; turn right uphill to trail post G. Here you have the option of continuing a shorter 4-mile loop, or adding an additional 2 miles by heading up the road to the 2-mile loop around Elk Meadow. The meadow loop offers more forest, and occasional views down on the Sandy River, and extending east to Mt. Hood. 
Continuing northeast from post G, the next forested mile passes the campground, then eventually comes to a T-junction. Turn left (north) to a secluded picnic shelter near the river at trail post K. Turn left (west), once again following the Sandy River downstream, keeping right through forks with trail posts L and M. The trail then diverts upland on a newish detour, above a section that has subsided down the riverbank. Use the campground road to continue a short ways, then pick up the riverside trail again just past the amphitheater. Cross the boat ramp, then reenter forest above the river for the last half-mile back to your starting point.
-Mapped by Eli Boschetto, Bosco Mountain Photo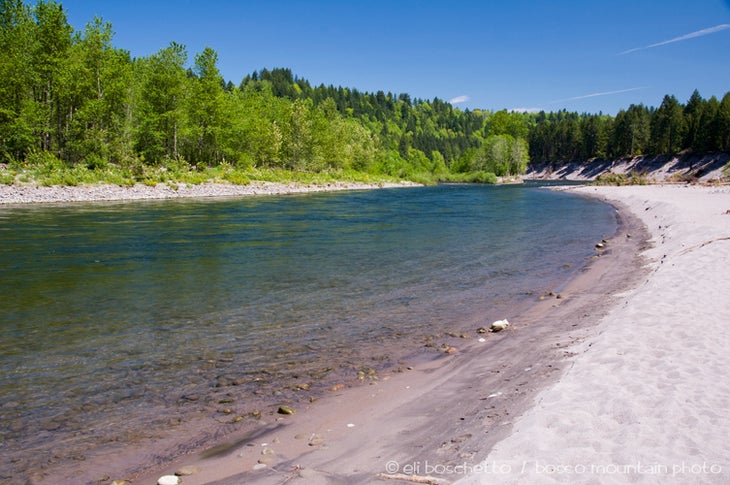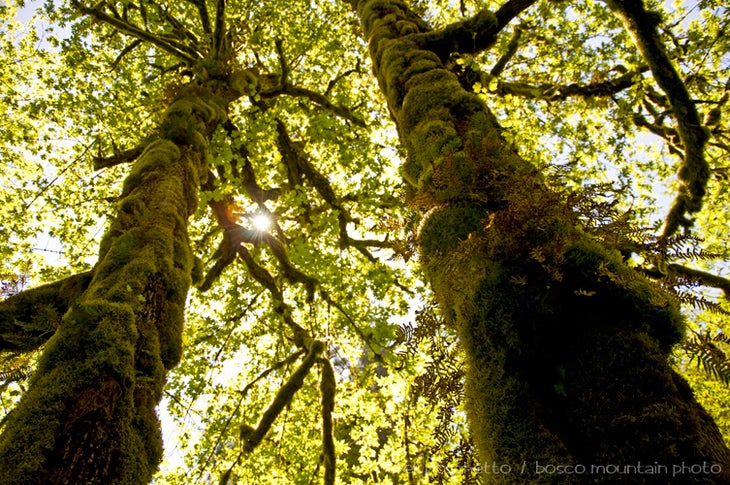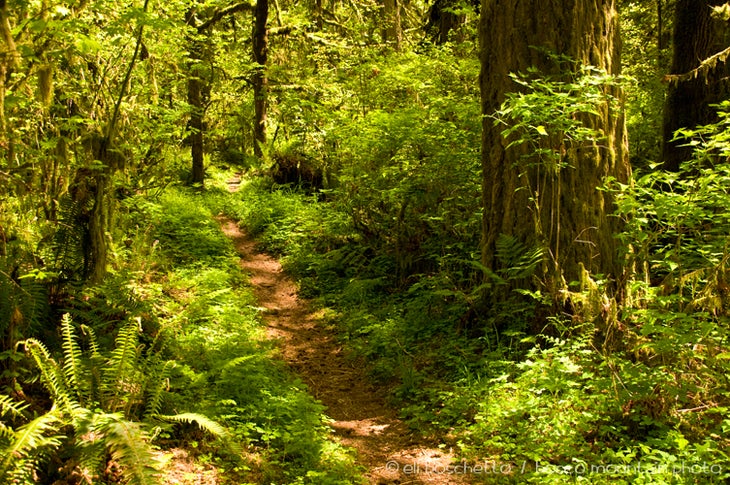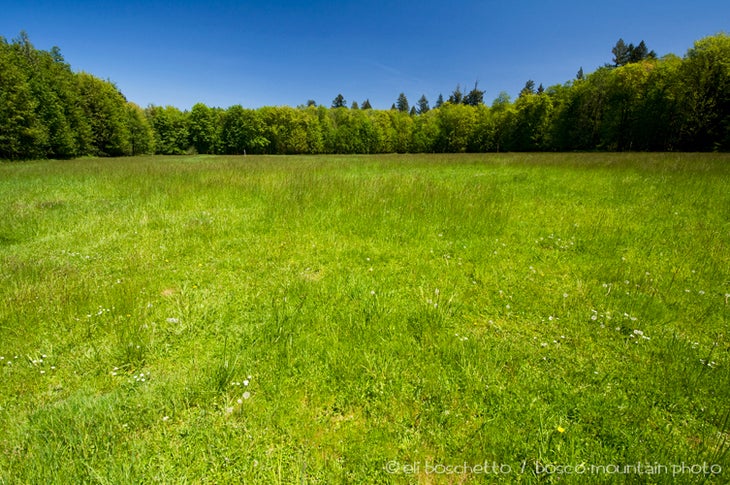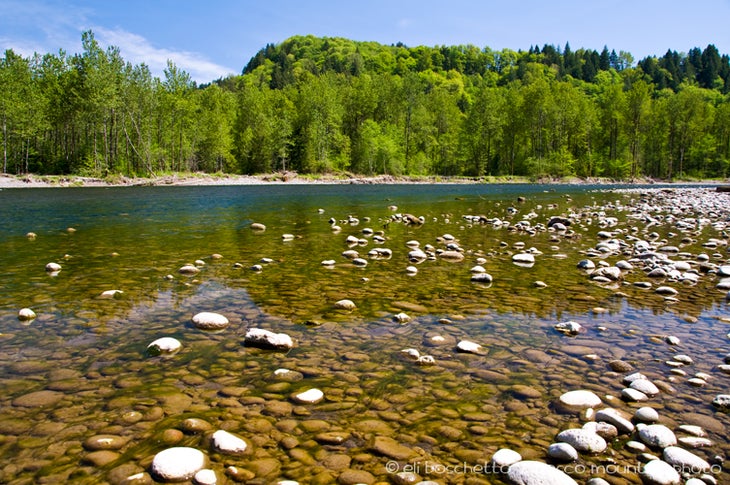 Trail Facts
Waypoints
OXB001
Location: 45.490586, -122.296404
Begin the Sandy River Loop left of shelter for Group Picnic Area A.
OXB002
Location: 45.489812, -122.296986
Trail fork: right
OXB003
Location: 45.489729, -122.298171
Steep trail descends right to a wide, sandy beach along the river.
OXB004
Location: 45.490039, -122.298638
Soak up some rays on Sandy River beach.
OXB005
Location: 45.489447, -122.299239
Trail fork: right
OXB006
Location: 45.489409, -122.301148
Trail junction: right
OXB007
Location: 45.489757, -122.301822
Short side trail veers right to the river's edge.
OXB008
Location: 45.490075, -122.303367
Side trail right to riverside.
OXB009
Location: 45.489906, -122.305107
Trail Post C – turn right on road, crossing to Trail Post B.
OXB010
Location: 45.490493, -122.307055
Trail Post B – pick up trail again, heading south through forest, making several small creek crossings.
OXB011
Location: 45.488215, -122.300049
Trail fork: right
OXB012
Location: 45.488082, -122.299003
Trail fork: right
OXB013
Location: 45.488223, -122.298048
Trail Post E: fork right
OXB014
Location: 45.488003, -122.297451
Trail fork: left
OXB015
Location: 45.488236, -122.296439
Trail junction: right
OXB016
Location: 45.490889, -122.294156
Trail Post F – Turn right on gravel road to Trail Post G; or continue up road to Elk Meadow.
OXB017
Location: 45.491359, -122.29282
Trail Post G – Continue loop trail, or visit Elk Meadow loop then return.
OXB018
Location: 45.491923, -122.289741
Trail junction with Elk Meadow loop; turn right for 1.5-mile loop. Upon completion, return to Trail Post G.
OXB019
Location: 45.491772, -122.289106
Elk Meadow
OXB020
Location: 45.487405, -122.294623
Trail Post I – turn left at trail junction, across from wooden railing, to continue Elk Meadow loop.
OXB021
Location: 45.49379, -122.290897
Trail Post O: fork right
OXB022
Location: 45.494838, -122.287214
Trail fork: right
OXB023
Location: 45.495201, -122.284717
Trail junction: right on old road
OXB024
Location: 45.493886, -122.2831
Trail fork: left
OXB025
Location: 45.493432, -122.281843
Picnic Shelter; continue trail left, following river downstream.
OXB026
Location: 45.495661, -122.281566
Trail fork: right
OXB027
Location: 45.496683, -122.281438
Side trail right to river access.
OXB028
Location: 45.49684, -122.281813
Trail Post L: fork right
OXB029
Location: 45.497316, -122.284226
Trail Post M: fork right
OXB030
Location: 45.497108, -122.285338
Detour right on campground road.
OXB031
Location: 45.497076, -122.28692
Restroom
OXB032
Location: 45.497391, -122.28767
Turn right past amphitheater, and pick up trail on left.
OXB033
Location: 45.497871, -122.291524
Cross boat ramp to continue.
OXB034
Location: 45.496255, -122.2934
Trail fork: left
OXB035
Location: 45.491523, -122.295593
End of trail at Group Picnic A.
River Forest
Location: 45.489201, -122.300406
Sandy Beach
Location: 45.489878, -122.298367
Old Growth
Location: 45.487967, -122.296844
Oxbow Trail
Location: 45.494405, -122.288775
Elk Meadow
Location: 45.491773, -122.288904
Sandy River
Location: 45.496601, -122.281179