Portland, OR: Rock & Serene Lakes
Discover real wilderness just two hours from Portland.
Heading out the door? Read this article on the new Outside+ app available now on iOS devices for members! Download the app.
While Mt. Hood is still encased in ice, wildflowers replace the snow surrounding the lower-elevation, forest-rimmed Rock and Serene lakes on this 12-miler in Oregon's Clackamas Wilderness.
Hike to Rock & Serene Lakes
Start at the Shellrock Lake trailhead and hike .5 mile north amid flowering rhododendron and beargrass (May to June for both) to the outlet of Shellrock Lake. Cross on small logs and curve around the lake's southeastern shore to the junction with the Frazier Spur Trail.
Head north for 1.1 miles to a T-junction and head right (north) to the Serene Lake trailhead at the Frazier Turnaround. Turn left (west), descending through old-growth hemlock forest for .8 mile to the Rock Lakes junction. Fork left (southwest) here for a .7-mile out-and-back to Middle Rock Lake, sparkling in a forested basin below 5,397-foot Frazier Mountain. Return to the junction. After .1 mile, a side trail drops northeast to Lower Rock Lake with a single campsite if you're ready to stop.
Back on the Serene Lake Trail, continue two miles. As you approach Serene Lake's overgrown outlet, follow the spur to the lake's north shore and an isolated campsite with front-porch views. Next day, find the Cache Meadow Trail beside a rotting, moss-covered picnic table on the western shore. Climb 700 feet in a mile before leveling out at a T-junction. Stay on the Cache Meadow Trail and climb a ridge to 4,983 feet and a northward view of four Cascade giants: Hood, Adams, Rainier, and St. Helens.
Descend to Cache Meadow. Just before the trail enters another meadow that edges Cripple Creek, turn left at an unsigned trail junction (look for a "517" plaque 20 yards up trail). Pass through another meadow and begin a climb to the junction with Indian Ridge Road. Go right (northeast) on this old logging road to the Frazier Spur Trail; Mt. Hood looms straight ahead and Mt. Jefferson rises to the southeast. Backtrack to Shellrock Lake, then back to your starting point.
Trail Prep
GEAR UP REI, Clackamas Town Center; (503) 659-1156; rei.com
MAP Mt. Hood ($12, natgeomaps.com)
INFO USFS Zigzag Ranger District; (503) 668-1700; fs.fed.us/r6
-Mapped by Eli Boschetto, Bosco Mountain Photo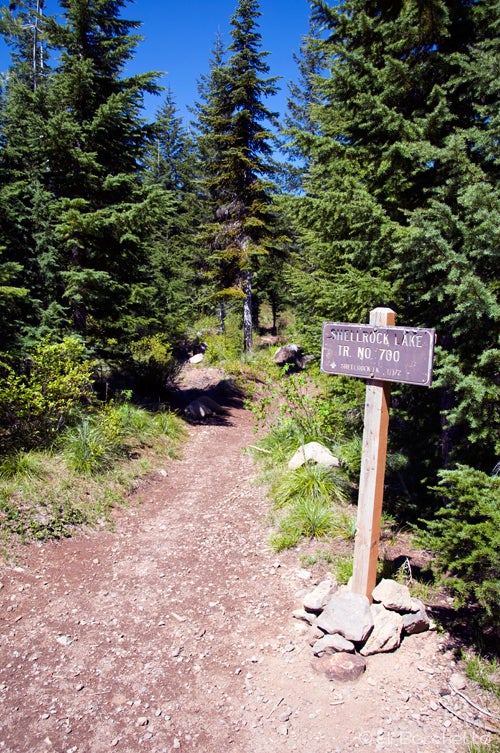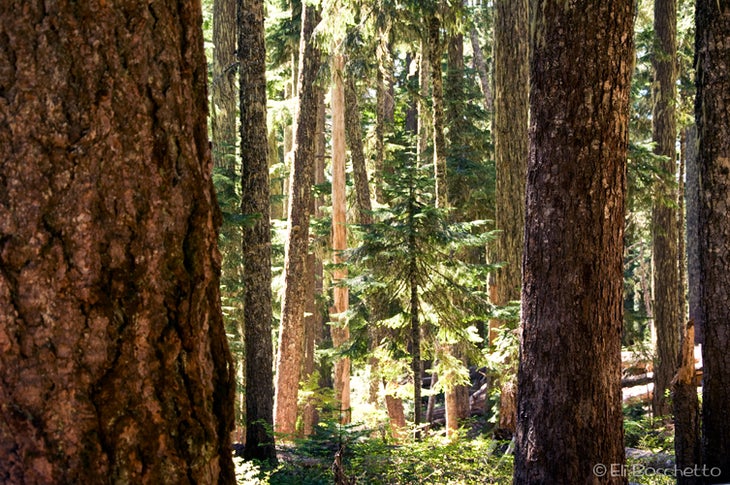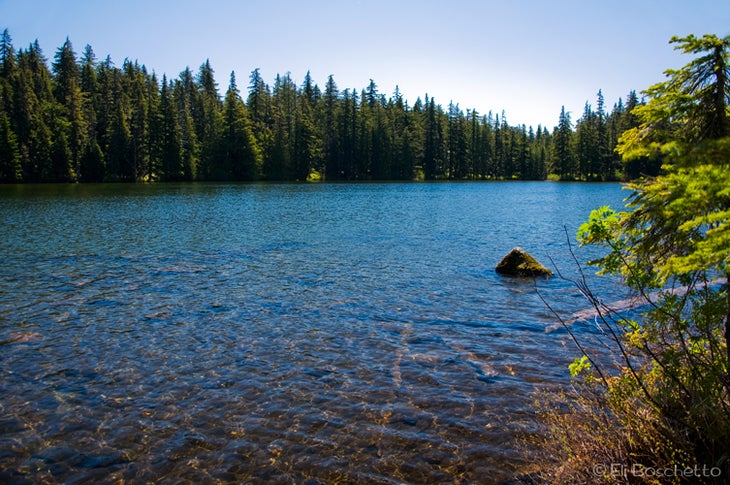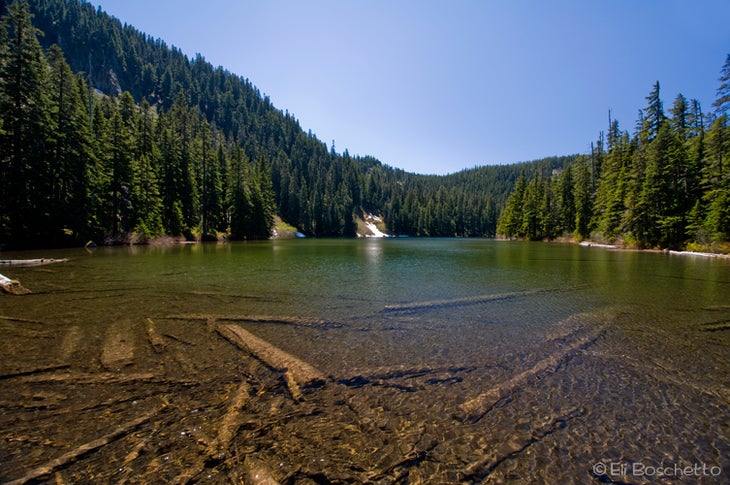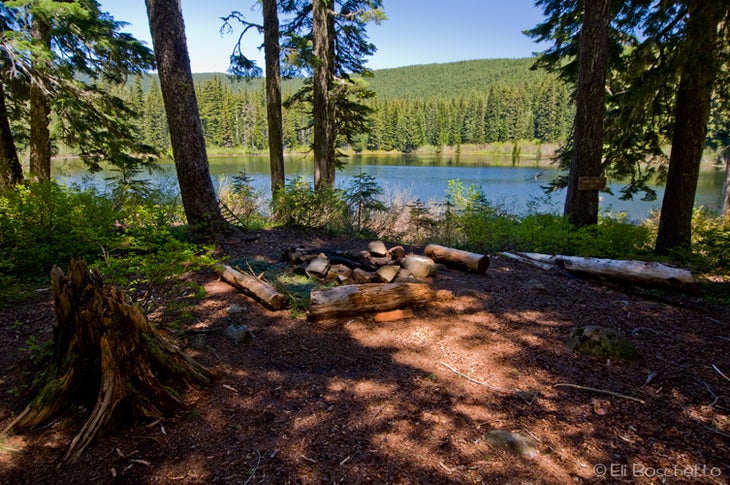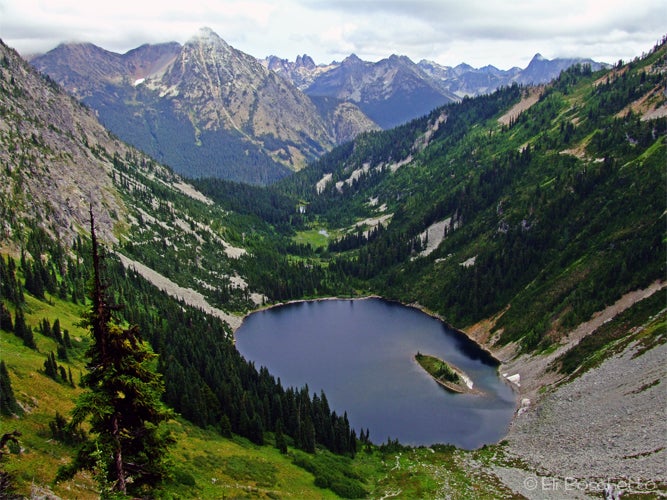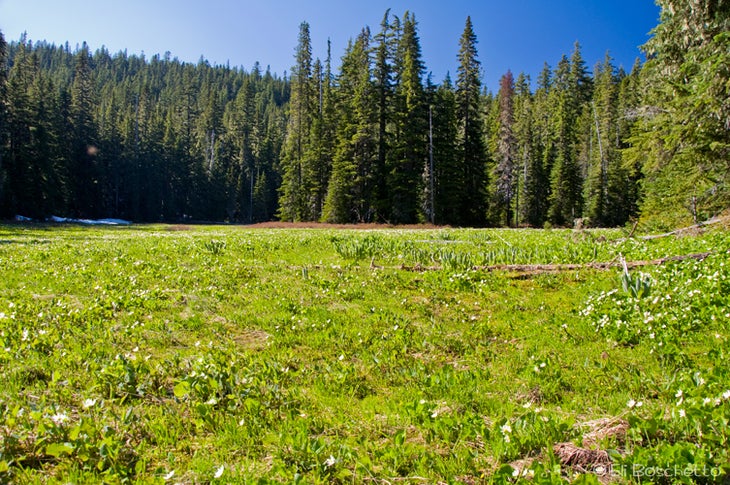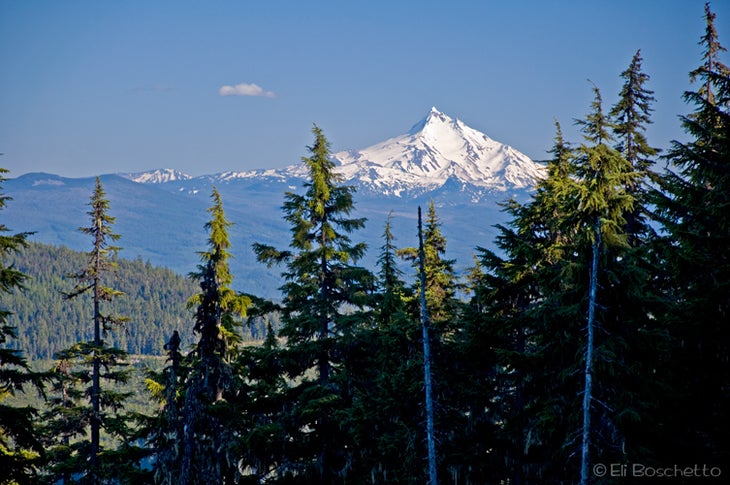 Trail Facts
Waypoints
ROC001
Location: 45.127125, -121.970527
Hike north from Shellrock Lake trailhead.
ROC002
Location: 45.133251, -121.972656
There are two options at the Shellrock Lake outlet: 1) Continue straight (N) to secluded campsites; 2) Turn right over outlet (E) to find more lakeside camping and the Frasier Spur junction.
ROC003
Location: 45.13359, -121.971714
Potential Campsite
ROC004
Location: 45.134692, -121.969625
Large campsite with easy lake access
ROC005
Location: 45.13652, -121.970467
Large campsite and junction with Frazier Spur trail: continue north, finding tree blazes marking the route.
ROC006
Location: 45.135934, -121.972436
Lakeside campsite
ROC007
Location: 45.136683, -121.973155
Cross rockfall slope and skirt lakeside brush. Next, bushwhack 20 yards to secluded campsite.
ROC008
Location: 45.137409, -121.972747
Secluded, lakeside campsite
ROC009
Location: 45.147073, -121.971162
Turn right (north) at T-junction and head to the Serene Lake trailhead at the Frasier Turnaround.
ROC010
Location: 45.148246, -121.969775
Enter Frazier Turnaround campground; proceed straight ahead, looking for signed Serene Lake trailhead on left.
ROC011
Location: 45.148579, -121.969485
Serene & Rock Lakes trailhead; turn left to follow the trail west and hike through an old-growth hemlock forest.
ROC012
Location: 45.149631, -121.974163
Tackle small creek crossing.
ROC013
Location: 45.149479, -121.981791
There are two options at the Rock Lakes junction: Fork left (S) for Middle and Upper Rock Lakes; fork right for Lower Rock and Serene Lakes.
ROC014
Location: 45.146702, -121.981262
Middle Rock Lake outlet with large campsite. Continue left (southeast) around shore for additional campsites; turn right (southwest) over outlet for faint trail to Upper Rock Lake.
ROC015
Location: 45.145499, -121.980858
Nice campsite with fire ring.
ROC016
Location: 45.144958, -121.981067
Secluded campsite
ROC017
Location: 45.150796, -121.981952
Bear left at the Lower Rock Lake junction to continue along the route. Bear right to reach Lower Rock Lake.
ROC018
Location: 45.151677, -121.980783
A single campsite is located on Lower Rock Lake.
ROC019
Location: 45.150902, -121.982585
A large pond covers the trail at this point; divert around brush on right.
ROC020
Location: 45.149294, -121.984074
Creek crossing.
ROC021
Location: 45.149207, -121.986136
Pass a marsh with a large pond on the right side of trail.
ROC022
Location: 45.153974, -121.993272
Here, pass a large rockfall slope.
ROC023
Location: 45.149858, -122.004638
Continue straight at the Serene Lake junction. Optional: Turn left (S) for north shore access and campsites.
ROC024
Location: 45.149309, -122.003976
Lakeside camping option.
ROC025
Location: 45.149059, -122.005839
Campsite.
ROC026
Location: 45.148187, -122.005554
Large campsite with old bench. Look for signed Cache Meadows Trail to continue loop. From here, the trail swings right, heading north. Optional: Continue straight to reach a secluded campsite.
ROC027
Location: 45.146468, -122.004949
Secluded campsite at end of trail.
ROC028
Location: 45.144743, -122.014718
After climbing 700 feet in a mile, turn left (southeast) at T-junction to reach Cache Meadows.
ROC029
Location: 45.141235, -122.003813
Viewpoint at 4,983 feet: You'll spot Mts. Hood, Adams, Rainier, and St. Helens.
ROC030
Location: 45.134337, -121.994298
Cripple Creek crossing.
ROC031
Location: 45.133678, -121.994655
Cache Meadows
ROC032
Location: 45.131904, -121.994961
At this unsigned junction, turn left (southeast) before crossing creek into meadows. Hint: to find the junction, look for a "517" plaque 20 yards up trail.
ROC033
Location: 45.130656, -121.993837
Meadow campsite
ROC034
Location: 45.138966, -121.981646
Reach the junction with Indian Ridge Road; turn right (northeast) for one mile to reconnect with Frasier Spur, and return to Shellrock trailhead.
ROC035
Location: 45.144396, -121.973416
Look for Mt. Jefferson to the southeast. Next, continue straight to Waypoint 9 and turn right to reach the trailhead.
Serene Lake
Location: 45.149192, -122.003839
The deep, blue waters of Serene Lake invite weary hikers and backpackers to a cool dip.
Shellrock Trailhead
Location: 45.127138, -121.970279
Start the trail for the Rock and Serene Lakes loop at the lower Shellrock Lake trailhead.
Old-Growth
Location: 45.13062, -121.973734
The Shellrock Lake trail climbs gently through some of Oregon's prettiest old-growth.
Shellrock Lake
Location: 45.13554, -121.972232
Numerous campsites can be found along the shores of Shellrock Lake.
Middle Rock
Location: 45.146226, -121.980515
Middle Rock Lake is just a short detour off the Rock Lakes loop trail. Find several camp sites around the southeast shore.
Lower Rock
Location: 45.151643, -121.980622
A lone camp site occupies the end of the spur to Lower Rock Lake.
Cascades View
Location: 45.141171, -122.003689
From a high viewpoint, spot Serene Lake below, and Mts. Hood, Adams, Rainier, and St. Helens lining up on the horizon.
Cache Meadow
Location: 45.132997, -121.994269
Summer flowers fill Cache Meadow in Cripple Creek Valley.
Mt. Jefferson
Location: 45.144712, -121.973026
Descending Indian Ridge, spot Mt. Jefferson to the southeast.