Portland, OR: Ramona Falls & Bald Mountain Loop
Get 2-for-1 popular Mt. Hood hikes by starting this 12-miler at the Top Spur trailhead; first hike the PCT to lacy Ramona Falls, then return via the Timberline Trail for huge Mt. Hood views and to wander through Bald Mountain's wildflowers meadows.
Heading out the door? Read this article on the new Outside+ app available now on iOS devices for members! Download the app.
Start with an easy climb up the half-mile Top Spur trail. At the first junction, turn right on the Pacific Crest Trail, pass a small camp site, then come to a larger junction with the Timberline Trail. At this point, fill out a self-registered wilderness permit at the box near the map board. This is the beginning of the loop, so head south on the PCT, following signs for Ramona Falls. The next mile is a gently pleasant descent amid stately forest, sprinkled with summer bunchberry, queen's cup, and wild strawberry. Following that, the incline increases as the trail starts switchbacking down to the Muddy Fork river crossing. Near the crossing, look for stalks of cow parsnip and bright yellow monkeyflower.
At a signed fork, follow the well-marked hiker's detour to a new bridge crossing the Muddy Fork. Shortly beyond, the trail merges back with the PCT, and comes to a junction with Ramona Falls Trail #797. This is where you'll start getting company on the trail. To avoid falling into rank with everyone coming up from the Ramona trailhead, turn left instead, continuing on the PCT for another half-mile to a stock gate, and a very confusing intersection. Take the leftmost fork, heading southeast, still on the PCT, up the Sandy River canyon. The wide, steep-walled riverbed is mostly filled with debris, with a thin ribbon of river snaking through.
After 1.5 miles along the Sandy River, veer left at a fork with the Timberline Trail #600, back under shady forest for the final half-mile to Ramona Falls. Arguably one of the prettiest waterfalls in Oregon, Ramona Falls spills 120′ over an exposed basalt outcrop, creating a wide veil of water cascading over numerous rocky steps. Set your cameras to capture long exposures of the falling water, creating that lacy, veiled effect. Several logs and rocks around the falls create fine benches to sit and ponder the beauty of water, rock and forest.
When ready to move on, cross the bridge below the falls toward the Ramona Trail #797, but instead, veer uphill to the right, continuing on the Timberline Trail #600 for a steady 0.75-mile climb to a junction with the Yocum Ridge trail #771. Fork left, staying on the Timberline for the next two miles along the north slope of Yocum Ridge. Several short portions of trail have been washed out along this stretch over the last few years, but passing is easy enough; just watch your footing on the soft, narrow slopes.
Now at the head of the Muddy Fork canyon, you are faced with three river crossings. During high runoff periods, crossing can be challenging. The first crossing is inconsequential, an easy hop across rocks. The trail then opens into the canyon, offering stunning views up to Mt. Hood's glacier-covered slopes. Follow rock cairns through old sections of riverbed to the next crossing. Note the trail continuing directly across from you, then turn right and follow more cairns upriver to a safer crossing area, then double back down to continue. Next, follow taped posts and more cairns to the final crossing, an easy hop across narrow cascades. The trail then turns left, re-enters forest cover, and begins the gradual, two-mile climb to Bald Mountain.
Suddenly, find yourself amid Bald Mountain's steeply-sloped meadows, carpeted with summer wildflowers – paintbrush, lupine, agoseris, etc. Cast your gaze down over the Muddy Fork canyon, to the huge cascading waterfalls near the head, and on up to Mt. Hood. This is your grand-prize view for your preceding effort. Pause for a moment or two to soak in the panorama. After tearing yourself away from the scene, complete the final half-mile of your loop; back to the junction with the permit box, then to your finish by descending the Top Spur trail to your starting point.
Mapped by Eli Boschetto Bosco Mountain Photo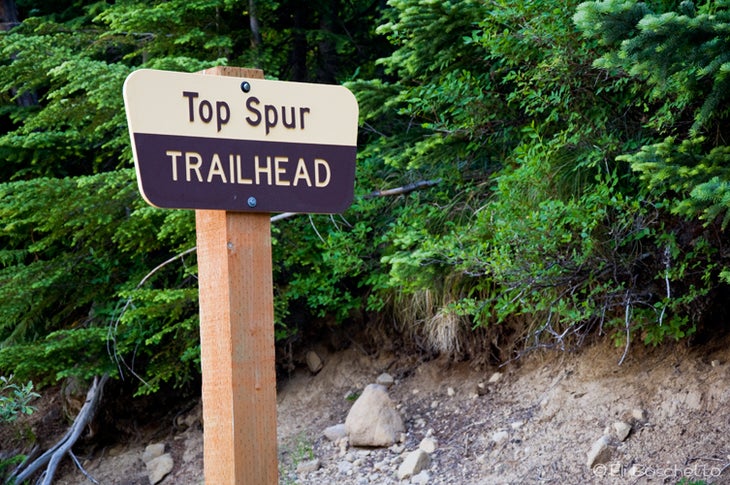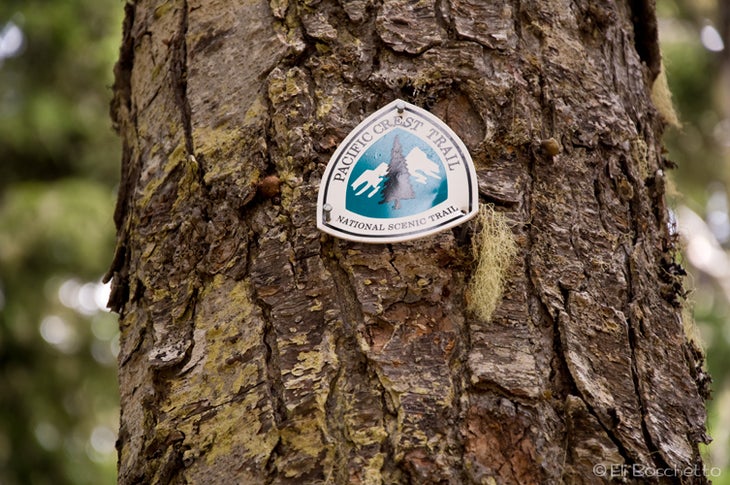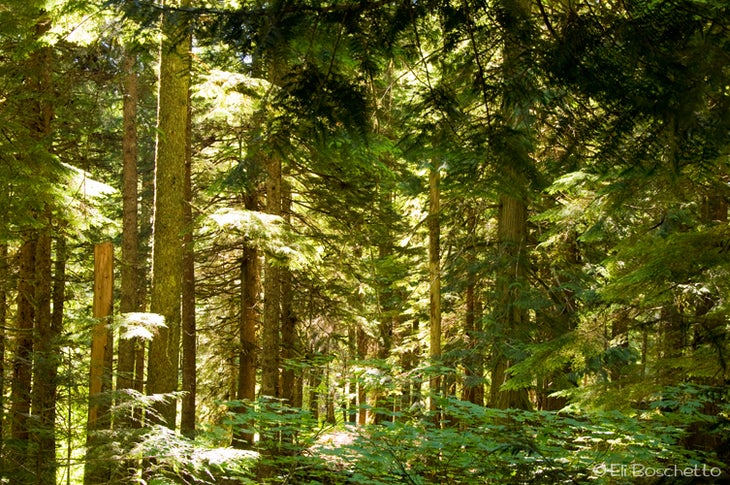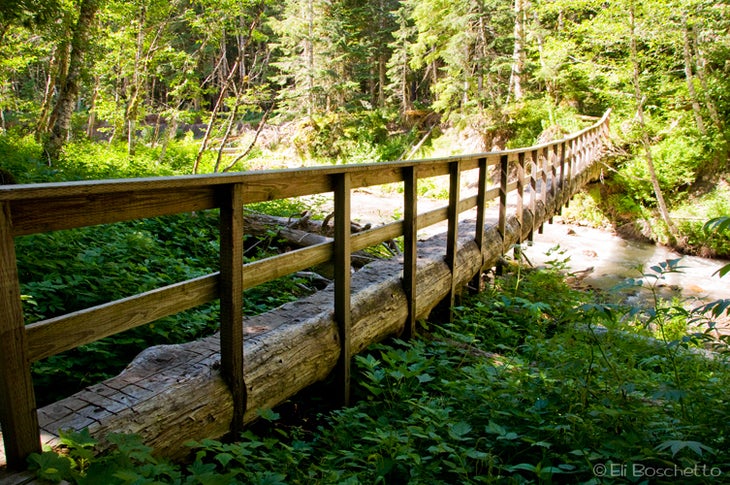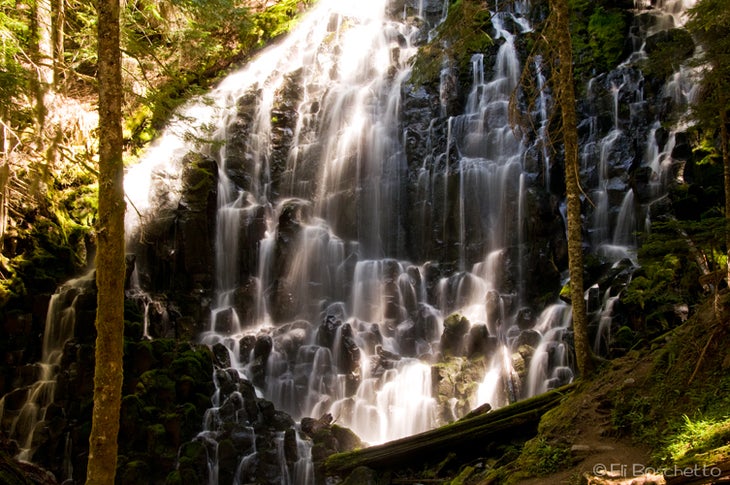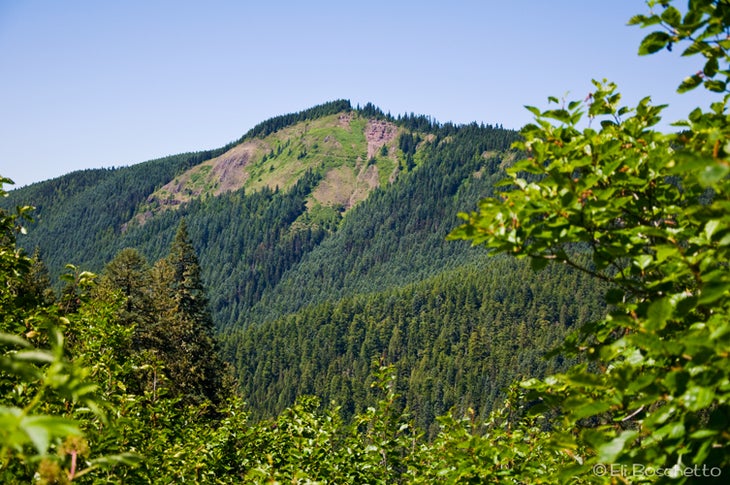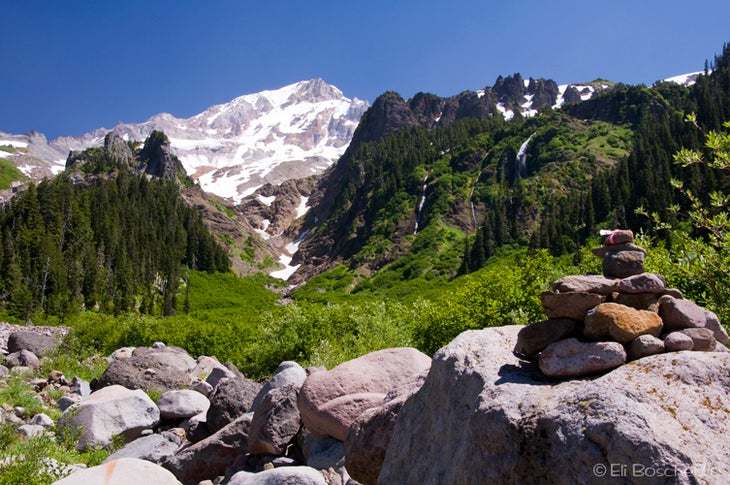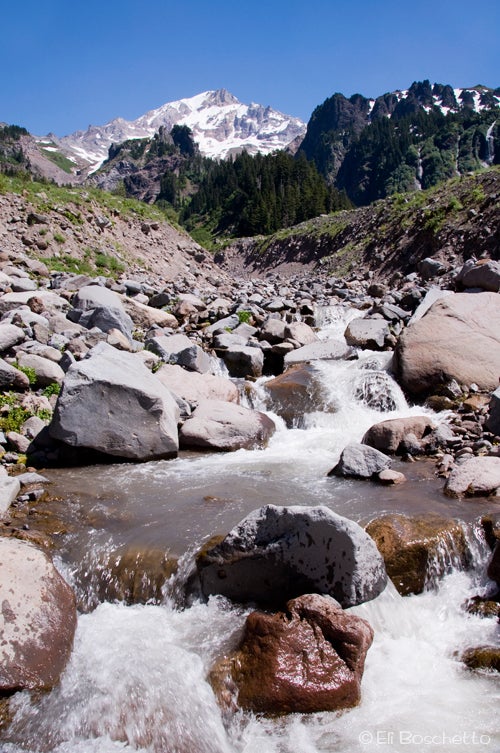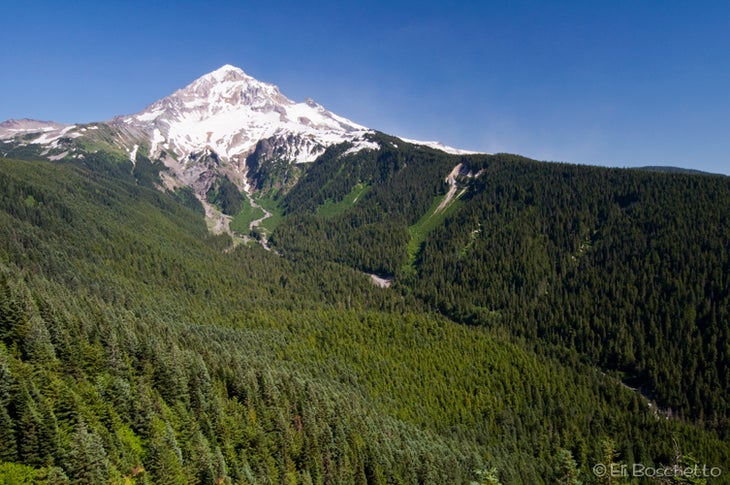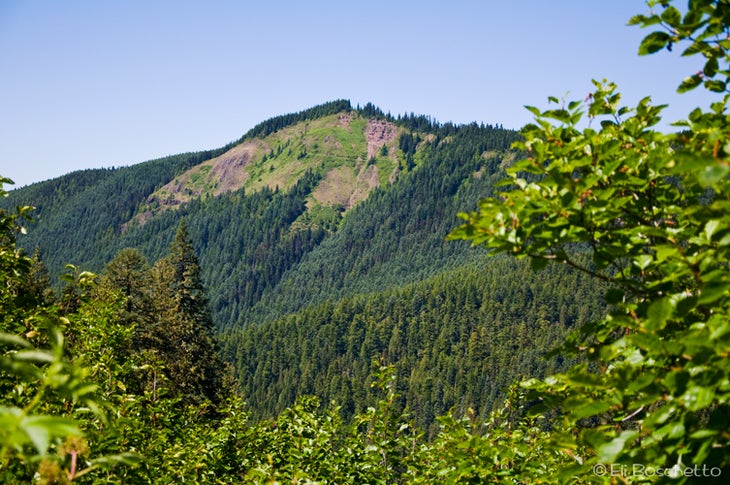 Trail Facts
Waypoints
RAM001
Location: 45.40764, -121.785759
Start the Ramona Falls/Bald Mountain loop at the Top Spur Trailhead.
RAM002
Location: 45.405689, -121.77885
PCT junction; turn right (SE).
RAM003
Location: 45.405565, -121.778571
Small trailside camp site.
RAM004
Location: 45.405309, -121.77855
Trail junction; Fill out self-registration permit, then take rightmost fork (S) on PCT, following sign for Timberline Lodge.
RAM005
Location: 45.395708, -121.802223
Trailside camp.
RAM006
Location: 45.396223, -121.800603
Trail fork; veer left (NE), following taped route to hiker bridge.
RAM007
Location: 45.395791, -121.797888
Lower crossing of Muddy Fork on log bridge.
RAM008
Location: 45.39439, -121.799359
Trail junction; turn right (N), staying on PCT.
RAM009
Location: 45.395415, -121.800656
Pass thru stock gate to confusing trail junction; turn left (SW) on PCT to Ramona Falls.
RAM010
Location: 45.391101, -121.807694
Trail junction; turn left (S), continuing on PCT up Sandy River canyon. Right leads to Ramona Falls trailhead.
RAM011
Location: 45.379862, -121.784161
Trail fork; veer left (E) onto Timberline Trail 600 to Ramona Falls.
RAM012
Location: 45.37957, -121.777408
Pass thru stock gate
RAM013
Location: 45.379771, -121.776656
Ramona Falls; find a seat on nearby rocks and logs, and just enjoy.
RAM014
Location: 45.380171, -121.776795
Trail fork; veer right (N), continuing on Timberline Trail 600 to Muddy Fork.
RAM015
Location: 45.387827, -121.782739
Trail fork; veer left (E), continuing on Timberline Trail 600. Right fork climbs 4 miles up Yocum Ridge.
RAM016
Location: 45.388715, -121.768354
Traverse several narrow, washed out sections of trail.
RAM017
Location: 45.388916, -121.767075
Large log across trail; climb over.
RAM018
Location: 45.389048, -121.763443
Large clump of blowdown across trail; easiest to crawl under.
RAM019
Location: 45.388697, -121.759851
Open view across Muddy Fork Canyon to Bald Mountain.
RAM020
Location: 45.389872, -121.749453
Small camp site.
RAM021
Location: 45.390091, -121.748776
First-and easiest-crossing of Muddy Fork river.
RAM022
Location: 45.390415, -121.748562
Follow cairns across old river channels.
RAM023
Location: 45.390652, -121.747382
Second crossing of Muddy Fork. Difficult crossing at high water; note continuation of trail directly across river, but turn right upriver, following cairns to safer crossing, then double back.
RAM024
Location: 45.390539, -121.746975
Safer crossing; follow cairns downstream to continue trail.
RAM025
Location: 45.391713, -121.746603
Follow more cairns and taped posts across old river channels to third crossing.
RAM026
Location: 45.392121, -121.746551
Third crossing of Muddy Fork; turn left (NW) to continue to Bald Mountain.
RAM027
Location: 45.402671, -121.769839
Pass thru stock gate.
RAM028
Location: 45.401765, -121.777348
Spectacular viewpoint of Mt. Hood and Muddy Fork Canyon, amid wildflower slopes on Bald Mountain. Continue west, back to original PCT/Timberline junction, then return to starting point via Top Spur trail.
Top Spur
Location: 45.407527, -121.785636
The Ramona Falls/Bald Mountain loop starts at the Top Spur trailhead, on gravel road 118.
Pacific Crest Trail
Location: 45.405034, -121.778888
From Top Spur, the trail to Ramona Falls descends 2.25 miles on a pleasantly wooded PCT.
Mt. Hood Wilderness
Location: 45.403693, -121.78629
The PCT passes thru the pretty woods of the Mt. Hood Wilderness.
Crossing
Location: 45.395708, -121.797813
A short detour leads to a log crossing of the lower Muddy Fork river.
Ramona Falls
Location: 45.379997, -121.776474
This spectacular 120′ waterfall cascades over an outcrop of stepped columnar basalt. Bring a tripod to catch lacy photos.
Bald Mountain
Location: 45.388693, -121.759694
From the Timberline Trail, view across the Muddy Fork Canyon to Bald Mountain.
Muddy Fork Canyon
Location: 45.390306, -121.748621
Cairns mark the route across the Muddy Fork Canyon's multiple river crossings, with views up to Mt. Hood.
Muddy Crossing
Location: 45.392024, -121.746519
Summer brings several challenging crossings of the Muddy Fork river.
Mt. Hood
Location: 45.402013, -121.770798
Mt. Hood and the Muddy Fork Canyon, as seen from Bald Mountain.
Bald Mountain
Location: 45.401863, -121.777107
Summer wildflowers carpet the meadows of Bald Mountain, with Mt. Hood and the Muddy Fork Canyon seen beyond.