Portland, OR: Mount Defiance
Make a weekend out of this 18-mile trip that boasts a string of waterfalls, summit views, and lakeside camping in the Columbia Gorge.
Heading out the door? Read this article on the new Outside+ app available now on iOS devices for members! Download the app.
Just an hour from Portland, Oregon, lies a wonderland of rugged cliffs, old-growth forests, and as many waterfalls as there are bends in the trail. Sample the best of it on this challenging 18-mile.
On day one, follow the Mt. Defiance Trail from Starvation Creek State Park, nine miles west of Hood River (leave a shuttle car at the Herman Creek trailhead, two miles east of Cascade Locks). Keep your camera handy—you'll pass three falls within a mile of the trailhead, plus dense patches of lupine. In another half mile, the route passes Cabin Creek Falls and Hole-in-the-Wall Falls—the latter a tiered, whitewater ribbon flowing down mossy, 100-foot cliffs. Then climb a forested ridge overlooking Wonder Creek to the rock-strewn summit of 4,960-foot Mt. Defiance. Expect serious steeps and switchbacks as you gain 4,500 feet of elevation in roughly four miles.
From Defiance's summit, you'll see a multitude of peaks. Mt. Hood, 20 miles away, dominates the southern view. From the summit, it's 2.5 miles to tent sites at North Lake. Pitch your tent facing southwest for up-close views of Green Point Mountain.
Day two combines a descent of Nick Eaton Ridge, with great views of the Gorge, and a traverse above Herman Creek. Expect minimal foot traffic and an abundance of old-growth cedar and fir as you navigate the final ten miles, passing lush side canyons, chanterelle mushrooms, and cascading creeks, to the Herman Creek Trailhead.
-Mapped by Joe Kurmaskie
TO TRAILHEAD: Start: I-84 E to exit 55 (follow signs for Starvation Creek Trailhead). Go 0.2 mile to parking. End: I-84 E to exit 44 (toward Cascade Locks). Merge onto US 30 E/WA-na-PA St. In 1.5 miles, continue on SE Frontage Rd. In 1.3 miles, bear left onto NE Forest Ln. Go 0.4 mile to Herman Creek Campground (parking on right).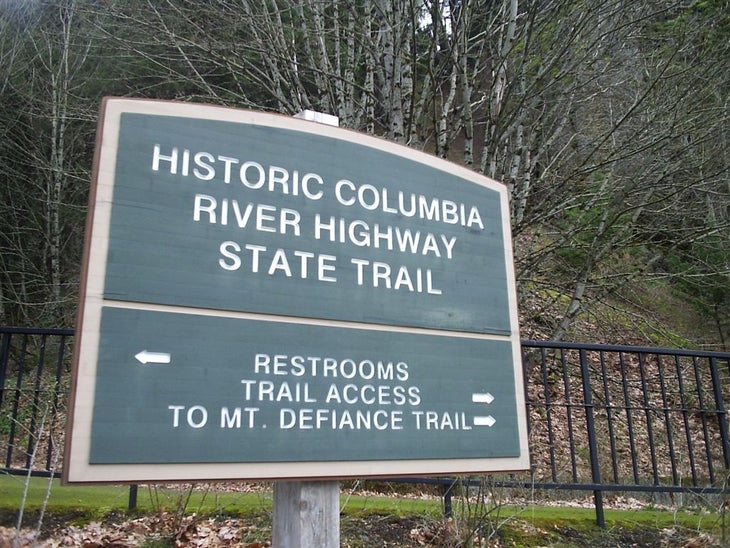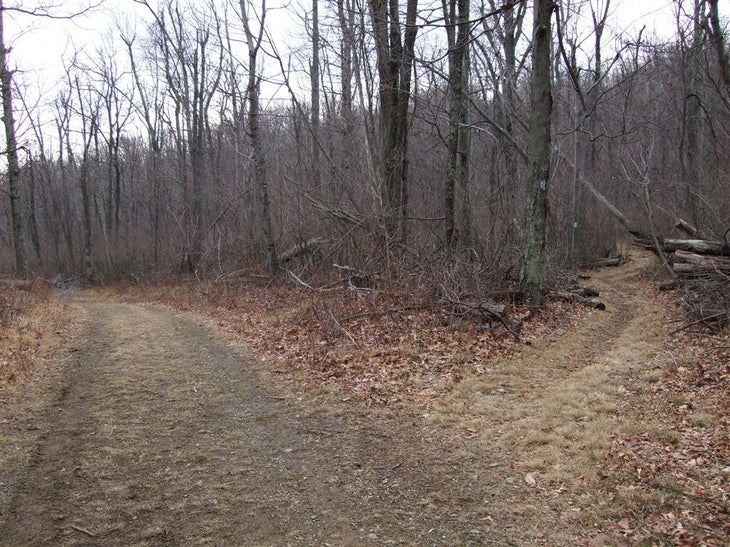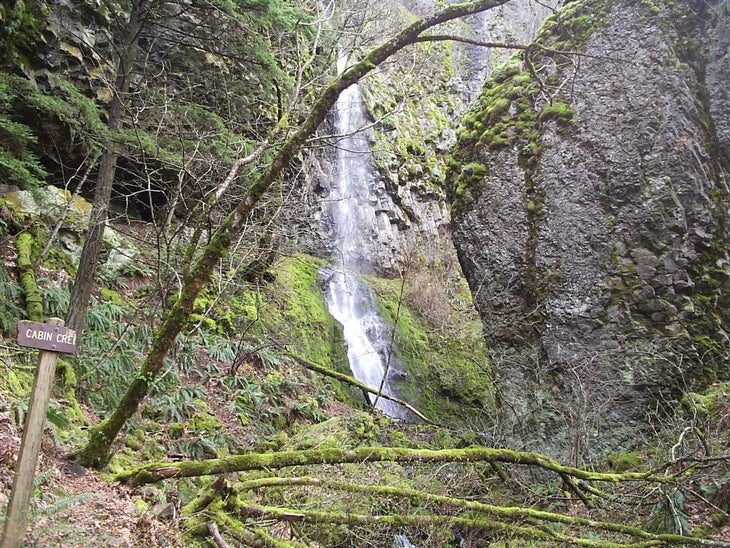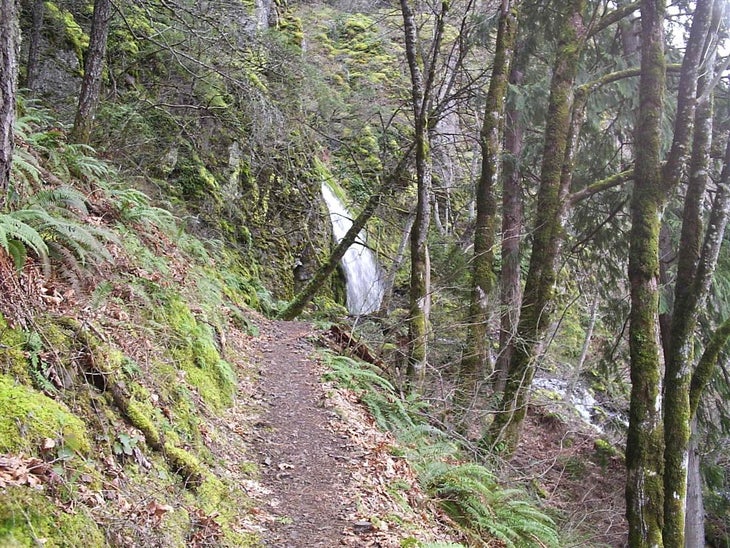 Trail Facts
Distance: 29.0
Miles from city center: 53
Waypoints
HWF001
Location: 45.68795, -121.690102
From cul-de-sac lot, hop on the paved multiuse trail that parallels the highway.
HWF002
Location: 45.687832, -121.694298
Bear right @ Y-junction. In 200 yards, trail passes Cabin Creek Falls.
HWF003
Location: 45.6875, -121.6977
Hole-in-the-Wall Falls: This cascade was created by highway workers in 1938 to prevent nearby Warren Creek Falls from flooding the highway. Look closely: The water plummets 100 feet from a blasted hole in the cliff.
HWF004
Location: 45.686733, -121.702728
Turn left for falls.
HWF005
Location: 45.685501, -121.704002
Continue straight @ 3-way, hiking west. Ahead, pass Lancaster Falls, a skinny 25-foot cascade.
HWF006
Location: 45.686153, -121.712372
Trail turns left, heading south. Steep ascent and switchbacks ahead (you'll climb 4,500 feet in roughly 4 miles).
HWF007
Location: 45.6553, -121.715797
Continue straight @ 3-way on Mt. Defiance Trail (Mitchell Point Trail leads to Warren Lake).
HWF008
Location: 45.648708, -121.722603
Mt. Defiance (4,960 ft.): Savor stunning views from the tallest peak in the Columbia Gorge. Turn to the south to find incredible views of Mt. Hood.
HWF009
Location: 45.64238, -121.73706
Continue straight @ 3-way, heading southwest on Mt. Defiance Trail.
HWF010
Location: 45.636074, -121.744774
Turn right onto Wyeth Trail (Trail 411); follow to North Lake.
HWF011
Location: 45.642639, -121.755691
Straight @ 3-way; cross Lindsey Creek. Camping: Turn left @ North Lake to set up camp; views of Green Point Mountain to the southwest.
HWF012
Location: 45.659668, -121.752281
Turn left @ T-junction onto Green Point Ridge Trail (Trail 418).
HWF013
Location: 45.64843, -121.76339
Turn right @ 3-way, and head west on Trail 412.
HWF014
Location: 45.648029, -121.773201
Bear right @ 3-way; head northwest.
HWF015
Location: 45.654102, -121.775383
Bear left @ Y-junction onto Nick Eaton Trail.
HWF016
Location: 45.661961, -121.788147
Bear left @ Y-junction onto Casey Creek Trail; descend Nick Eaton Ridge.
HWF017
Location: 45.656223, -121.81279
Turn right onto Herman Creek Trail and hike north. Ahead are three no-name cascades.
HWF018
Location: 45.668449, -121.8153
Continue straight @ Camp Creek crossing.
HWF019
Location: 45.67181, -121.820801
Creeklet dive-bombs 100 feet into a deeply cut, moss- and fern-covered side canyon.
HWF020
Location: 45.68013, -121.830101
Pass primitive campsites @ Herman Creek Camp (no permit required). Keep straight @ 3-way. Ahead, chanterelle mushrooms grow in forest duff.
HWF021
Location: 45.679771, -121.840301
Keep straight (SW) @ 3-way; descend switchbacks.
HWF022
Location: 45.678822, -121.843201
Bear right @ 3-way; Herman Creek rages below.
HWF023
Location: 45.681221, -121.842499
Turn left onto needle-covered trail past monster Douglas firs and big-leaf maples; orange tiger lilies bloom under power lines.
HWF024
Location: 45.682671, -121.8424
Keep straight @ 3-way.
HWF025
Location: 45.68388, -121.841301
Turn left near seasonal bathrooms.
HWF026
Location: 45.682789, -121.844498
Pick up shuttle car from Herman Creek Campground to return to Waypoint 1.
Mt. Defiance Trail Sign
Location: 45.688789, -121.689506
Trail Junction
Location: 45.688366, -121.690353
Stay straight to stay on Mt. Defiance Trail. The trail on the left leads to Starvation Ridge.
Cabin Creek Falls
Location: 45.687736, -121.696098
Lancaster Falls
Location: 45.685574, -121.704796