Portland, OR: Mitchell Point
Hike this short, steep route to an 1,145' crest above the Columbia River for spectacular views of the eastern Gorge.
Heading out the door? Read this article on the new Outside+ app available now on iOS devices for members! Download the app.
Mitchell Point in the eastern Columbia Gorge is the site of one of the Historic Columbia River Highway's acclaimed window tunnels. Now long gone, a turnoff with interpretive sign and viewpoint commemorates the historic location. Near the back of the parking area, a light trail heads upwards through the trees, gaining 950′ to an outcropping rock fin with stunning bird's eye views.
From the trailhead near the restroom, start a steady climb up through fir forest. The trail eventually begins switchbacking, alternating forest and exposed talus slopes. Approach a service road, cross over, then turn left to tackle the final ascent up the back side of Mitchell Point. The trail narrows precipitously, and finally ends at the high point on the ledge. Soak in the view, from Table Mountain to White Salmon, and spot hawks and eagles gliding nearby before returning by the same route.
Mapped by Eli Boschetto Bosco Mountain Photo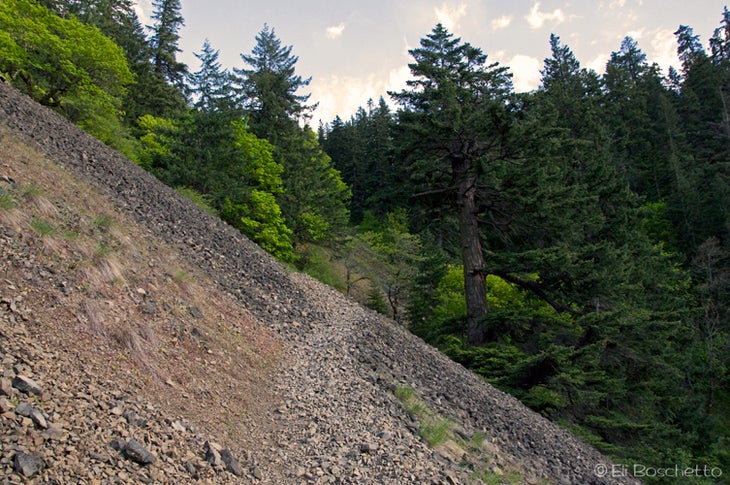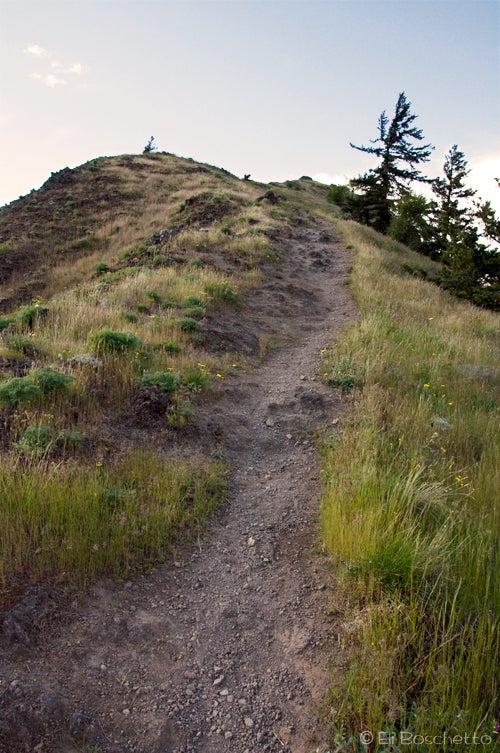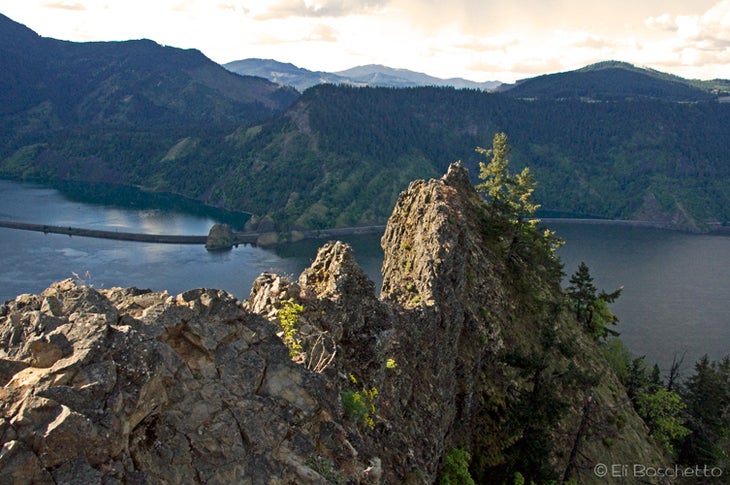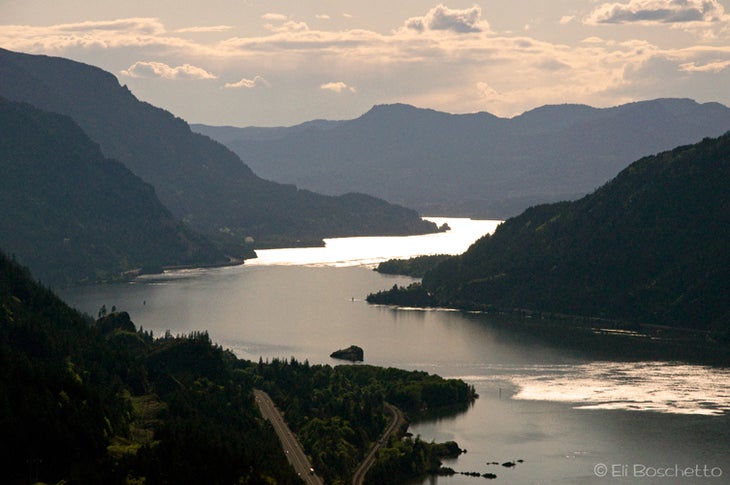 Trail Facts
Waypoints
MIT001
Location: 45.702804, -121.618454
Mitchell Point trailhead near restroom.
MIT002
Location: 45.701257, -121.618481
Left at switchback.
MIT003
Location: 45.701701, -121.61796
Right at switchback.
MIT004
Location: 45.70176, -121.617022
Right at switchback.
MIT005
Location: 45.699885, -121.615759
Right at switchback.
MIT006
Location: 45.69839, -121.614248
Cross service road to continue on trail.
MIT007
Location: 45.698467, -121.613768
At service road, turn left for trail up back of Mitchell Point.
MIT008
Location: 45.700437, -121.614421
Mitchell Point, 945′ above the Columbia River.
Mitchell Trail
Location: 45.700668, -121.616759
The steep trail to Mitchell Point switchbacks up a loose talus slope.
Backside
Location: 45.69881, -121.613958
The final stretch up the back side of Mitchell Point.
Mitchell Point
Location: 45.700253, -121.614414
The crumbling rock fin jutting out from Mitchell Point.
Point View
Location: 45.700417, -121.614388
The Columbia River Gorge from atop Mitchell Point.