Portland, OR: Memaloose Lake
This 2-mile hike in the Clackamas Foothills visits a forested lake cirque, then tops out on 4,850' South Fork Mountain with endless views over Oregon's and Washington's cascade peaks.
Heading out the door? Read this article on the new Outside+ app available now on iOS devices for members! Download the app.
There's lots of different kinds of forest in Oregon: old, young, lush, scraggly. The forest on this short hike in the Clackamas Foothills is best described as pretty. Only a square mile in area, surrounded by several logging tracks, the old-growth preserved in Memaloose Creek Canyon is exquisite. The trail up the canyon wanders among huge Douglas firs, surrounded by rich carpets of vanilla leaf, oxalis, and bunchberry. And if you continue past the lake to the summit of South Fork Mountain, on clear days you'll spot every Cascade peak south from the Three Sisters, north to Mt. Rainier.
Start at the unmarked trailhead on Memaloose Road 45, just before the creek crossing. The trail gradually gains elevation as it heads up canyon; the clear- cut slopes you noticed on arrival have all but disappeared, now engulfed by enchanting forest. After several creek crossings and a few short switchbacks, the trail deposits you at the woodsy shore of Memaloose Lake, filling an ancient glaciated cirque. A light path to the right goes about 50 yards to a small, private campsite at the lake's edge. Turn left, over the lake's outlet, to several larger campsites, and the continuing trail up South Fork Mountain.
Though the sign indicates the trail beyond is not maintained, it remains in good shape, and is fairly easy to follow. The next mile switchbacks up the side of the canyon to the top of the ridge, then ends at the summit plateau, and site of an old fire lookout. From a viewpoint on the northeast corner, spot Mts. Hood, Adams, St. Helens and Rainier; from the south side of the summit, spy Mts. Jefferson, Washington, Broken Top and the Three Sisters. Pick your view, take five for a snack, and when you're ready, return by the same route.
Mapped by Eli Boschetto Bosco Mountain Photo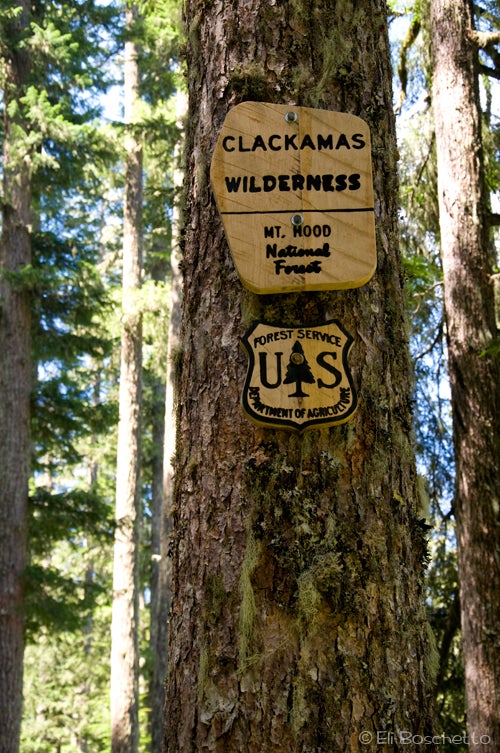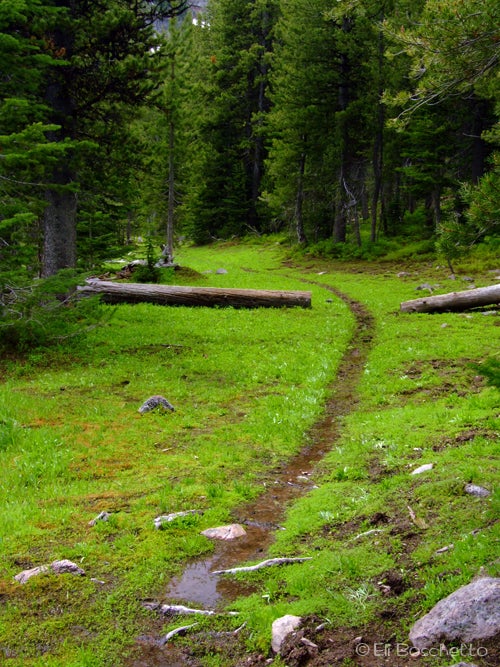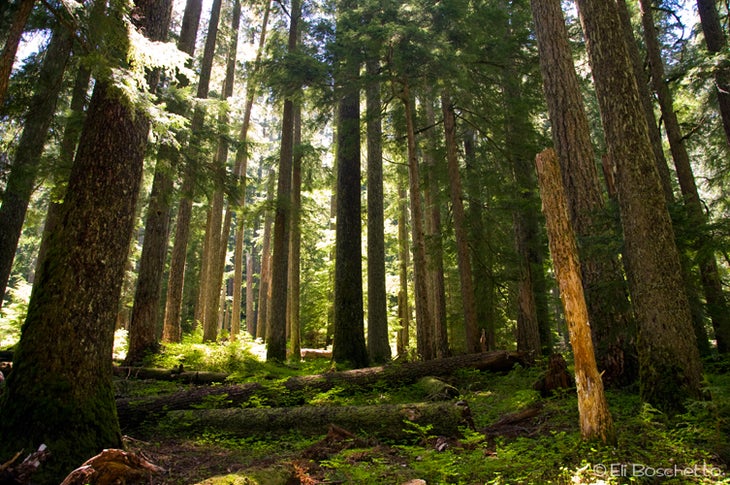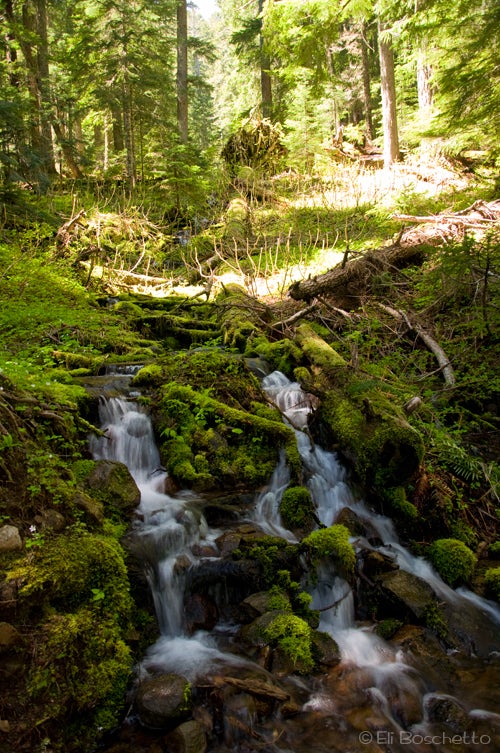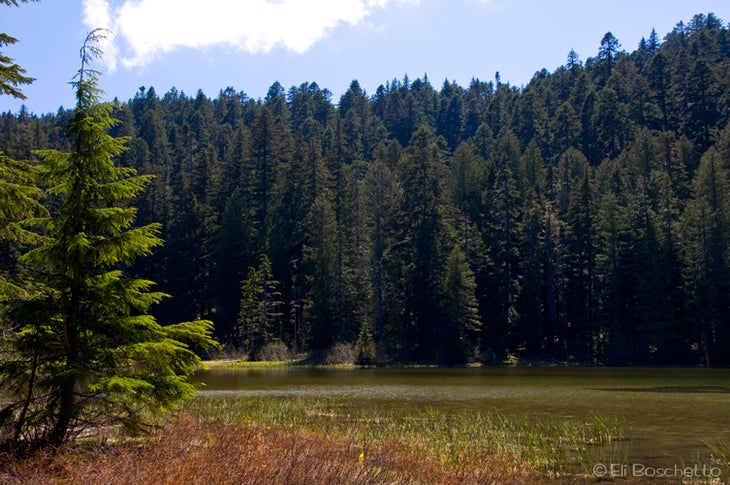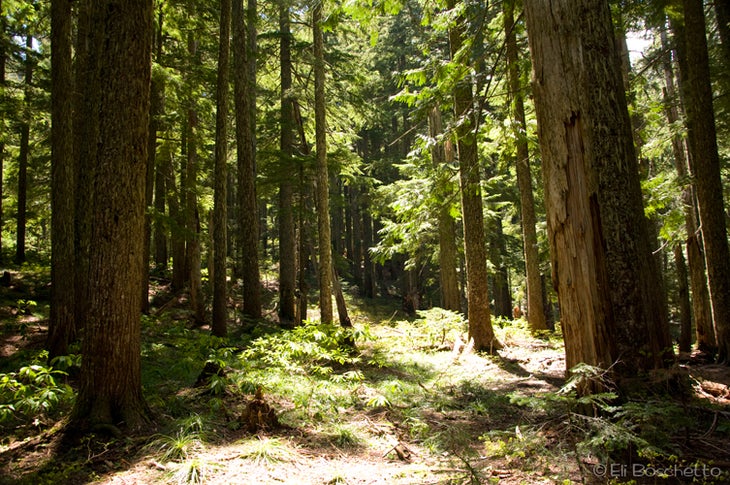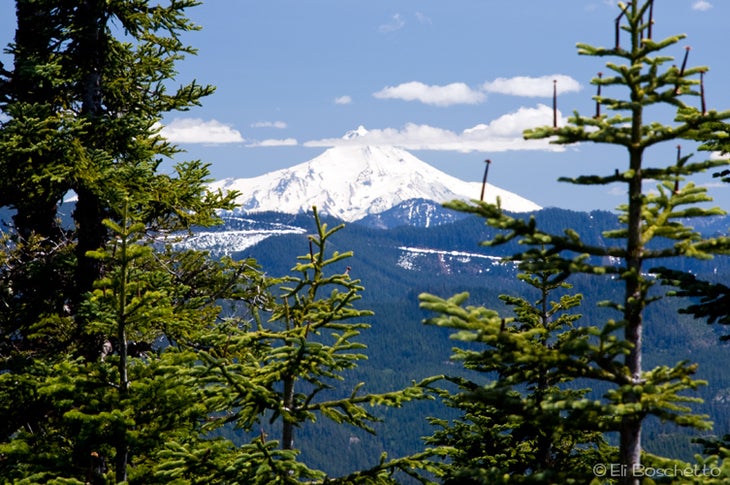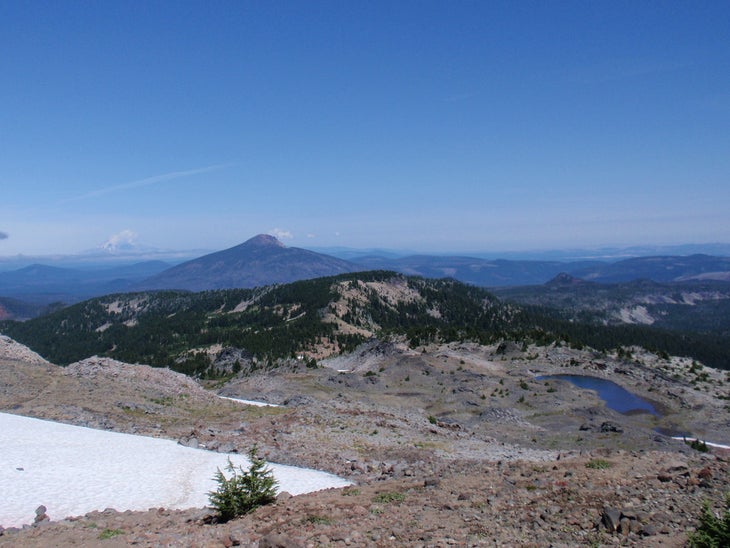 Trail Facts
Waypoints
MEM000
Location: 45.100798, -122.22127
Parking for Memaloose Lake and South Fork Mtn.
MEM001
Location: 45.100056, -122.22083
Trailhead for Memaloose Lake and South Fork Mtn.
MEM003
Location: 45.098211, -122.225946
Small creek crossing.
MEM004
Location: 45.09795, -122.227365
Small creek crossing
MEM005
Location: 45.097398, -122.231047
Small creek crossing.
MEM006
Location: 45.097388, -122.234429
Cross a small cascade on Memaloose Creek.
MEM007
Location: 45.09746, -122.235702
Memaloose Lake. Turn left and cross outlet to continue to South Fork Mtn.
MEM008
Location: 45.098135, -122.235758
Private lakeside campsite at end of short path.
MEM009
Location: 45.09679, -122.235655
Several campsites in area.
MEM010
Location: 45.091315, -122.240217
South Fork Mtn summit. Views south of Mts. Jefferson, Washington, Broken Top and Three Sisters; north and east for Mts. Hood, Adams, St. Helens and Rainier.
Memaloose Trailhead
Location: 45.099972, -122.221055
Begin the trek to Memaloose Lake and South Fork Mtn at an unsigned trailhead on Memaloose Rd 45.
Lake Trail
Location: 45.099472, -122.221988
Hiker on the Memaloose Lake trail.
Clackamas Forest
Location: 45.098321, -122.226516
The Memaloose Creek valley retains much of its original old-growth forest.
Forest Cascade
Location: 45.097549, -122.231108
The trail to Memaloose Lake crosses several small creeklets and tributaries.
Memaloose Lake
Location: 45.097912, -122.235925
Memaloose Lake occupies an ancient glacier cirque.
Old Growth
Location: 45.096057, -122.23497
On the trail to South Fork Mtn.
Mt. Jefferson
Location: 45.091141, -122.240421
From the south side of South Fork Mtn's summit, spy Mts. Jefferson, Washington, Broken Top and Three Sisters.
Mt. Hood
Location: 45.091376, -122.240067
Spy Mt. Hood across the Clackamas Foothills from the northeast corner of South Fork Mtn.