Portland, OR: Eagle Creek to Twister Falls
Get your fill of breathtaking waterfalls on this 13.1-mile out-and-back in the Columbia River Gorge that visits Punchbowl Falls, Tunnel Falls, and Twister Falls.
Heading out the door? Read this article on the new Outside+ app available now on iOS devices for members! Download the app.
It's no wonder that hikers flock to the Eagle Creek Trail. Located in the lush confines of the Columbia River Gorge, the picturesque route cuts through old-growth forest and passes postcard-worthy wildflowers and waterfalls. From the trailhead, the trail climbs 200 feet in the first 0.2 mile, then descends into a forest of cedar and maple. Less than a mile in, the trail traverses the first of five cliffside sections that were blasted out of the canyon's walls. (Use the mounted cables for support and watch your footing along this sometimes-slippery stretch of trail.)
After 1.5 miles, the trail passes a spur trail that leads to a viewpoint of the first waterfall: 100-foot Metlako Falls. Less than half a mile later, follow a second spur trail, which descends to Lower Punchbowl Falls, a popular swimming hole. From here, backtrack to the main trail and follow it farther up the canyon, passing vibrant wildflowers (monkeyflower, penstemon, and bunchberry). At 3.2 miles, traverse another cliffy section before reaching a viewpoint overlooking Loowit Falls. Past the falls, cross a bridge over a deep slot and continue southeast.
Near the turnaround point at mile 6, follow the cliffside trail toward Tunnel Falls—the trail passes through a tunnel behind the 120-foot waterfall. Continue another 0.75-mile to Vertical Mile and Twister Falls, a multi-tiered waterfall that cuts deep into the canyon's basalt bedrock. When you're ready, turn around and follow the same route back to the trailhead.
-Mapped by Eli Boschetto, Bosco Mountain Photo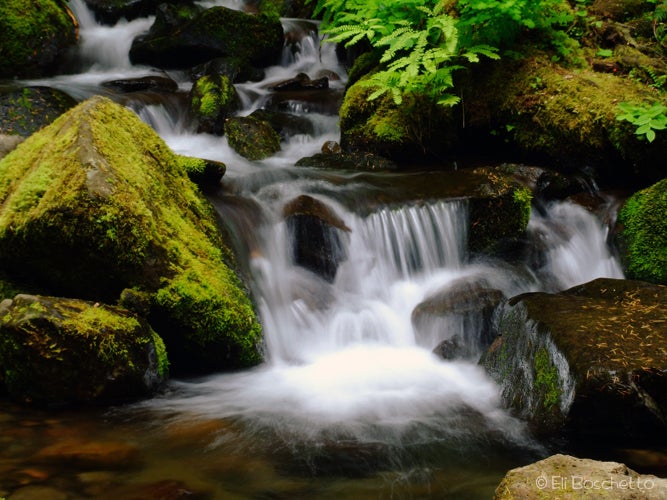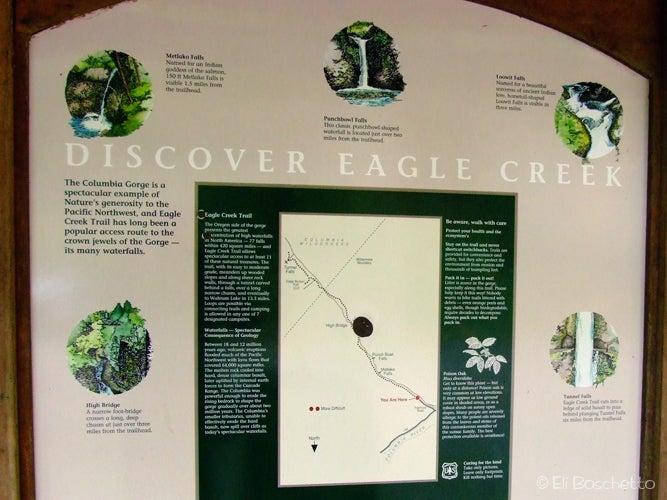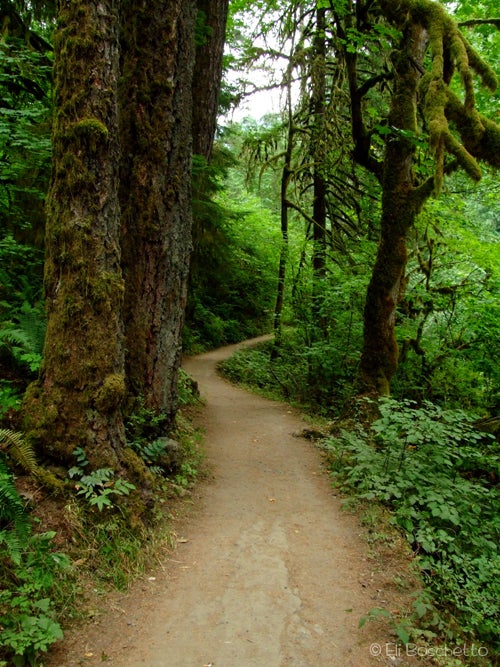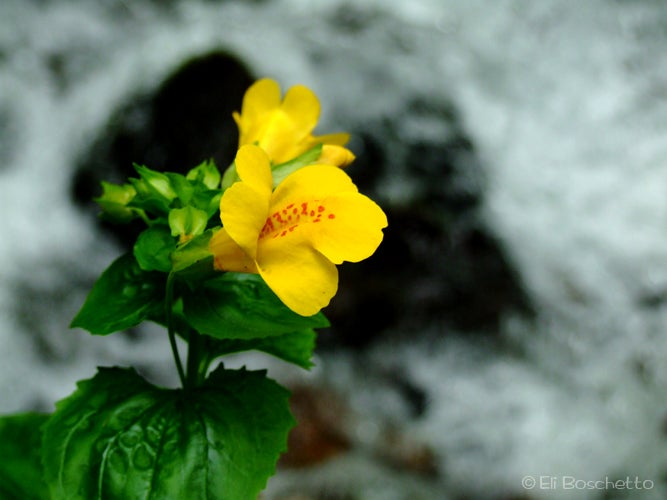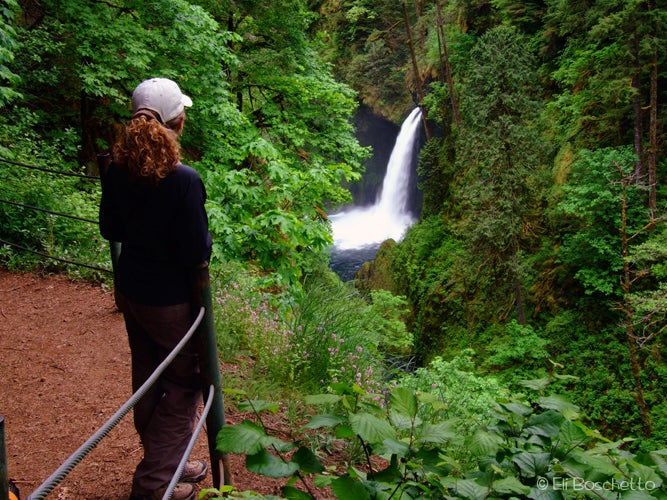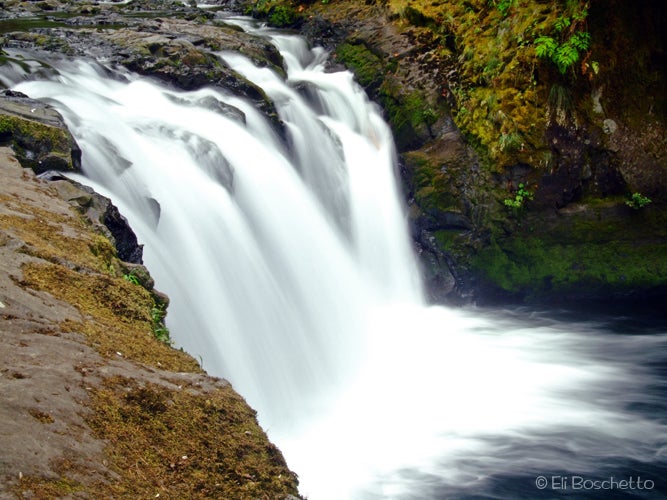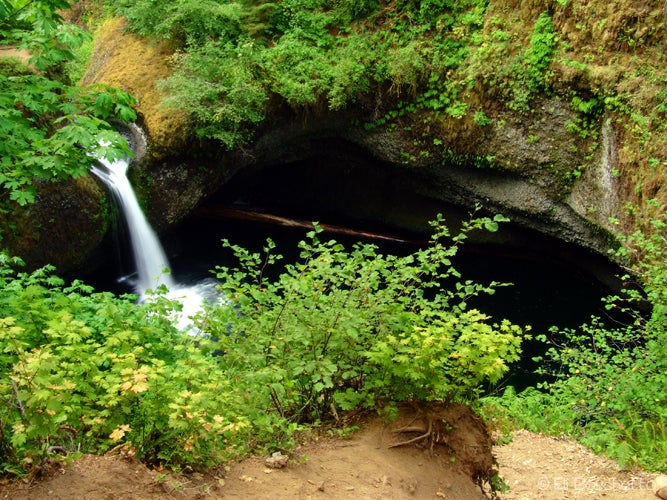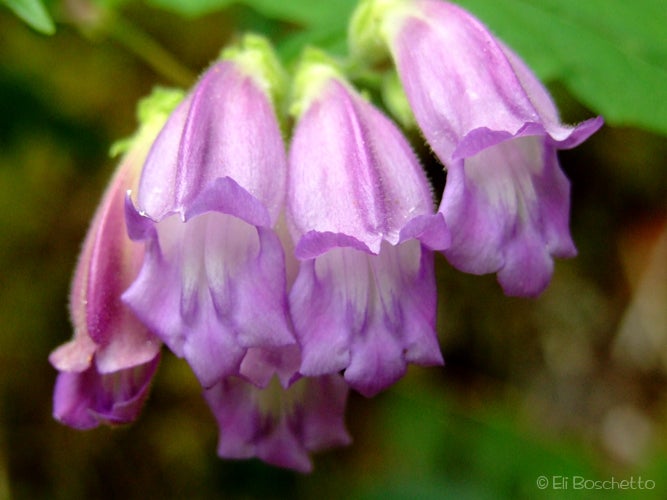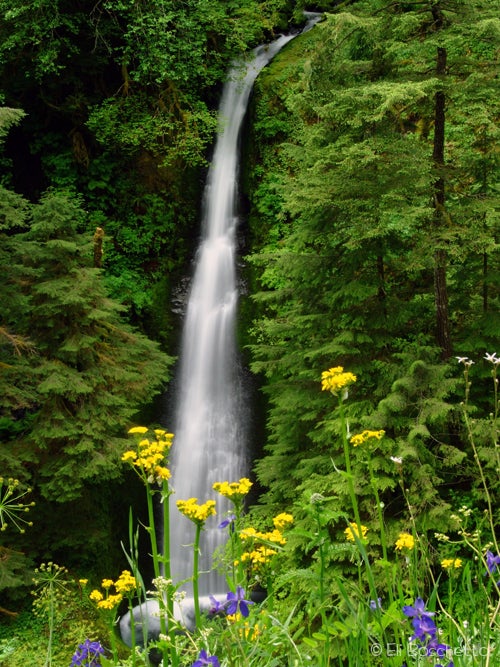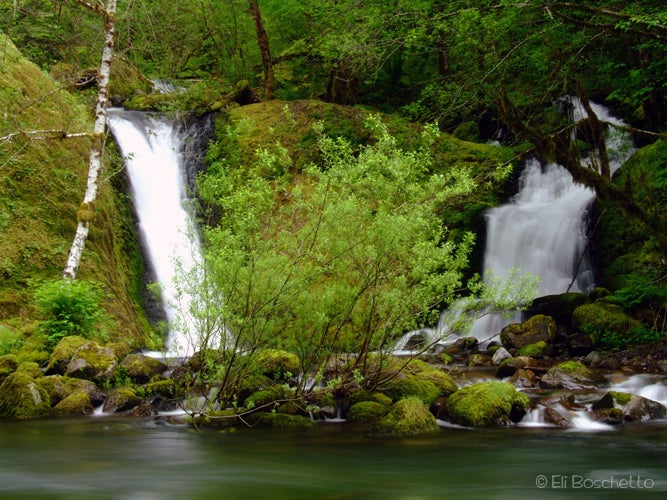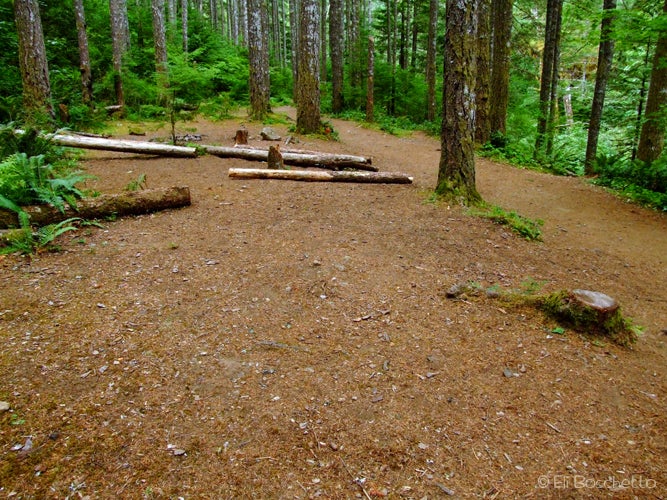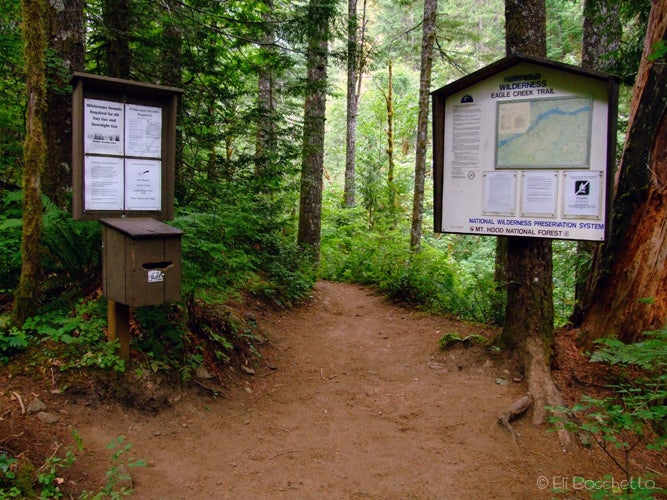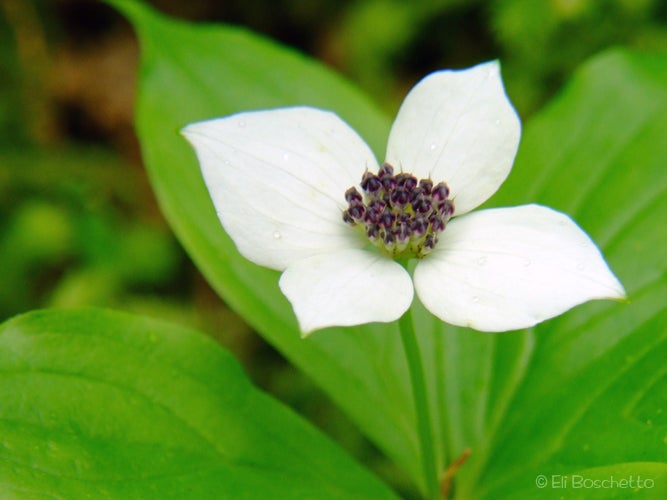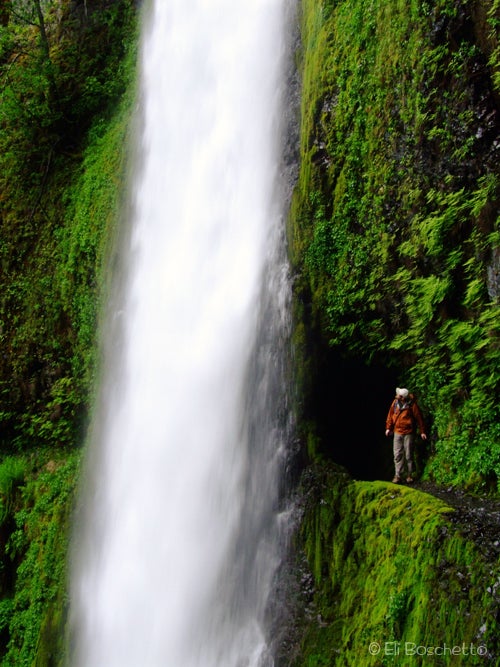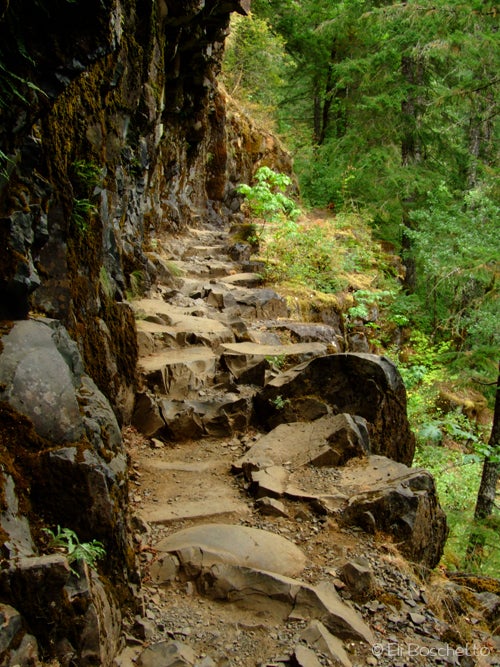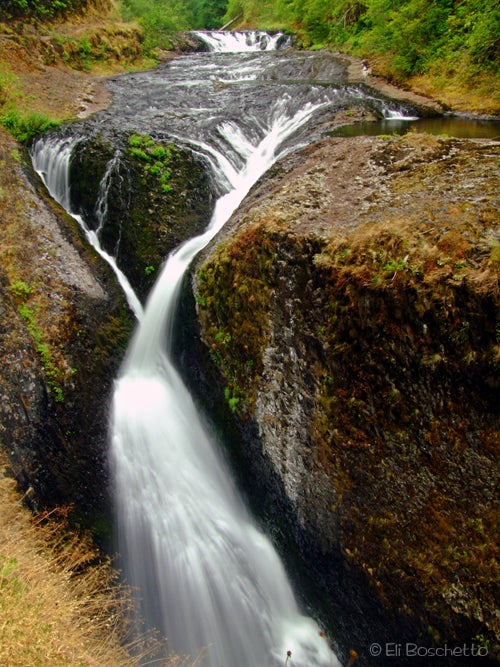 Trail Facts
Waypoints
EAG001
Location: 45.636945, -121.919639
From the Eagle Creek trailhead, the trail climbs 200 feet in the first 0.2 mile, then descends into lush forest.
EAG002
Location: 45.6311, -121.907129
Pass the first of several sections of trail that have been blasted out of the cliffside (cables are mounted to the rock wall for support).
EAG003
Location: 45.63071, -121.903621
At the second cable section, look for bright yellow monkeyflower that grows on the moist rock walls.
EAG004
Location: 45.627688, -121.897195
Follow the spur on the right to a viewpoint of Metlako Falls.
EAG005
Location: 45.627147, -121.897543
Take in views of the first waterfall on the trail: Metlako Falls. Return to the main trail by forking right at the junction just before the viewpoint.
EAG006
Location: 45.625292, -121.894807
Cross Sorenson Creek.
EAG007
Location: 45.624776, -121.896003
Bear right on the spur to Lower Punchbowl Falls, a popular swimming hole.
EAG008
Location: 45.62335, -121.895092
Lower Punchbowl Falls: This popular dayhike destination is also a favorite swimming hole. You'll find a deep pool below the falls.
EAG009
Location: 45.622314, -121.894598
Two miles from the trailhead, enjoy a great viewpoint of Punchbowl Falls.
EAG010
Location: 45.621932, -121.893557
Cross the bridge over Tish Creek. During the spring and summer, look for wildflowers along the trail.
EAG011
Location: 45.616319, -121.886873
Cross the bridge over a small creek, which flows into Eagle Creek to the west.
EAG012
Location: 45.612747, -121.886272
Near mile 3.3, look for a short spur that leads to a campsite on a small wooded bluff above Eagle Creek.
EAG013
Location: 45.612371, -121.88565
Traverse another cable section.
EAG014
Location: 45.609255, -121.883667
Enjoy a view of Loowit Falls from across Eagle Creek.
EAG015
Location: 45.609035, -121.883254
Cross another cable section.
EAG016
Location: 45.608266, -121.88255
Cross the High Bridge over a deep slot cut by Eagle Creek.
EAG017
Location: 45.605737, -121.88168
View an unnamed, tiered waterfall through the trees.
EAG018
Location: 45.604446, -121.880982
At Tenas Camp, look for a few secluded camps on the hillside.
EAG019
Location: 45.600539, -121.877866
Cross another bridge over Eagle Creek.
EAG020
Location: 45.5993, -121.877601
When you spot two waterfalls near mile 4.4, look for a secluded campsite on the creek side of the trail.
EAG021
Location: 45.598471, -121.874707
A spur trail leads to a small campsite.
EAG022
Location: 45.597014, -121.87211
Pass the sign indicating the entrance to Mark O. Hatfield Wilderness.
EAG023
Location: 45.596128, -121.871316
Pass a campsite near the trail.
EAG024
Location: 45.594785, -121.868366
Cross a small bridge over the creek.
EAG025
Location: 45.594491, -121.868166
The trail passes several campsites, some with water access.
EAG026
Location: 45.592345, -121.866467
All hikers and backpackers are required to self-register at this wilderness kiosk.
EAG027
Location: 45.592127, -121.865909
Cross a log over a small inlet stream.
EAG028
Location: 45.591075, -121.862842
Pass a junction with the faint, overgrown connector to the Pacific Crest Trail.
EAG029
Location: 45.588838, -121.860428
The Blue Grouse Camp offers a few sites on the creek side of the trail.
EAG030
Location: 45.584852, -121.854247
This high cliff offers a view of another unnamed waterfall.
EAG031
Location: 45.58433, -121.854022
A steep spur leads to a small, rocky beach and pool below the unnamed waterfall.
EAG032
Location: 45.585071, -121.852538
A steep spur trail leads to the base of Tunnel Falls.
EAG033
Location: 45.583087, -121.851795
The fifth cable section runs above a very high section of cliffside trail.
EAG034
Location: 45.582162, -121.85197
Multi-tiered Twister Falls marks the turnaround point of the trip. Hike to a resting point and water access above the falls before following the same route back to the trailhead.
Cascade
Location: 45.616319, -121.886594
© Eli Boschetto/BoscoMountainPhoto.com
Eagle Trailhead
Location: 45.636952, -121.91951
© Eli Boschetto/BoscoMountainPhoto.com
Eagle Trail
Location: 45.636209, -121.916742
© Eli Boschetto/BoscoMountainPhoto.com
High Wire
Location: 45.631191, -121.906689
© Eli Boschetto/BoscoMountainPhoto.com
Monkeyflower
Location: 45.630418, -121.90316
© Eli Boschetto/BoscoMountainPhoto.com
Metlako Falls
Location: 45.627154, -121.897345
© Eli Boschetto/BoscoMountainPhoto.com
Lower Punchbowl
Location: 45.623354, -121.895011
© Eli Boschetto/BoscoMountainPhoto.com
Punchbowl Falls
Location: 45.622322, -121.894459
A view of Punchbowl Falls from the trail. © Eli Boschetto/BoscoMountainPhoto.com
Penstemon
Location: 45.620506, -121.892088
© Eli Boschetto/BoscoMountainPhoto.com
Eagle Cascades
Location: 45.610645, -121.88462
© Eli Boschetto/BoscoMountainPhoto.com
Loowit Falls
Location: 45.609272, -121.883526
© Eli Boschetto/BoscoMountainPhoto.com
Double Falls
Location: 45.599341, -121.87741
© Eli Boschetto/BoscoMountainPhoto.com
WyEast Camp
Location: 45.594342, -121.868023
© Eli Boschetto/BoscoMountainPhoto.com
Check-In
Location: 45.592352, -121.866328
© Eli Boschetto/BoscoMountainPhoto.com
Bunchberry
Location: 45.586526, -121.8562
Find groupings of this small, white flower in numerous sections of the Eagle Creek trail. © Eli Boschetto/BoscoMountainPhoto.com
Tunnel Falls
Location: 45.585152, -121.852112
© Eli Boschetto/BoscoMountainPhoto.com
Cliffside
Location: 45.583095, -121.851532
© Eli Boschetto/BoscoMountainPhoto.com
Twister Falls
Location: 45.582178, -121.851704
© Eli Boschetto/BoscoMountainPhoto.com