Portland, OR: Burnt Lake
After a catastrophic fire in the 19th century, the forest surrounding Burnt Lake has regrown, offering a pleasant 7.5-mile stroll on Zigzag Mountain's north flank to a pretty lake for dayhiking or camping.
Heading out the door? Read this article on the new Outside+ app available now on iOS devices for members! Download the app.
You will have company on this trail, but the rough, pitted dirt road to the Burnt Lake trailhead helps keep the crowds away. From the trailhead at the end of the road, start up through second-growth hemlock, cedar and fir forest to the registration box and fill out a self-issued permit. From there, the trail gently climbs amid cool, shady forest for the next 2.5 miles, staying north and above Burnt Lake Creek. Notice the burned out carcasses of ancient giant cedar trees, the remains of the 19th century fire that ravaged the area, hence Burnt Lake's namesake.
Shortly before crossing Burnt Lake Creek and a sharp switchback, a spur trail descends to the left to a small campsite on Lost Creek, and an overlook of Lost Creek Falls. The next mile contours the slope of Zigzag Mountain, gradually gaining in elevation and crossing several seasonal creeks. At a break in the forest cover, cast a glance behind for a nice view of Mt. Hood's west side. At the crossing of Burnt Lake's outlet, a large log offers an attractive bridge, but is very unstable; use the rocks to hop across.
Pass camp site #1 on the right and come to a junction with the Burnt Lake Loop. Notice the map sign posted: numbered sites for camping, lettered sites for day use. Start on the lake loop by continuing straight ahead, passing several day use spots. Another fork in the trail offers a 3-mile round trip to the top of East Zigzag; fork left to continue on the lake loop. Lake access is fairly limited to the day use sites, so find an open spot and settle in for lunch, a cool dip, or just to enjoy Mt. Hood's reflection over the still water.
Complete the lake loop, dipping down to the water around a large rock outcrop, then over a series of log bridges near the marshy outlet, back to the junction passed earlier. Head down via the same route. If you complete this hike early enough and want more, head over the the nearby Ramona Falls loop for another 7-mile hike to one of the prettiest waterfalls in Oregon, spilling 120′ over an outcropping of stepped, columnar basalt.
Mapped by Eli Boschetto Bosco Mountain Photo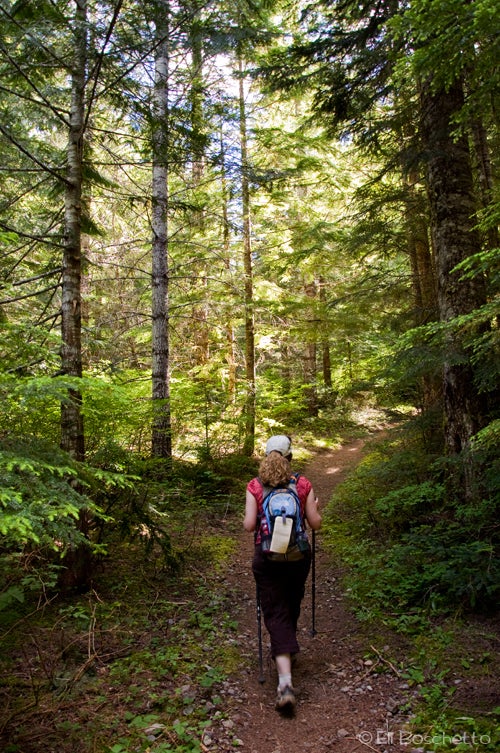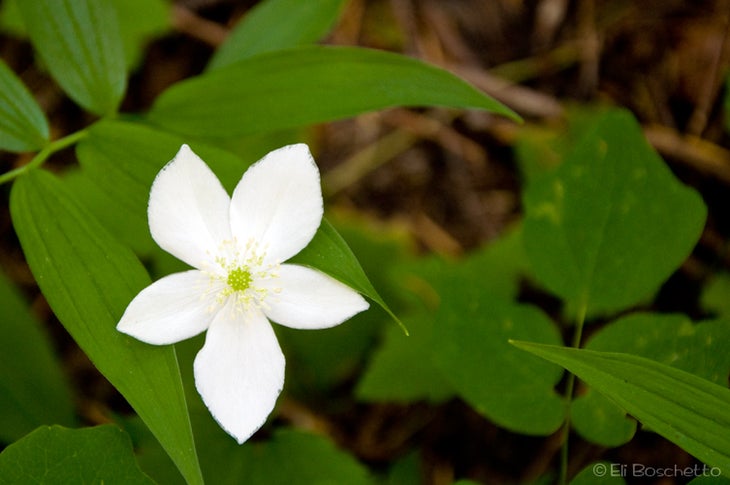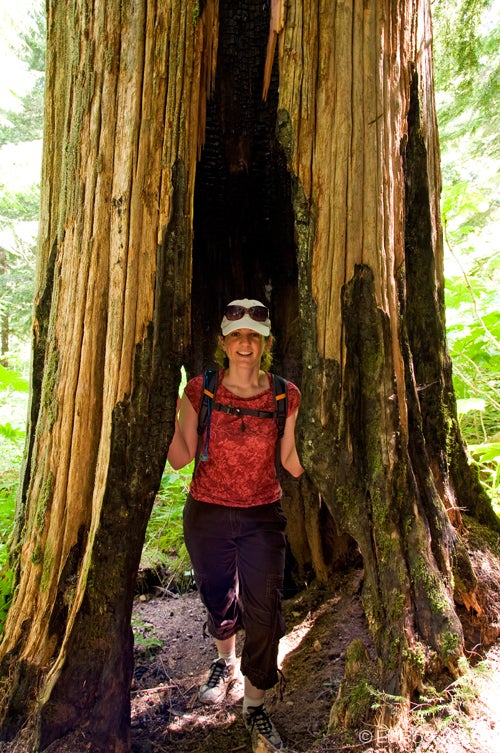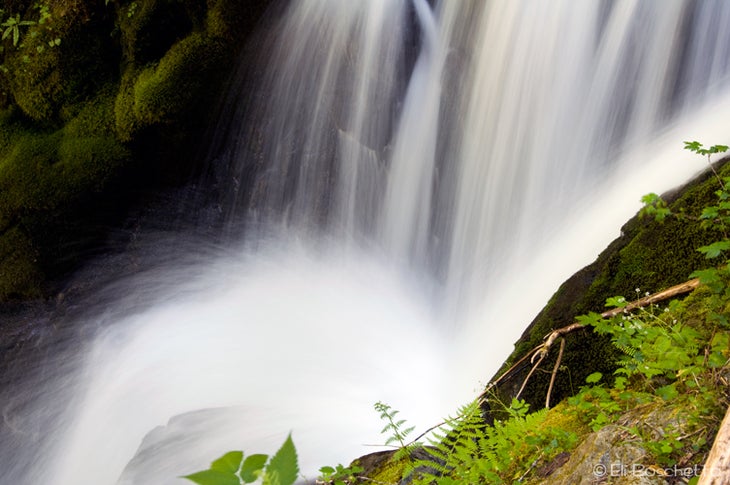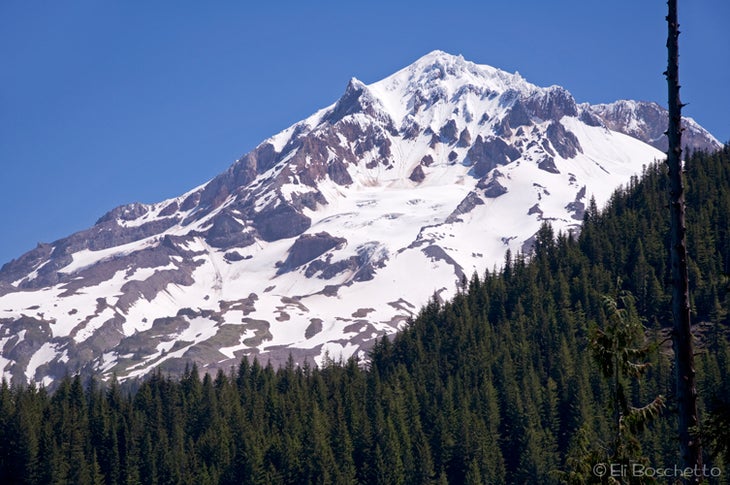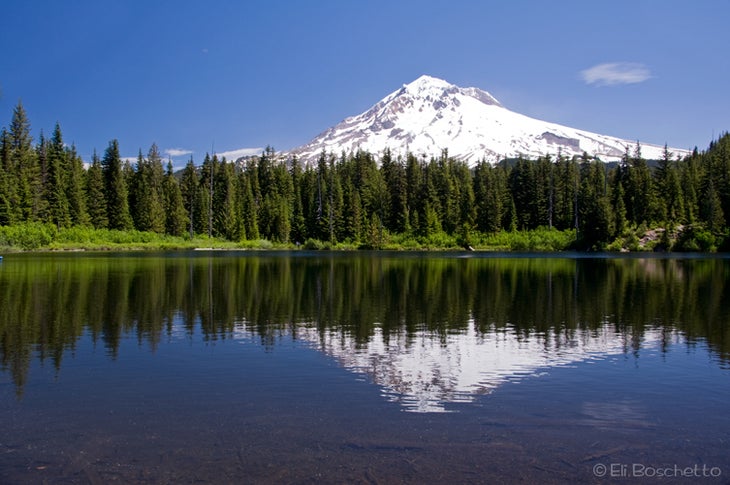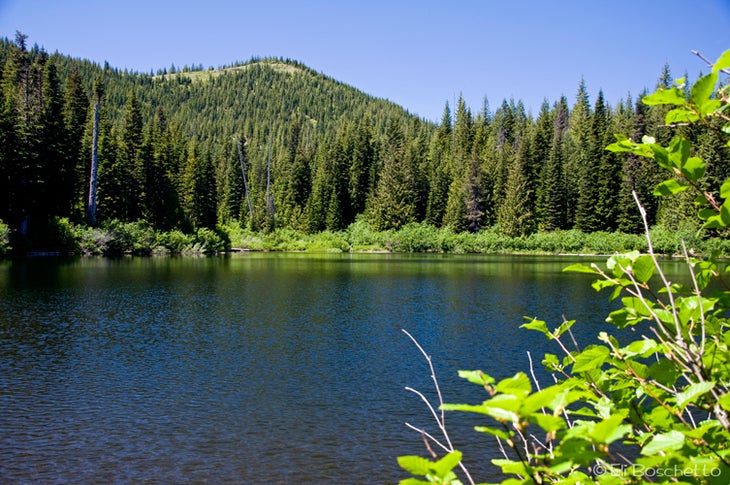 Trail Facts
Waypoints
BRN001
Location: 45.372051, -121.822276
Burnt Lake trailhead.
BRN002
Location: 45.371682, -121.821577
Fill out a self-issued wilderness permit at the registration box.
BRN003
Location: 45.356219, -121.793105
Cross Burnt Lake Creek on small rocks.
BRN004
Location: 45.355341, -121.792801
Look for giant hollowed-out cedar trunks, the namesake for "Burnt Lake."
BRN005
Location: 45.354899, -121.79235
The first of many small creek crossings.
BRN006
Location: 45.354137, -121.78962
More charred, hollow cedar trunks.
BRN007
Location: 45.353819, -121.786977
Side trail left to creekside campsite and Lost Creek Falls.
BRN008
Location: 45.353849, -121.78636
Nice single campsite above Lost Creek Falls.
BRN009
Location: 45.354045, -121.786768
End of trail and viewpoint above Lost Creek Falls.
BRN010
Location: 45.352594, -121.791167
Great view of Mt. Hood.
BRN011
Location: 45.352346, -121.792926
Small creek crossing.
BRN012
Location: 45.352173, -121.801407
Burnt Lake outlet crossing; use rocks, as log is unstable.
BRN013
Location: 45.351987, -121.802153
Camp site #1. Continue straight for lake loop and East Zigzag trail access.
BRN014
Location: 45.351712, -121.801912
Day use site A.
BRN015
Location: 45.351319, -121.803335
Day use site B.
BRN016
Location: 45.350979, -121.803778
Fork left for lake loop. Fork right for East Zigzag trail and camp sites 2 and 3.
BRN017
Location: 45.350804, -121.803892
Day use site C.
BRN018
Location: 45.350243, -121.803547
Day use site D.
BRN019
Location: 45.350165, -121.801593
Day use site E.
BRN020
Location: 45.350524, -121.80123
Day use site F (rocks).
BRN021
Location: 45.350877, -121.801008
Group camp site 4; trail to single sites 5 and 6.
BRN022
Location: 45.351248, -121.801268
Group camp site 7.
Burnt Lake Trail
Location: 45.36931, -121.817125
The Burnt Lake trail gently climbs through forest of fir, hemlock and ceder, with a profusion of summer wildflowers.
Columbia Windflower
Location: 45.366386, -121.812651
The Burnt Lake trail is lined with a variety of wildflowers, including Columbia windflower and bunchberry.
Hollows
Location: 45.355802, -121.793286
The site of a catastrophic wildfire in the 19th century, the hollow remains of giant cedars provide the namesake for Burnt Lake.
Lost Creek Falls
Location: 45.354053, -121.786709
A short side trail leads to a small, creekside camp site, and a view of the Lost Creek Falls gorge.
Mt. Hood
Location: 45.352356, -121.7932
A few clear spots along the trail offer spectacular views of Mt. Hood's western flanks.
Burnt Lake
Location: 45.351218, -121.803231
Mt. Hood reflected in the waters of Burnt Lake. Numerous day-use and overnight sites can be found around the lake.
East Zigzag
Location: 45.350072, -121.802212
A 1.5-mile side trail climbs 900′ to the top of East Zigzag, for views over Burnt Lake and Mt. Hood.