Portland, OR: Beaver Pond Loop
Navigate a maze of old logging roads and narrow tracks on this 5 mile loop through Portland's Tualatin Mountains, keeping your eyes peeled for birds and wildlife.
Heading out the door? Read this article on the new Outside+ app available now on iOS devices for members! Download the app.
Hike the Beaver Pond Loop
The Beaver Pond Loop hike begins at the Rocky Point Road. From there, descend on old gravel road to a bend, turning left (E), and continuing on road that becomes progressively more overgrown. Just beyond the next bend at 0.8 mile, the path forks again; stay on the main road to the right and begin a gentle ascent to the ridgetop, where from the other side you can pick out views of downtown Portland. After another 0.5 mile the road forks again twice; continue straight ahead to the right through the first junction, then to the left for the second. 0.3 mile further, the route forks yet again. This is the beginning of the loop section, so choose the right fork and begin a moderate climb for the next 0.5 mile.
The trail then levels and begins a westward, then southward turn. Along this stretch, look for the remains of the beaver ponds. The first is just a marshy depression, the second is still a large pond. At the westernmost point of the loop the track forks again at the edge of a clearcut area; take the left fork, clinging to the edge of the older forest. If in doubt, look for taped route markers tied to trees. The road zigzags along the edge of the clearcut to a high point with nice views before starting to descend again. Two side roads appear to be the continuing route, but ignore these and continue straight ahead (N) as the road seems to come to an end in a stand of trees.
Locate a faint, rocky path through the trees to a small clearing. Where you enter the clearing, look for a dirt track immediately to your right and begin a southeastern descent through a scraggly tunnel of trees. Follow this narrow track 0.3 mile to a heavily overgrown service road, then turn left (NE) for 500 feet to a connection with another less-overgrown road. Turn left (N) again, pass a couple of creek crossings, back to the intersection that began the loop. From here, turn right (E) and return on familiar trail to your starting point.
-Mapped by Eli Boschetto, Bosco Mountain Photo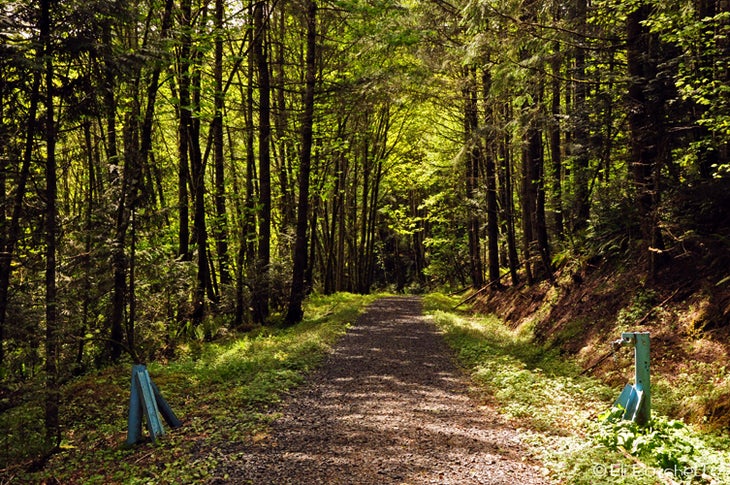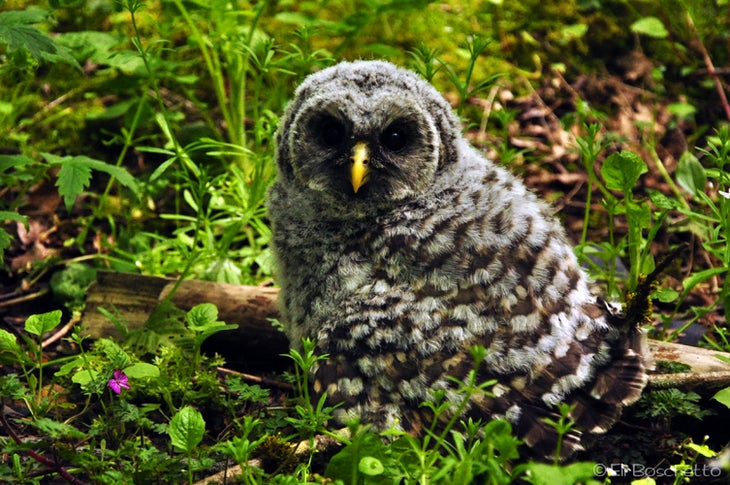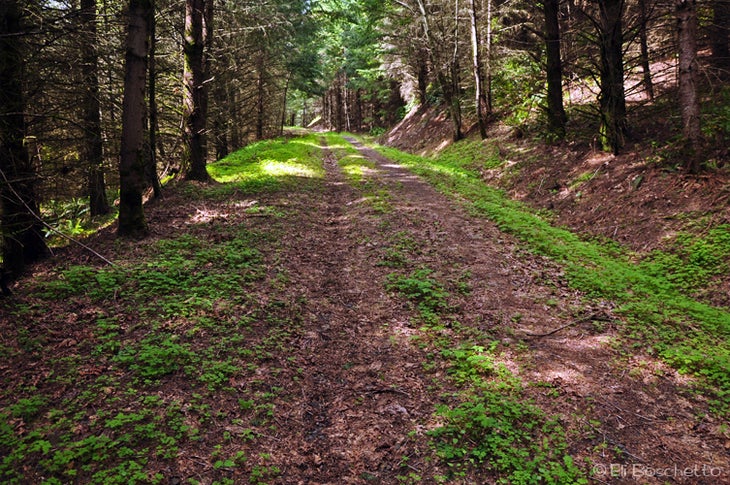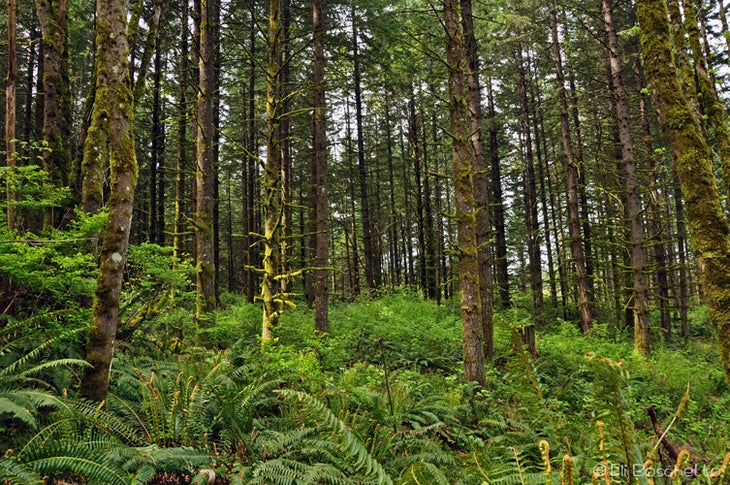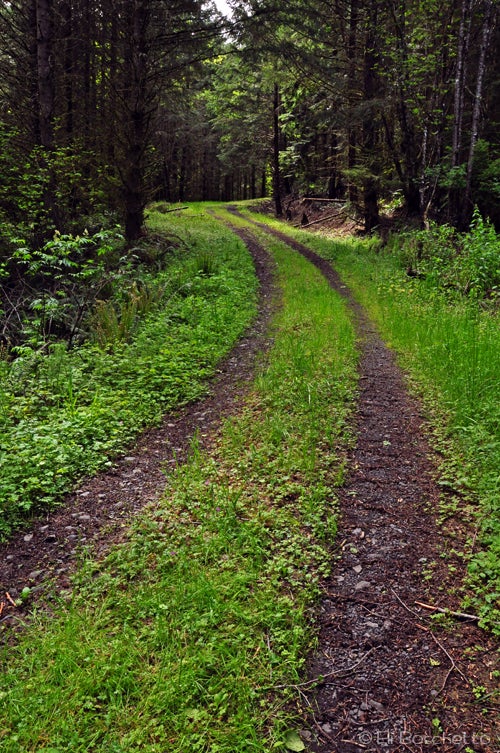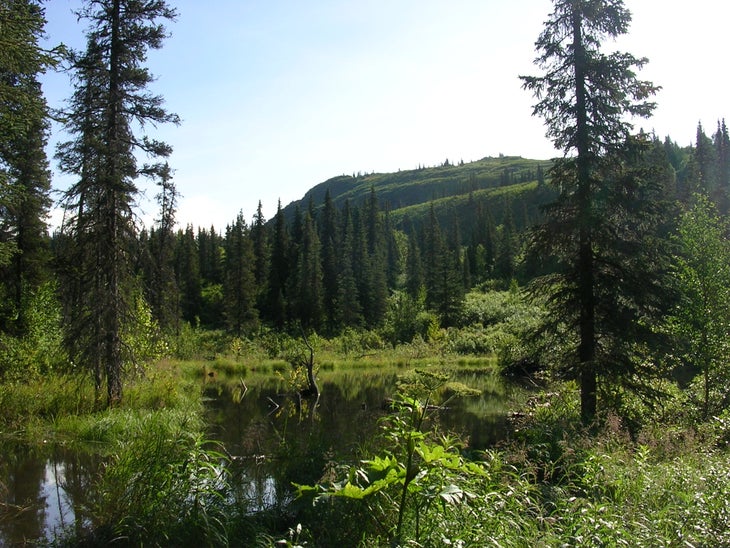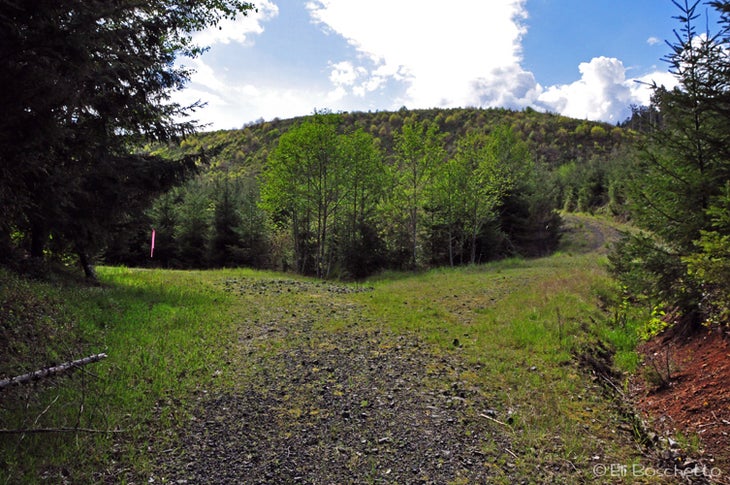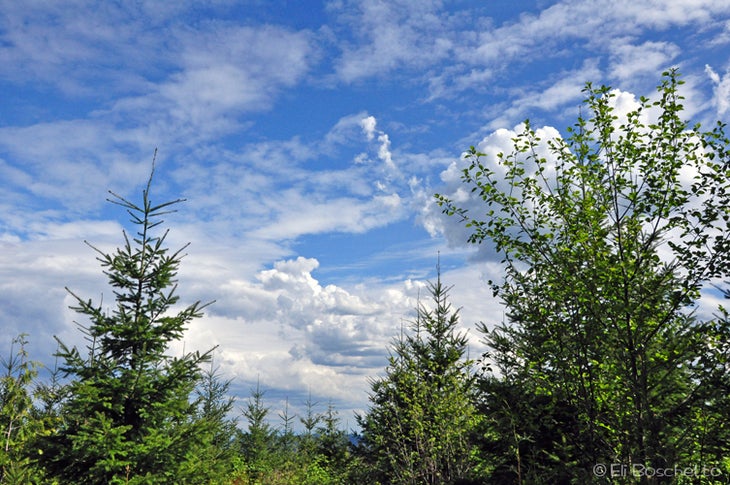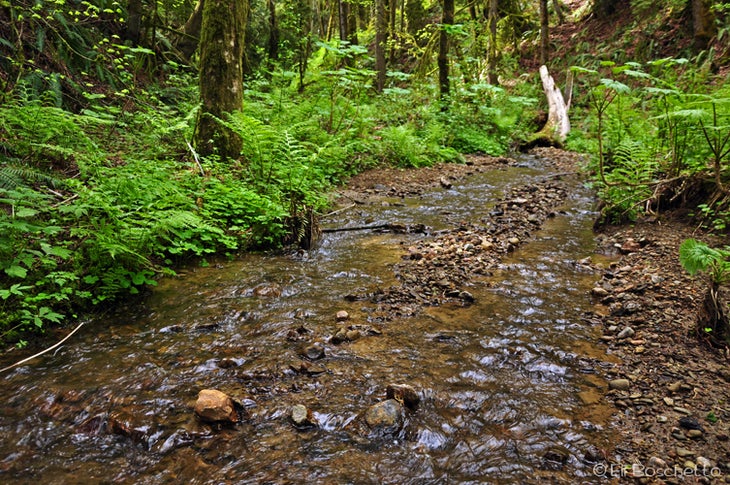 Trail Facts
Waypoints
BVR001
Location: 45.696423, -122.888351
Beaver Pond Loop trailhead at gate on left side of Rocky Point Rd.
BVR002
Location: 45.695389, -122.889917
Turn left (E) at fork.
BVR003
Location: 45.693156, -122.882713
Bear right (SW) at fork.
BVR004
Location: 45.691094, -122.88778
Spot downtown Portland from this open high point.
BVR005
Location: 45.689521, -122.889896
Bear right (W) at fork.
BVR006
Location: 45.689326, -122.890792
Bear left (W) at fork.
BVR007
Location: 45.690192, -122.894751
Beginning of Beaver Pond Loop; take right fork uphill for 0.5 mile.
BVR008
Location: 45.691939, -122.902945
Cross over small creek.
BVR009
Location: 45.690589, -122.904928
Bear left (S) at fork.
BVR010
Location: 45.688884, -122.905335
Beaver pond.
BVR011
Location: 45.687735, -122.906871
Beginning of clearcut area; bear left (SW) at fork.
BVR012
Location: 45.686291, -122.904273
Bear left (E) at junction.
BVR013
Location: 45.686302, -122.903355
Bear left (E) at fork.
BVR014
Location: 45.686472, -122.901702
Trail narrows; look for rocky path to left side of road.
BVR015
Location: 45.687352, -122.900474
Small clearing; look for dirt trail to immediate right (SE).
BVR016
Location: 45.687262, -122.900244
Follow dirt trail though trees SE.
BVR017
Location: 45.684412, -122.897344
Turn left (NE) on old forest road.
BVR018
Location: 45.685353, -122.895912
Turn left (N) on overgrown logging road.
BVR019
Location: 45.68911, -122.896634
Creek crossing. Continue to next junction; turn right (E) to return.
Beaver Pond Loop
Location: 45.696363, -122.888646
Begin the Beaver Pond Loop trail at the gate on Rocky Point Rd.
Spotted Owl
Location: 45.695929, -122.889955
Keep your eyes peeled both in the trees and on the ground for local wildlife.
Logging Road
Location: 45.69401, -122.883239
The Beaver Pond Loop uses several unmaintained logging roads.
Tualatin Forest
Location: 45.692272, -122.88444
The Tualatin Mountains are a combination of second and old-growth forest.
Up Road
Location: 45.691342, -122.897594
Where the Beaver Pond Loop begins, fork right for a steady uphill climb.
Beaver Pond
Location: 45.689064, -122.905254
Peer through the overgrowth to spot the remains of a large beaver pond.
Fork in the Road
Location: 45.687895, -122.906456
Bear left at this fork for the bottom half of the Beaver Pond Loop.
Hiking Day
Location: 45.686456, -122.90534
The high point on the Beaver Pond Loop affords a nice, scenic view.
Beaver Creek
Location: 45.689184, -122.896371
One of several creek crossings on the Beaver Pond Loop.