Piedra River Trail
An out and back along the Piedra River, through the scenic San Juan National Forest.
Heading out the door? Read this article on the new Outside+ app available now on iOS devices for members! Download the app.
This hike first crosses an open area and passes a fork; to the right is the Ice Cave Ridge Trail, a short hike up the ridge to fissures that are sheltered from the sun and contain snow in to late June. This hike also has good views of the Piedra Vallley.
Our route goes to the left, though, and ascends a bit, passing through aspen groves – take time to enjoy the scenic view in all directions. You'll then descend into the river canyon, walking along sheer cliffs, past overhangs, and under tall trees. After about a mile, the trail reaches the level of the river bank and follows it for a ways. There are often people fly fishing along the banks in summer.
From here, the trail veers away from the river somewhat, and eventually crosses a bridge over a stream flowing into the river. It then traverses large meadows, which are full of wildflowers in spring and summer. The trail eventually edges closer to the river, then leads to a metal span bridge. It is roughly 3.5 miles to this point, and if you're following this route, you'll turn around and retrace your steps back to Piedra River Road.
You'll hear lots of birds on this hike in summertime, and may see warblers, hummingbirds, and hawks.
It's possible to continue on along the river for an additional 8.5 miles, past several box canyons to end at another trailhead off of First Fork Road or County Road 622. Leave a vehicle here or arrange for a friend to pick you up, you're a long drive from the starting point. Trip planning information provided at the kiosk by the US Forest Service Pagosa Ranger District advises contacting the office (970-264-2268) to determine whether the First Fork Road on the west end is open before attempting the through hike.
Hikers should also be aware that, while the Piedra River Trail is well-used and easy to follow, other trails in the area may not be, and there is little trail signage. In the summer, be prepared for intense afternoon thunderstores, including wind and hail. Lower elevations are generally free from snow-pack by mid-June, but snow can linger in higher areas until July. During spring snow melt, expect high and fast water. In spring, this trail can be quite wet and muddy due to snow melt, but hikers will see frozen falls created by snow melting over cliffs during the day and freezing at night.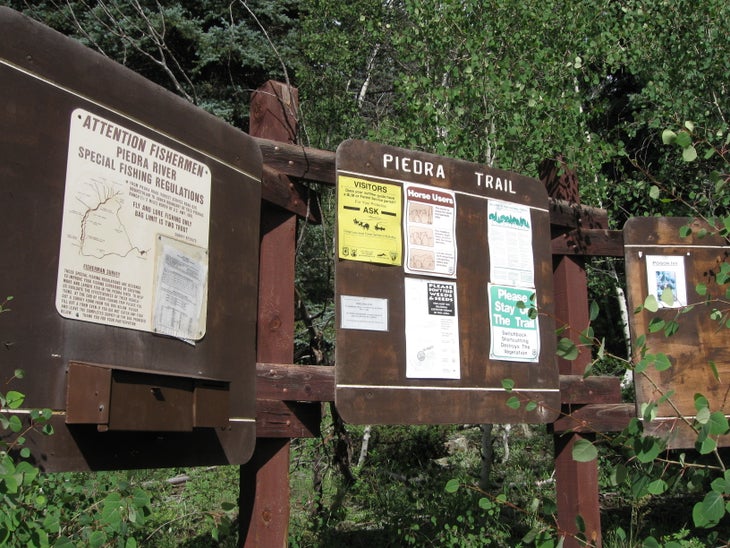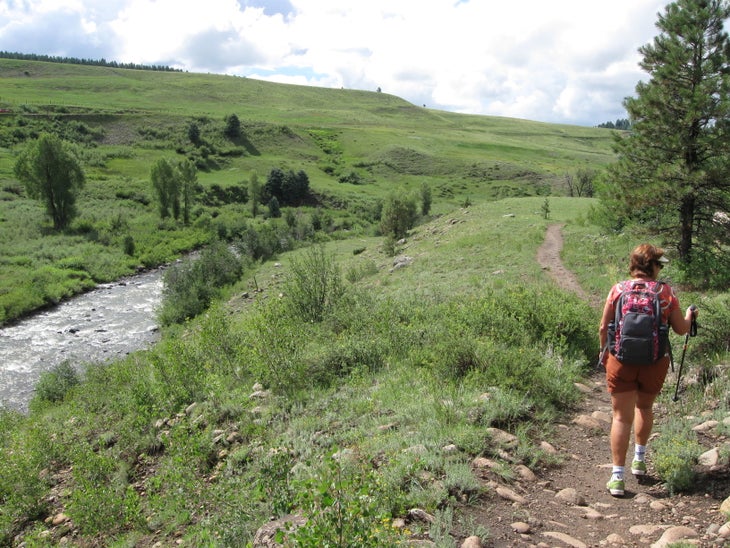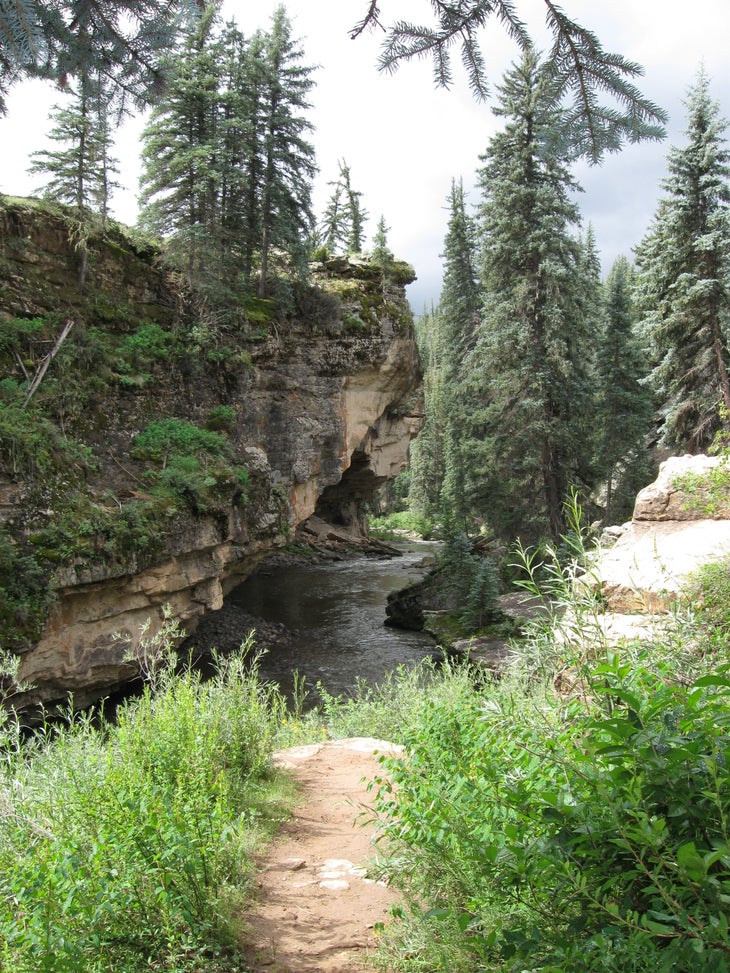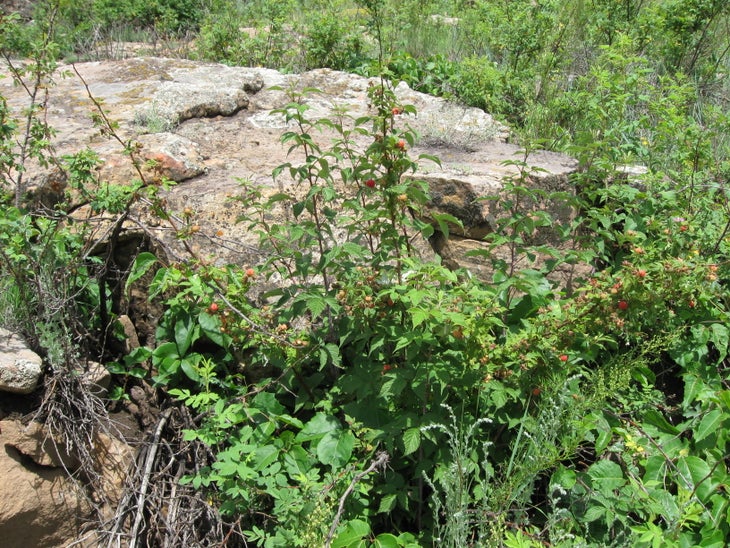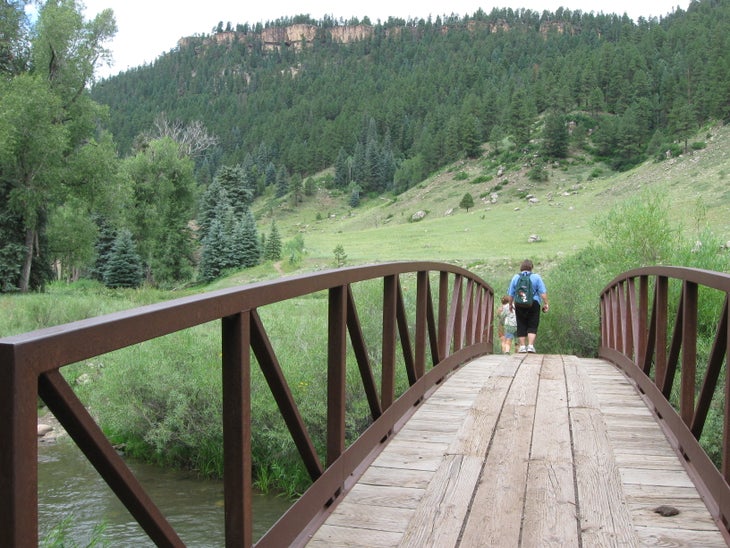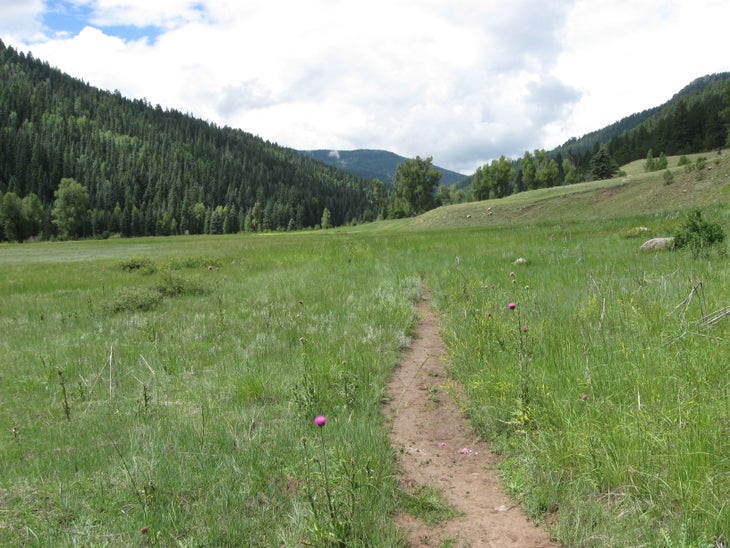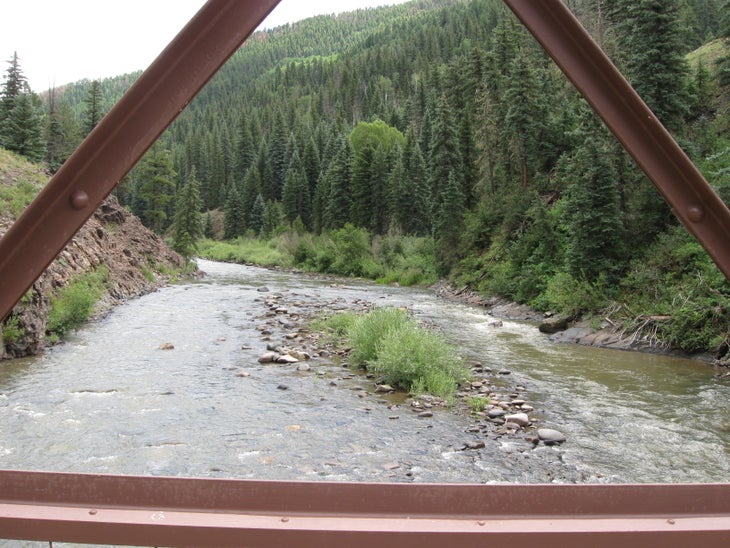 Trail Facts
Waypoints
Intersection
Location: 37.429265, -107.194708
Trail to the right leads up to the Ice Cave Ridge Trail; bear left for the Piedra River Trail.
Signs and information
Location: 37.427566, -107.194655
02-AUG-10 11:11:07AM
High point
Location: 37.423403, -107.194643
02-AUG-10 11:20:10AM
Raspberries
Location: 37.422644, -107.195115
In summer, wild raspberries can be found along the trail.
Canyon
Location: 37.421005, -107.195459
Here the trail traces the river through a narrow, canyon-like area.
River bank
Location: 37.415483, -107.196364
02-AUG-10 11:51:49AM
Large meadow
Location: 37.413469, -107.200553
02-AUG-10 12:00:19PM
Second meadow
Location: 37.413353, -107.204116
02-AUG-10 12:06:23PM
Bridge over creek
Location: 37.413331, -107.206427
02-AUG-10 12:09:27PM
Wildflower area
Location: 37.409265, -107.213153
02-AUG-10 12:26:24PM
Trail signs
Location: 37.405317, -107.218232
This is the intersection of 583 and 596, numbers used on forest service maps
Stream crossing
Location: 37.405319, -107.218399
After rains, or when snow is melting, a small stream crosses the trail.
More trail signs
Location: 37.402369, -107.223882
02-AUG-10 12:53:10PM
Bridge over Piedra River.
Location: 37.401273, -107.22564
This point is roughly 3.5 miles from the parking lot, and your turn-around point.
Parking for trail head
Location: 37.42999, -107.194312
Trail kiosk
Location: 37.427774, -107.194891
View of river
Location: 37.426718, -107.194548
Hiking along river
Location: 37.424741, -107.194355
Wild raspberries
Location: 37.42273, -107.195084
First bridge
Location: 37.413289, -107.206306
Scenic meadow.
Location: 37.406267, -107.216783
RIver and bridge
Location: 37.401221, -107.22557