Phenomenon: Glacial Relics
The Ice Age left its mark from Acadia to Yosemite. Here's scenic evidence.
Heading out the door? Read this article on the new Outside+ app available now on iOS devices for members! Download the app.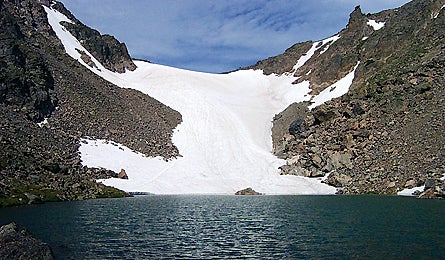 Tarn (Public Domain photo)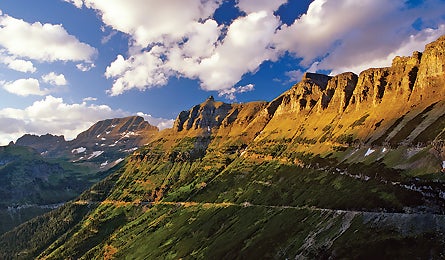 Arete (Chuck Haney)
Glacial Erratic (George Wuerthner)
Tarn | Arête | Glacial Erratic | Hanging Valley
If you hike in the Northeast, Upper Midwest, Rocky Mountains, or Sierra Nevada, chances are your favorite trails were once buried under ice sheets thousands of feet thick. And while the last great ice sheets receded from North America 12,000 years ago, evidence of their impact is still present today. "Without glaciation, the Sierra Nevada, Rocky Mountains, and New England ranges would look more like the Great Smoky Mountains," says Dr. William Locke, a glaciologist at Montana State University. That's because the grinding ice sheets in those places eroded the soil that had formed over the preceding eons, exposing the bedrock features we see today from Mt. Washington to Longs Peak. Here's how to spot classic glacial leftovers found in four national parks–and in many other backcountry spots carved by ice.
Tarn

Rocky Mountain National Park, Colorado

Andrews Tarn
Tarns are small, glacier-carved mountain lakes set in steep-walled amphitheaters called cirques. Glacial debris deposits (moraines) often create tarns by damming meltwater runoff.
>>Andrews Tarn
Although glaciers first appeared in RMNP up to 500,000 years ago, most of the features recognizable today were carved during the Pinedale glaciation, 35,000-10,000 years ago. The Andrews Glacier, a remnant of the Arapahoe Peak glaciation that lasted until 1850, feeds Andrews Tarn from the cirque above in the Loch Vale area of the park. Reach it via a strenuous 9.2-mile roundtrip from the Glacier Gorge trailhead that gains 2,150 feet of elevation.
Andrews Tarn

UTM 13T 0442224E 4459982N
Rocky Mountain National Park

(970-586-1206; nps.gov/romo)
Tarn | Arête | Glacial Erratic | Hanging Valley
Arête

Glacier National Park, Montana

The Garden Wall
Arêtes are knife-edged ridges that form when two adjacent glaciers carve parallel U-shaped valleys until only a long, narrow crest remains in between. Arête is French for "fish bone."
>>The Garden Wall
Sculpted by the 4,000-foot-thick ice of the Wisconsin glaciation between 20,000 and 10,000 years ago, the Garden Wall separates Lake McDonald Valley from Many Glacier Valley. Logan Pass, which cuts through the Continental Divide, was once a continuation of this arête, but additional glacial erosion chewed through the wall to create the pass. The popular Garden Wall (or Highline) Trail begins at Logan Pass Visitor Center and ends 11.6 miles later at the Loop parking lot of Going-to-the-Sun Road.
The Garden Wall

UTM 12T 0300323E 5401089N
Glacier National Park

(406-888-7800; nps.gov/glac)
Tarn | Arête | Glacial Erratic | Hanging Valley
Glacial Erratic

Acadia National Park, Maine

Bubble Rock
Glacial erratics are displaced rocks, ranging in size from tiny pebbles to mammoth boulders, carried along by glacial ice flow. Some are moved hundreds of miles from their origin, and would not otherwise be found in their terminal resting place.
>>Bubble Rock
Composed of white granite instead of the pink granite found in the surrounding Bubble Mountains, this erratic traveled 19 miles south from mainland Maine to Mount Desert Island's South Bubble Mountain–carried by the mile-thick Wisconsin Ice Sheet. Some 10,000 years ago, receding glaciers dropped it on the southeast corner of the summit. Find it along the less busy, but steep, 0.6-mile Southern Bubble Trail, a spur off the Jordan Pond Loop Trail.
Bubble Rock

UTM 19T 0559539E 4909860N
Acadia National Park

(207-288-3338; nps.gov/acad)
Tarn | Arête | Glacial Erratic | Hanging Valley
Hanging Valley

Yosemite National Park, California

Yosemite Falls
Hanging valleys form when small tributary glaciers erode shallower troughs than those made by the main ice flow. The result is a U-shaped notch high on the wall of the main valley. When the ice is gone, streams plunge as waterfalls from the mouths of these high, often vertical gorges, creating spectacular cascades.
>>Yosemite Falls
Glaciers excavated Yosemite Valley a million years ago when ice from the Sherwin glaciation eroded the central chasm much deeper than smaller, adjacent troughs. Yosemite Creek flows over a hanging valley and plunges 2,425 feet in a series of cataracts to the floor below. To see the cascade up close, hike the steep, 7-mile Yosemite Falls Trail from the Camp 4 trailhead.
Yosemite Falls
UTM 11S 0271194E 4181809N
Yosemite National Park
(209-372-0200; nps.gov/yose)