PCT Week Five: 30 Desert Miles
I am no endurance athlete, but the Pacific Crest Trail allowed me 30 sweet miles in a day.
Heading out the door? Read this article on the new Outside+ app available now on iOS devices for members! Download the app.
30 miles leaves me with a big smile, before I pass out.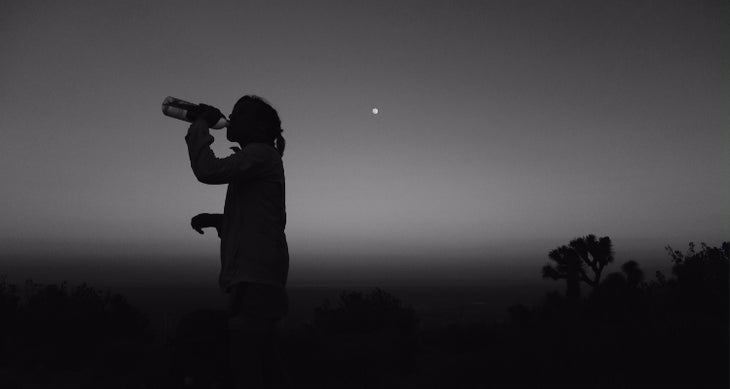 30 miles is enough to make anyone thirsty. Photo: Avry Martinson.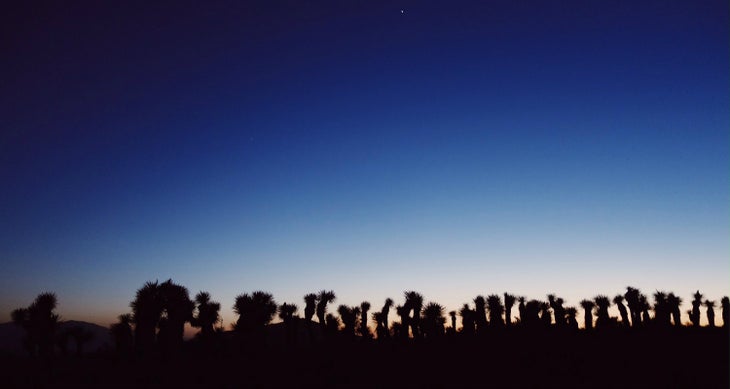 A long day in the desert is always made sweeter by joshua tree silhouettes. Photo: Avry Martinson.
I always thought that people who walked 30 miles (or more) in a single day were heroes. They were incredible endurance athletes in peak condition. They were machines.
As I've been walking this trail, getting used to the rhythm of life outdoors on foot, I've started wondering if I could walk 30 miles in a day. I am not a hero or an incredible athlete or even in peak condition.
I am, however, stubborn, goal oriented, and in good shape for long walks (judging by the last few hundred miles of doing nothing but).
This week was a blur of desert with one day standing in perfect, clear outline: the day I walked 30 miles. I chose the day of the Los Angeles aqueduct to make my move.
I'd been hearing horror stories of the long, terribly hot hike on the flat, concrete structure. The aqueduct stretches for 15 miles in the outskirts of the Mojave desert. Although there is a river of water flowing under the trail, it is a long stretch before hikers are allowed to access it.
My day started at 3am — right in the middle of a beautiful, lightly twinkling night in the middle of a vast prairie, the Milky Way stretched out far above. I tripped along the trail, a flat, flat dirt road next to the aqueduct at first. I could hear the gentle lapping of the plethora of water trying to escape its container. I was seized with a mad desire to jump in.
After losing my way, wandering circles in the dark, and finally finding the trail again, the sun came up. It was brilliant and red, streaming over the backs of the mountains, black against the light. Legions of joshua trees stood, silhouetted by the sun's well trodden path in the sky.
I walked the dry, dust-filled road by trailers all squished together in the middle of a large emptiness, surrounded by nothingness. I walked through the emptiness on the hot concrete aqueduct by withered trees beaten down by heat.
I finally found a stretch of desert as mean as what I imagined before the trip.
I walked through a wind farm, through twisting roads with flying white trucks throwing dirt on me and everything around. I said "hello"s to the manager of the spinning Giants and to AmeriCorps members making the trail perfect.
"Did you get our ice cream order?" They joked.
And then, 23 miles in (nearly passing my biggest day previously), I came to a tiny stream, an oasis in the oven that was my home. I threw off my shoes and squished into the mud. Then I ate, drank, and was merry beneath wonderful shade-offering trees.
Seven miles to go, I thought. Seven miles until victory.
At 9pm I sank down into a flattish patch of bare ground, 30 miles done, 12 hours hiked, 4,000 feet of elevation climbed all at the end, 4 liters guzzled, 4,000+ calories consumed.
I was too tired to celebrate, but I woke up feeling so proud. My body is my hero, an endurance machine, built to log miles. And I am happily along for the ride.