The Pacific Northwest Trail Is a Tour of One of America's Most Gorgeous Regions
Get to know one of the most spectacular long trails in the U.S. with the creators of THRU | The Pacific Northwest.
Heading out the door? Read this article on the new Outside+ app available now on iOS devices for members! Download the app.
The 1,200-mile Pacific Northwest Trail runs from Montana's Continental Divide to the shores of the Pacific. For Andy Laub and Peter Hochhauser, it was the setting for a once-in-a-lifetime adventure, which they chronicled in their film THRU | The Pacific Northwest. We asked Laub and Hochhauser to share their favorite segments for those not ready to take the plunge—and explain to hikers why they really ought to make time to do the whole thing. 
The Insiders
Andy Laub's life was turned upside down—in the best way—on the Appalachian Trail. His first thru-hike of a National Scenic Trail in 2009 sparked a passion that changed the trajectory of his life and his career, and he followed it with a thru-hike of the Pacific Crest Trail in 2011 and an attempt that took him about halfway through the Arizona Trail in 2017. Peter Hochhauser, a native of Vienna, Austria, experienced his first thru-hike on the PCT in 2016, and fell in love with the sheer wildness of America's long trails. The team joined forces with like-minded photographer Brennen Bartlett  to tackle the PNT in 2018.
Best Segments of the Pacific Northwest Trail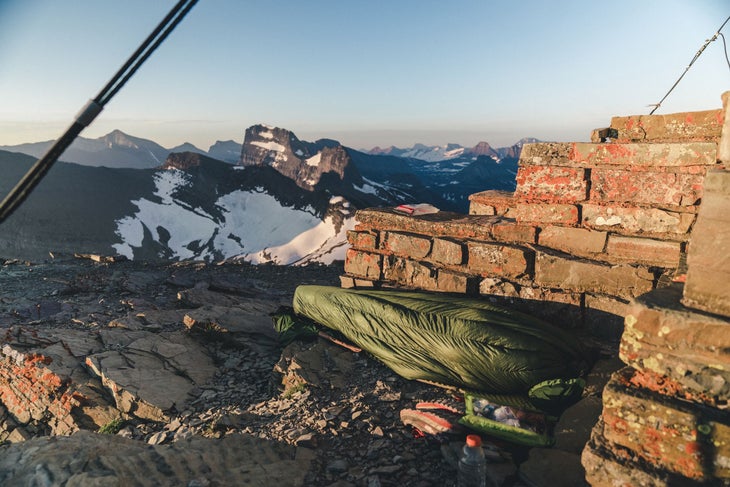 The first 50 miles of the PNT lie within the boundaries of Glacier National Park, in a landscape so remote that hikers are as likely to spy grizzlies, moose, or mountain goats as they are other humans. Here in the high Rockies, where winter's snows don't recede until July, the eastern stretch of the PNT traces the Belly River Valley on its way over the Continental Divide. The challenge of ascending 2,000-foot climbs pays off with views of the peaks mirrored in the crystal-clear waters of Glenns, Waterton and Bowman Lakes. "Glacier National Park can be crowded," says Peter. "But all you have to do is walk one mile and you'll have the trail to yourself." 
Bragging Rights: Selkirk Mountains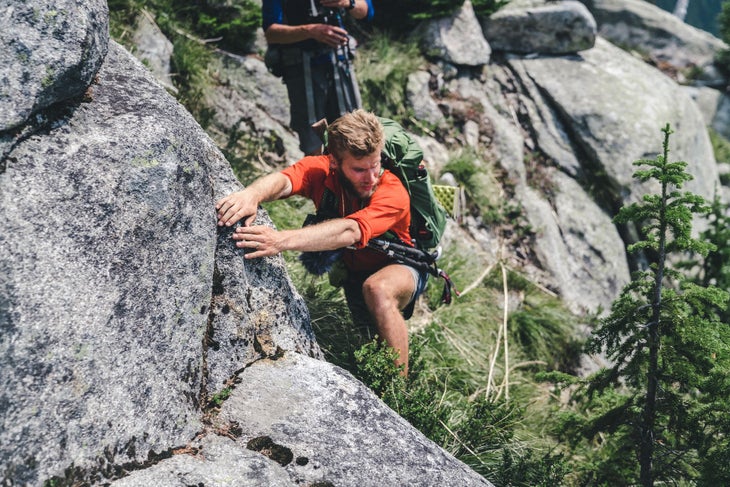 Set on state land and accessed via Bonners Ferry, Idaho, this section of the PNT wends its way through some of the trail's toughest terrain. Both Andy and Peter describe this as the "Choose Your Own Adventure" leg of the PNT: The trail often splits in two, leaving hikers to choose between the high route, where boulder scrambles and unexpected drop-offs are the rule, and the low route, with bushwhacking and limited views. The payoff? Glassy alpine lakes, abundant trout fishing and killer bragging rights. 
"You cannot research every mile of the PNT in detail," says Peter. "This trail is too new. [Its official designation came in 2009.] But I don't want to know precisely what lies around every corner. I want the trail to reveal itself to me. I want to be surprised." 
Some 95 miles of the PNT traverse the Pasayten Wilderness, an area that includes nearly 150 mountain peaks, 160 lakes and steep canyons carved by briskly flowing rivers and streams. This segment, accessed via Winthrop, Washington, offers hikers a challenging wilderness experience under any circumstances, but recent wildfires add to some confusion. 
"Everything still looks burned, and we may have climbed over 1,000 downed trees," says Peter. "But the landscape was absolutely beautiful." And in a region where hikers may travel 2-3 days before encountering a trailhead, they can fully immerse themselves in the wilderness experience. 
Family Wilderness Experience: Baker Lake Trail
This 14-mile point-to-point trail near Concrete, Washington lies sandwiched between Mt. Baker—at 10,778 feet, the fourth-tallest peak in Washington State—and North Cascades National Park. In spite of its remote location, the Baker Lake Trail is relatively flat, and serves as a welcome respite for thru-hikers. 
"You hike through this gorgeous old-growth forest, along an aquamarine blue lake," recalls Andy. "And it's kid-friendly. I can't wait to take my 5-year-old son Walker backpacking there."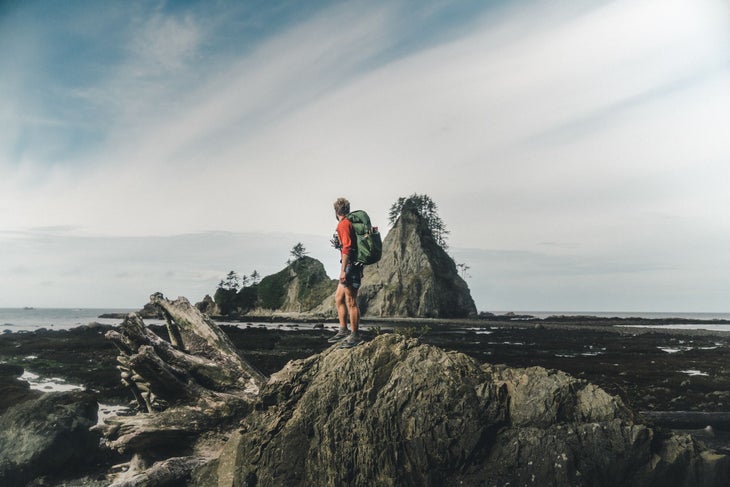 The PNT ends on the Olympic Peninsula, in one of the nation's most diverse ecosystems. Its nearly one million acres of protected land include the high alpine forest of Hurricane Ridge, the moss-covered temperate rainforest of the Bogachiel and Hoh Rivers, and the damp coastal forest on the Pacific Ocean, where the trail ends. 
"Olympic National Park is so accessible," says Peter. "There are a lot of trailheads, so you can backpack for two weeks or visit for a day, and still, you'll find a lot of scenery, a lot of wildlife." 
But really…why not a thru-hike?
Not every hiker has the freedom to spend 10 weeks on a thru-hike. But for those who do? It's an experience unlike any other, one that both Andy and Peter recommend. Both men relished interacting with small-town America, meeting locals who drove them into town when they needed to resupply, invited them home for dinner, and allowed them to pitch their tents in backyards. They were interactions the hikers weren't certain they would have experienced in any other setting. 
"The camaraderie on a long trail is really special," says Andy. "Connecting with locals and with your trail mates. The people that you thru-hike with truly become your family. It's incredibly rewarding." 
As for their next long hike, Andy is working on another project titled THRU | The Other Side, a film documenting the journey of four strangers who join in the 100-mile circumnavigation of Washington's most remote volcano at the edge of winter. Peter isn't sure where his next long trail will be, "but I'm itching to go." 
Trip Planner
Season A thru-hike of the PNT is best planned between early July and late September to avoid snow in high elevations.   
Permit The PNT passes through seven national forests and three national parks, each with their own backcountry permit and fee requirements. Visit the Pacific National Trail site for more details. 
Know Before You Go: The Yaak Valley
A 69-mile section of the Pacific Northwest Trail passes through the Yaak Valley in Montana, home to a threatened grizzly population numbering just a couple dozen, and some local activists and biologists have expressed fears that increased hiker numbers could negatively impact the bears. The Yaak Valley Forest Council, a local conservation group, is pushing for a reroute of the trail that would detour south, around the most critical habitat. The Pacific Northwest Trail Association, on the other hand, disputes their conclusions, arguing that the southern route is less scenic and not meaningfully more low-impact, that it creates new access issues, and that low hiker numbers are unlikely to change grizzlies' behavior. Whichever way you decide to hike, carry bear spray, make noise, and store your food responsibly—the PNTA's bear page offers a wealth of helpful info for anyone backpacking in the region.