Pacific Northwest Trail: Cold Springs Campground to Ross Lake
Find plenty of raw adventure on the Pacific Northwest Trail while hiking a 120-mile roadless stretch from Cold Springs Camp to Ross Lake in Washington's remote Pasayten Wilderness--the Lower 48's longest such track outside of the John Muir Trail.
Heading out the door? Read this article on the new Outside+ app available now on iOS devices for members! Download the app.
First conceived in 1970 by Ron Strickland (a colorful Massachusetts conservationist whom BACKPACKER once branded a "pulpit-pounding evangelist"), the PNT dream rode the crest of the 70s-era backpacking
boom. Then, in June 1980, it crashed when a Congressional study decreed "it is overwhelmingly evident…the trail…is neither feasible nor desirable." But Strickland rallied supporters—swinging axes and pulaskis—to work
toward making the PNT an on-the-ground reality. And in the past seven years the PNT benefited from a happy confluence of changes: support from each Washington congressman and senator, renewed public interest, and a new leader of the Pacific Northwest Trail Association, the passionate yet diplomatic Jon Knechtel. Thirty years after Congress's snub, the 2009 Public Lands Omnibus Management Act designated the PNT a National Scenic Trail. It had entered the pantheon.
This instant 1,200-mile classic starts in Glacier National Park at Upper Waterton Lake, then punches west through the Rockies, Selkirks, North Cascades, and Olympic Mountains to Olympic National Park at Cape Alava, the westernmost point of the Lower 48. This trip report hits the PNT's finest miles, a 120-mile roadless stretch–the Lower 48's longest such track outside of the John Muir Trail–crossing crossing Washington's remote Pasayten Wilderness, from Cold Springs Camp to Ross Lake.
PLAN IT
GUIDEBOOK AND MAPS The Pacific Northwest Trail Guide, by Ron Strickland ($20, out-of-print, used at amazon.com); Green Trails Maps Nos. 16, 17, 18, 19, 20, and 21 ($7 each, greentrailsmaps.com)
PERMITS Required. Pasayten Wilderness: Self-register at trailhead. Ross Lake National Recreation Area: ick up at ranger's office in Winthrop prior to trip. Both are free. Trailhead parking at Cold Springs Camp requires a Washington Discover Pass ($30, discoverpass.wa.gov).
INDULGE On the road to Cold Springs Camp: Stop at the Duck Brand Cantina in Winthrop (509-996-2192; methownet.com/duck) for BBQ duck quesadillas and microbrews. Leaving Ross Lake: Grab any pizza at locals' favorite Annie's Pizza Station (360-853-7227) in Concrete. Our trail scout and area map contributors rave about the Chicken Caesar Pizza.
GEAR UP Get dehydrated food and last-minute supplies at Winthrop Mountain Sports, 257 Riverside Ave., Winthrop, WA; (509) 996-2886, winthropmountainsports.com.
CONTACTS Pasayten Wilderness, Winthrop Ranger District, (509) 996-4003; Ross Lake National Recreation Area, (360) 854-7200, nps.gov/noca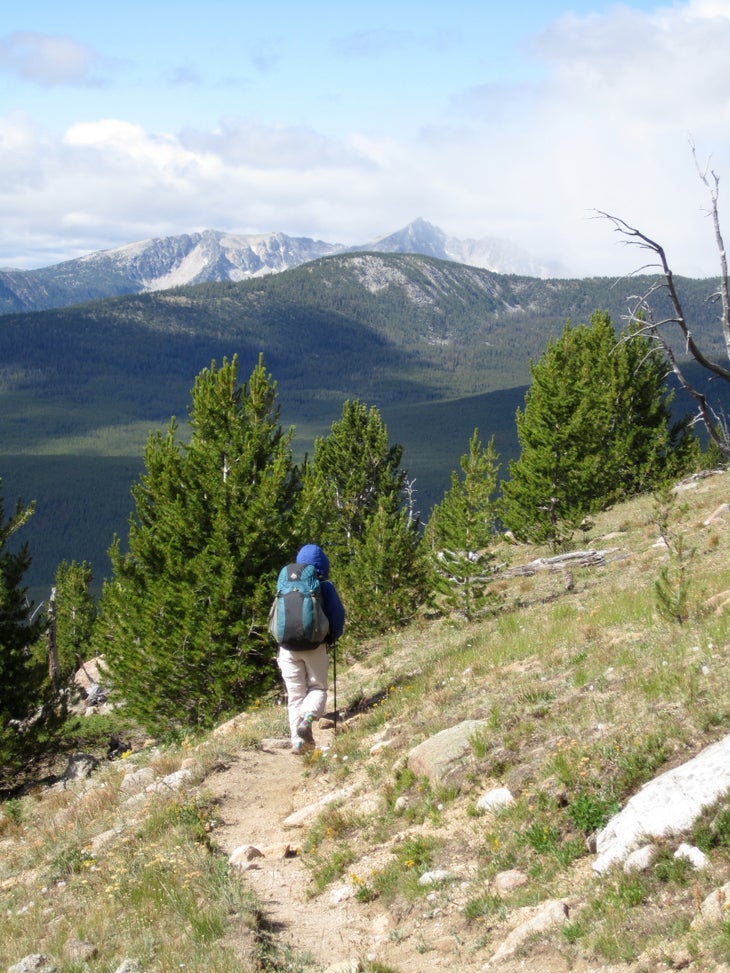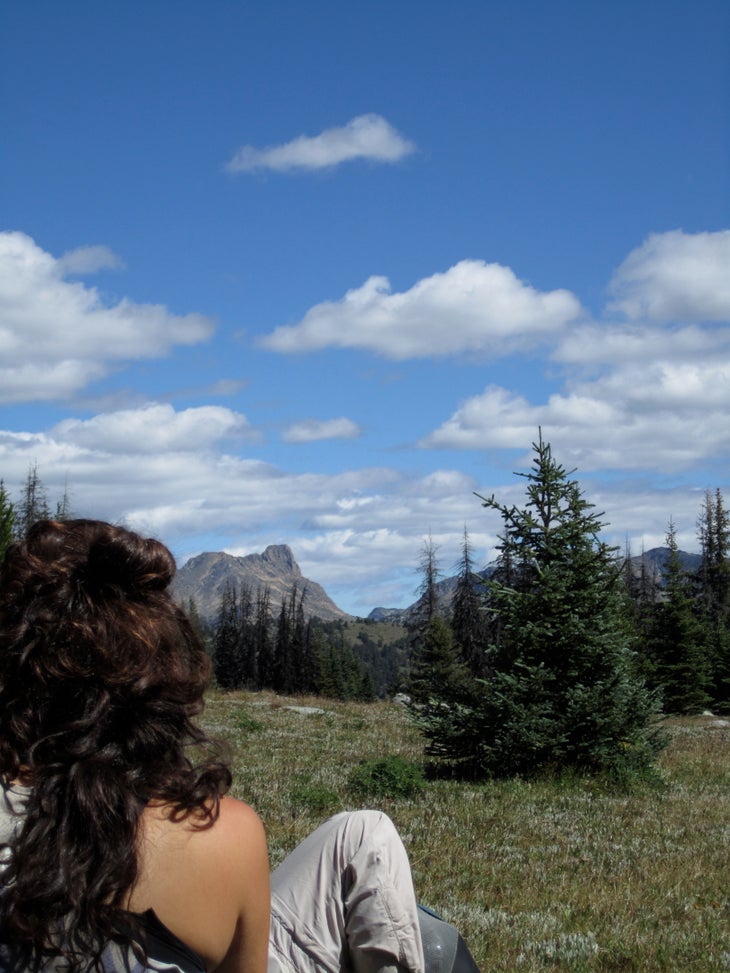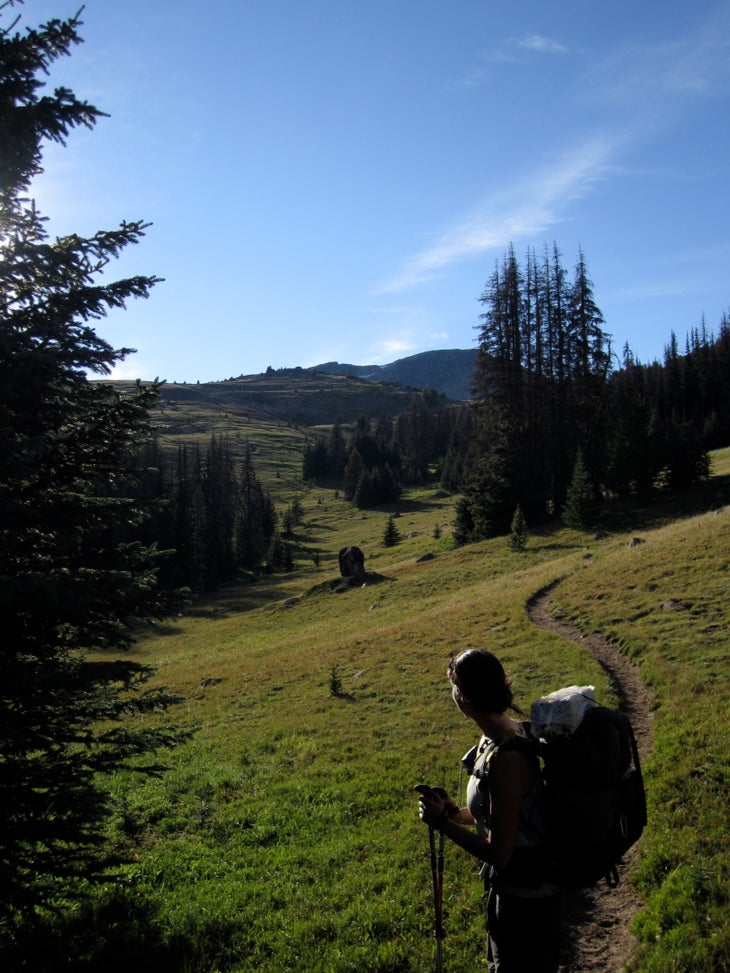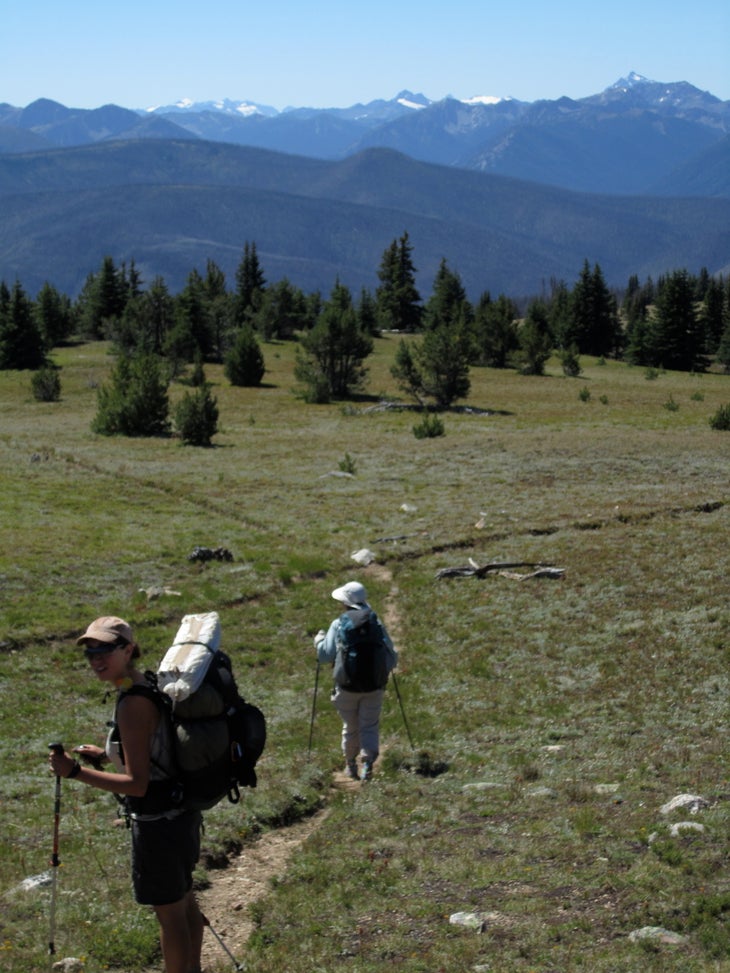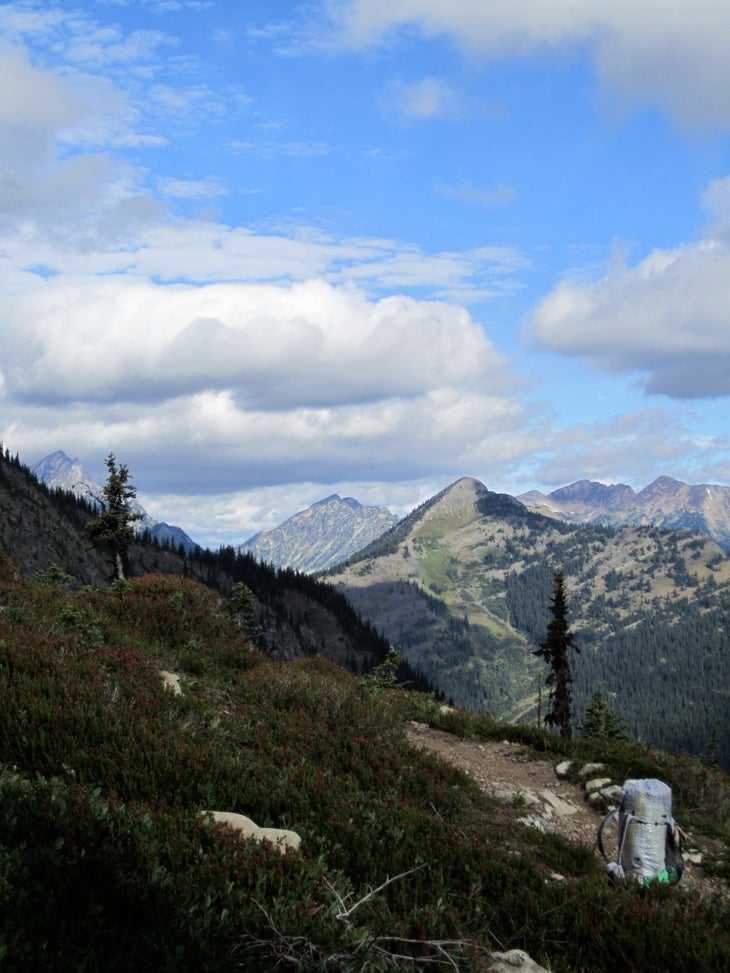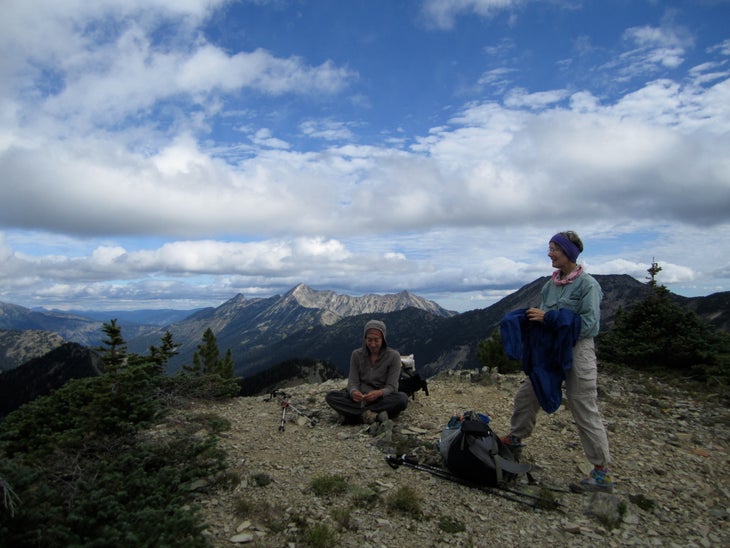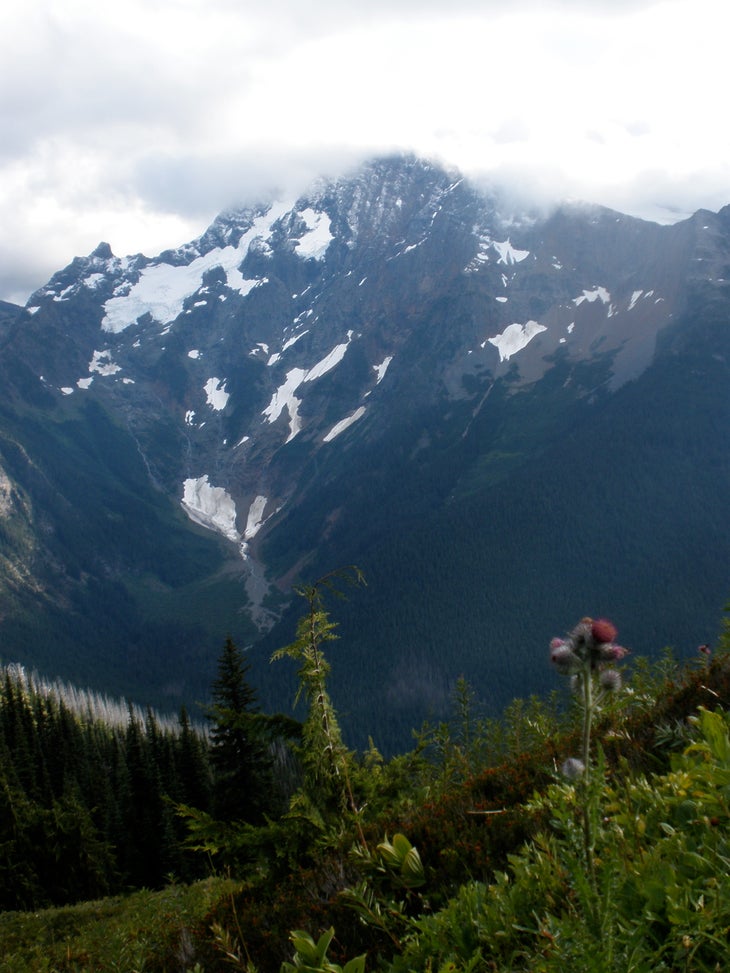 Trail Facts
Waypoints
PNT001
Location: 48.938936, -119.790344
Trailhead: Cold Springs Campground. To begin hike, walk up road 300 yards, to Loomis Natural Resource Conservation Area sign. Campground: A Washington DNR facility (Department of Natural Resources). Due to budget constraints, the DNR has been closing facilities, but as of Aug. 2010, the campground was open and no permit required. Driving: From Seattle 5 to 6 hours. Seattle , I-5 north to Hwy 20 West, to Hwy 20/97 to Tonasket, WA (last good supply town), via Highway 7 to Loomis, left on Toats Coulee Road, then a hard right onto Road 4075. There is a primitive "Chopaka Grade" sign just after the turn. This is a steep dirt road, but quite do-able even in a four-door sedan. Rumor has it that it is a 1930's convict-constructed road. There are a number of "Y" junctions on the way to Cold Springs Campground. None are signed. Go with the more traveled, uphill route.
PNT002
Location: 48.94019, -119.793909
Road junction; sign for Loomis Natural Resource Conservation Area. Look at PNT symbol on the Loomis sign. It is the only one you will see the whole 120 miles. Loomis NRCA is 24,672 acres, the largest in the state. No camping permit required.). Ahead on the road to the left is the Cold Springs day use area. Just past the sign and dropping downward is a five-foot wide new freeway of a trail that is slated to be the new official PNT track (Chopaka Mountain Trail). Our route, the old PNT, is higher and more scenic, continues upward on dirt road to a restricted access locked gate.
PNT003
Location: 48.94136, -119.793363
Closed gate. Road closed to vehicles. Continue up dirt road.
PNT004
Location: 48.946432, -119.794689
First big open view. To the west, Horseshoe Mountain, Horseshoe Pass and Horseshoe Basin, Pick and Arnold Peaks. Trail heads to Horseshoe Pass ten miles from Cold Springs Campground.
PNT005
Location: 48.950855, -119.798375
Enter Chopaka Mountain Natural Area Preserve. Four-foot tall orange border stakes mark border. Trail dances along CMNA border a while
PNT006
Location: 48.963886, -119.806469
Barb wire gate to left on off-trail road just before PNT dirt road/trail ascends pass between Joe Mills Mountain and the Disappointments.
PNT007
Location: 48.964749, -119.810976
Unnamed pass, begin steep, viewless descending trail. From here you have over 110 roadless miles. Not even a Jeep track mars the view, except on Bunker Hill for a short while looking over the Canadian border.
PNT008
Location: 48.971329, -119.826539
Cross Olallie Creek.
PNT009
Location: 48.966335, -119.837758
Re-cross Olallie Creek on new bridge. Just ahead on left old log cabin ruins. PNT track up Goodenough Trail is supposed to begin .1 miles on left. However, new 2010 trail here obliterates entrance to Goodenough Trail. In 2011 trail work should clean this up. We backtracked after going .4 south to take Snowshoe Creek Trail 340.
PNT010
Location: 48.960551, -119.839317
"It's easy to be seduced by good trail." After heading .4 miles south too far, we backtrack, never finding Goodenough Trail, returned over the bridge and went up Snowshoe Creek Trail 340. Trail 340 eventually disappears amid blowdowns and cow paths. Cross-country traverse in direction of west junction of Trail 340 and Goodenough Trail just before entering Pasayten Wilderness.
PNT011
Location: 48.9858, -119.859003
First elk dropping.
PNT012
Location: 48.988225, -119.863317
First bear scat. Lots and lots of blowdowns, no trail, many disappearing cow paths, orange markers on trees for snowmobilers in winter.
PNT013
Location: 48.988489, -119.874606
Great view west in burn area along ridge. Sketchy, disappearing trail.
PNT014
Location: 48.982801, -119.880911
After following fence, old gate between two spruces and new zigzag wooden gate.
PNT015
Location: 48.982132, -119.881783
Pasayten Wilderness sign 100 yards after gate. Good trail.
PNT016
Location: 48.979502, -119.935074
Horseshoe Pass. Good campsite with small stream at nearby signed trail junction.
PNT017
Location: 48.986166, -119.949839
Lauden Lake. Close by is a beautiful un-named pass.
PNT018
Location: 48.96685, -120.032092
1.6 miles past Teapot Dome. There is a use trail to a Teapot Dome campsite, but it is hard to spot.
PNT019
Location: 48.969934, -120.032358
Trailside campsite.
PNT020
Location: 48.965917, -120.048608
Great view of Teapot Dome.
PNT021
Location: 48.963811, -120.062173
First snow flurry. "This is supposed to be August."
PNT022
Location: 48.981405, -120.086724
Sheelite Pass.
PNT023
Location: 48.97752, -120.127618
Old trail gate remnant.
PNT024
Location: 48.977433, -120.130058
Cross stream. Lower trail to Tungsten Mine site continue ahead to mine buildings.
PNT025
Location: 48.977664, -120.132401
Tungsten Mine cabins. Cool.
PNT026
Location: 48.976414, -120.147846
Apex Pass. Snow flurries and hail.
PNT027
Location: 48.97311, -120.149975
First view of Cathedral Peak.
PNT028
Location: 48.972517, -120.154127
View of long cirque trail traverse to Cathedral Pass. First long "destiny view" of trail ahead.
PNT029
Location: 48.985314, -120.1924
Cathedral Pass.
PNT030
Location: 48.981625, -120.204581
Upper Cathedral Lake. Many campsites.
PNT031
Location: 48.977793, -120.2104
Trail junction below upper Cathedral Lake. Go right to stay on PNT.
PNT032
Location: 48.976438, -120.211963
Junction with trail to lower Cathedral Lake. Good sign.
PNT033
Location: 48.971268, -120.213207
"Boggy area," described in PNT guidebook.
PNT034
Location: 48.966683, -120.220999
Trail Junction, the first of two going off toward right (southeast) toward Remmel Lake. Green Tails Maps calls this 1.7-mile stretch between the two Remmel Lake trails, Trail 565, but PNT guidebook says it is Boundary Trail 533.
PNT035
Location: 48.963524, -120.223782
Bridge and good water/stream crossing.
PNT036
Location: 48.960819, -120.22913
Junction with trail signed as 494, not on GT or PNT maps, a Remmel Lake cutoff trail.
PNT037
Location: 48.960554, -120.237332
A "T" Junction at Spanish Camp. Turn right onto Trail 510 for a short way.
PNT038
Location: 48.961253, -120.238417
Spanish Camp Patrol Cabin (locked).
PNT039
Location: 48.961499, -120.239212
Bridge, stream crossing, trail splits 50 yards past bridge. Right, up the hill, is the new boundary trail, and left down valley floor and Bald Mountain's flank is old Boundary trail. We took slightly longer, but more distinct, new boundary trail.
PNT040
Location: 48.970001, -120.292957
Great lunch spot with views back to Cathedral Peak and Pass and up along broad, open shoulders of Bald Mountain.
PNT041
Location: 48.961947, -120.301927
Amid PNT guidebook's "interminable switchbacks" down to the Ashnola River. First view of Peeve Pass four miles past Ashnola.
PNT042
Location: 48.961933, -120.310161
First quaking aspen.
PNT043
Location: 48.962489, -120.311108
First bear. On trail, ~2–years-old, 140 pounds, forty feet ahead.
PNT044
Location: 48.966555, -120.321978
Campsites.
PNT045
Location: 48.967469, -120.321939
Old log gate. Not closed.
PNT046
Location: 48.968096, -120.323681
Large campsite at Ashnola River. Old log lean-to bunkhouse.
PNT047
Location: 48.96835, -120.324524
Bridge across the Ashnola River. Single log, flat top and chest-high cable guide
PNT048
Location: 48.974183, -120.337574
Bridge over unnamed stream.
PNT049
Location: 48.978903, -120.342879
Pass an old broken fence/gate; campsite just ahead.
PNT050
Location: 48.966444, -120.357822
Trail junction at 6,700 feet: take the trail on the right; the left side is blocked with rocks. A series of sharpened stakes begin to mark trail.
PNT051
Location: 48.966948, -120.368076
Barker Brown cabin ruins visible 200 yards below trail. Looking back you can see the last 20 trail miles' progress, Cathedral Peak and Pass and Bald Mountain.
PNT052
Location: 48.963559, -120.374753
Stream crossing; campsite, (False) Peeve Pass, broad, open, Sounds of Music high meadow country. Junction with old trail (.8 mile long trail coming back in from south).
PNT053
Location: 48.961559, -120.383303
Junction at Peeve Pass. You descend, just like on the CDT, rather than climb to the pass.
PNT054
Location: 48.963884, -120.389853
Junction with trail to Park Pass and Sheep Mountain (506). There's water a hundred feet down Park Pass trail. This begins a possible seven-mile stretch to the next water.
PNT055
Location: 48.962596, -120.391118
Cross stream in calendar photo-like meadow. There's a large campsite on the right.
PNT056
Location: 48.957828, -120.395903
Full running stream and hillside covered with carpets of purple lupine and yellow arnica.
PNT057
Location: 48.955563, -120.400406
Bear right at the unsigned "Y" junction at this notch.
PNT058
Location: 48.956351, -120.40303
Turn left at this unmarked trail junction.
PNT059
Location: 48.955984, -120.404319
Continue straight (southwest) at this junction with Quartz Lake Trail.
PNT060
Location: 48.949362, -120.4179
Great view, including Bunker Hill ahead.
PNT061
Location: 48.958398, -120.432147
Trail obscured; start of pole- and cairn-marked stretch.
PNT062
Location: 48.959463, -120.432284
Great Cascades view. No disagreement with Guidebooks pronouncement that this one of PNT's "ten best." Traversing along west side of Quartz Mountain.
PNT063
Location: 48.976278, -120.460326
There's a stream crossing near this saddle.
PNT064
Location: 48.973107, -120.472842
Ahead, you'll hike through the 2006 Tatoosh fire burn area.
PNT065
Location: 48.974192, -120.483761
Crest the false summit of Bunker Hill.
PNT066
Location: 48.973384, -120.485483
Crest the official summit of Bunker Hill. There is the foundation of an old lookout tower. Great lunch spot.
PNT067
Location: 48.972232, -120.48755
Second trail junction. Go right (due west) following rock cairns, soon there is trail, don't take trail straight ahead. There is a sign on the tree 30 feet from the junction ahead.
PNT068
Location: 48.975177, -120.493866
First water from top of Bunker Hill.
PNT069
Location: 48.977344, -120.494659
Start of Tatoosh Fire burn area.
PNT070
Location: 48.987615, -120.54765
Next water. This last stretch must have once been a verdant green tunnel. Only bare, charred tree trunks remain. Trail here is sketchy.
PNT071
Location: 48.987175, -120.548546
Stream crossing. Trail is obliterated on the other side for first 50 feet then you can see it angling up the slope. First huckleberry bushes.
PNT072
Location: 48.982907, -120.560251
First view of Pasayten River.
PNT073
Location: 48.972406, -120.560573
East Fork River. Left is Hidden Lakes Trail. Stay right along East Fork.
PNT074
Location: 48.97363, -120.568248
Two hundred yards above the Pasayten River, blowdowns like matchsticks across the trail.
PNT075
Location: 48.9732, -120.570497
Cross Pasayten River. Bridge burned in 2006 Tatoosh fire. Bridge cement foundations remain. Forded just above bridge crossing, knee deep in late August.
PNT076
Location: 48.974745, -120.572923
No trail on other side of Pasayten River. Dense brush. Bushwhacked 300 yards after crossing river toward first raised bench. Picked up the trail tread on top of bench.
PNT077
Location: 48.974127, -120.573475
Campsite
PNT078
Location: 48.97566, -120.569407
Junction Trails 533 and 461. Waypoints 78 to 96 are of a 5.3 mile (round-trip) side trip to Monument 85 at the Canadian border. Trail faint under burned forest. Twenty percent totally covered, but waypoints mark locations of tattered, pink surveyor's tape tied to branches. On the last quarter mile before the Monument and the Canadian border, the trail disappeared completely.
PNT079
Location: 48.985002, -120.56615
Trail disappears; tattered pink surveyor's tape tied to branch marks the way.
PNT080
Location: 48.987351, -120.564991
Trail disappears; tattered pink surveyor's tape tied to branch marks the way.
PNT081
Location: 48.987807, -120.564742
Trail disappears; tattered pink surveyor's tape tied to branch marks the way.
PNT082
Location: 48.988212, -120.564662
Trail disappears; tattered pink surveyor's tape tied to branch marks the way.
PNT083
Location: 48.988568, -120.564199
Trail disappears; tattered pink surveyor's tape tied to branch marks the way.
PNT084
Location: 48.988665, -120.564044
Trail disappears; tattered pink surveyor's tape tied to branch marks the way.
PNT085
Location: 48.989034, -120.563671
Trail disappears; tattered pink surveyor's tape tied to branch marks the way.
PNT086
Location: 48.989483, -120.563184
Trail disappears; tattered pink surveyor's tape tied to branch marks the way.
PNT087
Location: 48.989702, -120.562911
Trail disappears; tattered pink surveyor's tape tied to branch marks the way.
PNT088
Location: 48.989793, -120.562682
Trail disappears; tattered pink surveyor's tape tied to branch marks the way.
PNT089
Location: 48.990337, -120.562271
Trail disappears; tattered pink surveyor's tape tied to branch marks the way.
PNT090
Location: 48.990609, -120.562266
Trail disappears; tattered pink surveyor's tape tied to branch marks the way.
PNT091
Location: 48.990617, -120.562265
Trail disappears; tattered pink surveyor's tape tied to branch marks the way.
PNT092
Location: 48.990624, -120.562267
Trail disappears; tattered pink surveyor's tape tied to branch marks the way.
PNT093
Location: 48.990882, -120.562107
Trail disappears; tattered pink surveyor's tape tied to branch marks the way.
PNT094
Location: 48.992257, -120.561137
Trail disappears; tattered pink surveyor's tape tied to branch marks the way.
PNT095
Location: 48.992587, -120.560901
Trail disappears; tattered pink surveyor's tape tied to branch marks the way.
PNT096
Location: 48.996618, -120.557382
Trail disappears; tattered pink surveyor's tape tied to branch marks the way. From here north to Monument 85 no trail.
PNT097
Location: 49.000514, -120.559078
Monument 85. Once the site of the Parson Smith Tree. The stump of the tree with Smith's engraved poem is now at Winthrop Forest Service office.
PNT098
Location: 48.969558, -120.588241
Junction with trail to Monument 83.
PNT099
Location: 48.96581, -120.593825
Cross Harrison Creek.
PNT100
Location: 48.957955, -120.606598
Stream crossing.
PNT101
Location: 48.94999, -120.617754
Cross Holdover Creek
PNT102
Location: 48.945496, -120.625041
Burn Creek crossing.
PNT103
Location: 48.942391, -120.626205
Thomson Creek crossing.
PNT104
Location: 48.922992, -120.627631
Soda Creek crossing.
PNT105
Location: 48.922117, -120.629954
Trail junction. North end of the old Pasayten airport. Last used in the 1960s. It is recognizable today because of the extensive flat land and uniform age trees. This junction is easy to miss and may require backtracking.
PNT106
Location: 48.924795, -120.639825
First huckleberry bushed with ripe huckleberries.
PNT107
Location: 48.953315, -120.676495
River crossing.
PNT108
Location: 48.953233, -120.676993
Junction with Trail 462; not well-defined.
PNT109
Location: 48.953954, -120.677533
Junction with Trail 482.
PNT110
Location: 48.957921, -120.691053
Cross Frosty Creek.
PNT109
Location: 48.962233, -120.722873
Cross small stream.
PNT112
Location: 48.961545, -120.725142
Cross small stream.
PNT113
Location: 48.96299, -120.740419
Frosty Creek, with unseen Frosty Lake nearby. Junction with Trail 495 not seen.
PNT114
Location: 48.956598, -120.767615
Frosty Pass. View back to top of Cathedral Peak (just shy of due west) and Remmel Peak about 30 compass degrees south of Cathedral.
PNT115
Location: 48.957195, -120.779303
Junction with Trail 2000, the Pacific Crest Trail.
PNT116
Location: 48.956972, -120.780774
Castle Pass and campsite, .1 mile north (off PNT) on PCT
PNT117
Location: 48.945891, -120.770216
Stream crossing
PNT118
Location: 48.942898, -120.767099
Stream crossing
PNT119
Location: 48.928634, -120.762247
Hopkins Pass
PNT120
Location: 48.919982, -120.772585
Top of Devil's Staircase
PNT121
Location: 48.885133, -120.767259
Woody Pass: More windy than woody; you may spot snow patches below.
PNT122
Location: 48.882541, -120.762545
Rough, but serviceable, dry campsite.
PNT123
Location: 48.869784, -120.753786
Rock Pass
PNT124
Location: 48.858025, -120.744114
Good campsites. Small flowing spring, better in early summer.
PNT125
Location: 48.852622, -120.747956
Stream crossing
PNT126
Location: 48.840403, -120.737327
Holman Pass trail junction: leave PNT/PCT here and turn right onto PNT.
PNT127
Location: 48.838765, -120.751589
Stream and campsites. Many small use trails. Confusing junction. Can be hard to find trail out to west.
PNT128
Location: 48.839603, -120.763164
Stream crossing and campsite
PNT129
Location: 48.832948, -120.767058
Three small stream crossings
PNT130
Location: 48.823404, -120.771761
Sky Pilot Pass
PNT131
Location: 48.822802, -120.783015
Stream crossing with series of wood marsh bridges.
PNT132
Location: 48.823133, -120.787578
Stream crossing
PNT133
Location: 48.823657, -120.792365
Low point between Sky Pilot Pass and Devil's Pass. Start climb.
PNT134
Location: 48.826123, -120.835137
Stream crossing
PNT135
Location: 48.824634, -120.836332
Stream crossing. Great view.
PNT136
Location: 48.813308, -120.853698
Trail junction, unmarked, near Devil's Pass.
PNT137
Location: 48.814151, -120.895974
Unmarked high pass. View east is fantastic. Stunning view west of Jack Mountain and its glaciers.
PNT138
Location: 48.818219, -120.905408
First view of Ross Lake far below. Jack Mountain rocks!
PNT139
Location: 48.824383, -120.917891
Stream crossing just past Devil's Dome. Get that camera out on top of Devil's Dome. Start of 5,200-foot descent to Ross Lake.
PNT140
Location: 48.828831, -120.941675
Trail junction. Go straight, the trail to left goes to Bear Skull cabin, .9 miles distant.
PNT141
Location: 48.828759, -120.948682
Dry Creek Pass. Trail junction, turn left. Campsite. Portions along this 5,100-foot descent are overgrown and could use a serious brushing.
PNT142
Location: 48.826139, -120.97352
Small stream crossing
PNT143
Location: 48.829183, -120.984475
Stream crossing
PNT144
Location: 48.829895, -121.007844
Leave Pasayten Wilderness and enter Ross Lake National Recreation Area (permit for overnight camping required).
PNT145
Location: 48.837052, -121.018545
Trail Junction. Campsites close, 200 yards toward lake and go right at sign.
PNT146
Location: 48.823086, -121.033579
Suspension bridge
PNT147
Location: 48.814026, -121.037243
Dripping rock wall spring
PNT148
Location: 48.800247, -121.042221
Trail junction. Rainbow Point with campsites below.
PNT149
Location: 48.787752, -121.029119
Stream crossing. Single log with handrail. Campsites below.
PNT150
Location: 48.782581, -121.028696
Stream crossing
PNT151
Location: 48.776774, -121.026895
Stream crossing
PNT152
Location: 48.773108, -121.025568
Alder Creek sign
PNT153
Location: 48.739692, -121.010311
Cross Alder Creek.
PNT154
Location: 48.727213, -121.011796
Trail junction. Highway 20 is less than 3 miles away.
PNT155
Location: 48.723562, -121.005168
Stream crossing
PNT156
Location: 48.717955, -120.993099
Stream crossing
PNT157
Location: 48.715033, -120.988592
Stream crossing
PNT159
Location: 48.708581, -120.97565
Turn right at this trail junction, and cross the bridge over Ruby Creek.
PNT160
Location: 48.708094, -120.978157
The route ends at the East Bank trailhead.
Cold Springs Campground
Location: 48.938626, -119.790115
Start of this section of the PNT.
Baurerman Ridge
Location: 48.966583, -120.068035
View as trail traverses south flank of Baurerman ridge — One of the Guidebook's "Ten Best" spots on the entire 1200-mile Pacific Northwest Trail.
Cathedral Peak
Location: 48.96816, -120.284843
Looking back to Cathedral Peak.
Peeve Pass
Location: 48.968611, -120.350761
On the approach to Peeve Pass
Bunker Hill
Location: 48.973231, -120.480709
Another Ten Best view from top of Bunker Hill. Be careful not to take the Dean River Trail descending west off of Bunker Hill.
Frosty Pass
Location: 48.966019, -120.752449
Wide open bowl just east of Frosty Pass
Devils Staircase
Location: 48.925093, -120.772018
Climbing Devil's Staircase
Top Staircase
Location: 48.920582, -120.770817
Top of Devil's Staircase
Devils Dome
Location: 48.826757, -120.925055
Looking across at Jack Mountain from just west of Devil's Dome