Pacific Crest Trail: WA Section 1
CASCADE LOCKS to STABLER: Climb out of the Columbia River Gorge onto view-filled ridges on this 28.6-mile leg stocked with creeks and campsites.
Heading out the door? Read this article on the new Outside+ app available now on iOS devices for members! Download the app.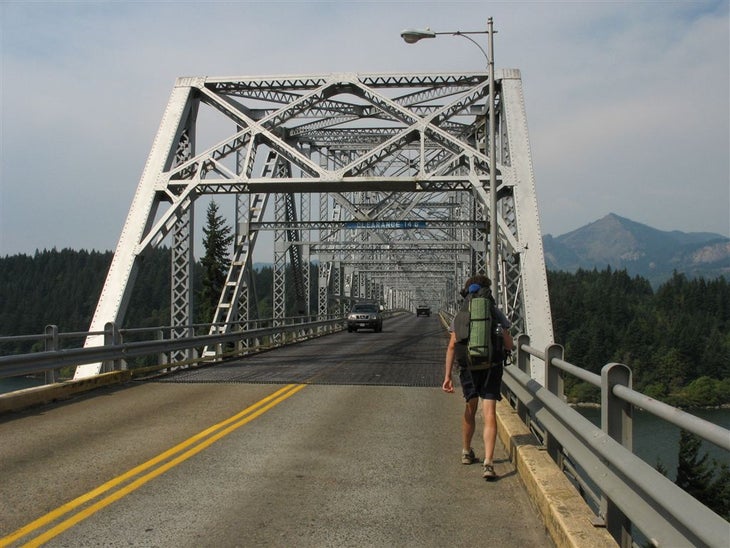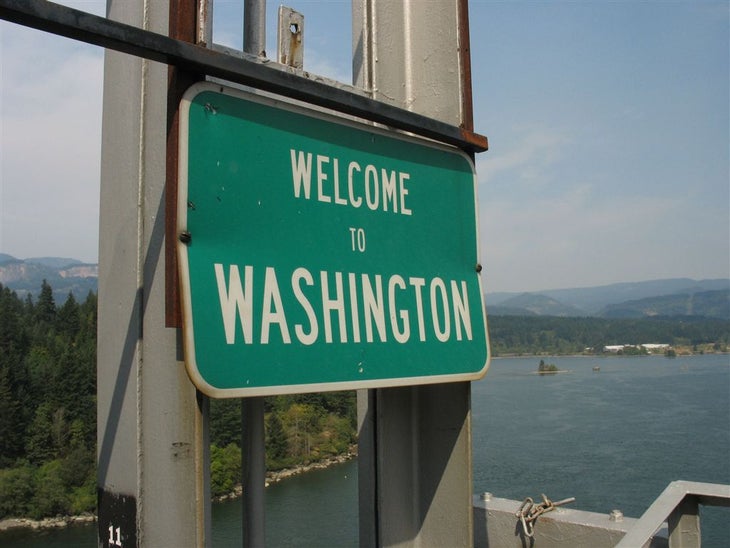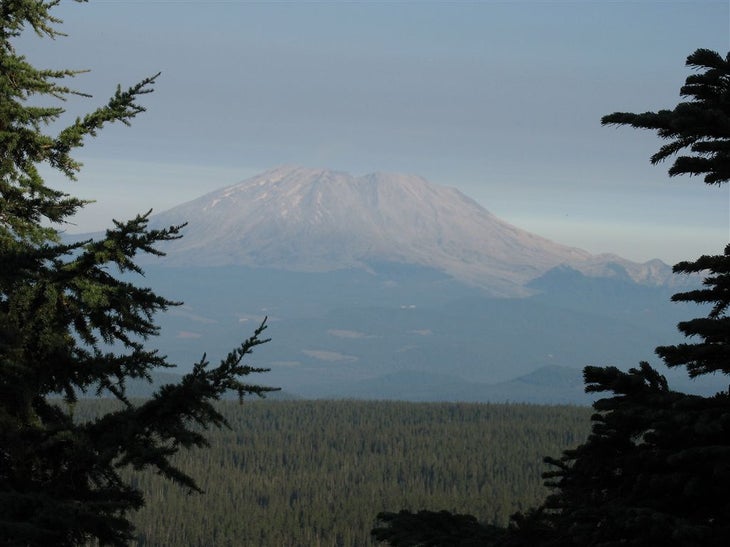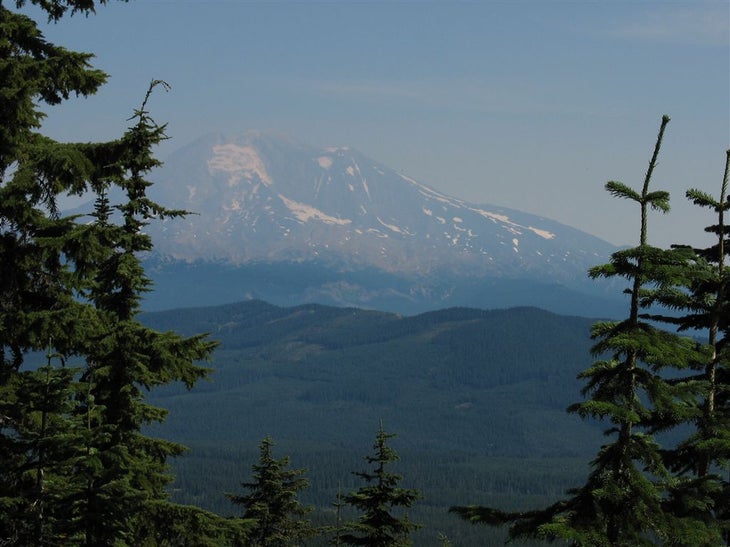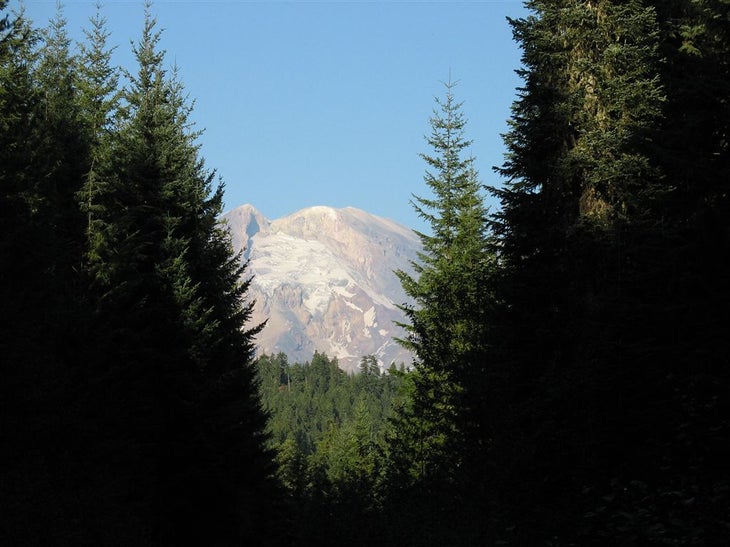 Trail Facts
Waypoints
PCT1352
Location: 45.6618347167969, -121.897331237793
Bridge of the Gods toll booth
PCT1353
Location: 45.662181854248, -121.900650024414
Cross the Columbia River on Bridge of the Gods; turn L @ end of bridge.
PCT1354
Location: 45.6608009338379, -121.906379699707
Trail tread starts on R side of road
PCT1355
Location: 45.6532821655273, -121.926231384277
Stay R
PCT1356
Location: 45.6675338745117, -121.941581726074
Cross dirt road
PCT1357
Location: 45.6681518554688, -121.94263458252
Camp by spur that leads down to a greenish lake with power lines overhead
PCT1358
Location: 45.668399810791, -121.946434020996
Creek crossing
PCT1359
Location: 45.6677665710449, -121.948951721191
Cross dirt road
PCT1360
Location: 45.6679649353027, -121.957717895508
Cross Greenleaf Creek
PCT1361
Location: 45.6650161743164, -121.969017028809
Cross dirt track
PCT1362
Location: 45.6660995483398, -121.971130371094
Cross creek; camp nearby
PCT1363
Location: 45.6725845336914, -121.979103088379
Cross dirt track
PCT1364
Location: 45.6749992370606, -121.979446411133
Recross dirt track
PCT1365
Location: 45.6778678894043, -121.97826385498
Cross a seasonal creeklet
PCT1366
Location: 45.6814498901367, -121.984085083008
PCT stays L. Optional: Spur to Table Mtn.; a worthy goal, with great views of the Columbia Gorge
PCT1367
Location: 45.6994018554688, -121.99536895752
Cross under power line
PCT1368
Location: 45.7014350891113, -121.999084472656
Cross dirt road
PCT1369
Location: 45.7095832824707, -121.998901367188
Pass ridge camp
PCT1370
Location: 45.7256507873535, -122.010414123535
Head NW on rough dirt road
PCT1371
Location: 45.7335662841797, -122.023246765137
Continue NW @ dirt road intersection
PCT1372
Location: 45.7361335754394, -122.043029785156
Stay straight @ jct. with Three Corner Rock Trail
PCT1373
Location: 45.7488670349121, -122.043479919434
Cross dirt road
PCT1374
Location: 45.7620849609375, -122.040382385254
Cross road; head NE
PCT1375
Location: 45.7670669555664, -122.038513183594
Cross Rock Creek Bridge; there's a good camp nearby
PCT1376
Location: 45.7660179138184, -122.033500671387
Cross Snag Creek
PCT1377
Location: 45.7654495239258, -122.028663635254
Cross dirt road
PCT1378
Location: 45.7821846008301, -122.022033691406
Cross creeklet
PCT1379
Location: 45.7928848266602, -122.000396728516
Stay straight on Sedum Ridge Trail
PCT1380
Location: 45.7951507568359, -121.990936279297
Cross dirt road
PCT1381
Location: 45.8117828369141, -121.970703125
Viewpoint: Spur to the L leads to a nearby viewpoint of Bunker Hill and the Wind River area
PCT1382
Location: 45.8102340698242, -121.969764709473
Cross creeklet
PCT1383
Location: 45.8135833740234, -121.962532043457
Cross creek
PCT1384
Location: 45.8116836547852, -121.957130432129
Cross Trout Creek
PCT1385
Location: 45.8117332458496, -121.956649780273
Cross paved road
PCT1386
Location: 45.8075828552246, -121.942451477051
Cross dirt road
PCT1387
Location: 45.8109512329102, -121.934181213379
Stay on lower trail @ jct. with Bunker Hill Trail
PCT1388
Location: 45.8199005126953, -121.921951293945
Cross paved road
PCT1389
Location: 45.8206672668457, -121.916603088379
Cross bridge over Wind River
PCT1390
Location: 45.8207511901856, -121.913330078125
Cross paved road; head R if you want to visit Stabler's County Store;
More PCT: Next Section | Previous Section
Bridge of the Gods
Location: 45.6617317199707, -121.897277832031
No walkway for hikers on the bridge. ©Jack Haskel
Into Washington
Location: 45.6623878479004, -121.900802612305
Begin Washington section of the PCT. ©Jack Haskel
Mt. St. Helens
Location: 45.7365303039551, -122.046173095703
©Jack Haskel
Hood
Location: 45.733814239502, -122.038475036621
©Jack Haskel
Through the trees
Location: 45.7455863952637, -122.044357299805
©Jack Haskel