The Finish Line of the Pacific Crest Trail
After 148 days on the trail, our correspondent finishes the walk of her life.
Heading out the door? Read this article on the new Outside+ app available now on iOS devices for members! Download the app.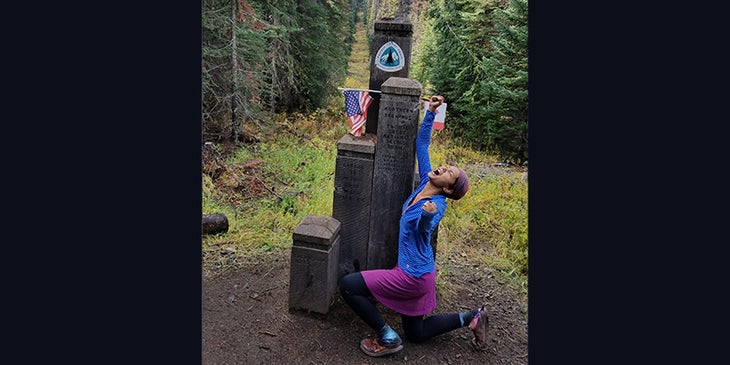 There's an electricity in the air when I wake up this morning, and it's not just the sunshine. Seven of us camped in the same spot just south of Rock Pass yesterday, and every single one of us is up early, chatty, rip-roaring and ready to go. It's the strangest race I've ever seen, though: even in our eagerness, there's a wistful urge to linger, to languish in the moment, savor this experience.
We're fifteen miles from Canada.
It's amazing as it is bittersweet, hiking along this relatively easy stretch of trail to the finish. There are only two climbs of note: one up Woody Pass, and one up to a nameless saddle after which everything, quite literally, is downhill. I sit up top for a while, staring off into the distance, trying to process the enormity of the miles behind me and the vast chasm of feeling towards the few miles that lie ahead. Sure, there are some blowdowns to climb over, but even those careful balancing acts and some scraped-up shins can't bring me down.
After 2,650 miles, after 148 sunrises and 147 sunsets, after the scorching heat of deserts and the freezing rain of mountains and 421 thousand feet of elevation gain, I've made it. The terminus. Canada. I've hiked the length of three states and worried about innumerable obstacles, both real and imagined, but nothing has prepared me for the moment when none of that remains. It's just me and the terminus—and A-Game and Undercover, all of us stunned and thrilled at our accomplishment. Celebrations ensue. 
We reach for words to describe how it feels, resort to reading the register when nothing comes to mind. I don't know many of the people ahead of me, but I think of all the people I know that are behind me, people I hope will have this moment days, even weeks from now. I scrawl my name, leave my love for them on its pages and…well, that's all, folks.
Except it's kind of not. I still have about nine miles to go to Manning Park Lodge, where my mother, and the world outside the trail that has been my life for nearly five months, await. Nine miles to hold this experience close to my heart, before I share it with the world. 
Follow Amanda Jameson's epic journey from Mexico to Canada in our Pacific Crest Trail 2016 archive.