Pacific Crest Trail: OR Section 7
ELK LAKE to OR 252: Skirt the glacier-draped Three Sisters on this 26.6-mile trip full of excellent ridgetop campsites, aspen-lined lakes, and fields of black volcanic glass. Tip: Wear durable boots.
Heading out the door? Read this article on the new Outside+ app available now on iOS devices for members! Download the app.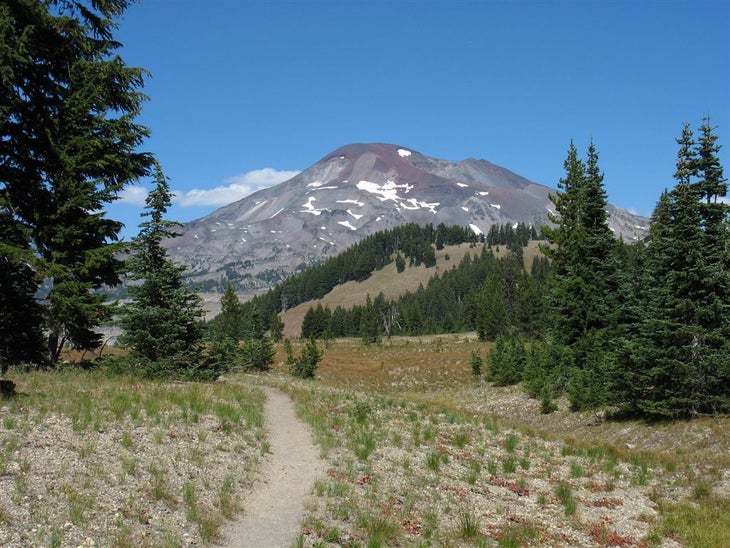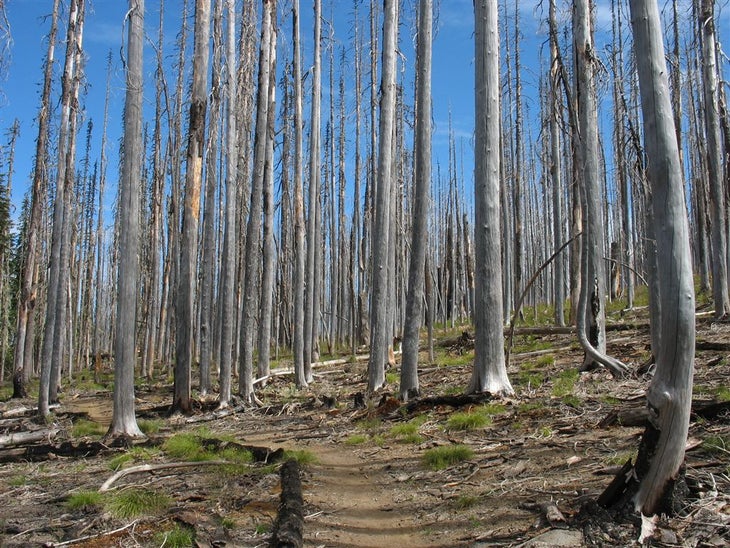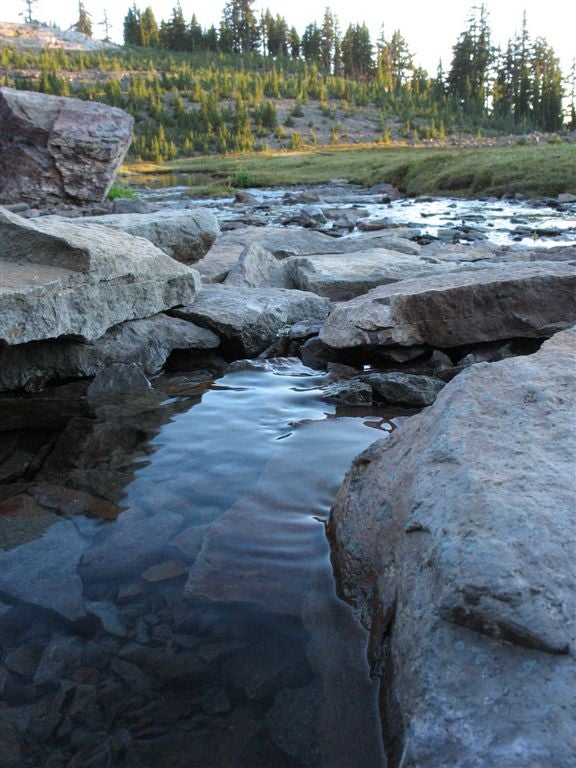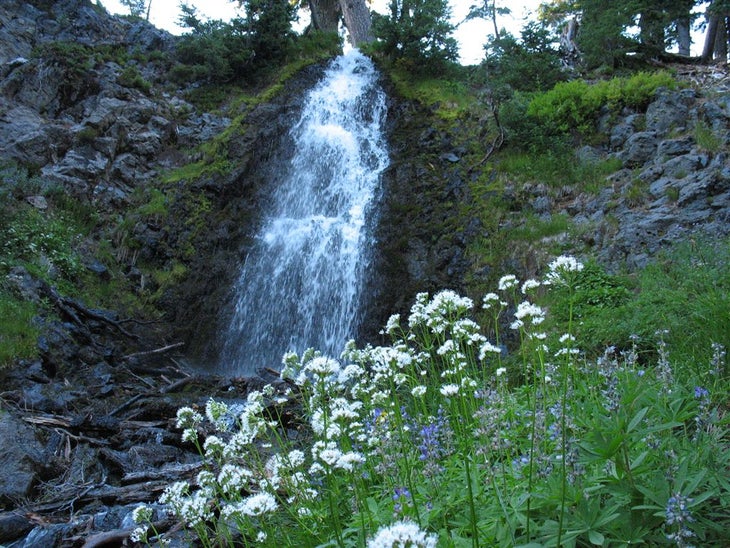 Trail Facts
Waypoints
PCT1231
Location: 43.9819984436035, -121.825485229492
Take the middle trail @ 3-way and head N to continue on PCT. Side trip: Turn R onto Island Meadow Trail for quick visit to restaurant at Elk Lake.
PCT1232
Location: 43.9954490661621, -121.827934265137
Stay R @ Horse Creek Trail jct.
PCT1233
Location: 44.0381317138672, -121.829620361328
Stay straight @ jct.
PCT1234
Location: 44.0401496887207, -121.822334289551
Keep straight @ jct.
PCT1235
Location: 44.0397491455078, -121.818183898926
Trail curves to the NE toward The House Rock
PCT1236
Location: 44.0598335266113, -121.808883666992
Stay straight @ Devils Lake Trail jct., walking at the base of Rock Mesa lava flow
PCT1237
Location: 44.0733489990234, -121.816848754883
Cross creek
PCT1238
Location: 44.0756988525391, -121.819664001465
Cross creek
PCT1239
Location: 44.079532623291, -121.818016052246
Cross Mesa Creek
PCT1240
Location: 44.0813674926758, -121.82048034668
Creek crossing
PCT1241
Location: 44.0842170715332, -121.820816040039
Stay R @ jct.
PCT1242
Location: 44.113899230957, -121.81095123291
Pass lakelet on R by Separation Creek
PCT1243
Location: 44.1252517700195, -121.82105255127
Keep straight
PCT1244
Location: 44.1423492431641, -121.82105255127
Go straight @ Linton Trail jct.
PCT1245
Location: 44.1665840148926, -121.818115234375
Straight @ Obsidian Way Trail jct.
PCT1246
Location: 44.1681823730469, -121.817535400391
Pass Obsidian Falls, a 30-ft. waterfall pouring over black obsidian; no camping allowed here
PCT1247
Location: 44.1693000793457, -121.815483093262
Pass a nicely-flowing spring flowing from the volcanic flow above.
PCT1248
Location: 44.1721649169922, -121.816215515137
Find a great campsite under trees in an obsidian area
PCT1249
Location: 44.1788673400879, -121.817367553711
Keep straight @ jct.
PCT1250
Location: 44.1901168823242, -121.792503356934
Veer L @ trail jct. on Opie Dilldock Pass; travel N through lava flow
PCT1251
Location: 44.1959838867188, -121.792533874512
Pass Minnie Scott Spring on R
PCT1252
Location: 44.208683013916, -121.791870117188
Stay straight, heading N toward Yapoah Crater @ jct.
PCT1253
Location: 44.2313003540039, -121.772636413574
Go straight @ Scott Pass toward Mattieu Lakes
PCT1254
Location: 44.232234954834, -121.774467468262
Bear R @ jct. with North Matthieu Lake Trail. Pass South Matthieu Lake (very nice lake with lava flows; Middle Sister forms S backdrop)
PCT1255
Location: 44.2501335144043, -121.784301757812
Go straight @ North Matthieu Lake Trail jct.
PCT1256
Location: 44.257251739502, -121.790153503418
Go L @ jct. with Lava Camp Lake Trail; Don't miss PCT heading W.
PCT1257
Location: 44.2613639831543, -121.793312072754
End @ OR 252.
More PCT: Next Section | Previous Section
South Sister
Location: 44.0488624572754, -121.809364318848
South Sister from the start of the start of the Wickiup Plain. ©Jack Haskel
Site of forest fire
Location: 43.9818000793457, -121.825134277344
Area was burned by a forest fire a few years ago.©Jack Haskel
Spring
Location: 44.1692008972168, -121.81517791748
Nicely-flowing spring flowing from the volcanic flow above. ©Jack Haskel
Obsidian Falls
Location: 44.168098449707, -121.817680358887
Pass Obsidian Falls, a 30-ft. waterfall pouring over black obsidian. ©Jack Haskel